Are you thinking of buying a pair of Durango boots but aren't sure if they are worth the price tag?
Worry not!
I am ready to answer your doubts with my 10 hours of research on Durango boots.
So, what are you holding out for? Let's get started with the writing to learn more about Durango boots.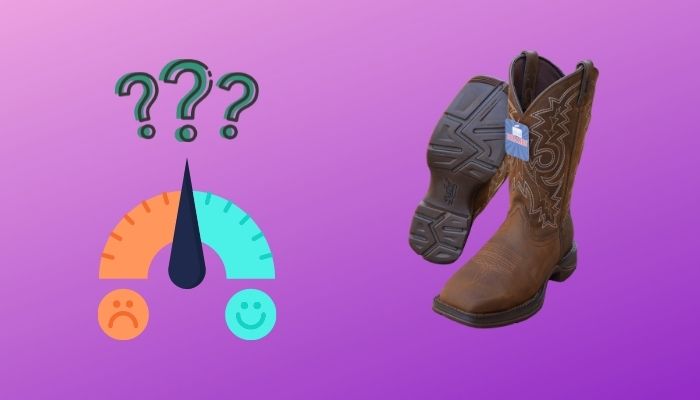 Are Durango Boots Any Good?
Some requirements must be met for a pair of boots to be considered good. So, let's check if Durango boots can fulfill the requirements for being good.
Material
Durango boots feature premium full-grain leather on the upper. Full-grain leather is the best of all leather types since it is highly flexible and long-lasting.
Durango boots have thick soles made of rubber. Rubber soles offer excellent grip, letting you work safely on slippery grounds.
Comfort
Durango puts the biggest emphasis on comfort in their boots. They used every piece of technology available to relieve stress on your feet and make your walk more enjoyable.
Durango included the Durango Suspension System (D.S.S) innovation in their boots to promote all-day comfort.
In addition, the footbed provides additional cushioning and helps to reduce the weight of your steps.
Not to mention, Durango boots are constructed in such a way that they have excellent air circulation. So, gone are the days when wearing cowboy boots made your feet sweat.
Safety
The safety features of Durango boots are the same as work boots. They use steel toe and steel shank to ensure the highest protection to your feet.
Thanks to these qualities for providing more firm footing and protecting your feet from puncture wounds.
Surprisingly, the steel toe and steel shanks are relatively lightweight, so you won't have to worry about your feet carrying extra weight.
Durability
Durango boots are made to last a lifetime, and Durango boots can last for ten years or longer if properly cared for.
However, how carefully you treat the boots will determine how long they last.
Do check our latest post on the how to Stretch Cowboy Boots.
Is Durango A Good Work Boot?
Before I answer if Durango is a good work boot or not, you should first understand whether Durango is even a work boot.
Durango boots are neither a full-fledged work boot nor a classic cowboy boot. Instead, it's a combination of both work boots and cowboy boots.
Now let's answer, is Durango considered good work boots?
Work boots must have certain traits in order to be called good. So let us see whether Durango boots have any.
Steel shank: Durango boots are built with steel shanks that keep your feet protected from accidents and maintain the shape of your boot.
Safety toes: Most of the Durango boots are steel-toed. Steel toes prevent injuries from falling objects. 
Waterproof: The majority of Durango boots are waterproof. The waterproof Durango boots keep your feet dry and fresh during the rainy season.
Boot height: A good pair of work boots should have a raised heel since it provides ankle and arch support. On the other hand, Durango boots feature a low heel, which is a disadvantage.
If your Durango boots tick marks all these boxes, you know you've got a good pair of work boots on your hands.
But before that, you check out how to Wear A Boot Knife With Cowboy Boots.
How Do Durango Boots Fit?
Durango boots are true to their size. Once you get your perfect size boots, they should snugly fit over the arch of your foot. On the first try, the boots may seem a bit tight. Put on your thick socks and the Durango boots; the fit will become incredibly comfortable with time.
Though the majority of customers are pleased with the fit of the Durango boot, a few customers have complained that the opening is too tiny for their vast feet.
Check out my new post Frye Boot sizing.
Do Durango Boots Fit Like Ariat?
No, Durango boots do not fit like Ariat boots. Ariat boots go large, whereas Durango boots fit true to size. If you wear size 11 Durango boots, the same size Ariat boots will be too big for your feet. When choosing Ariat boots, go half to a full size smaller than your usual boot size.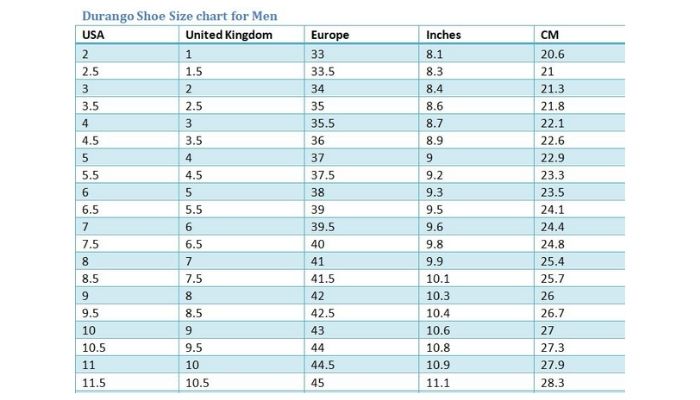 Aside from fitting differences, Ariat and Durango compete head to head in terms of comfort, durability, stability, and traction.
Follow our other guide to know what is a Steel Shank In A Work Boot.
Do Durango Boots Stretch?
Yes, Durango boots stretch. Durango boots are constructed of genuine leather, and genuine leather stretches over time but only slightly. The more you wear the boots, the faster they will stretch and contour to the shape of your feet. And ultimately, the boots become super comfortable.
Your leather Durango boots may feel tight and stiff at first, but the leather will loosen up over time.
Even if the stretch is minimal, you can go half a size smaller for snugly fitting boots.
How To Break In Durango Boots?
Putting on your new Durango boots, Ouch! That hurts!
They do, don't they?
Because the leather on the new boot is relatively stiff and hasn't broken in yet.
Fortunately, you can break into your Durango by following a few simple steps. Let's have a look at what they are:
Wear the boots:

The most simple yet effective method to break in your Durango boots is to wear them often. Frequently wearing the boots will stretch them and mold to your feet' shape.

Wear socks:

Wear a thick pair or two thin pairs of socks, put on your boots, and go for a walk. 
Don't wear more than two pairs of socks as this causes your boots to become excessively tight and cause blisters on your feet.
Use boot stretcher:

Using a boot stretcher to break in the boots is the most foolproof method. 
Invest in a good boot stretcher and break in your Durango boots fast.
Follow our guide to know What is A Soft-Toe Work Boot.
Are Durango Boots Waterproof?
Yes, not all, but most of the Durango boots are waterproof. Durango boots that are waterproof include the Durango® Waterproof Membrane. Durango® Waterproof Membrane is tested to ensure that it can withstand 50,000 waterproof flexes and goes through multiple testing to ensure the quality.
Durango offers a wide range of waterproof and non-waterproof footwear.
Read the product description and user reviews to get your hands on your preferred boots.
Are Durango Boots Expensive?
Durango has a large selection of boots, each with a different price. The more features a boot contains, the more expensive it is. Durango boots are priced between $100 and $500. You can select your desired boots based on your budget while not compromising the quality.
Durango is worth every penny because of its genuine leather, high-quality materials, and the touch of the best craftsmen.
How Do You Care For Durango Boots?
Investing a good amount on your Durango boots, not taking care of them, and still expecting them to last for a lifetime?
No, it doesn't happen like this, my friend.
To maintain the quality and add years to the life of your Durango boots, you must take care of them.
I've listed a few tips for taking care of your Durango boots below:
Allow no dirt or dust particles to settle in the boots. As a result, after each use, wipe your Durango boots with a moist cloth.
The boots should then be air-dried to ensure they are not wet. Never use heat to dry the boots since high temperatures might cause the leather to crack.
Cleaning the leather keeps them flexible and enables them to breathe.
If your leather boots become too dry, use a leather conditioner to restore their moisture.
Remember that conditioner is just for leather boots, not suede boots.
Also, never store your footwear in damp or enclosed areas. Proper air circulation is required for your boots to breathe.
Conclusion
Summing up, are Durango boots good?
Yes, siree!
Durango boots are among the best, and I highly advise you to give them a try; Durango will not disappoint you.
Was this article helpful? Is there anything I've left out? Please leave your thoughts in the comment section.