Myself being a boot fanatic I can understand how it feels to add a limited edition Frye boots in your collection that had been in your wish list for so long.
Frye boots run true to size but you need to be careful about Frye boot sizing if you want to buy them online. In this post you will get the Frye sizing chart.
Personally leathered Frye boots are my favorite and limited edition would have been icing on the cake.
You know boots are bae!
But you can only have fun with your boots only when you get your perfect size.
And I can surely guess there is numerous pair of your boots that are unused because you have bought the wrong size. Well, my friend, I know how it feels to invest a handsome money in the wrong size of boots.
It's high time to say good-bye to wrong sizing boots.
In this article, you will experience:
Frye boot sizing chart for your feet.
Extraordinary styles of Frye boots that will compliment your outfit.
Fitting suggestion of Frye boots.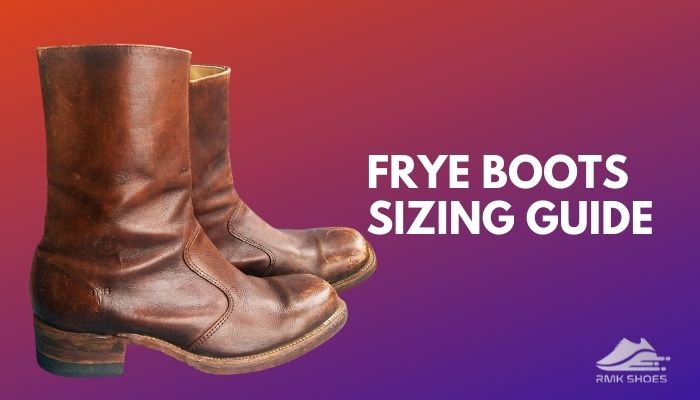 Follow our guide to know Dan Post Boots Sizing With Chart
Frye sizing guide
Frye boots have a wide range of collections for men and women. It is easy-peasy to find the ideal Frye boots sizing only if you follow some steps. If you are in-between sizes, then I'll recommend you to select a size larger. Also, if you are among those who have wider feet, you should go half a size up.
Here is the frye size chart for Men: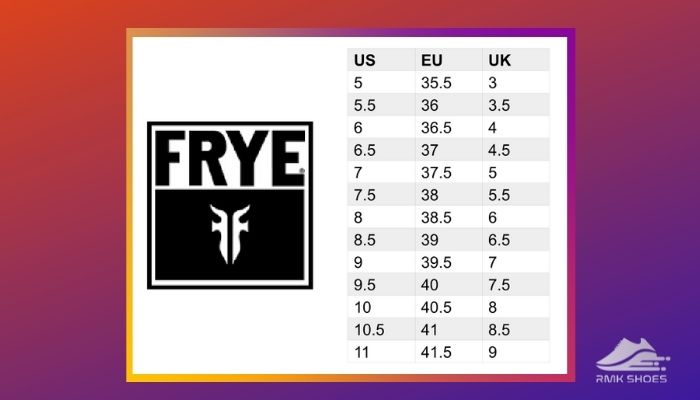 Here is the frye size chart for Women: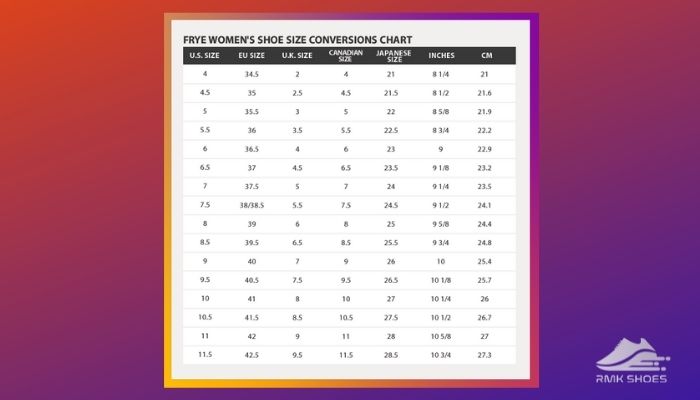 You can find your exact boots size from Frey's size chart. Measure your feet in inches and see which size goes up with your feet length.
But before that, go through our epic guide how to Clean Muddy Leather Boots
Designs of Frye boots and their fit
Frye boots have a variety of fit, styles, for women, there are mid & tall boots, zip-up boots. For men, Chelsea boots, lace-up boots and many more.
Some of the well-liked Frye boots and their sizes are discussed briefly below:
Chelsea boots- Chelsea boots are a staple boot for a gentleman with a high-ankle, closely-fitted with an elastic side console. The boot has a strap of fabric at the back which allows the boot to be pulled on. Chelsea boots goes very well with jeans, suit or t-shirts.
Lace-up boots- Different types of ankle-length lace-up boots are also found in Frye. Like for men, the Bowery lace-up style and Carson lace-up style for women are very much trendy. There are many more lace-up boots in Frye with different sizes and colors.
Engineer boots- Pull-on boots with a 10 inches shaft. Perfect, if matched with faded jeans and shift dress.
Combat boots- Mostly comes with a detachable strap which makes your work easier if you are in a hurry. Has a tough rubber sole.
Check out our separate post on Do I Need Hiking Boots For Sedona
Frye boots Fitting suggestions
Do frye boots run big or small?
You will get the answer by reading this part of the guide.
For perfect Frye boots fitting, follow these stunning tricks:
Wiggle-room around the toes- Make sure your boots are not too tight-fitted rather it should be snug-fit. Whatever style boots you wear, there should be space around the toes for movement. Especially, ensure your toe area is not very tight-fitted or the front part of the boots is not squashed.
Feet measurement- Our feet tend to swell in the daylight due to walking and at night our feet are at the largest size. Measure the length in the afternoon to get the true size of your feet.
Put socks on- If you feel your boots are a bit large, wear thick socks. Socks will eat up the extra space and give you a proper fit. When the boots are new, the leather around the ankle area is stiff, wearing socks will protect your skin.
Use insoles- You can add insole inside the boots. This will give your shoe an improved fit. As well as, insoles hold the feet in the exact place in the boots, hold up the arches, reduces foot pain if you have any.
Proper-fit- Your heels should not slip in and out of the boots rather it should hold the heel comfortably in its place.
Heel slippage- New boots will have a slight slippage, mostly happens with the pull-on or zip-up boots. But over time the slippage will go away.
Between size- If you are in-between size, buy half a size larger boots.
Zip-up or pull-on boots- These boots are not easy to slide into the boots. A slight pressure is needed to push your feet into the boot.
Stretches out- A new pair of boots will be a bit tight around the toes, but over-time it will stretch out a bit. Only a slight stretch will take place, so on that note, do not try to buy extremely tight shoes.
Just keep these simple tips in mind and you are good to go with your exact shoe size.
In a hurry? Check out my new post what Are Buckaroo Boots
Frequently Asked Questions
Are Frye boots true to size?
Yes, Frye boots are true to size. For both men and women, Frye boots have several elegant and modern styles. Most of the design of Frey boots run true to size, but if you have wider width feet, you can check the width fittings. Frye got boots for wider feet also.
Will Frye boots stretch in width?
It is possible to stretch Frye boots. Take your boots to your local cobbler. They should be able to put them on a stretcher and enlarge the shaft width. But how much it will stretch there are no possible inches.
Do Frye Boots stretch out?
A new pair of boots should feel very tight-fitting around your feet or around your ankle. Over time, Frye boots stretch out slightly and have an increased longevity than any ordinary boots. After this point, the boots will still have a few years of life in them and will continue to shape themselves as the shape of your feet.
How do you break in Frye boots fast?
The break-in phase is not very long. The technique is to ease into them. Let them sit for a few hours every other day to soften them up, and then you'll be ready to slay in your boots.
Conclusion
Frye boots have a variety of boot collections. Frye has all types of boots starting from boots with wider width fitting, with tapered width fitting and many more. If you haven't got any Frye boots yet, you are missing a big thing. Go through this article and have a wholesome idea about the Frye boot sizing and buy the boots as soon as possible.
This article contains all the necessary information that will help you to achieve your exact boot fitting. We are eager to know your opinion about our writing and how it helped you to get your desired desert boots. We love to know our reader's thoughts.