Many people prefer crocs after their foot surgery, especially bunions. This foot condition requires special aftercare, and which shoe you choose to wear can play a significant part in the recovery process.
If you wear crocs on a daily basis, you must have thought if this kind of shoe is an option after the surgery.
Don't worry. I am here to clear up your confusion.
I have researched medical experts' suggestions and reviews to present you with the most reliable information.
After reading this article, you will get to know details about these trendy but unusual shoes and the use of them after bunion surgery.
Keep reading till the end to clear out your confusion and questions that were troubling you on the way.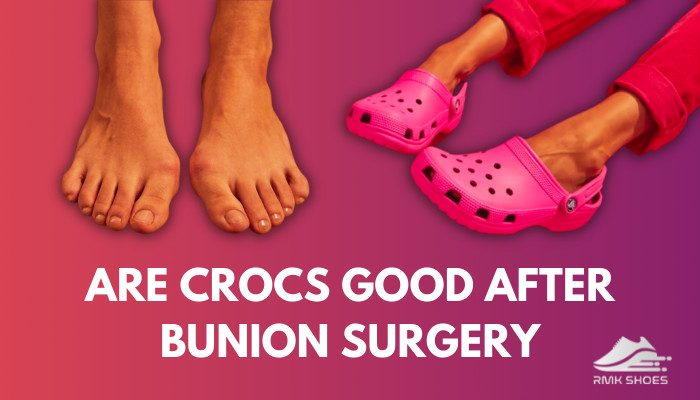 What Is Bunion?
You need to know first about Bunion to understand why crocs are required when you are recovering from this surgery.
Bunion is a lump that forms in your big toe joint. This condition appears when the bones of your front foot part move out of place. And as a result, when bending your big toe, the base of your big toe may be seen clearly.
If you wear narrow and tight-fitted shoes, this can be a reason for Bunion.
However, Bunion can also be caused by a medical condition or the shape of your feet.
To prevent this unpleasant condition, you must choose footwear carefully.  Try to buy shoes or sandals with a wide-toe box.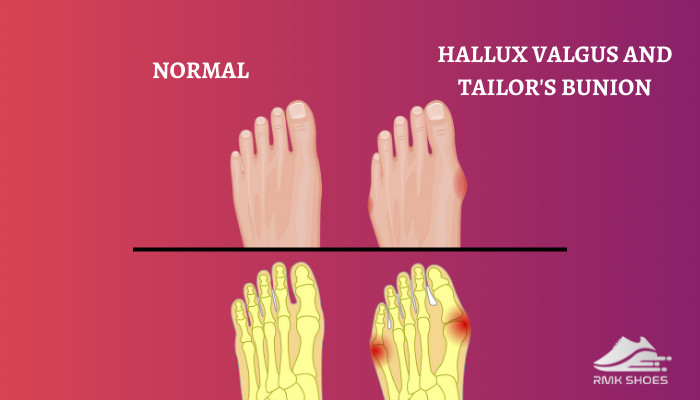 Moreover, find shoes that blend with your foot without squeezing any part.
Check out our separate post: Are Crocs Non Slip Shoes
Are Crocs Good After Bunion?
Nowadays people are wearing crocs with almost everything. Some even wear these just to follow the trend.
The most important thing to do after Bunion surgery is to wear a supportive, non-slip shoe with a rubber sole. And Crocs represent all these features.
So, crocs are a perfect fit after your Bunion surgery.
But it's not like this will suit everyone. To be sure, you must try them on if they meet your requirements.
Remember, the most important fact is to give your feet the time to heal and thus provide ultimate comfort.
No doubt crocs are comfortable to wear, but it is wise to consult with your doctor first. If you get his approval, only then go for it. Otherwise, don't.
Expert Opinion: What Do Podiatrists Say About Crocs?
If you are dealing with Bunion, you can not wear regular shoes. Your feet need extra care in this situation.
So, before purchasing any footwear, you need to verify from your podiatrists if the shoes come with a seal of acceptance.
The seal of acceptance provides the information that these shoes are specially designed to help with foot-related problems like Bunion.
If you wear crocs, you must know crocs are very comfortable for long-time wear.
And as a therapeutic shoe, you can wear them if you are facing any foot issues.
In the case of Bunion, experts suggest patients to wear crocs which are extra wide and in the toe- box, they provide more space. It saves patients from further pain.
Another added factor is that crocs are lined with antibacterial properties, which help prevent fungal and bacterial infection.
You may also like to read: Do Crocs Stretch
When Can You Wear Crocs After Bunion?
Around two-three weeks after your Bunion surgery, you can start wearing crocs.
Generally, you won't be allowed to walk after your Bunion surgery. Depending on the type of surgery you had, this time range changes.
It takes almost six to twelve weeks for your feet to heal entirely after Bunion surgery. During this time period, your doctor will recommend you to wear more supportive and protective boots and shoes.
During recovery, you may need to use crutches to assist you in walking. This time it's pretty hard to put all the weight on your feet, and your feet are also not stable enough.
It takes almost two months for a Bunion patient to recover appropriately. During the process, they need to wear specified shoes. After two months, they can enjoy their regular footwear.
Which Crocs To Wear During Bunion Recovery?
Although there are a massive variety of crocs, you can't wear just any type after Bunion surgery. For the comfort of your troubled feet, manufacturers have launched versions of crocs.
Let's check out the crocs you can wear while recovering:
Duet Sport Clog
This version of crocs is very lightweight and also slip-resistant. They are providing advanced toe box ventilation.
It also comes with a supportive back strap made out of Croslite materials for a secure fit.
Crocband Platform Clog
This model is the ultimate popular version so far. It is known for its 1.5 platform sole and comfort technology.
This model is very comfortable for walking all day. If you are struggling with any type of foot pain, it is sure to give you instant relief.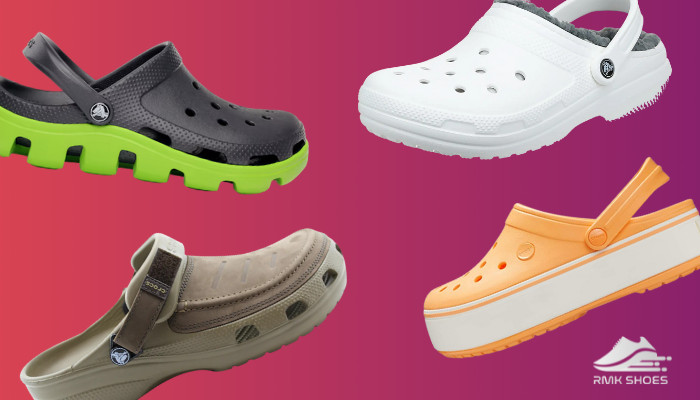 Crocs Men's Yukon Vista Clog
This model is your jam if you are a vegan and need medicated crocs. Pure vegan leather makes them waterproof, so you don't need to bother cleaning them.
The best feature of this version is the adjustable hook and loop. This way, you can adjust them according to your comfort. They also provide extra room for your feet to rest.
Crocs Women's Classic Printed Leopard Lined Clog
This model is a casual shoe. It features faux fur that gives you the ultimate feeling of warmth and comfort while walking without any tension.
Also read, Do Crocs Melt
Why is Proper Footwear Essential After Bunion Surgery?
Footwear plays a crucial role in our regular health. A proper choice of shoes is a must. In the healing process of any kind of foot problem, the selection of shoes plays the most vital part.
If you have Bunion or are recovering from surgery, your first and foremost duty is to prevent it from getting any bigger and reduce inflammation.
The type of shoe is a crucial factor. High heels and cowboy boots are damaging to the toe. They tend to be relatively tight-fitting.
Thus they hurt the posture of your feet.
Even shoes with a soft sole but a small toe bar still push your feet forward. The length of time you are wearing a problematic shoe is another factor.
If you continue to wear uncomfortable shoes, Bunion can get bigger and cause further discomfort. That is why the perfect fitted footwear is so important.
You can also face these problems if you are not careful enough.
Hammertoe
This problem is caused when your toe gets bent in the middle.
Bursitis
Bursitis is a fluid-filled sac inflammation that acts as a compression between your bones while you walk.
Related content you should read: Are Men's Crocs Wider Than Women's
What Features To Consider In Shoes After Bunion?
After Bunion surgery, your feet need extra care, and finding the right shoes is essential in that case. Your shoes must have some features to provide the comfort that is required.
Adequate Width
Bunion is caused when your toes get stuck together for an extended period of time. So, when recovering, select a shoe with a broader toe bar. The area should be half a size larger than your feet.
Stretchy And Soft Interior
A soft interior provides extra comfort for your feet to rest. To recover from any kind of foot pain, this feature is a blessing. Soft foams in the interior reduce toe pressure.
What Shoes Make Bunions Worse?
Except for any medical conditions, the main reason for Bunion is your footwear. The type of shoes you wear can play a significant part in this foot condition.
If you are a high-heel person and like to jazz up your outfit on a regular basis, you need to be careful.
Heels force your toe towards the front, and the repetition of this incident can lead you to Bunion.
Besides, wearing tight or narrow-toed or too pointed is not very suitable for the comfort of your feet. They can be the cause of such unpleasant conditions.
When you are purchasing shoes or any sandals, keep comfort in your mind. I am not saying you should give up your pumps or stilettos. If you are all about fashion, go for it.
But choose your footwear wisely if you want to wear it for a long time.
Check out our separate post to know Are Crocs Unisex
Final Thought
Crocs are controversial between fashion lovers and people who look only for comfort while purchasing shoes. Not everyone is a fan of plastic-made footwear.
The material of crocs are well known for being comfortable. Good cushioning, large toe box and supportive back straps made them a perfect fit as a medicated shoe.
Even with Bunion, you can enjoy crocs because of their unique construction.
I am hoping that this whole discussion was helpful in the process of your search.  And you got the information to clear any confusion you had.
If you have previous experience with Bunion surgery and used crocs during your recovery, you are welcome to share your experience in the comment section below.