Adidas Terrex – constant companion to enjoy every day's adventure.
Due to the inherent good features, the number of Terrex buyers is rising day by day. And with that growing fanbase, the concern is rising too whether Terrex is waterproof or not.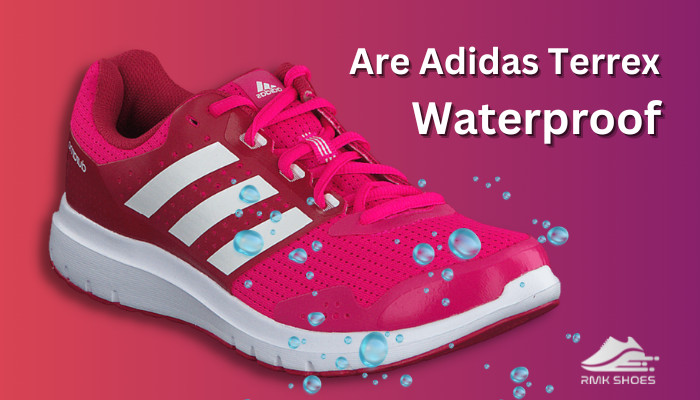 Well, This writing piece will help you to know about Adidas Terrex's advantages and its waterproof feature.
So, let's stay tuned!
Are Adidas Terrex shoes waterproof?
Regular versions of Adidas Terrex aren't able to block water from getting into them. But all the Gore-Tex (GTX) pairs are waterproof. Also, the Pathmaker Climaproof & the SkyChaser LT from the Terrex lineage are waterproof despite not having Gore-Tex technology in them.
Gore-tex is a fabric with special technology whose hydrostatic head rating is over 20 thousand – AKA the waterproofing capacity!
In general, any material with a hydrostatic head rating of 1000 is considered waterproof, and less than that is water-resistant. As Gore-Tex fabric has a relatively higher rating, so it is definitely waterproof and seals out water from entering the shoe.
As a result, users' feet remain dry and out of contact with rainwater or sewage water during the long strides.
Along with the waterproof feature, Gore-Tex material is enriched with top-notch breathability. So, there's no chance of sweating and bad smell on the user's feet.
Top 5 Waterproof Adidas Terrex
Varieties of waterproof running and hiking-friendly shoes are available in the Terrex series. Among them, the 5 most recommended shoes and their features are mentioned below to make your shopping easier.
Here is the list of 5 best waterproof Terrex:
1. Terrex Swift R3 GTX Hiking Boots
This lightweight piece offers a well-built design with rich stability in every stride. Its burly sole wraps the feet with sufficient protection during long trail days. The shoe has long-term durability.
Both waterproof and non-waterproof versions are available for this pair. The non-waterproof one costs $20 less than the waterproof one.
So make sure to check the shoe details along with the size and fit before buying.
2. Terrex AX4 GTX Hiking Boots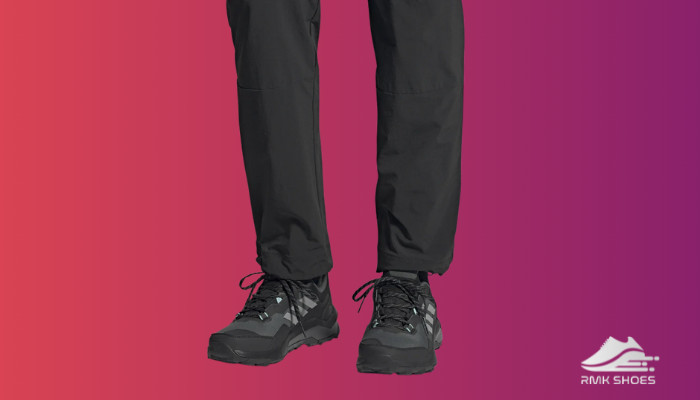 Similar to other waterproof Terrex, this design also contains a Gore-Tex membrane which acts like an impenetrable wall against water. Its upper is made of mesh and 50% recycled content, which enables breathability. Like Adidas' other hiking boots, this one also ensures excellent grip with a Continental rubber outsole.
However, the shoe retails for $130 and is only available in three colorways – Core Black, Mint Ton, and Grey Three.
3. Terrex Eastrail GTX hiking boots
Durable Eastrail styles have both waterproof and non-waterproof editions. The pairs with Gore-Tex are able to prevent water, so be sure to check before purchasing.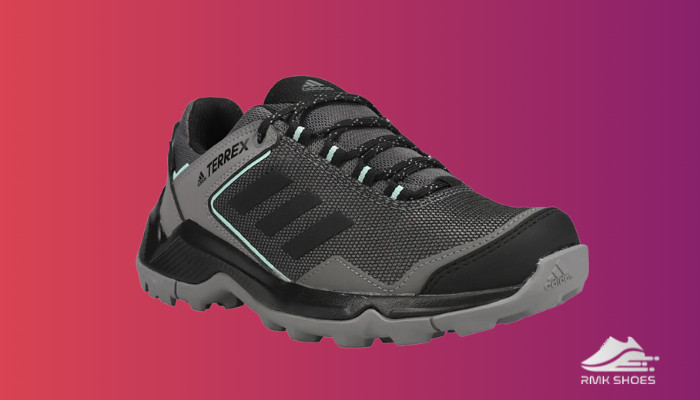 This shoe is quite popular for delivering outstanding stability likewise Timberland hiking boots.
I had a pair of Eastrail GTX which cost 110 US dollars and my 2 days long trekking experience with that waterproof pair was truly amazing.
4. Terrex Agravic Flow 2.0 GORE-TEX
Even while stepping through rough terrain, your feet won't face any shortage of comfort due to this ultralight shoe's Lightstrike cushioning.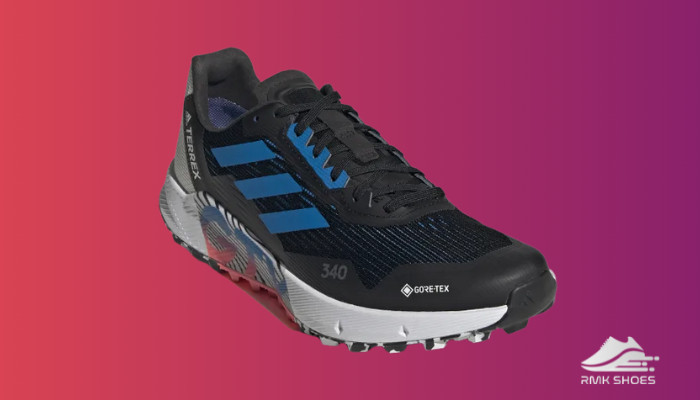 It is suitable to wear in any wet conditions. As a result, you can walk on muddy roads in the rain and enjoy the beauty of the surroundings wearing this pair.
The price of this cost-effective set fluctuates between 130 and 160 dollars based on the variation of discounts.
5. Terrex SkyChaser 2 Mid GORE-TEX Hiking Shoes
A bit more expensive (around 210 US dollars) than other Terrex shoes. Because it holds an incredible energy-returning BOOST midsole.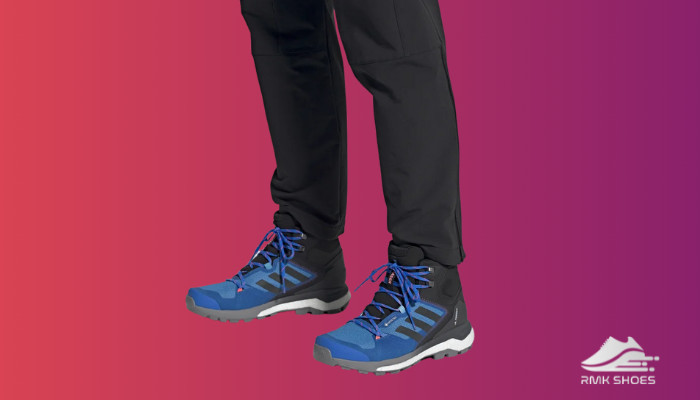 As the shoe combines comfort, regular fit, energy booster, superb traction, and waterproof features, users don't hesitate to spend a little more on it.
Apart from the mentioned Terrex, there are varieties of waterproof pieces in Adidas's collection. Just visit the nearby outlet or online marketplace.
Are Adidas Terrex Good for Hiking?
Yes, the footwear of the Adidas Terrex series is among the top picks for short or long hikes. They have reinforced Continental Rubber outsoles for good traction on slippery rocks or steep trails. Besides, comfort, support, and fit are also included in these hike-worthy pairs.
Have you ever hiked in Adidas Terrex?
If not, don't delay further. You can walk miles wearing Adidas Terrex. Because they include several advantages of hiking, such as:
Comfortable and supportive with EVA footbed.
Secure fit with the lace configurations.
Excellent grip with grooved and sturdy rubber outsole.
They are breathable and waterproof, so trekking with this shoe is suitable for any weather conditions.
They are lightweight to ease your movement.
Protection with the closed-toe design.
So, whether you desire to go hiking on a wet surface, forest, or in the mountains, make your hike enjoyable with a pair of Adidas Terrex. But before that put on hiking socks with the shoes.
Are Adidas Terrex worth it?
Yes, because of premium comfort, satisfying durability, energy booster, and standout protection against water and slip – all of these are offered by a pair of Adidas Terrex footwear. Moreover, the shoes are worth buying for offering a regular fit with their lace closure and mesmerizing color combinations.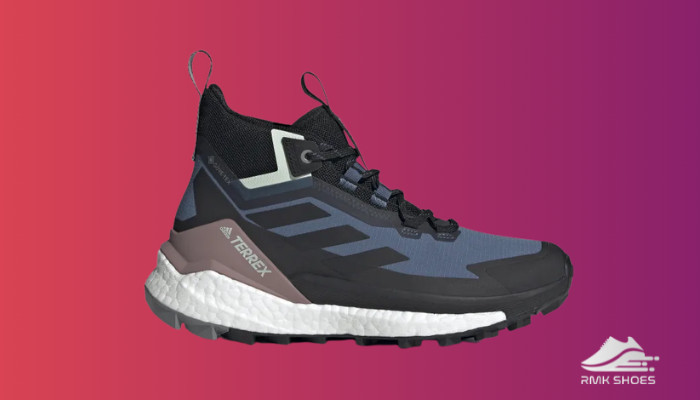 Now, let's highlight the inherent features of Terrex sneakers. Then you will realize how worthy Adidas Terrex is!
Here are the Key Features of Adidas Terrex:
The Breathable GORE-TEX (GTX) Membrane – Most Terrex contains a GTX layer on the upper. It simultaneously prevents water penetration and promotes air movement. Shoes that don't contain this coating are usually water-repellent and dry quickly.
It is, however, recommended to use shoe protector spray for retaining the waterproof feature of the shoe and enhancing it further. It keeps them in good condition at all times.
Continental™ Rubber Outsole – It is for reliable grip on flat, uneven, muddy, and all kinds of surfaces. This outsole performance is really amazing and there are hardly any negative reviews about it.
Energy Returning Boost Midsole – This special feature is available in some hiking shoes and almost all running shoes of the Adidas Terrex line. This energy upgrade technology inside the EVA midsole inspires the wearer to pace forward with confidence.
Abrasion-resistant – The outsole, upper, laces, and overall of this shoe consists of anti-abrasion materials. Due to this, the shoes do not face intense damage and tear even after long years of wearing.
Apart from the mentioned advantages, the shoes have comfy mesh uppers, molded toe caps, and external heel clips for safety. The main credits of these features are Adidas' finest quality materials and perfect craftsmanship.
All things considered, there is no way you can go wrong with the Adidas Terrex series, and it is definitely worth the price. Even the advantages Adidas Terrex has, are not found in many expensive shoes.
So, buy your favorite Terrex shoes from an authentic source to enjoy all its benefits.
FAQs
Are Adidas Terrex-free hiker waterproof?
Free Hiker shoes are waterproof as they contain GORE-TEX coating. And trekking with this Terrex-free hiker is so trendy right now.
Are Adidas Terrex AX3 waterproof?
Yes, it has a waterproof GTX membrane, which blocks the passage of water inside the shoe and shields the feet from any liquid.
Are Gore-Tex shoes 100% waterproof?
Yes, GTX shoes are so waterproof that they will keep your feet dry on any rainy campsite or while washing the car. But don't expect its waterproof feature to work even underwater.
Closing Thoughts
Hike or Run – Durable and lightweight Terrex lines have the guts to give a good experience in both aspects. All of them are waterproof due to the GTX membrane, with only a few exceptions.
So, move on with Adidas Terrex and keep your feet dry in all weather.
For any further queries, knock at the comment section.