Do you want to add Buckaroo boots to your boot collection but don't have much idea about them?
Fortunately, you have come to the correct place.
After thorough research, I am here to answer all your queries about Buckaroo boots.
Want to know about Buckaroo boots in detail? Keep scrolling.
What Are Buckaroo Boots?
Buckaroo boots are a type of cowboy boot, similar to work boots, western boots, or riding boots. Buckaroo is derived from the Spanish word "Vaquero," which means "Cowboy." Buckaroo boots were designed specifically for cowboys, with all the required characteristics to simplify riding.
Buckaroo boots are famous for their eye-catching color and tall shaft.
Usually, cowboy boots are either black or brown in color. But Buckaroo boots are brightly colored, and each of them is designed uniquely.
Though Buckaroo boots are made for cowboys, their exotic color and design made them a part of fashion boots.
Buckaroo boots may resemble cowboy boots in features. However, they do not have the same dull appearance as typical cowboy boots.
The boots include an extra piece of embroidered leather over the vamp that adds to their uniqueness.
The icing on the cake is a contrasting color on the tall shaft and vamp, making the Buckaroo boots stand out from the rest.
Buckaroo boots are available in almost every top brand's cowboy boot section. Buckaroo boots are a must-try for anyone who enjoys experimenting with their look.
Whether you are riding or attending a party, Buckaroo boots are indeed an excellent option to pick.
Follow our guide to know How Long Do Work Boots Last.
What Are The Features Of Buckaroo Boots?
No surprise Buckaroo boots get a ten out of ten in terms of appearance. Do they, however, stand out in terms of features?
Let's take a look at the Buckaroo boots' features:
Shaft
The shaft is the most highlighted part of the Buckaroo boots. That shaft measures approximately 14 inches or more which is much taller than regular cowboy boots.
The shaft is tall not just for display purposes but also to protect the feet from injury.
Heel
The heel of a Buckaroo boot should be 2 inches or less. The high heel raises your foot and keeps it from sliding around in the stirrup. As a result, while riding, your feet remain in the stirrup.
Furthermore, the elevated heel gives excellent arch support, which is beneficial while conducting heavy outdoor activities.
Pull tab
The draw holes/tabs are an outstanding feature used by Buckaroo in their boots. The pull holes make the boots easier to put on and take off in a snap.
Tall shaft boots are typically challenging to put on, but Buckaroo boots pull holes making the job easier.
Stitching
The stitching on the Buckaroo boots is to die for. The embroidered design on the shaft gives the boots an antique look.
Stitching on a boot adds both strength and beauty. Furthermore, if the stitching is done with the highest level of skill and precision, you can be sure that you are placing your bet in the right spot.
Go through our epic guide Are Timberlands Good Work Boots.
Are Buckaroo Boots Comfortable?
Buckaroo boots are undoubtedly comfortable. Most of the Buckaroo boots have the CellSole footbed that provides a cloud-like experience to your feet. As a result, you can wear the Buckaroo boots for an extended time without tiring your feet.
The footbed of the Buckaroo boot is built using a form of cell comfort technology, which compresses and rebounds with each step, delivering incredible support to the feet.
In addition to comfort, Buckaroo boots provide all-day ankle and foot support.
The leather lining and taped interior stitching keep your feet comfy rather than pinching them.
The majority of folks complain that cowboy boots' openings are too tiny for their huge feet. On the other hand, Buckaroo boots have a wide opening that is ideal for broad feet.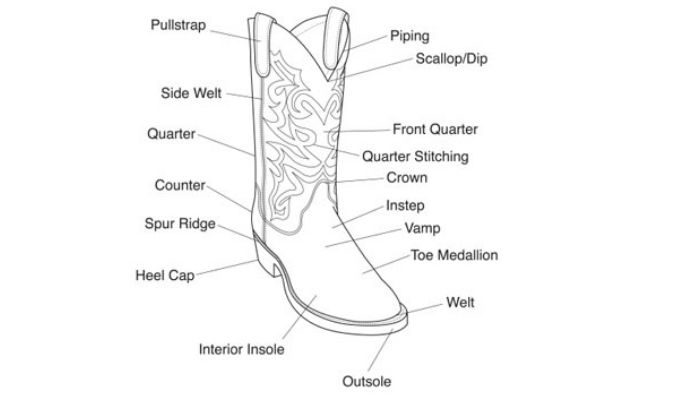 Buckaroo boots' three toe shapes (round toe, square toe, and wide square toe) provide plenty of room for your toes to wiggle.
However, you can only experience the optimal comfort of Buckaroo boots only when they fit you perfectly. So before you buy Buckaroo boots, make sure to go through the size chart and check the customer's review.
Check out our separate post on How Much Do Steel Toe Work Boots Weigh.
Why Are Buckaroo Boots Tall?
The tall shaft and heel of Buckaroo boots serve a purpose. Buckaroo boots were made for real cowboys. Cowboys needed a secure footing while they were riding. That's why Buckaroo raised their heel to prevent the foot from sliding in the stirrup. And the tall shaft protects the feet from injuries.
While riding, the tall shaft functions as a barrier between your feet and the ground. The shaft of a Buckaroo boot is tall enough to prevent insects from entering the boots.
Furthermore, the shaft is strong enough to survive any puncture.
The long shaft of Buckaroo boots holds boots in place because they don't have any laces.
So, the next time you see a pair of tall Buckaroo boots, don't think they're only for style; they're also functional.
Follow our guide to know  What is A Soft-Toe Work Boot
How Do You Wear Buckaroo Boots?
Buckaroo boots are recognized for their tall, colorful shaft, so don't try to hide them beneath your jeans.
It's best to tuck your jeans into your boots if you're going horseback riding. This secures the boot fit and allows you to show off your embroidered Buckaroo boots.
Put your pants over your Buckaroo boots if you're wearing them for fashion. Even though the shaft is hidden, the gorgeous front half of the boots is visible.
The Buckaroo boots look best with boot-cut denim in dark colors. Pair your Buckaroo boots with close-fitting pants or jeans in dark navy or brown.
Try yellow, green, or red jeans with your Buckaroo boots if you enjoy experimenting with colors.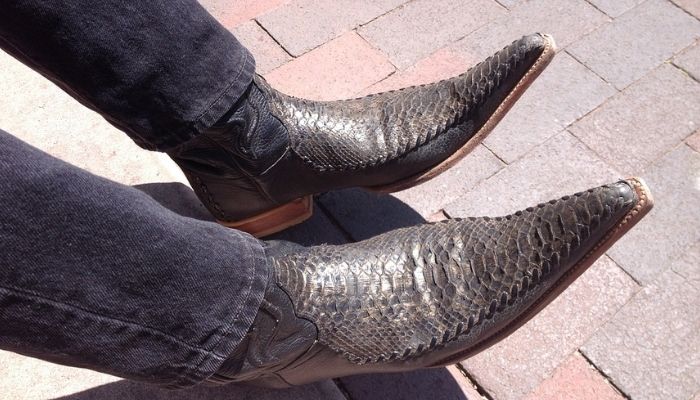 I'm sure you'll be the star of the show in this attire.
Also, follow our other guide to know Are Steel-Toe Boots Heavy.
Where To Wear Buckaroo Boots?
Buckaroo boots are mainly made for cowboys to ride without any difficulties.
But due to the colorful and vintage style, Buckaroo boots have become a part of fashion boots.
Whether you are a cowboy or not, the majority of people wear Buckaroo boots to parties and some even to informal meetings.
I believe you can pull off any type of outfit with tremendous confidence.
Also read, Will Rubber Boots Protect You From Electric Shock
Are Buckaroo Boots Expensive?
Cowboy boots are more pricey than other types of footwear, and Buckaroo boots are no exception. Buckaroo boots are made by top companies such as Ariat, Tony Lama, Twisted X, and many more.
The price of the boots varies depending on the brand.
However, the majority of the brands use genuine leather, high-quality materials, and cutting-edge technology in their boots. As a result, Buckaroo boots are more expensive than regular boots.
Buckaroo boots can cost as little as $100 and as much as $6 million.
Yeah, it cost a fortune!
Also, check out my new post on What Is A Steel Shank In A Work Boot.
Conclusion
Answering the actual question, what are Buckaroo boots? Buckaroo boots are a type of cowboy boots with long beautiful shafts and high heels.
If you are a boots lover and haven't tried the Buckaroo boots yet, give them a try.
From their outlook to their features, you will love every bit of the Buckaroo boots.
So did you find my article helpful? Feel free to share your thoughts in the comment box.