A well-polished dress shoe has the ability to lighten up any outfit you wear for any occasion.
And while asking for expert advice to choose the perfect dress boots, the two names that will surely be on their list are Allen Edmonds and To Boot New York!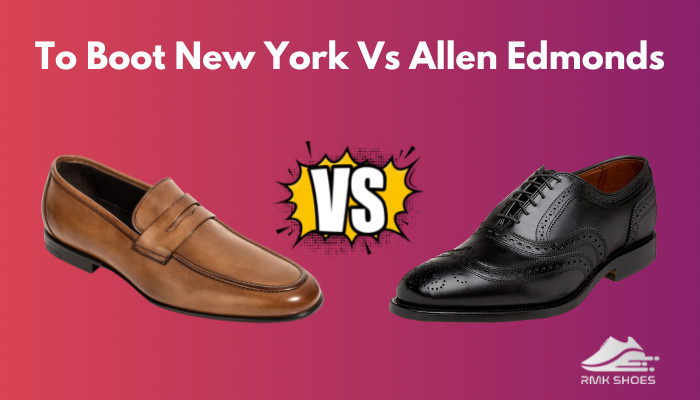 When Allen Edmonds is all about comfort, To Boot New York is there to give you a look you desire for. And when I tried them, I got the same!
In terms of functionality, no one is less in any part!
Consequently, you may fall into a confusion while choosing between To Boot NY and Allen Edmonds. And tjhis content is to rescue you from that dilemma.
So, read ahead!
To Boot New York Vs Allen Edmonds: A Quick Overview
Men's dress shoes are a constant footwear section that has its own value. Allen Edmond and To Boot New York are the names that come first when buying a fancy pair for your special occasion.
However, before knowing the key differences between these two staple brand, you need to know a little about the brands itselves.
So, here's a quick overview of Allen Edmonds and To Boot NY:
To Boot New York
When you think of a sophisticated and polished shoe, To Boot New York is one of the names that should cross your mind.
The first thing that caught my eye was the sleek, elegant design. What's more iconic? These shoes are handmade.
You understand when I said handmade, right?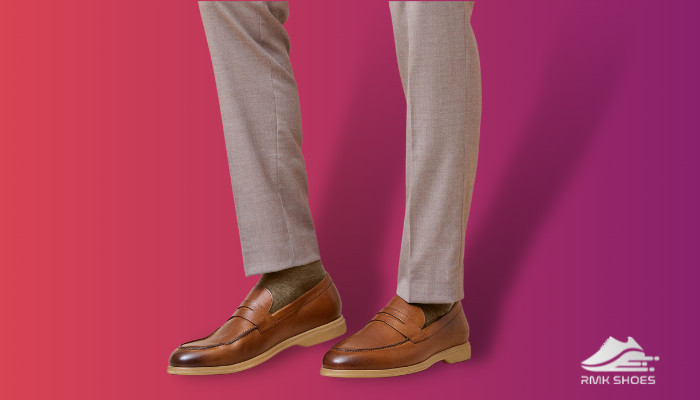 Each pair of shoes are hand cut, and from cutting to sewing to final polishing, these shoes are the fruit of over 200 workers.
That's how they get their rigid look.
With top-class leather and a square-toe box, these shoes are comfy. The easy break-in facility will give you over the moon feeling.
My brother owns a pair of Wing Tips, a super versatile dress shoe. This model is hand burnished; they have an elegant look and toe profile.
I saw my brother paring them with suits, jeans, and khaki; each style was just to the point.
Allen Edmonds
Allen Edmonds this brand has marked its name for over 100 years when it comes to men's dress shoes.
For such a long time, they are still on the market. Isn't it amazing?
Like any other brands, they have boots and sneaker models, but they are most known for their marvelous dress shoes and the quality they provide.
The catskin-made leather upper of Edmonds shoes is smooth, strong and flexible. It also has leather lining and a cork footbed, making them even more comfortable as the footbed molds according to your foot over time.
I own a pair of their Strands, and after 7 years of use, they are still in good condition. They are versatile, and I also wear them with casual outfits.
They rock in all styles.
Check out our separate post: Allen Edmonds Vs Florsheim.
The Key Differences Between To Boot New York And Allen Edmonds
With the same brand, if you notice every nook and cranny, several features differentiate them from one another.
Then, it's obvious that you will be able to tell the constructing factors as they will be more obvious and eye-catching between these two separate popular brands.
Let's find the differences between Allen Edmond and To Boot NY:
Allen Edmond vs To Boot NY – Leather
The manufacturers use top-notch full-grain leather for most of their Allen Edmond dress shoes. Except for leather, they also have suede-upper shoes.
This excellent quality leather is vegetable-tanned and dyed using natural sources.
On the other hand, To Boot New York shoes are made with the toughest leather named catfish leather.
The flexibility of this leather makes them a perfect fit for shoe-making.
Unlike full-grain leather, catfish leather is tanned with chromium salt and other chemicals.
But thanks to these ingredients, you get the smoothest leather that feels heavenly.
To Boot New York Vs Allen Edmonds – Stitching
To achieve a classic look, stitching is very crucial. It not only gives durability but also carries the signature look of any brand.
You will find two types of techniques in your To Boot New York shoes: lock stitching and chain stitching. These stitches are very thin and closed together.
But Allen Edmond uses only lock stitching.
The reason behind this is this brand believes two types of stitching can weaken the shoes if done incorrectly. So, they kept only the lock stitching system to design the Allen Edmond boots.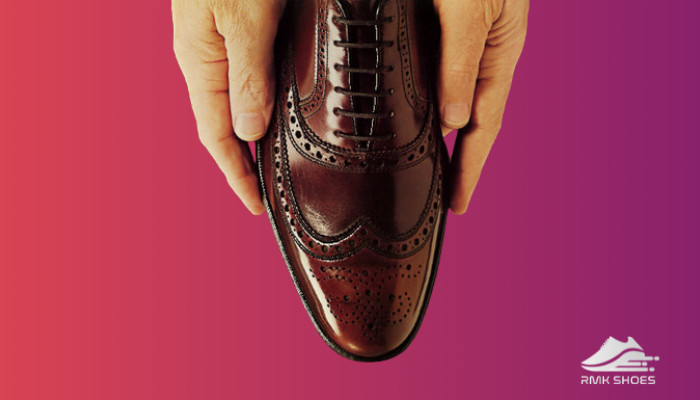 You may also like to read: Allen Edmonds Vs Gucci Loafers.
To Boot New York Vs Allen Edmonds – Soles
Insoles
The main difference between the insoles of these two shoes is the materials.
To Boot New York shoe manufacturers use lamb leather and cork materials to make insoles. You will see them in their dress shoes as well as in casual shoes.
Different sizes of insoles provide you with the best fit possible.
However, depending on the model, Allen Edmonds's shoes have plastic or polyurethane insoles.
Outsoles
Even though both To Boot New York and Allen Edmond dress shoes have leather uppers, the key difference is hidden in the traction.
Here, Allen Edmonds shoes provide better traction.
The heel is made of rubber, but in To  Boot New York shoes, the sole is rubber made.
Leather soles are not that comforting to walk into. They are more for looks than usability.
To Boot New York Vs Allen Edmonds – Style
In the styling section, To Boot New York is the clear winner!
Do you wanna know why?
They are providing a wide range of styles, from boots to loafers to dress shoes, since 1999.
So you can pair them with different outfits whether it's for formal meeting, casual outing or family get-together!
But with Allen Edmond, you will only find formal and dressy models. For more sophisticated and polished looks, you can count on them.
Similarities Of Allen Edmonds And To Boot New York Shoes
Even with unfamiliar features, To Boot New York and Allen Edmond have similarities that make it so hard to differentiate from each other. And it also helps you to find your perfect requirement.
Here are the similarities of Allen Edmonds and To Boot NY:
Price
The price range for both Allen Edmond and To Boot New York is quite similar. There is no doubt with a 395$ price tag, these shoes are not cheap and way out of budget.
I had to save five months' worth of pocket money to buy my first Allen Edmonds!
For both of these dress shoes, the price goes up to 395$. The lowest range of To Boot New York is 248$, and for Allen Edmond, it's around $111.
So, before thinking about these fancy shoes, double-check the price and also your pocket!
Construction
To Boots New York shoes are constructed by Italian workers with care. On the other hand, Allen Edmond is made in America.
They both use Goodyear welted construction techniques to get a well-made look and also have leather soles.
Build Quality
There is no question about the build quality of these outstanding shoes. For Allen Edmonds, you know they are handmade. The manufacturers use Goodyear welted soles, which tend to be super durable.
To Boot New York models are also very well made with high-quality materials.
These shoes are a bit heavier due to the construction technique, mainly to protect your feet from fatigue, and they do what they promise.
So specific, yet on to the point!
Related content you should read: Allen Edmonds Vs. John Lobb.
To Boot New York Vs Allen Edmonds – Pros & Cons
With every piece of footwear, there will be some drawbacks along with their benefits.
Allen Edmonds and To Boot New York is no exception. And you need to know about them properly to make the right purchase decision.
Let's see the pros and cons of To Boot NY and Allen Edmonds:
To Boot New York
Pros
»

Finest quality leather.

»

Long-lasting materials.

»

Soft and durable.

»

Excellent outlook.

»

Various color options.

»

Breaks in easily.
Cons
»

Limited styles.

»

Relatively expensive.
Allen Edmonds
Pros
»

A variety of styles.

»

Outstanding quality materials.

»

Comfortable.

»

Versatile piece.

»

Super long-lasting.
Cons
»

Expensive.

»

Limited size.

»

Narrow toe box.
Allen Edmonds Or To Boot NY – Who Wins the Battle?
To be honest it's difficult to suggest one shoe as both are almost perfect and have the best material for any luxury dress shoes.
You can't put one on top of the other in terms of durability, functionality, and style. To Boot New York shoes will give a lot of options to choose from. With Allen Edmond, you will get variation along with extreme comfort.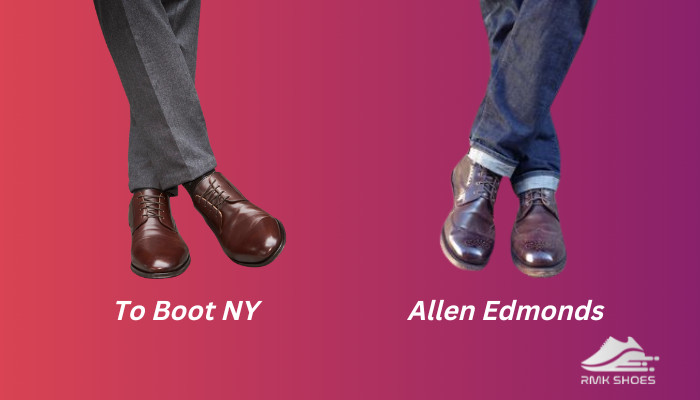 They are unique on their own and rock individually. So, as I was saying.
Their pricing is also in the same range. Whichever you buy, it's clear that you are going to look good and polished no matter what.
So, if you want to choose one of these two exclusive dress shoes, just focus on your preferences and expectations along with your budget.
Also, check out our separate post: Bobs Shoes VS Toms.
FAQ
Is Allen Edmonds A Luxury Brand?
Yes, Allen Edmonds is the largest men's luxury shoe brand nowadays in the US. They are on the market for over 100 years. Their higher price tag and quality got them fame.
Are To Boot New York True To Size?
To Boot New York runs a full-size big, especially with their leather sole dress shoes. But the athletic shoes are true to size.
Are Allen Edmonds comfortable?
Yes, Allen Edmonds shoes are comfortable. They don't even need a break-in time. You can wear them fresh out of the box and walk comfortably all day long.
Verdict
Dress shoes are a staple piece for anyone's closet; everyone should own at least one pair.
Both Allen Edmond and To Boot New York are classic, long-lasting shoes if properly taken care of. You can rock in these models and get the best use out of them as high-priced dress shoes.
So, picking either of these two won't be any disappointment!
I hope I gave you all you needed to know and made your decision-making process easy. Let me know which one you finally choose.
Cheers!