Who makes the best dress shoes between Allen Edmonds and Florsheim?
Well, you can't answer this just by analyzing the shoes' appearance; instead, you must examine all of their features and compare them to determine which one is better!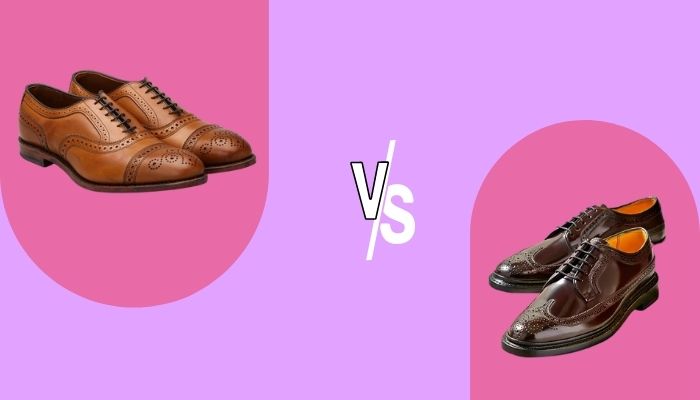 That's why I've detailed all of the differences, similarities, and specialties of Allen Edmonds and Florsheim in this article so you can get the best value for your money.
So without further delay, let's dig into the writing.
Allen Edmonds vs Florsheim: In-Depth Comparison
Before you address a brand as the best, you should know the reason behind calling it because only a beautiful and shiny outlook cannot give a pair of shoes 'the best' award.
You should be familiar with all of the features and functions so that you can compare each brand's strengths and weaknesses, which will ultimately assist you in selecting the best pair of shoes.
Here are all the key differences between Allen Edmonds and Florsheim:
Quality
Allen Edmonds is recognized for producing premium quality shoes, and they've been making high-quality, sophisticated dress shoes since 1922. Even after so many years in the business, Allen Edmonds' quality hasn't deteriorated a single bit.
Everything about the shoes, from the material to the construction, is done by the best artisans to assure excellence.
Check out our separate post: Allen Edmonds Vs Gucci Loafers
On the other hand, Florsheim did make good quality shoes at one time, but today the quality of their shoes has severely fallen.
Their shoes may be attractive at first glance, but once you begin using them, you will notice that the leather quality is poor, and as leather quality lowers, the overall longevity of the shoe suffers.
Material
 Both Allen Edmonds and Florsheim produce their shoes out of leather. However, there is a significant difference in the quality of their leather.
Allen Edmonds always uses full-grain leather that has been hand-selected to ensure quality. In all sorts of leather, full-grain leather is the best you can get.
The full-grain leather's grainy texture lends the Allen Edmonds a more posh and formal appearance.
Florsheim shoes are made of leather too, and their leather is of good quality. However, when compared to Allen Edmonds leather, then hands down, Allen Edmonds takes the trophy.
Follow our guide to know Allen Edmonds Vs. John Lobb
Comfortability
The importance of comfort in shoes cannot be overstated. It's not a good pair of shoes if they aren't comfortable.
Allen Edmonds prioritizes comfort by including a cushioned footbed that protects the feet from the hardness of the ground.
Allen Edmonds are also ready to wear straight out of the box because they don't require any break-in time. On the other hand, Florsheim will need some time to settle in.
The comfort of the shoes is also influenced by the quality of the leather. The higher the leather quality, the nicer it will mold your foot. Here, Allen Edmond wins the games because their leather is of the best quality.
Then there's the breathability; Allen Edmonds has all-leather insoles that let air circulate, so your feet don't sweat and stay fresh and comfy.
In contrast, Florsheim insoles are mostly made of synthetic materials. Synthetic traps heat and do not let your feet breathe, resulting in smelly and sweaty feet.
Follow our other guide to know Bobs Shoes VS Toms
Construction
The construction of a pair of shoes determines how long they will endure; if the construction is done correctly, they can survive for years.
Allen Edmonds designs their shoes really effectively with this in mind. They include a 360-degree Goodyear welt around the shoes, which keeps water out of the heel and ensures long-lasting stitching.
Florsheim shoes are welted as well, although not in a 360-degree fashion, which makes the stitchings stronger but not as robust as Allen Edmonds.
Also, check out my new post on how to Prevent Shoes From Dry Rotting
Durability
What makes a pair of shoes durable?
Obviously, the quality of the leather used in the production of the shoes. Allen Edmonds' leather is of the best grade; therefore, their longevity is unaffected. Their leather is tough and doesn't readily rip or wear out.
Whereas Florsheim's leather isn't as good as Allen Edmonds. They are too soft and easily tear or wear out.
The use of the shoes has an impact on their durability too. No matter how durable your shoes are, if you wear them every day without maintaining them, I doubt any top-rated shoes will perish.
Waterproofness
Allen Edmonds is inherently water-resistant since they are constructed of full-grain leather.
In addition, the 360-degree Goodyear welted structure prevents water from entering the shoes.
Allen Edmonds also sells waterproof shoes that are suitable for rain and snow.
Florsheim also has a section for waterproof shoes and says that its leather uppers are waterproof.
Though both manufacturers say their shoes are waterproof, I reckon they are more water-resistant than waterproof.
Follow our other guide to know how to Make Big Shoes Fit 
Sole of Allen Edmonds vs Florsheim
Different types of soles are used for different kinds of footwear, and the same is true for Allen Edmonds and Florsheim.
Allen Edmonds' soles are hand-sewn, making the shoes durable and long-lasting.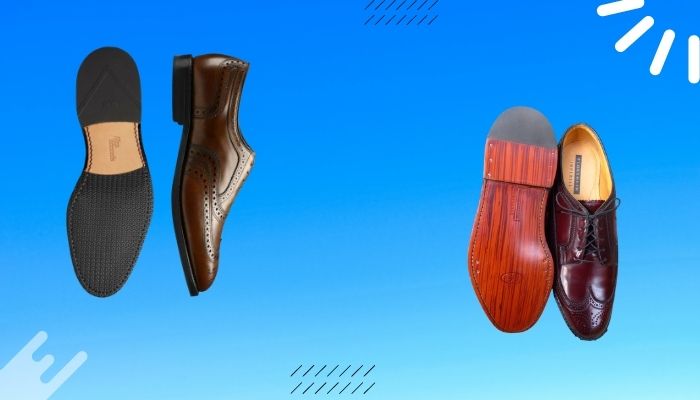 On the other hand, Florsheim soles are not hand-sewn, but they are slip-resistant and have improved all-weather traction.
Their soles are made of rubber which is durable, comfortable, and waterproof at the same time.
Also read, Composite Toe Vs Steel Toe Boots
Fitting
Florsheim and Allen Edmond are both true to size. Always get the precise size of your foot, not sizing up or down, to ensure the best fit.
The main difference in their fit is that Allen Edmonds doesn't require any break-in time and will fit nicely right away.
But Florsheim shoes are stiff when new and must be broken in. The shoes will feel a touch snug on your feet at first because they are hard. But don't worry; after the shoes have broken in, the tightness will go away.
Price
Florsheim and Allen Edmonds are both expensive. However, when the two are compared, Allen Edmonds is more costly.
Allen Edmonds are expensive for legitimate reasons, such as high-quality leather, updated construction, various features, and, most significantly, hand-sewn soles by the best artisans.
Hand-made shoes are more costly than machine-made shoes since a single pair requires more time and labor.
However, it is not required that only high-priced shoes are of the best quality; affordable shoes can still be of excellent quality. Florsheim manufactures good-quality dress shoes at a reasonable price.
Florsheim is a good option for those who don't want to spend a lot of money on a single pair of shoes.
You may also like to read: Caiman Boot Care, Fix Squeaky Boots, Basketball Shoes Fit
Parting Thoughts
If you've read this far, you're probably thinking I'm a fan of Allen Edmonds. Well, there's a saying, "It is what it is", after all! But that doesn't necessarily mean you've to go by my choice.
Allen Edmonds has built a significant presence in the shoe industry with its amazing features that have earned them everybody's preference.
In comparison to Florsheim, Allen Edmonds is the clear winner, but it doesn't make Florsheim any less deserving.
Individually, Florsheim is a solid brand that makes formal shoes at a reasonable price. However, you can't deny that Florsheim's quality is not the same anymore.
That concludes today's discussion. I hope this article has guided you in determining which brand is best for you.
Also, don't forget to tell me the brand you choose in the comments section. We love to hear from our readers.
Goodbye!