Doc Martens – the one boot that simultaneously serves the look and style when you dress up!
These rugged boots are functional yet durable to last several seasons. Moreover, they're in the fashion hype. To keep pace with the trend, looking for ways to tone up your boot game is obvious.
So, stay tuned to learn how you can jazz up your DMs to their fullest.
11 Fashionable Outfit Ideas With Dr. Martens
Versatility, durability, and comfort – these three features pair very well together with Dr. Martens. They're too flexible to serve you perfectly while even you're hiking with Doc Martens. And not to mention, they're pretty good for following the trend in terms of styling yourself!
Matching your yellow stitched pair with mom jeans, a short denim skirt, and a midi dress, you can wear anything with your DMs. Styling is not limited. Everything goes with these trendy boots and offers you a noticeable appearance.
However, if you want to customize your style according to your personality, I suggest some trendy outfits.
Here are a few DMs outfit ideas for a trendy look:
1. With Leggings
To create a grunge moment with your available outfit accessories, you need fishnet leggings with a blazer and classic Doc Martens boots.
Just wear your favorite DM pair and a 90s oversized jeans jacket. To enhance the whole look, simply pair form-fitting leggings with that duo. It gives you a vintage look and doesn't feel boring at all.
2. Full Black Outfit
It's quite crucial to create a monochrome moment in a gothic glamour occasion where you have to wear a full black outfit. But wearing a pair of martens simply elevates your total get-up. You can wear a black maxi or midi dress and wear these chunky boots.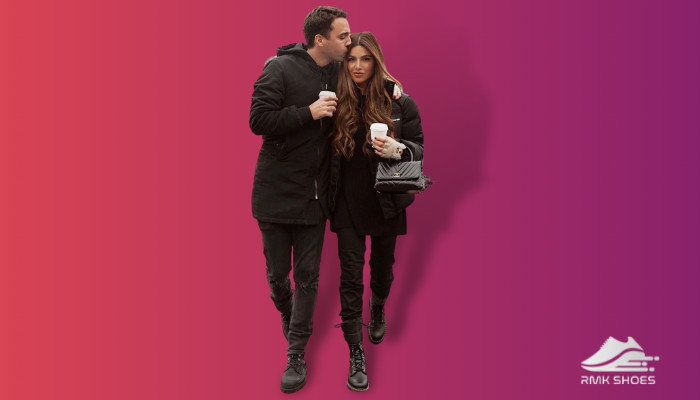 The yellow lace beast works like sprinkles in your boring black outfit, offering you a bold chic look.
3. With A Short Skirt
DM Carlson suede mules may be the first choice when you wanna lessen sweat in summer outfits. But when you try to look both casual and fashionable, try a short denim skirt and a graphic tee or baggy top and wear it with doc martens Jadon platform boot.
For warm weather, this look is just so damn good for your summer appearance. In addition, wearing Doc Martens while traveling was never been such comfy.
4. With Ripped Jeans
Who adore their style just like me; for them, ripped blue jeans are a staple component of their wardrobe. And if you want a noticeable presence at a casual party, these two components are best for you. Just put on your ankle boots and pair them with ripped jeans.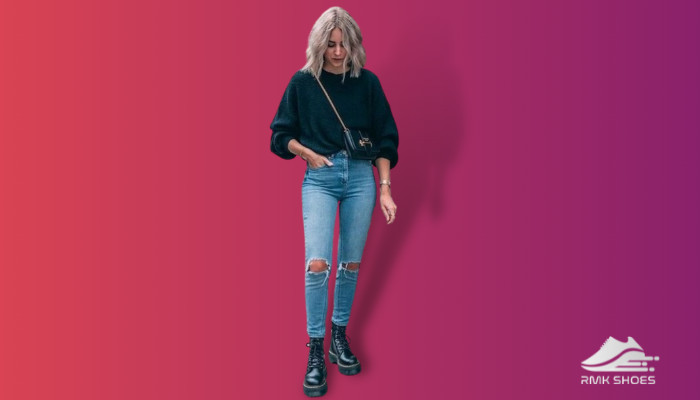 5. Denim Shorts and Sweatshirts
During style in winter, sweaters are the only costume that offers a presentable casual look for your regular purposes. Dr. Martens are more rugged than the loafer and pump.
They just offer little variety than others. That boots pair well with shorts and sweatshirts.
6. With Utilitarian Skirt
You can wear your Doc Martens combat boots on any formal official program. Put on your mid-length pair with a subtle-colored utilitarian skirt and a simple blouse.
Trust me, this eye-catching outfit will provide a very unique style for your formal occasion.
7. Fancy Gown
Many of us love to wear comfortable pairs of shoes with every dressy flowy outfit. A fancy vibrant gown offers a glossy look, and then you emphasize them with black DMs. It provides you with a different but noticeable look for your desired program.
8. With A Leather Jacket
Get creative and experiment with your rebellious Dr. Martents. Wear a leather jacket on top with a mini skirt and pair it with Chelsea martens shoes to look really cool with this attire. You can match mom jeans or tights with that outfit; both look great together.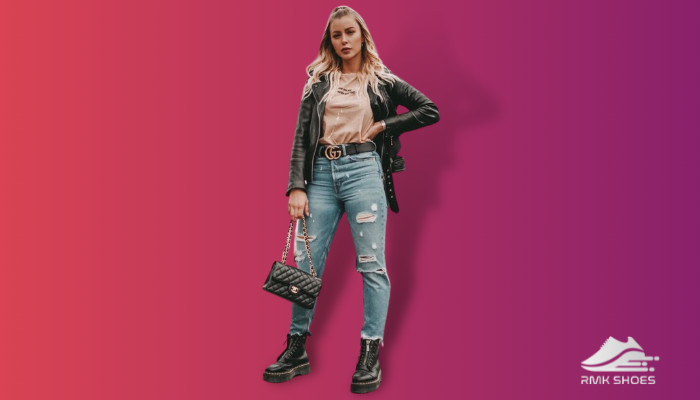 This style suits every aged people. Besides, Doc Martens are good for your feet. So you don't need to worry about the quality while rocking on these beasts at any age!
9. Vibrant Outfit
You can choose a vibrant outfit that looks too fancy; just put on a full black oxford-style DM with socks. That one shoe just enhances your total outlook moderately.
For example, when you wish to wear a bright color suit and want to create a bold look, you must wear a pair of black DM boots at the workplace that emphasizes your personality.
10. With Floral Flair Top
If you fade up with your same floral tops for late-night parties, try to present yourself differently; the best option is style dr.
Wear a short floral dress with a black ankle-length martens pair, and the game is yours.
11. With Oversized Shirts
Okay, Maybe this is the most casual and popular outfit idea with doc marten footwear.
I'm talking about pairing your shoe with an oversized shirt or a boyfriend shirt. This outfit looks very simple, but along with the simplicity, it also offers a presentable glimpse.
So, create your personal style with Martens' footwear. There is no specific number of styles, and luckily your Doc Martens boots blend well with your every attire. If you pick any of them, don't forget to share them with me.
Are Doc Martens Still in Style 2022?
Being a 60-year-old brand, Dr. Martens' style is still in fashion. However, there are no specifications about style. If you try making your own style with your Martens, you can easily create an elegant glimpse with your regular suits.
Dr. Martens has been a renowned footwear brand for its stylish outlook since 1947 when they produce their first pair. They're so popular and widely used shoes that many fake versions are roaming around.
Anyways, if you're looking for the most versatile shoe, DM's the name, which goes with every outfit in every season. That shoe offers a '90s vibe with a bold modern look.
The brand covers the total footwear type and consistently surpasses its own bar. They are a complete package of fashion and comfort. You can never go wrong with your look if you love laid-back grunge style.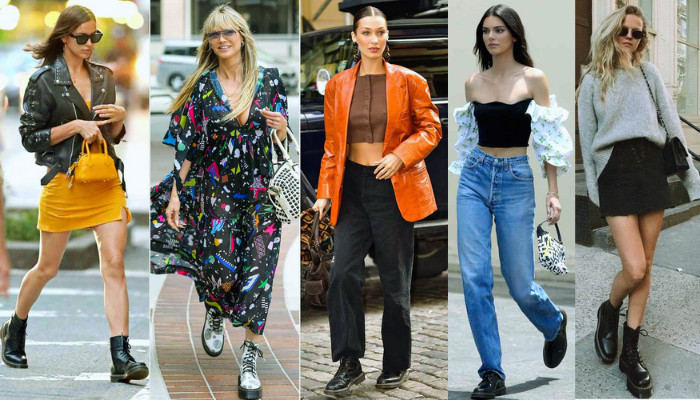 So, just one pair of Doc Martens complete your craving for fashionable and cozy shoes. Personalize your boots to reflect your unique style. You must receive an elegant look and elevate your charm with your Dr. pair.
FAQ
Can you wear your Doc Martens with skinny jeans?
Usually, martens are bulky style shoes. You can wear skinny jeans or corduroy trousers with a cuff crop top that moderately enhances your total outfit.
Are Doc Martens supposed to be uncomfortable at first?
According to my experience, Dr. Martens are initially a little snug-fitting, but you can't say they are uncomfortable. It depends on your feet' structure.
How long does Doc Martens last if worn every day?
The answer depends on how you use and maintain your footwear. Boots made of tougher leather are particularly sturdy and long-lasting. If you take good care of them, they last between 5 and 20 years.
Look Before You Leave
I've illustrated 11 different scopes to style with Doc Martens in this article. And there is no boundary of styling, you can customize your style on your own. I hope you find a trendy outfit that is perfectly put together with your beloved Dr. Martens.
To let me know how you style your Doc Martens, comment below. And don't forget to inform any additional queries.
Peace!