You got large-size sneakers as your birthday gift and don't have the option to return or exchange that pair!
Consequently, you can't use that wrong-size shoe. But inside you're craving to style with that vibrant pair.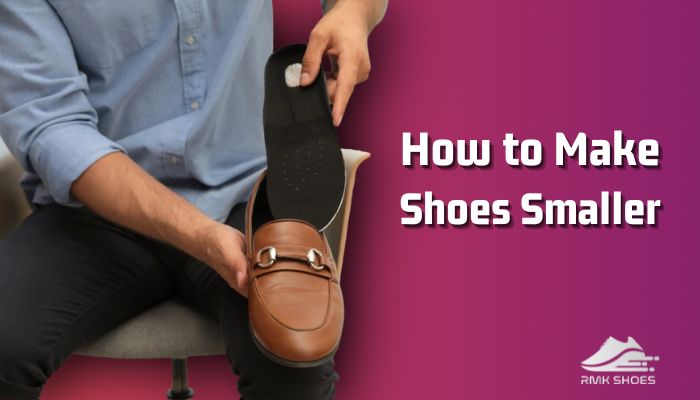 So obviously you're in search of ways to reduce your shoe's interior and make that shoe smaller. And I'm gonna introduce some effective strategies to accomplish this task.
Tag along and get to know about them!
How Can I Make My Big Shoes Smaller?
A foamy insole or custom orthotic is a fantastic option to turn big shoes into smaller ones. It occupies some empty interior and gives a snug fit in the case of half-size large sneakers. Moreover, this comfortable yet firm layer adds extra cushioning and arch support.
Bigger shoes aren't beneficial for your foot health and gait. So, it's a must to minimize the size and obtain the perfect space. You can do it by inserting insoles in the big shoes.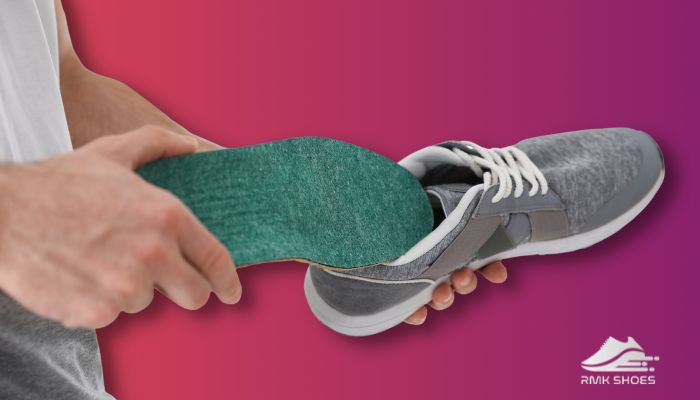 But make sure to spare at most 0.5 inches of the room so that your toes do not touch the end of your shoes and you can walk comfortably.
The shape of an insole is similar to the foot shape. But if you're unable to find your preferred insole in the market (though the chance is quite less), customize yours.
It's also known as custom orthotics as crafted for each user's feet according to their preferences.
Insole insertion in shoes is a pretty simple task. After getting your ordered insole, just unpack it and put it inside the shoes.
In a wide variety of insoles, you must be confused about which one you should pick.
A full-length high volume insole lessens relatively more amount of space. So buy insoles enriched with useful features such as enough padding, shock-absorbing, moisture-free, breathable, and odor-preventing.
If you don't find thick insoles, put double insoles, they won't cause any foot issues.
How to Make Shoes Smaller Without Insoles?
Other than insoles there are some affordable items including toe inserts, gel pads, heel grip, and cotton balls that can shorten the space inside shoes.
People are more likely to depend on these products rather than custom orthotics. Because the orthotic insole is costly ($400-$800). But normal insoles are affordable, yet some people just don't prefer them. Rather, they wanna depend on something else.
Here are some ways to make your loose shoes smaller and fit:
1. Shoe Filler
Having unnecessary space in front of your toes?
Then, insert one shoe filler in each shoe (also known as toe insert). As the name implies, it fills the redundant portion. Along with this, also protect your toes from pinching against the sturdy toe box.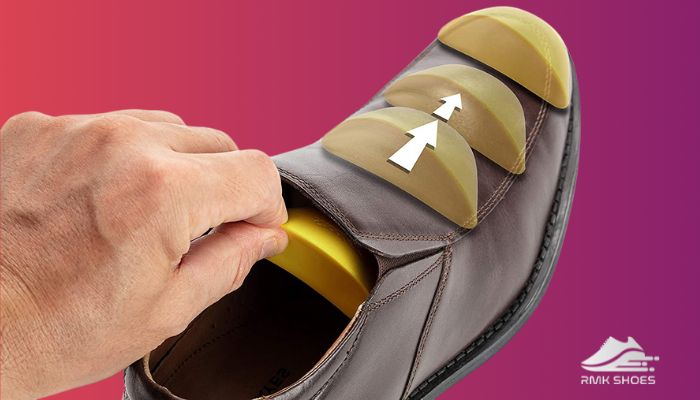 So insert this beneficial item in your bulky shoes and move ahead with your petite feet.
2. Toe Pouch
Cushioned toe pouch will sort out the issues with somewhat larger shoes. Besides, it protects from toe bruises and nasty blisters.
As a knockoff of the toe pouch, you may take help from the metatarsal pads.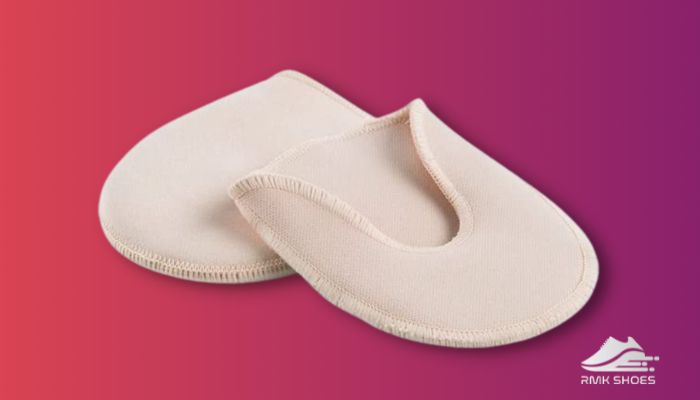 Instead of placing it inside the shoes, put your foot inside it. Thus, you will get a thick layer of padding. Apart from sneakers and loafer-type footwear, it also suits well in pumps and heels.
3. Heel Grip or Pads
When the toe box structure conforms to your toe shape, but the shoe fits loosely at the back – the heel pad is a great solution. It makes shoes tighter in the heel zone.
And this kind of issue mostly happens in pointed-toe shoes. To resolve this, add an adhesive and spongy heel grip inside your shoe. It prevents friction between your ankle and harsh shoe material.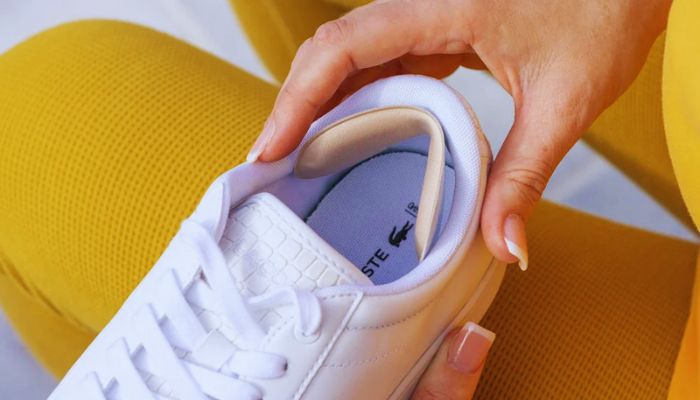 After detaching the protective paper from the strap, decide where it should be added. Then finish off the procedure by attaching it to the heel area.
Now, wear the shoes and feel the difference. Isn't it snug as a bug in a rug?
4. Cotton Balls
Stuff some well-cushioned cotton balls inside your closed-toe shoes.
As a result, excess shoe area will be decreased. You can purchase it from the nearby store or make yours following the YouTube tutorial.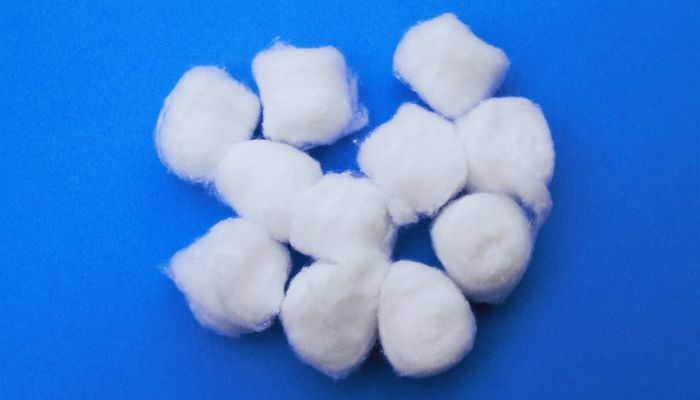 Using cotton balls diminishes pressure on the ball of the foot and also gives a soft pillow-like feel beneath the foot. So, try this trick and get rid of uncomfortable inaccurate size shoes.
5. Thick Socks
As we all know, wearing shoes without socks is not a nice practice.
Socks cover the feet, keep them warm, and protect rubbing the back of your heel. Wearing a pair of thick or double socks provides a snug fit.
But when the shoes are too big, this strategy doesn't work at all. Though, some people suggest making a stack of socks inside your shoes. Hence, you can obtain a comparatively tight fit. But I think it's not so effective.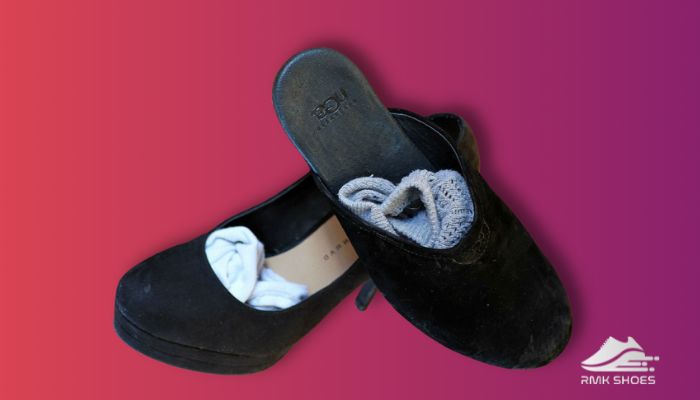 When it's summer, just imagine stuffing a bunch of socks in your shoes and walking in them. Isn't it quite irritating?
This creates discomfort, sweating, and stinky shoes in the long run.
So the simple tricks to make your shoes smaller are described. But if all of these seem difficult for you or if you're lazy like me, take help from a cobbler to make the shoes smaller.
Is It OK to Wear One Size Bigger Shoes?
No, it's not OK to wear one size bigger shoes while walking. Moving with a full-size bigger shoe will obviously cause stumbling and disturbance, no matter whether you wear socks or not. But for heavy activities like running and training most people prefer half to one size bigger shoes.
Wearing too big shoes enhances the risk of injuries. Furthermore, it leads to corns, calluses, and metatarsalgia.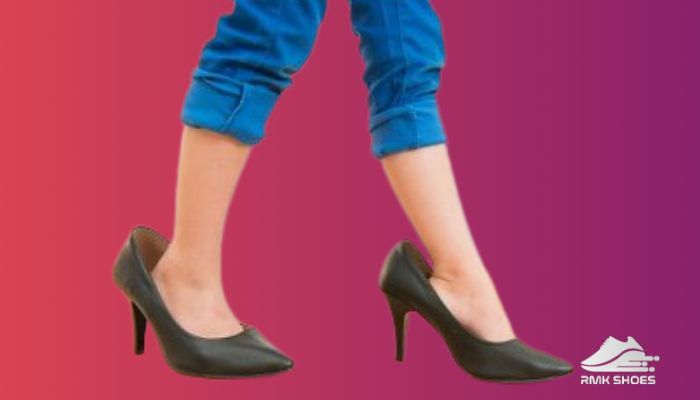 So, instead of buying bigger or smaller shoes, always double-check the fit and get the properly fitted sets.
However, there's a tradition of preferring a half-size bigger running shoe among professional runners and trainers. Because their feet swell during this highly energetic activity.
On top of that, all footwear brands do not follow the same sizing scheme. For example, Asics run smaller than Nike. And you will have to opt for a full size up in Asics compared to your regular sneaker size.
If you usually wear size 9 with your ideal feet, do not panic to get 9.5. Because there's not much
difference in half-shoe size
. But going a full size up is risky.
Closing Thoughts
You've got the solutions for bigger shoes. So, there's no need to keep your big shoes inside the cabinet.
Just follow any of these methods and make your shoes smaller.
If you have any further queries regarding foot gears, leave them in the comment section.
For now, let's repair the shoes and style them!