Leading a runner's life, I use to wear trainers' gear. And I enjoy my Clifton lines over other running shoes because of their comfort and support.
Choosing one is tough when comparing Clifton 8 & Clifton Edge, where both Hoka shoes are famous for their top-notch attributes.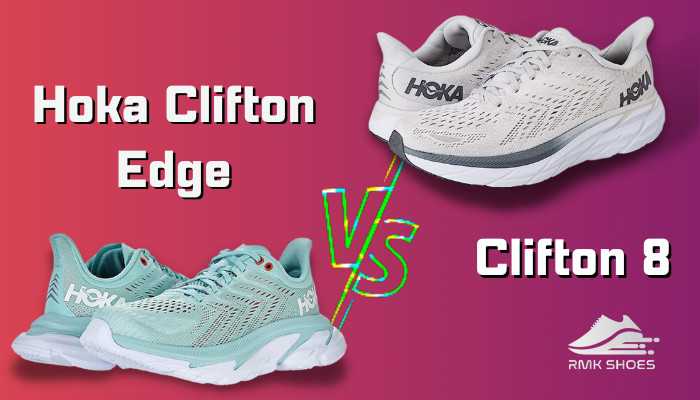 After wearing both pairs, I gathered enough information about their offerings. Now, I'll compare their features thoroughly, which will help you decide on your next running pair.
So, dive in!
Comparison Table Between Clifton Edge and Clifton 8
Hoka Clifton is the most famous line for their running pairs. Among the total line, Clifton 8 and Clifton Edge are always being compared for their exceptional features. I'll create a chart of their feature comparison to clarify your conception.
Let's check out the comparison table between Clifton 8 & Clifton Edge:
| Functions | Hoka Clifton 8 | Hoka Clifton Edge |
| --- | --- | --- |
| Comfort | More comfortable compared to other Clifton shoes. | Ensure moderate comfort. |
| Weight | Lightweight. | Little more weighty than the Clifton 8. |
| Materials | EVA+ foamy sole. | EVA+ foamy sole. |
| Drop | 9 mm drop. | 5 mm drop. |
| Price | $112. | $185. |
| Toe box | Comparatively, wide toe box. | Congested toe box. |
Feature Comparison of Hoka Clifton 8 and Clifton Edge
Though both Clifton shoes belong to similar shoe ranges, they have different approaches. While the Clifton Edge offers the most breathable appearance, the Clifton 8 is better in performance and durability.
Deciding on one pair only seeing the chart is tough, so I'll elaborate on the mismatches in detail.
Let's explore the contrasting feature of the Clifton 8 & Clifton Edge:
Comparing Comfort
Both Hoka shoes manufacture with EVA+ midsole that makes them comfortable.
If you are searching for a plushy trainers pair, Hoka Clifton 8 has a more squishy feel than Clifton Edge. Clifton 8 offers a softer & comfortable ride, yet they have some breathability issues.
Contrary, in Clifton Edge, you will find a firmer sole that comparatively provides a little hard ride. These thinly padded shoes are incorporated an amazing breathable upper that makes these Hoka shoes good for day-long walking.
Weight
In terms of weight, Clifton 8 and Clifton Edge are pretty similar. Both shoes carries are 8.9oz for men's shoes. My US 12.5 size Clifton Edge shoes weigh 10.4 oz, and the same size Clifton 8 holds 10.03 oz.
So, I found Clifton 8 pair is lighter pair among the other Hoka models. Meanwhile, Clifton Edge is a bit heavier than lightweight; you can say it is a welterweight (boxing term).
Price Range
Due to their quality feature, Both Clifton 8 & Edge charge slightly more price than the other trainer's gear. But if you compare Clifton 8 price with the Edge, you will find a lot of mismatches because Clifton Edge asks for huge. Prices are like this:
Hoka Clifton 8 asks for around $112 in different retail markets.
Clifton Edge demand for $185 per shoe.
Design Variations
Design-wise, both Hoka pair acts differently. Where Clifton Edge offers a more aggressive outlook, the Clifton 8 comes with a minimalistic traditional design.
In Clifton Edge, you will find a V-shaped mudguard and toe protector that make them suitable for intense running. Though both Clifton shoes are featured with engineered mesh fabric, the updated mesh of Clifton Edge offers breathability with other facilities.
Contrary, the Clifton 8 ensures stability with their top-notch lockdown. The heel strikes also emphasize the support during sprinting. So, if you want to buy better supportive and responsive shoes, the Hoka Clifton 8 is the most preferable one.
Size & Fittings
Hoka Clifton 8 fits true to size with ample fit. In this shoe, you'll find voluminous space for wide feet, so the trial is a must if you have narrow feet.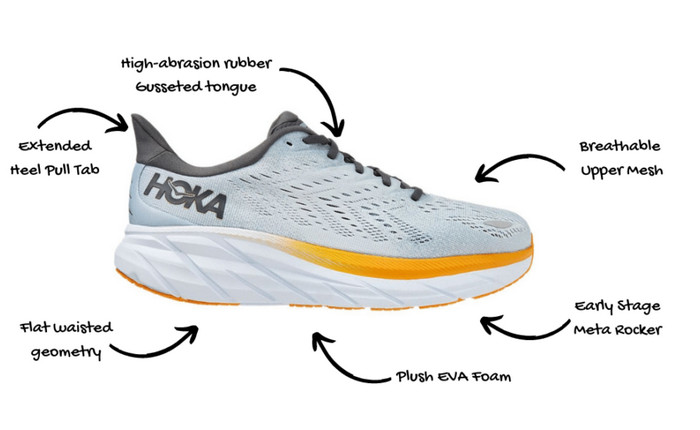 Contrary, Clifton Edge offers a narrower toe box and minimum height in your forefoot portion. Ultimately this shoe fits snugly with regular feet; if you have broad feet, then it creates many issues because the upper is not stretchy.
Due to its congested upper, your feet feel cramped and uncomfortable, and it's better to pick a size bigger running shoes than your actual size.
So, choosing Clifton 8 over Clifton Edge for your wide feet is better.
Stack Height
Hoka Clifton 8 has a 33.7 mm stack height in the heel area and 25.1 mm in the forefoot portion, which offers more bouncy nature.
On the other side, the Clifton edge features a noticeable outsole with a 33 mm heel and 28 mm forefoot height. And this even height makes this Hoka pair good for flat feet people.
Hoka Clifton Edge Vs Clifton 8: Pros & Cons
Hoka always tries to provide the best quality running shoes in their different ranges. Both Clifton Edge and Clifton 8 are the most hyped pairs for their advantages. But there are no shoes that don't have any disadvantages.
Here I'll describe the strength and weaknesses of Clifton 8 & Edge:
Clifton 8
Pros
»

Lightweight & Durable.

»

More comfortable aspects.

»

Provide great lockdown.

»

Good for wide feet.

»

Affordable price range.

»

Runs true to size.

»

Outsole traction with flexible movement.
Clifton Edge
Pros
»

Comfortable.

»

Run true to size.

»

Breathable.

»

Perfect for day-long use.

»

Provide good stability.
Cons
»

Charge a huge amount than Clifton 8.

»

Inappropriate for wide feet.

»

Lockdown issues.
Verdict
Now you have enough information about both Hoka pairs. So if you want to buy a good quality shoe within a suitable budget, then the Hoka Clifton 8 is the best. Not only the price, but it also provides comfort and stability, which is crucial elements in running shoes.
Moreover, they don't need any break-in period and offer a great lockdown from the first day. Apart from the breathbility, there are tremendous offerings, including durability.
On the other hand, if you wish to buy shoes for your upcoming summer sessions and the budget doesn't create any issues, go with Clifton Edge. I love them because of their breathable nature, which makes them superior on hot summer days. But the asking price is high.
I prefer Hoka Clifton 8 over Clifton Edge. Apart from their budget-friendly attributes, I found security and durability in my Clifton 8.
That's all I have to tell you; now it's your turn to choose a pair.
FAQs
Is Clifton 8 fit true to size?
Yes, Hoka Clifton 8 fit true to size. You will find enough space in their toe box so that you can wiggle your feet easily.
Is Hoka Clifton Edge good for flat feet?
Hoka Clifton Edge is a perfect shoe for flat feet because this shoe is featured an even outsole compared to other running shoes.
Can you wear Clifton 8 in summer?
You can wear your Clifton 8 in summer, but it's not preferable because the shoe uppers are not breathable enough, which is a must-have feature in the hot season.