Purchasing a pair of Doc Martens is a wise decision. But a little research about their sizing and fittings is essential for avoiding discomfort and blisters.
However, before buying, if you are confused about whether Doc Martens runs big or small, this article is for you.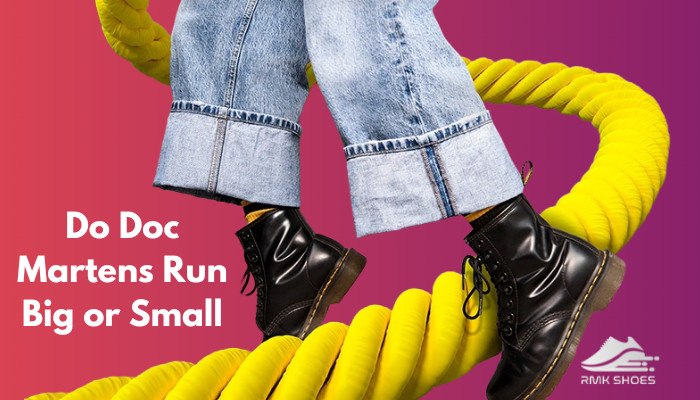 Here, you'll find a comprehensive Dr. Martens sizing guide to adjust your perfect fitting.
So, without any further ado, let's dive into it!
Do Doc Martens Run Big or Small?
Generally, Dr. Martens boots and shoes run true to size, maybe a .5 size down from your sneakers. And they're not as big as you think. Though, after wearing 1460s, Chelseas, and Jadon's, some users found doc martens that ran half-size big.
Anyway, after researching various reviews of original consumers, I found more than 66% of users find doc martens fit the actual size.
I usually wear Dr. Martens 7 sizes that are perfectly fit with my feet.
However, according to your sneaker size, you may find half sizes down in Doc Marten shoes. Wear thick socks to adjust if you find a little loose fitting after wearing your classic boots.
The brand has created a huge fan base for the comfort and styles that they provide for its customers since Dr. Martens first manufactured its shoes and boots.
Being a versatile styling yet functional option for boots, Doc Martens is a multipurpose shoe. Thus, Doc Martens function really well during wintertime.
Read our other content on Doc Martens being good for snow to learn more about crossing the snowy NY roads with your beloved Docs!
Do Doc Martens Come in Half Sizes?
Unfortunately, the brand doesn't come in half sizes. You'll not find any Doc Martens boots in half sizes. These boots usually have roomier space around their toe box. So, either go a size down or wear thick socks to adjust your Doc Martens sizing.
However, using British sizing in their shoes and boots, Doc Martens never offered a half-size facility for their customers. They only offer whole-size shoes.
You can say that's the downside of these yellow-stitched bad boys. But once you get the hang of their sizing adjustment, you'll see a whole different world inside your boots!
For the perfect fitting, the DM officially recommends picking your regular size or choosing a whole size down if you are in between sizes.
As Dr. Martens stretch as you wear them over time, don't worry about the fitting if you stay true to your size or have to go a size down. After the break-in period, they'll fit your feet just perfectly!
Read my previous article to learn more about how to break in Doc Martens overnight.
How Should Doc Martens Fit?
As I have already said, they have just one drawback: they didn't offer half-size facilities. And they fit a little roomier.
And being a British brand, Doc Martens follow EU sizing, which is normally 1 size smaller than the US sizing chart. So, when you have to pick a Dr. Martens shoe, there is no need to size it down. You'll be good to go with your regular size.
To know your perfect size for Dr. Martens shoes, check the size chart before buying.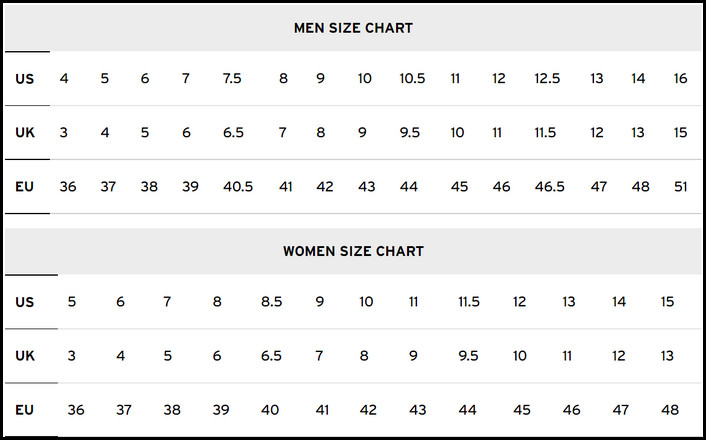 This shoe may take a few weeks to complete the break-in period, but after a break-in, they offer the ultimate fittings. I think everyone has a different opinion about Doc Martens sizing and fitting.
However, my opinion is they fit TTS (true to size).
The fittings of Doc Martens boots usually depend on your chosen model. Likewise, a few doc martens designs hold some exceptions.
Such an example is Doc Martens 2976 Chelsea boot which runs big, but the others fit perfectly.
Whereas your feet feel a little snug for their laces, you must wear them with your regular attire in every environment to attain the ultimate level of comfort.
Do Doc Martens Fit Wide Feet?
With a large toe box, roomy overall size and outstanding arch support, Dr. Martens will fit your wide feet like a glove. Some of these classic black boots run slightly (half a size) big, so if you are into loosely fitted footwear, this is your jam!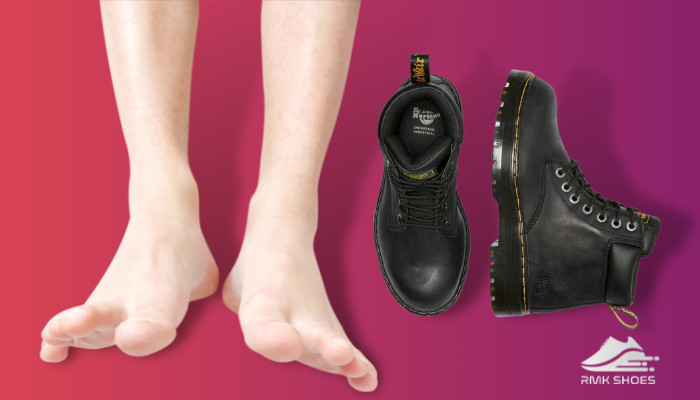 Another amazing fact about Doc Martens is that this brand has several models like the 1460s, Jadons, Chelseas, which run almost a full size big.
Instead of the stiff leather exterior, they will fit your large feet properly.
You don't need to worry about their quality as they are reigning the glove based on the material they provide along with their various sizing.
So, Doc Martens are an ideal pair with or without wide feet.
Do Dr. Martens 1460 Run Big?
Yes, The 1460 DM models run a little large with wiggle room. The classic 1460 model is a little wider than the other Dr. Marten boots. Though the brand claims its shoes come true to size, most people find the exception about sizing in this greasy model.
After arriving, the literal combat boot 1460 has created a sensation for its exotic look with shiny upper and yellow threads.
However, nothing is more frustrating than your desired shoe that doesn't fit your feet accurately. Though all Dr. Martens classic shoes ensure the size properly, the famous 1460 greasy boots have a little large fitting.
Apart from this model, Chelsea and Jadon are also the exceptions in doc marten boots according to their sizing.
You must take a size down for perfect fitting in those pairs.
Moreover, The brand also provides a unisex size chart for that reason, customer face some problems with your accurate fitting with their dr. marten.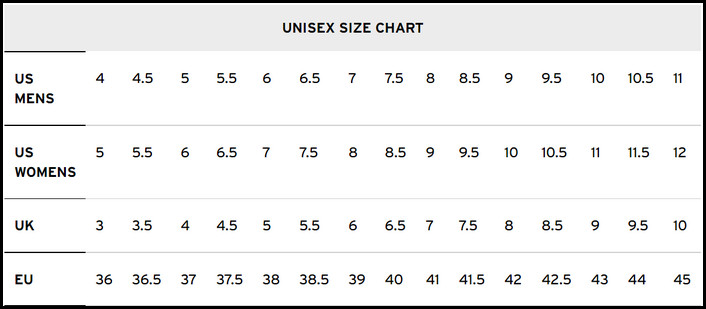 The women's version of 1460 is much narrower than the unisex version, so if you want to buy the women's version, then pick your actual size. They are a little soft and easy to break in than the unisex addition.
Many of us (including me) face the problem because the size variation depends on the different models of dr. marten shoes.
Do Doc Martens Stretch?
Typically the Dr. Martens boots stretch procedure takes time and patients. If you have a half size, then everyone recommends picking the downsize.
Most of the leather boots fit a little tight during the first wear. And they stretch as you wear them over time. There are even techniques following which you can manually stretch your Doc Martens. But if the fitting suits your feet well, then there is no need to stretch.
However, the problem comes when you can not bear the snug fitting. So you must stretch them to avoid blisters.
Let's see some effortless methods to stretch your Dor Martens easily:
Apply stretch spray – It may be the fastest and most well-known stretch process.
Use some Balsam – This process may take some time, but it never hampers your leather boot.
Wear woolen socks – Maybe it's the most popular way to stretch your doc martens.
Use a shoe stretcher– This way is more effective than the other; the cobblers usually use that method.
Use heel pad – If anyone suffers from foot diseases, then it is helpful for them.
Use some newspaper – If you want to increase the toe box area, then you must try this procedure.
Choose any of them to stretch your Docs for a better fitting.
Read this article, Do Doc Marten Stretch, to know more about those procedures and try them at home.
Are Dr. Martens Boots Comfortable?
There is no confusion that Doc Martens are the most comfortable boots on the market. The boots are specially designed for comfort and durability. All credit goes to the cushioned sole. So once you complete the break-in period, you will find the ultimate comfort.
The boots are manufactured with smooth leather, which provides comfort after the shoes adapt to your feet properly. The leather mold with your feet structures accurately.
Being a perfect Working Boot, Dr. Martens suits well in the long hours working arena. Moreover, you never feel uncomfortable with them during your work. To know if Doc Martens are good for your feet, give this article a read.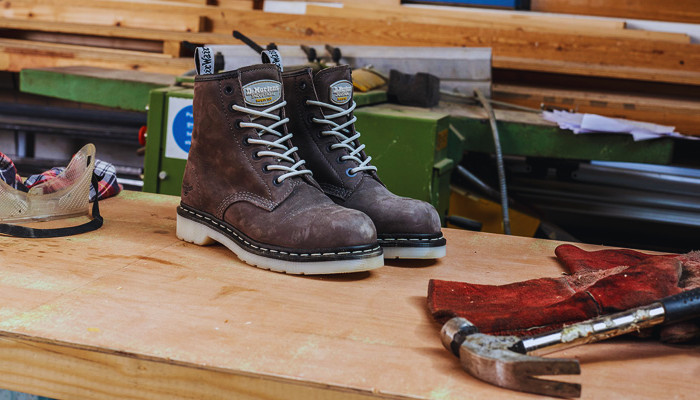 They offer you enough space so you can move your feet easily. Wear thick woolen socks with your favorite doc martens boots if you feel wider.
I must admit that you feel them a little heavy when you first wear your Doc-Martens. But after 2 or 3 weeks, you were habituated to their weight. Use some extra heel pads to get supreme comfort.
Final Line
Doc Martens shoes fit true to size despite having some exceptional models, like 2976 Chelsea.
As I've already given you the Doc Martens sizing guide and shown you the methods to adjust your perfect size, don't worry anymore.
I hope the information will serve you well while choosing your desired Dr. Martens boots. Let me know in the comment box which model you pick and how it fits.