When it comes to durable, comfortable nursing shoes with high arch support features, Dansko and Hoka shoes are on the wishlist of most medical workers, especially nurses like my aunt.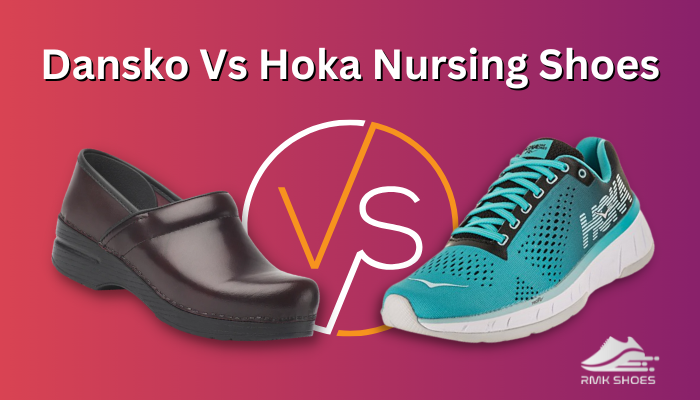 These shoes are lifesavers for long hours and have their individual benefits and thus differ from one another.
In this write-out, I will point out the differences between Hoka and Dansko shoes from my aunt's experience and mine.
So, keep reading.
Personal Rating
Hoka shoes have Carbon fiber plates, Compression-molded foam for better support and comfort which is not available in Dansko. For me, these are more crucial than the EVA midsole.
Not only materials, in terms of support, and safety there are several takes from my perspective.
All of my findings are scripted in a picture down below, so take a look, and let's get going.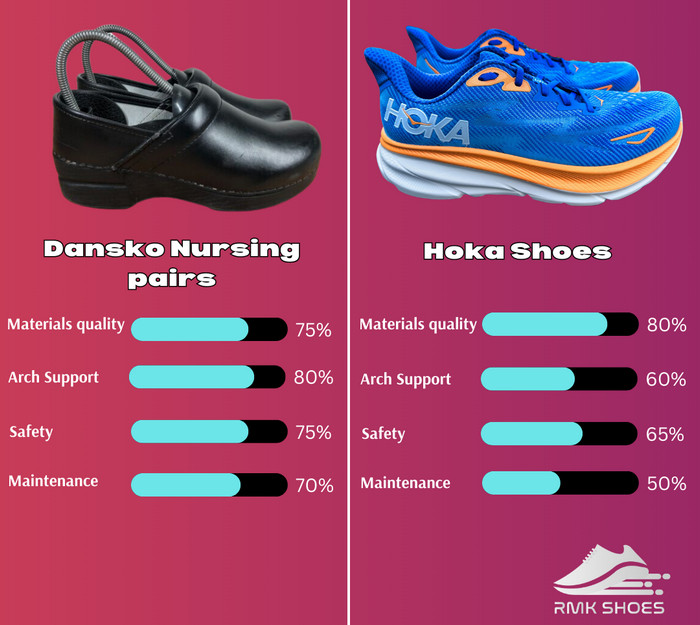 Finding the Differences Between Dansko and Hoka Nursing Shoes
Different brands have unique techniques for manufacturing their shoes. And depending on the model, design, and purpose, there are also various differences.
Hoka and Dansko are two popular nursing shoe brands. Medical workers love both for their features.
Let's find out the different features of Hoka and Dansko shoes:
Feature & Materials
Dansko shoes come with high-quality materials that are breathable and tough. Despite these, Dansko also has:
PU footbed with dual density.
Leather upper.
Memory foam.
EVA midsole.
Nubuck leather.
Instep collar.
Meanwhile, Hoka sneakers also have various ingredients, which makes them good to wear for long hours. These materials and features are:
Carbon fiber plate.
Mesh upper with 3D hot melt fiber.
Compression-molded foam.
Lightweight rubber.
Extended heel geometry J-Frame midsole.
Outsole
The outsole and their quality are very important when it comes to nursing shoes and slippers. My aunt is a nurse. She used to wear regular shoes during her shifts, and one day she slipped. Fortunately, she wasn't hurt, and after that incident, she switched to grippy shoes.
Dansko Professional Black Patent shoe is her favorite because of the slip-on design and shiny leather.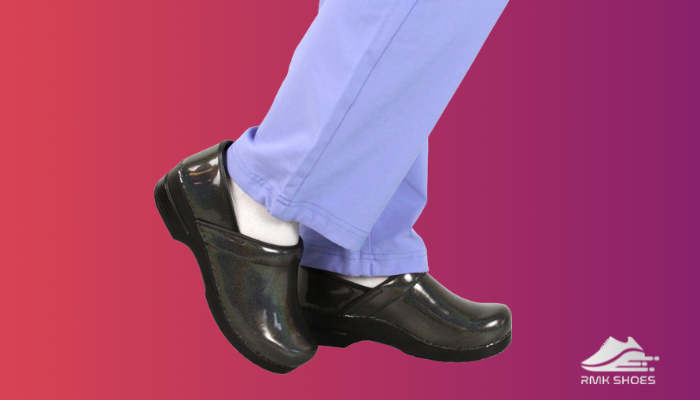 The best part of Danko is its Anti-slip rubber outsole which prevents accidental slipping. Another unique fact is that these slides work fine on wet, dry, and oily surfaces without any issues.
On the other hand, the Hoka shoe features slip-resistant thread tongue lining wrap and rubber outsole, perfect for wet and slippy hospitals. These soles are durable to serve long shifts.
Along with arch support, you should also know if Dansko is good for flat feet.
Support
Now let's move on to support because medical workers need work shoes that will ease the pressure on feet, knees, and legs at the same time.
Dansko manufacturers have done a great job designing their nursing clogs with low heel height and extra arch support.
These comfy shoes provide posture balancing, high arch, and heel support.
On the contrary, Hoka shoes come with moderate arch support, which means Hoka lacks high arches ideal for nurses. However, the height from the forefoot to the heel area increases over time.
That's why they are less suitable than Dansko shoes.
Safety
Dankso shoes are safe for hospital nurses for three major reasons:
Closed heel.
Minimum weight.
Closed toe.
All these features together work as a safety net and protect the wearer from sharp medical instruments like staples, knives, and stretchers.
Meanwhile, Hoka sneakers come with an early-stage meta-rocker design which helps with any smooth transitions. The compression-molded EVA midsole and closed structure protect your feet from sharp objects.
My aunt and I have Hoka One One Clifton 8 Women's shoes.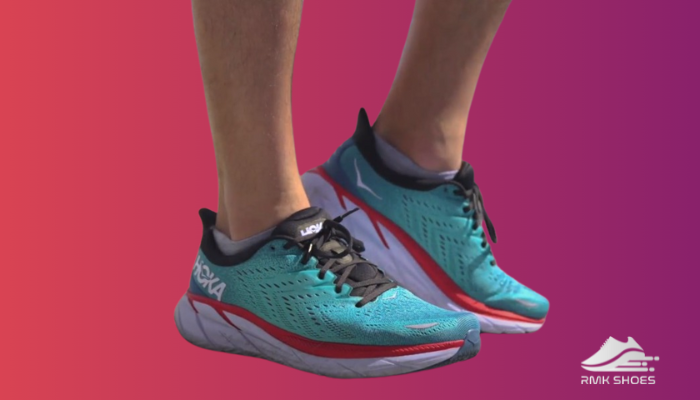 I wear them almost every day for my daily chores. My aunt does the same, and she hardly wears them to work as she doesn't feel as protected as her Dansko.
Maintenance
When it comes to maintenance, Dansko wins the game. These medical clogs come with a leather-made exterior that you can easily clean—using wax or oil shine. You can remove any scratches, spots, and darts.
You can take a cloth or tissue and wipe off the residue immediately after any sudden incident.
Proper care definitely elongates the lifetime of any shoe. But still, you must know how often to replace Dansko shoes.
Moreover, you can clean Hoka sneakers with a brush and a damp cloth. To remove extra dirt from the surface of your Hoka shoes, a non-abrasive solution is ideal.
If you wash the whole shoe, you must wait several hours to dry them. Moreover, you should also know how to clean Hoka shoes.
Pros and Cons: Dansko and Hoka Shoes
So far, you have known all the details about the differences between Hoka and Dansko shoes. Now it's time to learn about their pros and cons.
Here are the advantages and drawbacks of Dansko and Hoka nursing shoes:
Dansko Nursing Shoes
Pros
»

Super comfortable.

»

Padded collar.

»

Roomy toe box.

»

Stable.

»

Thermoplastic.

»

Provides a snug fit.
Cons
»

Tight for wide feet.

»

Takes time to break in.

»

Only some models have a short lifespan.

»

Certain styles are uncomfortable.
Hoka Nursing Shoes
Pros
»

Super supportive.

»

Internal heel counter.

»

Well cushioned.

»

Bucket seat heel support system.

»

Lightweight.

»

Ideal height.

»

Roomy fit.

»

Ankle support.
Cons
»

Bulky.

»

Expensive than Danso.

»

Not easy to clean.

»

Takes time to dry.

»

Heavy.

»

Narrow fit.
My Take On Dansko and Hoka Nursing Shoes
I think Dansko nursing shoes are far better with their leather upper, super arch support, comfort, and safety. Another plus point of this brand is you can wash them quickly.
So, for long nursing shifts in hospitals, Dansko is better than Hoka.
But that doesn't mean you can't wear Hoka shoes for hospital work. These are also quite suitable and have a good grip and high-end materials.
You can choose according to your need. If your work requires less time and arch support, and you don't have to work around sharp objects, Hoka is enough for you.
In case you need a super supportive, foot-protected, and long-lasting pair, Dankso is the best choice.
FAQs
Why do nurses wear Hoka?
Nurses wear Hoka shoes for their support, balance, responsiveness, and plushness, which are much needed during long working hours.
What brands are comparable to Dansko?
Brands like H H Brown Shoe Co, Greats, Viking Outdoor Footwear, and Spartoo are comparable to Dansko shoes.
Why is Dansko so popular?
Dansko clogs are popular because of their roomy toe box, padded instep, shock absorption, durable rubber outsole, and contoured midsole.