You're getting ready for a date – put on a handsome blazer with classic denim, and apply a superb fragrance. But when to wear shoes, you notice your favorite Hey Dude pair is looking messy.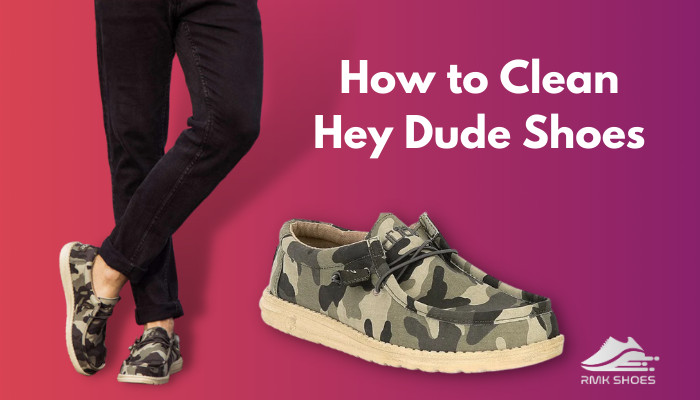 In such a situation, you need a quick fix, right?
Well, I'm gonna give you just that with an easy yet quick guide on cleaning Hey Dude.
So without any further ado, dive in and save yourself from a heartbreaking date!
How to Clean Hey Dude Shoes?
Depending on the type of materials, Hey Dude shoes are divided into three categories: canvas, leather and suede.
If you have the canvas-made pair, clean it in the washing machine.
But you must clean your pair by hand if it's made of leather and suede-based materials. Otherwise, the pairs will be damaged and become unfit to wear.
Whether you manually wash it or use the machine, both are quite simple and require only a few affordable ingredients.
Now, first, I'm gonna show how to clean Hey Dude in the washing machine.
Cleaning Hey Dude In Washing Machine
I have divided this entire procedure into 5 separate steps for easy understanding. Follow each of them to improve the condition of your footwear.
1. Shake off the grime
Due to prolonged use, dirt accumulates on the top and outsole of the shoe. Shaking it off beforehand makes the cleaning process easier.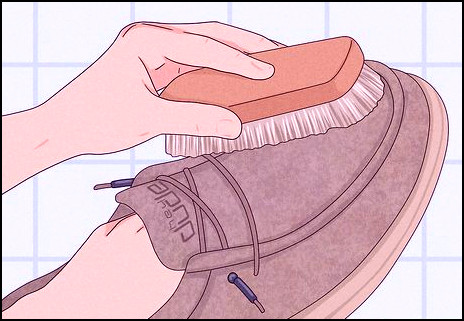 So, take a piece of cloth or shoe brush and remove the extra dust from your shoe.
2. Take out the insole & lace
Most Hey Dude insoles are prepared with leather-lined memory foam, canvas, or cork. If your shoe insole is canvas, it's not essential to remove it.
But remove the corks and memory foam insoles as they're prone to shrink in the machine.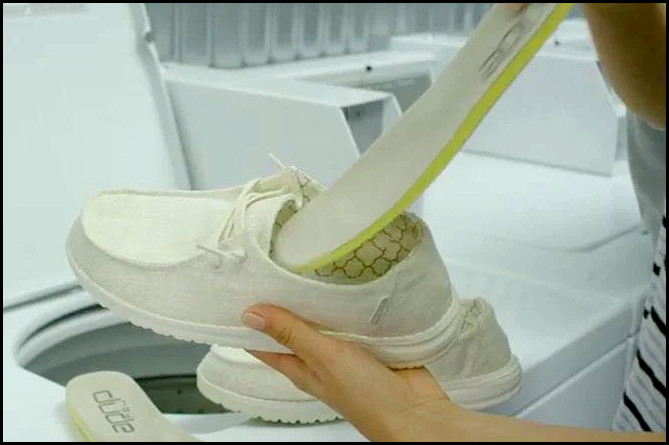 Note: This type of insole can't bear the washer's spin speed.
So, put off the insoles to prevent them from breakdown.
Additionally, the laces are constructed with elastic or cotton. Thus, remove it to avoid tearing or damage.
3. Use Cold Water & liquid detergent
Warm water and powdery detergent make the shoe material rough and scratchy.
So, wash your shoes with cold water and liquid cleanser. One teaspoon of detergent and 2 liters of cold water is enough to wash a pair of Hey Dude. But make sure the detergent is lenient.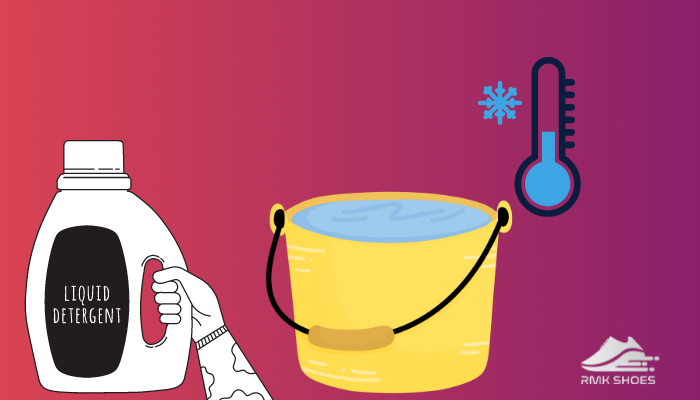 Use a mild shampoo or dishwashing liquid to clean your shoes, as I do, in case you don't have any detergent.
4. Set the Gentle mode on
The gentle cycle has a low spin speed and slowly wiggles the things inside the washing machine. On the other hand, the super speed mode has a rapid agitation pace; hence it warps the shoes.
So, turn on the gentle or hand wash cycle to clean your favorite pair of Hey Dudes in the washing machine.
5. Dry in the air
Many Hey Dude owners prefer to put their shoes in the dryer for quick drying.
But it's not a good idea as putting your shoes in the dryer hampers the fiber of the materials and decreases their longevity.
Rather, dry your shoes in a shaded yet well-ventilated place until it dries properly. In general, it takes 12 hours to dry naturally. So, keep a little patience to get the best result.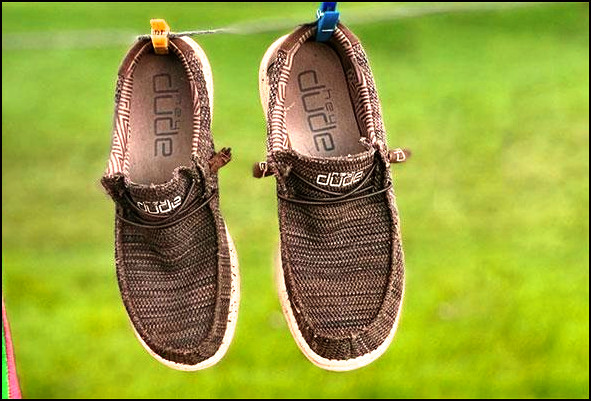 If you prefer to wash shoes by hand instead of the washing machine, follow the next procedure.
However, you can also read another article written on this brand to know whether Hey Dude shoes are waterproof.
Cleaning Hey Dude by hand
What would you do when your laundry room is missing a washing machine, or the machine is not working? Throw away your beloved Dudes?
Absolutely not!
There are many other handy ways to clean your Hey Dudes without using a machine. And doing it by hand always remains the safest option, right?
Here are the steps to clean Hey Dude manually:
Brush off the dirt using a soft bristle brush in a back-and-forth motion. Hence the fibers will be active and extra filth will be removed.
Take a bucket of cold water, pour a moderate amount of liquid soap and mix it properly with the water.
Soak the shoes inside that cleaning mixture, gently scrub them with a brush and wait for a maximum of 30 minutes.
The wait is over now! Take aside the shoes from the bucket, and rinse them off with clean water. Do not squeeze; rather, leave it in an airy place for drying.
Detach the laces and insoles and dry them separately.
When all parts of the shoe become dry, just attach the insoles. And now your shoes are ready to wear.
Tips: I know you don't want to spoil your shoes, so avoid using a brush made of plastic. Moreover, spritz shoe polish on the shoes regularly; it adds a well-furnished vibe to your beloved Hey Dudes.
How to Clean Suede-Made Hey Dude
Cleaning your Suede Hey Dude is a bit more difficult than the other two. Yet, it's performable with a little bit of cautiousness.
Here are the 3 methods to clean Suede Hey Dude:
Method 1: Clean with Suede Eraser
It is the easiest and quick process. Buy a good quality white suede eraser, gently rub your shoes with it and follow the back-and-forth motion while rubbing.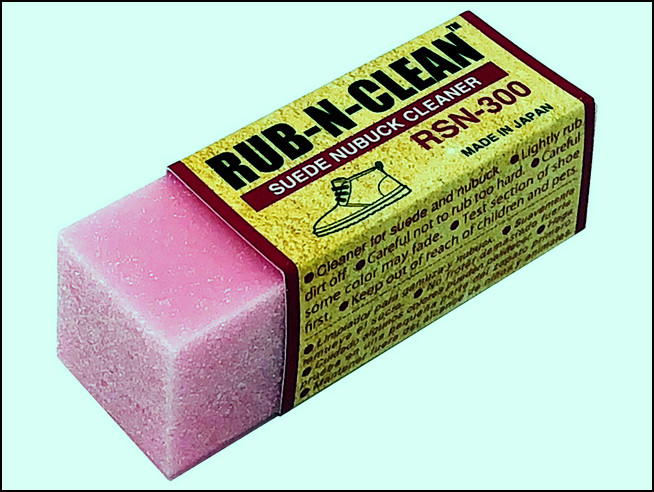 Did you notice the advantage of this method?
You got it right. In this case, there's no need to take the hassle of washing and drying the shoes.
The suede eraser removes light marks from any suede build accessories, whether a shoe, bag or other apparel.
Got oil stains on your suede shoes? To get a solution, go through how to get oil out of Suede Boots?
Method 2: Apply Suede Cleaner Spray
Before using the suede spray, brush the fibers up. As a result, dirt will loosen. Then apply suede spray on your shoes from a 6-inch distance and leave them to dry.
Finally, brush again and get a brand new look for your Dudes!
Method 3: Use Wet Nail Brush
Similar to the first two methods, this one also cleans the shoes and clears stains from them.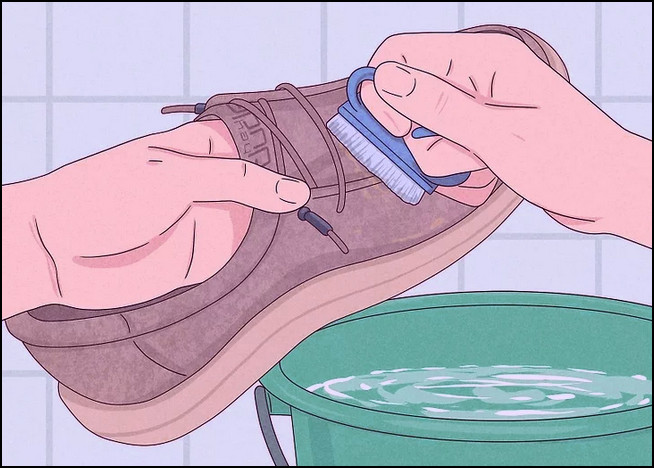 Scrub on the shoes with a wet nail brush. Rub with pressure to remove stubborn grease or spots. When you're done with this step, wipe the shoes with a clean paper towel and keep the shoes dry overnight.
You'll get a clean, dry, and fresh pair in the morning if your shoe gets sufficient ventilation.
Tips: No matter which cleaning method you follow, never forget to brush and apply suede protector spray. This will keep your shoes glazy like your newly-bought ceramic plates.
To know more about using shoe polish on suede shoes, read our separate article.
FAQs
Can I soak Hey dudes in water?
Yes, you can do it. Soaking Hey dudes in water do not cause any damage on it. But there is a risk of ruining the shape if it is immersed in the water for more than a couple of hours.
Can You Wash Hey Dude Insoles?
Washing Hey dude, insoles in the washing machine is risky. But cleaning it manually with soapy water is OK.
Can You Wash Hey Dudes in Dishwasher?
No, you can't. The dishwasher isn't safe for leather, canvas and suede of Hey Dudes. Rather it ruins the shape and material.
Can you put Hey Dude shoes in the dryer?
The soles and uppers of Hey Dudes are unable to bear the heat of a dryer. And so, you can't put them in the dryer or in direct sunlight.
Bottom Line
As you are now familiar with the effective methods of cleaning Hey dude, don't delay any longer.
Take your shoes, make them spotless by following any of the methods which seem preferable to you, and then style them to rock on top!
If you have more askings regarding this matter, leave a comment below.