While wearing Crocs violates the dress code for some workplaces, it's rather preferable and recommended for some.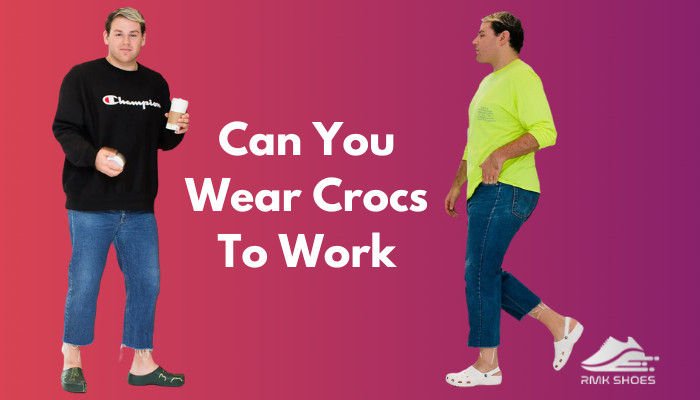 There are many arguments about the acceptance of crocs as professional footwear. Are they worth the sacrifice is still a question?
As I wear crocs for several purposes in my day-to-day life, here, in this article, I will clear your confusion and answer if you can wear them to your work just like any other place you do.
So, keep reading.
Can You Wear Crocs To Work?
Yes, you can actually pair crocs with your office attire, but one thing you need to keep in mind is your workspace's environment and dress code policy. If you are allowed, wearing crocs shouldn't be a problem when you can carry the look.
The reason people want to wear crocs while working is comfort.
According to the design and usability, crocs are fun-loving colorful footwear, which is why they are considered less professional and more casual.
But, if your boss allows you to wear them inside your office like mine, go for it.
I wear a pair of classic black crocs in my office, they are comfortable and soft, and the cushioning is just enough to support my sensitive feet.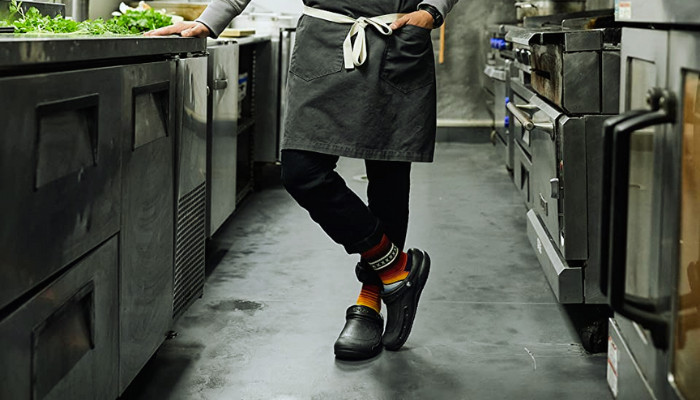 So, wear crocs in your place of work and rock your look.
Follow our guide to know what color crocs go with everything.
7 Benefits Of Wearing Crocs At Work
Though most working places consider crocs casual footwear, you won't see employees wearing crocs in maximum organizations.
But if your office allows you to wear them for their versatile use and comfort, why not take advantage?
Let's see the 7 benefits of wearing crocs at work:
Crocs Provide Comfort
The main reason why people are so drawn towards crocs is comfort. Crocs are designed to give your feet the extra care they need during long hours of walking or standing.
I suffered from leg swelling, and after using crocs for a week, the swelling reduced to a tolerable point.
As most jobs require 8 to 9 hours, and for hospital workers, the time is even more, crocs can be a solution.
Maximum Cushioning
Another fact is when you look for comfy sandals cushioning is a major concern. Your feet need to land on a soft and supportive surface to land on.
And crocs are known for their cushioning feature, to begin with. This makes crocs a good option.
Crocs Upper is Breathable
When you are wearing a shoe for several hours and don't have the option to take it off, you should pay attention to the material if it's breathable enough or not.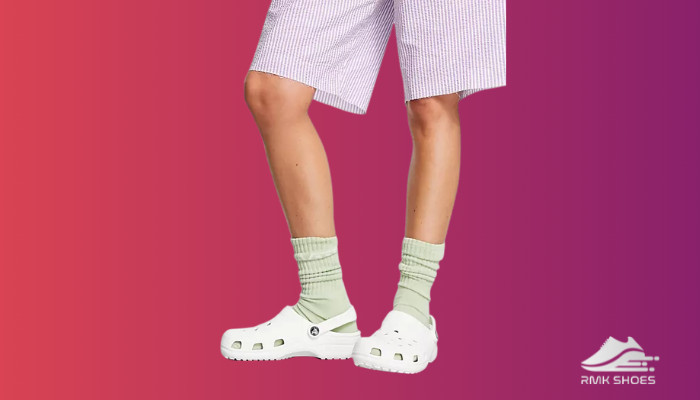 Otherwise, it will sweat and eventually, you will get the smelly feet that no one wants.
Crocs are super breathable as they have holes on the upper. The most common designs are with 13 holes and a perfect choice for an airy feeling.
Go through our epic guide to know can you wear crocs at amazon.
Crocs Shoes are Lightweight
I had a rubber mule, which was my go-to for longer wear.
But because of the chunky sole, it was heavy and a bit uncomfortable. With crocs, I don't face that situation anymore.
To be more effective and wearable, crocs are mostly lightweight. However, not all of them are.
As crocs are flimsy, they make a good workplace sandal.
Washable
Crocs are a perfect footwear choice for restaurants as these you have the most chances to catch dirt on your shoes.
As your workspace footwear, your crocs should be clean to maintain the image of your office. The good news is crocs are washable and waterproof at the same time.
So it's easy to maintain their quality even after cleaning.
Easy To Put On And Off
There are several places in your office where you have to put your shoes off. In situations like that, you need sandals that are easy to put on and off.
With crocs, it's easy. The open-back designs made them so versatile and functional.
On my most busy days, I wear crocs to work. That way, I am faster and comfy.
Crocs are Durable
Crocs are mainly made of waterproof rubber material, making them super durable.
The manufacturers made sure that crocs had an exceptionally long lifespan. And thus, they are the preference of long-shift workers like nurses.
You can wear one pair of crocs for years if you take care of them.
You may also like to read: do you wear your crocs without socks.
Sectors Where You Can Wear Crocs For Work
As you have known, so far, you can wear crocs to your office space if your office policy allows you to. There are several professional sectors where crocs are the most suitable footwear.
Let's see the sectors where crocs are the most suitable footwear:
Wearing Crocs In A Kitchen
In a professional kitchen, you have to work for long hours standing; here, crocs are your best friend. They provide the exact cushioning and support your feet deserve.
If you are a cook or waiter at Starbucks or any busy restaurant, a non-slip pair is a lifesaver. Here, Crocs are the perfect fit.
So, finding the proper model is essential.
Wearing Crocs In Hospitals
In the medical field, the working hours are the longest, and as you can guess, proper footwear is much more needed than skincare.
As you already know, crocs are super fun and lightweight and, at the same time, comfortable. For longer shifts, it is an ideal option.
But there are restrictions. Most of the crocs come with holes to maintain the airflow, which can expose you to further dangerous exposure. A needle pinch or a drop of blood can cause infection.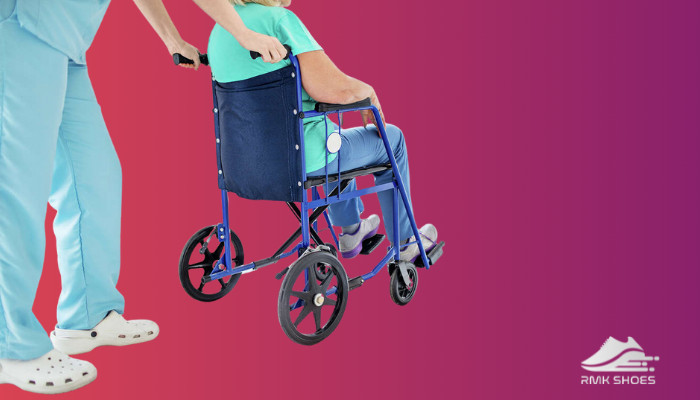 A closed-toe design is most suitable in these situations. So, even though you can wear crocs in the medical sector, the right design is crucial.
In Retail Industry
Employees who work in retail sectors are in need of footwear that will provide good arch support and cushioning. And crocs are there to reduce the pain that comes along with it.
Normally retail stores are not that concerned about their employee's dress code. So you can wear crocs and save your feet from exhaustion.
Check out our separate post: can you wear crocs in the winter.
Things To Know Before Wearing Crocs To Work
If you are to wear crocs in the professional arena, there are several facts you have to keep in mind.
Even if your work environment allows you to wear them, you still can't jump into colorful crocs with jibbitz. That will look unprofessional, don't you think?
The outlook is important in any workstation. Like your dress, your footwear should have a professional aesthetic. So, choose basic colors for your office crocs.
If you are not running around much, keep your crocs in the locker for sudden busy days.
Fun fact! Jibbitz is eye-catching, so avoiding them is a good idea if you want a minimalist look. To know more about jibbitz to decorate your crocs, check out my separate article on how to make rubber jibbitz for crocs.
Pay extra attention to your controversial sandal choice. Keep them clean and tidy.
Make sure your co-workers are not getting annoyed by your footwear choice. Align your crocs with your outfit, too, as not every outfit goes well with crocs.
The design should be on your checklist too. The closed-toe designs give you more of a professional look than any other design.
Top 5 Crocs For WorkPlace
All confusion aside, for working areas, there are several pairs that you can wear comfortably and with ease. These crocs provide the exact features your feet need while working.
Here are the top 5 crocs you can wear for work:
Bistro Pro LiteRide Clog
For hotels, healthcare and kitchen work Bistro Pro LiteRide is an ideal footwear thanks to its slip-resistant tread, which protects you from slipping in these areas.
This model is designed to take extreme pressure of your busy schedule.
The closed toe protects your feet from any toxic or boiling water accidents. And they are easy to clean as well.
Women's Mercy Work Clog
The unique fact about Women's Mercy Work Clog is the rotating heel straps and the small buds that give you a massage like feel when you move around wearing these crocs.
Crocs On-The-Clock Work Slip-On
If you want to wear crocs in the office yet want a stylish look, Crocs On-The-Clock Work Slip-On is your jam.
You get two classic color choices, black and navy. This model comes with a Dual Crocs Comfort, which provides comfort and support at the same time. So you can be tension free.
Women's Neria Pro 2 LiteRide Clog
This model is specially designed for women who work on their feet most of the day, and the look is full of life.
The added arch and slip-resistance feature give you comfort and support.
My aunt, a nurse, recently started using Women's Neria Pro 2 LiteRide Clogbest for night shifts, and her feet hurt less after changing into crocs from her previous medicated shoes.
Such a positive impact!
Women's Crocs At Work Flat
Women's Crocs At Work Flat has a minimalist look for doctors, nurses, baristas or waiters. These will provide you with all the cushions you need.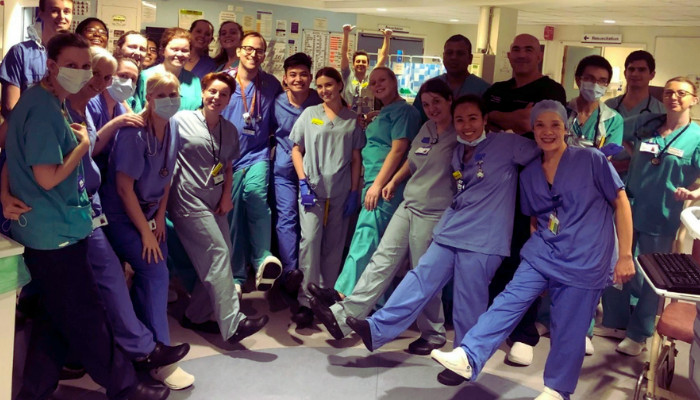 Another thing is this crocs is the upgraded version of ballerina flats.
So for a unique look, you can get this model. It can be your choice of crocs for your workplace.
Drawbacks Of Wearing Crocs At Work
With so many benefits, crocs come with their drawbacks too. Though they are a perfect fit for longer wear, you still need to take a break.
Crocs give you a decent amount of arch support. Wearing them for too many hours can cause blisters, nail and callus issues which occur when your heel is unstable.
Another fact is that crocs are made of waterproof rubber, which is also a reason behind your sticky feet.
Some rubber materials, when mixed with sweat, they smell bad.
And if you don't choose your crocs wisely, it can ruin the look you are going for. So, be aware of that.
Related content you should read: are crocs closed toe shoes.
FAQ
Are Crocs good for standing long hours?
Crocs are comfortable and have cushioning but to stand long hours in these is not a good idea. If you do so, you may end up with sore feet at the end.
Can you wear crocs to work at Walmart?
No, you can't wear crocs at Walmart. They prefer closed-toe and closed-heel shoes. For example, you can wear loafers, tennis shoes, and boots without any problem.
Can I wear Crocs to work at Amazon?
If your superior allows wearing crocs at Amazon, you can. Actually, Amazon prefers shoes that are closed-toe and covers your whole feet. As crocs have a similar design, you can give them a try.
Can you wear crocs to work at Target?
Target wants its employees to wear shoes that have closed toes. So, you can wear crocs if the design matches Target's requirements. You have to stand for long hours, though.
Wrapping Up
With so many objections from fashion critics, crocs made their way as casual office wear.
You can pair them with your daily outfits, match them with your Halloween costume, rock in Cochala festivals and, above that, your office footwear. Most workplaces don't prefer crocs, but there are some exceptions too.
So, share your work experience wearing crocs or if you ever got a warning for violating the workspace attire code. Happy wearing!