Crocs are the most controversial trendy footwear ever!
These versatile but tacky sandals paved their way and stated their place permanently, as you can see people wearing them all year round.
So, you might think, are they suitable enough to wear in the freezing cold?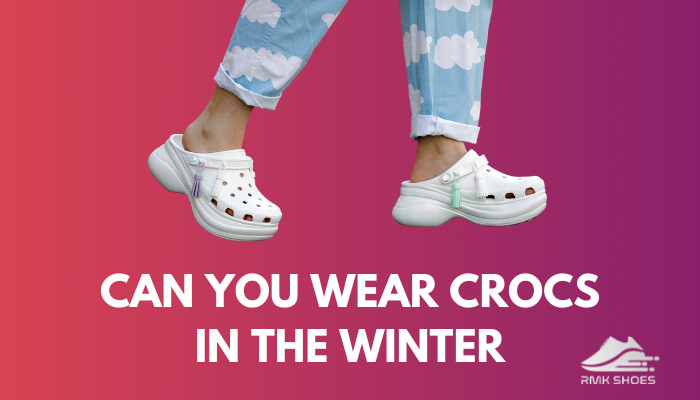 Well, I can clear up your confusion as I have experience of wearing crocs for quite a long time and tested them in winter to find out how well they cope with snow and ice.
This article will give you the answers you were looking for and other handy features about crocs.
Continue reading till the end to know everything about wearing crocs in winter.
Are Crocs Suitable For Winter?
Yes, you can wear crocs in winter with socks on. But for colder days, crocs boots are more suitable to keep the warmth of your feet.
You can pair socks with your crocs to keep your feet warm for short-distance walking. For longer walks, it's not that promising, as your socks can get wet, and you don't want that on a cold day.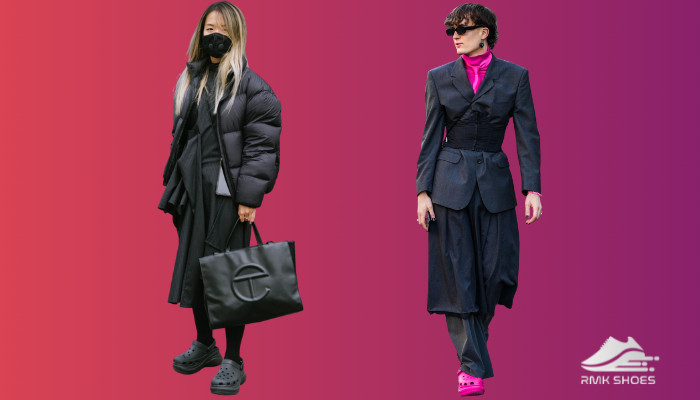 In traditional crocs, there are specific numbers of holes for air circulation. And that can cause snow to penetrate your socks and feet.
To avoid this situation, you can wear croc boots that are being trendy recently.
Follow our guide to know Are Crocs Non Slip Shoes
How To Wear Crocs In Winter?
Though, crocs are not considered winter footwear people are increasingly interested in wearing them during the cold weather.
Let's see how you can wear crocs in winter:
Choose closed-toe crocs for winter, which will keep your feet dry and warm.
Wear thick socks to get extra warmth.
Buy darker-colored crocs to blend in with your winter wardrobe.
Protect your crocs from snow and rain by applying waterproof sealant.
If you can pull off the look, you can wear crocs in winter with style. To be safer and protected, you can try the crocs boots instead.
These boots are more durable and warmer than traditionally styled boots.
What are the Top 5 Winter Crocs?
As wearing crocs in winter became a thing, the manufacturers launched several models just to wear in winter.
These are also gaining peak popularity, like regular crocs. And they are offering features that's hard to pass. If you are going for quick errands, crocs boots are the most suitable.
Let's find out about the top winter crocs:
Classic Realtree Edge Lined Clogs
With soft fuzzy liners, these are more cushiony and comfy. You can wear them both indoors and outdoors. With additional jibbitz, they give a fun and colorful look.
The heel straps ensure a more secure fit while you walk.
Crocs Men's and Women's Ralen Lined Clog
Ralen Lined Clog is relatively lightweight and easy to wear. It has an Ethylene vinyl Sole, which is designed to provide more comfort.
Crocs Women's Winter Puff Boots
The rubber outsole pods of these boots increase traction and durability. Winter Puff Boots have 100% synthetic soles, and the puffy upper fill is there to provide warmth.
Like any other crock boots, these are comfortable and easy to wear.
Crocs Men's All Cast Rain Boot
For snowy winter days, this boot is perfect for its waterproof facility. With 100% synthetic soles, it is leakproof and super comfy.
Crocs Men's and Women's Classic Lined Clog
The Classic Lined Clog ensures a more snug fit with traditional heel straps.
The Ethylene Vinyl Acetate sole has Faux Fur attached for a cozy and warm touch. This slipper is perfect for everyday wear and walking around the neighborhood.
Check out our separate post to know Can You Wear Crocs To School
Can You Wear Crocs On Snow?
Yes, you can wear crocs on icy surfaces, but to do so, first, you should attach ice grips to the bottom of the crocs to ensure a safer grip while walking on snow.
You won't find it hard to attach. Just slide them on and then attach the rubbery straps.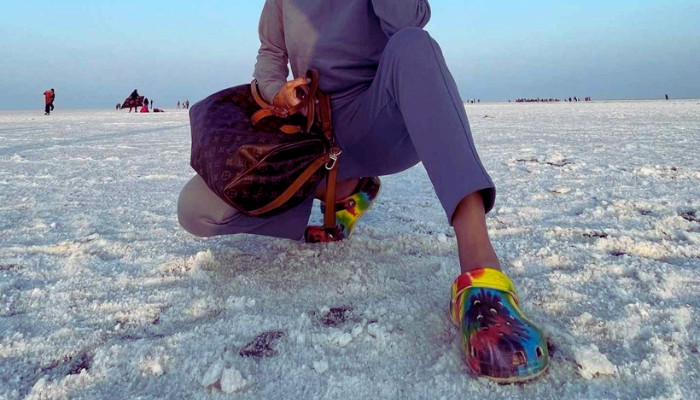 It's that easy, simple and quick.
For daily use, the open heel and roomy footbed are an extra bonus in the harsh winter. Crocs were invented as boating shoes.
So, crocs is pretty safe to wear on rainy days.
The main reason people are obsessed with crocs is comfort, and they want that all year round. In winter you can wear these with your socks on. And they are grippy enough to walk on snow.
Winter Crocs With Fur
You love crocs and wanna wear them during the cold season, and your crocs have fur attached; it's like jam on the bread in perfect harmony.
This new edition of crocs has gained more popularity, and these have their fair reason behind them. Winter crocs are slip-resistant, and you can wear them even on snow comfortably.
The soft and furry materials keep your feet toasty warm.
The Winter line of crocs is still very new, but in such a short time, it is the most trendy footwear according to Amazon views. How interesting is that?
To be honest, I am pretty surprised too.
You will find it more surprising that The Classic Fur Sure Clog is a lined clog with a sherpa on the outside.
With The Fur Sure Sandal goes even further with 14 colors to choose from and sizes 6 to 12 inches.
They sure give you options that's very visible.
You may also like to read: Do Crocs Shrink In The Sun
Can You Wear Crocs With Socks?
The answer is you can. Wearing socks with any footwear is optional and depends on the preferences.
Go for it if you think you can rock an outfit wearing crocs with socks. For me, I can't survive winter without socks. So whenever I'm wearing crocs or any other shoes, I wear them with socks.
Crocs are easy to slide in and out; that's another reason it is easy to wear socks with them.
Crocs come in bright and vibrant colors, and pairing them with colorful socks can bring extra attention to your foot. If you like that and want that to happen, it's totally fine.
And others don't want that extra few looks from people.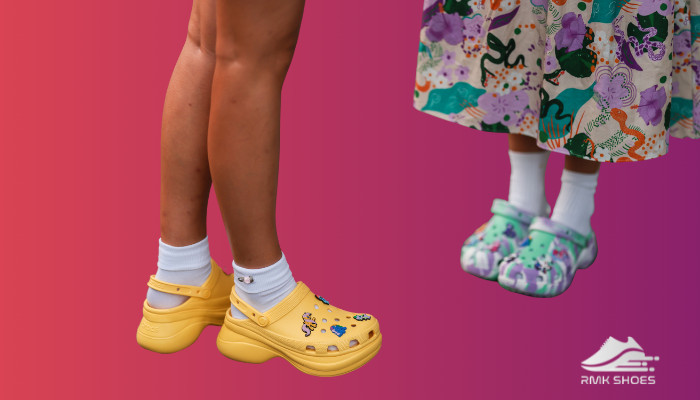 The best way to avoid that, wear the same colored socks with your crocs. It gives a monochromatic look, and the socks blend in very well.
To jazz up your outfit, you can wear colorful and designed socks with plain-colored crocs, where your socks will be the center of attention. And it is pretty popular too.
Crocs have plenty of room, so don't hesitate to pair thick fuzzy socks with them.
Crocs Winter Boots
Winter boots are ideal for keeping your feet warm and comfy on colder days.
The waterproof insulated materials protect your feet from frostbite, and the non-slip sole ensures your safety on the sidewalks.
You can choose from the designs of crocs boots to your liking.
There are Crocs TM Ankle Boots, Crocs TM Classic, The Zappos Freesail Chelsea Boot, and many others.
Winter crocs can be a staple piece of your wardrobe if you are a crocs fan.
Also, learn Do Crocs Stretch
Bottom Line
Crocs are easy to wear and come in various funky colors and designs.
Though they have their fan base as well as haters, it managed to stay put, and I don't see they are getting distinct any soon.
For winter, crocs can be optional with all the features, depending on the user.
I hope this article made your choice easy while purchasing crocs for the first time and further use. Also, you can share your opinion in the comment section below on crocs.