Have you been called to an interview? Want to wear black jeans to the interview but aren't sure if they're appropriate?
Puzzled? Not any longer! I've got your back.
The way you dress reveals how productive you are and gives out your initial impression in an interview.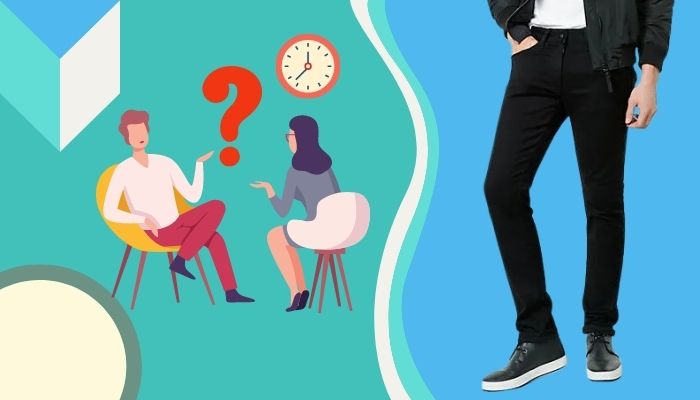 That is why I have included an in-depth guide in which you will learn the appropriate way to dress, as well as the dos and don'ts, so that you may walk confidently into the interview.
So make sure you read till the end to learn all about interview attire.
Follow our guide to know Do Timberlands Stretch
Can You Wear Black Jeans To An Interview?
Yes, you can wear black jeans to an interview. But not all workplaces permit wearing black jeans to an interview. If you are going for a job interview in a corporate setting, you should not wear black jeans. But you can wear them to casual business interviews where a relaxed outfit is allowed.
First, get a thorough idea about the type of job you have been called for and what their employees wear.
If the employees are dressed too professionally, such as in suits and ties, and if it is a mainstream business job, never consider wearing black or any other colored jeans.
This will not only provide a negative opinion of you, but you may also lose the job.
Furthermore, if you are a recent graduate going for interviews, avoid wearing jeans. Because your lack of expertise in any employment sector, along with your casual wardrobe, does not make you appear confident.
However, you can wear black jeans to a casual job interview, such as in technology, media, or music, where less formal dress is permitted.
But make sure your black jeans are entirely black and not faded black; they should also not be tattered, ripped, or too fancy.
You can wear black jeans till they seem neat and not too sloppy on you.
Check out my new post on Allen Edmonds Vs Florsheim
Are Black Jeans Business Casual?
Yes, black jeans are business casual. If your job doesn't restrict only wearing traditional business clothing, you can wear black jeans. Not just black, but you can wear any jeans that are not too brightly colored.  Also, make sure the jeans are not frayed or faded and don't look too flashy.
Black is a classic and a smart color; if you know how to dress in it, you can easily surpass any formal attire.
But, before you put on your jeans, there are dos and don'ts that you need to know. First, find out what the company's dress code is.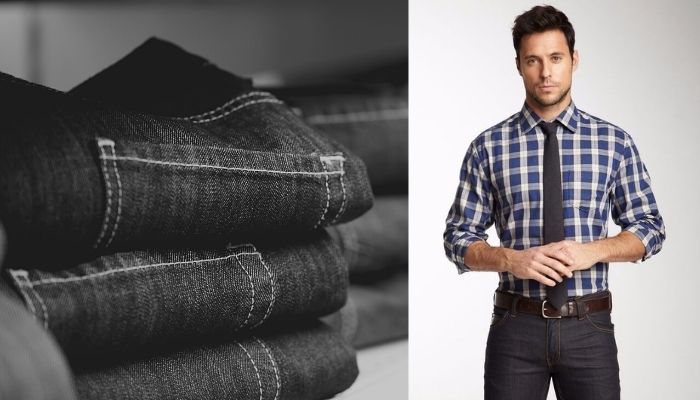 Do jeans count as part of the dress code? Even if it does, what type, which color, and how to dress up in the jeans.
Wait! Let me share with you a complete guide that will help you figure out the appropriate way to dress in jeans at work.
Wear dark-washed jeans instead of light-washed ones. Dark jeans provide a more formal appearance. If your black jeans have faded from repeated washing, don't wear them to work.
Wearing torn, colorful, embroidered, or stone embellished pants is not a good idea.
Instead of wearing your jeans with a t-shirt, combine them with a bottom-up shirt for a more sophisticated approach.
Don't wear skinny jeans or jeans that are too tight-fitted.
Make sure you look neat and comfortable in the jeans but not sloppy.
Accessorize with a watch, belt, and nice pair of shoes to achieve a professional look.
Blazer also looks great with jeans; you can try this duo to look more formal and sophisticated.
Also, check out our separate post on Mink Oil Ruined My Boots
How To Dress For An Interview?
The way you dress for an interview is totally determined by the type of job you have been called for.
If your workplace has a dress code, adhere to it. But if they don't, make sure you know where you'll be interviewing and what the employees wear.
Based on the type of job, dress yourself.
Here, I've discussed how to dress for both corporate and non-corporate jobs so you can make an informed decision.
Formal Business Job
Wear a two-piece suit in dark colors, and avoid light color as light color gives an informal look.
Beneath the suit, wear light or white color shirt, and avoid dark colors.
The suit should be plain and simple, not patterned or over-stylish ones.
If you don't want to wear a suit, wear dress pants with a white shirt tucked in.
Wear a simple leather belt and watch to complement the outfit.
If you wish, you can wear a tie but choose a non-designed and non-flashy one.
Wear black or dark brown dress shoes that are polished nicely.
Don't wear any fancy socks; go for one-colored socks that match your shoes.
Apply a light perfume rather than using a heavy one.
Don't wear any heavy jewelry.
But before that, you check out how Can You Wear Socks With Skechers GO-Walk
Casual Business Job
Wear dark or light-colored chinos with a button-up collared shirt in a contrasting hue.
Make sure the shirt and pants are ironed and free of stain.
You can opt for dark-colored and plain jeans with a blazer.
Wear polished leather shoes with matching socks.
Wear a leather watch.
What Are Things To Follow For A Job Interview?
For a job interview, not just your dress but the complete 'you' should be presentable so that the interviewer believes you are productive at first sight.
The first and foremost requirement for an interview is to grab thorough knowledge about the work you have been called for. So make sure you do your homework attentively.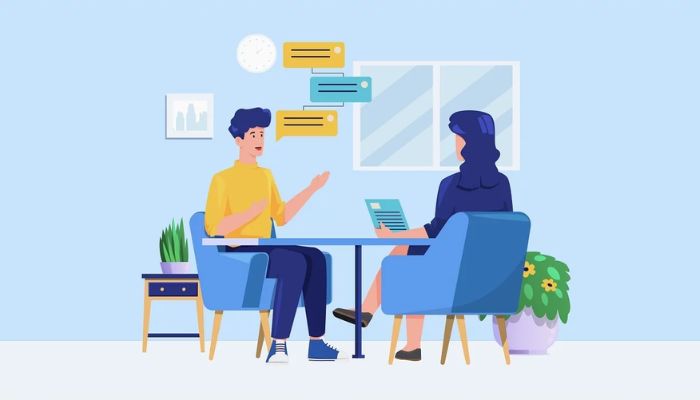 However, most of you make little blunders in interviews that cost you the job.
Here are the things to do for a job interview:
If the company has a dress code, strictly maintain it.
Dress accordingly to the type of the job.
Don't wear anything that is tight and uncomfortable.
Never wear ripped, creased, or stained clothes to interview; instead, buy clothes that match the dress code.
Don't wear sandals, flip-flops, or open-toe shoes.
Always wear polished shoes.
Don't apply strong cologne.
If you have any tattoos or piercings, then cover them or take them out.
Don't go with dirty nails.
Comb your hair to look neat and tidy.
Organize all the important documents in a file.
Don't put on too much makeup or wear heavy jewelry.
Avoid wearing tight-fitted clothes.
Most important, be punctual in the interview.
In a hurry? Check out my new post on Do Crocs Melt
Conclusion
Interviewing for a job is a vital part because your livelihood is dependent on it. Make the interviewer feel you are worthy of this job by dressing and presenting yourself properly.
Because clothing speaks a lot about a person, pay close attention to it before heading to an interview.
If your job permits it, wear jeans; if it does not, don't try to experiment with your appearance.
Lastly, whether you are a freshly graduated or an experienced one, confidently walk and talk at the interview.
I wish you all the very best!