Vans are cool. People wear it from school to the office, for casual to regular purposes. And on the board, these sneakers are the beast!
But when it comes to enjoying Sunday bowling, you should think before wearing Vans to the lanes.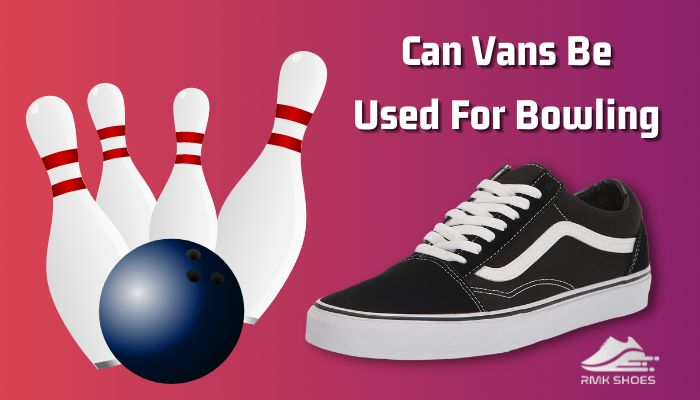 There are certain criteria that made a bowling kick. And whether Vans fulfill them or not is must-know information.
So, let's check if you can use this casual foot gear to rock on the alley!
Are Vans Perfect For Bowling?
No, Vans are not the ideal pair to match with the bowling lane. Because when it comes to bowling, you need traction in one shoe and sliding in another. Thus, a gliding feature on the sole is required. But, most athletic sneakers, including Vans, are not designed to have such a smooth sliding.
The bowling shoe's sole is smooth, which helps you to slide when you deliver. In contrast, the Vans sole has a grip that offers traction and protects you from the easy slide. As a result, the sole requirement for bowling is totally absent in Vans sneakers.
Besides, most clubs don't allow shoes from outside to eliminate external debris entering the court. If you ever wear Vans during a bowling night and don't wanna rent bowling shoes, the authority might ask you to leave for using dirty shoes.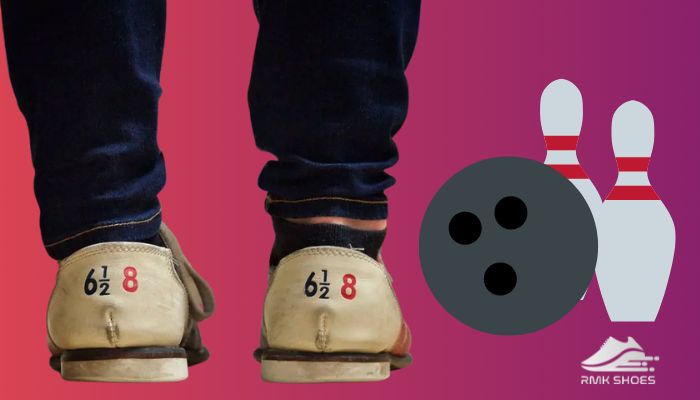 Compared to the main feature of an ideal bowling shoe, it's clear that there are better choices than Vans.
So it would be wise to keep some bucks to rent the shoes or bring your own custom Vans for rocking the lane!
Check out our separate post on why are Vans so popular.
What Kinds Of Shoes Can You Wear Bowling?
Shoes with sliding and gripping soles on each pair are ideal for bowling. Mainly, the sole is a very crucial part of bowling shoes. After the sole, comfort is the top priority, try to cover your personal preference, not just focus on the brand name.
Besides that, the regular shoe never gives you a good playing experience. That's why all bowling clubs have rentable bowling shoe options.
In some cases, if you don't wear bowling shoes, the club doesn't let you play the game because the regular shoe has grip and dirt, which can create scratches on smooth bowling lanes.
If you are an occasional player, you can rent your bowling shoe from them. For regular bowling, you can buy your own pair; there are very cheap to expensive bowling shoes available in the market.
As a beginner, You might be confused about what to look for when buying bowling shoes.
Here I am giving you 3 tips for choosing the right bowling pair:
1. The Sole
Sole is the first feature you should focus on. When you are going to buy a bowling shoe, try to buy a changeable sole. Yes, mid-range to high-range bowling shoes has the inter-changeable sole option.
You can alter your sole as your preference. Sliding shoes on both legs might be a problem sometimes. It can be the cause of going fault line. Whereas an interchangeable sole offers you to adjust how many slides or grip you want.
2. Focus on Your Preference
You are paying money, so you should be focused on your preference. Brands are trying to cover all types of consumer preferences.
If you have wide feet, ensure the shoe has enough frontal space to adapt to your feet. Otherwise, you can be suffered from injuries and feel uncomfortable during bowling.
3. Select A Reputed Brand
For regular use purposes, generally, we don't focus on brands. In the case of bowling, the brand is a concern. If you buy good branded bowling shoes, you can easily use them for a prolonged period. So invest some money in good quality and durability.
After knowing about bowling shoes, you might be curious about the top brands of bowling shoes.
Follow our guide to know are Vans good for wide feet.
Here, I am suggesting 3 top brands which I have been using as my bowling pair.
Bowlers Tore Classic
This bowling shoe is for you if you are a retro-style lover like me.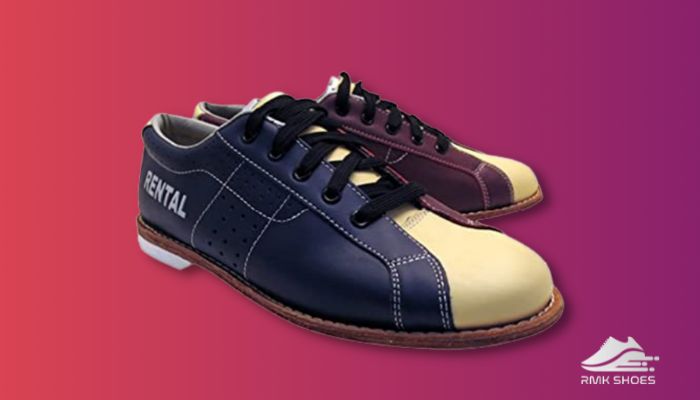 It has various colors and is also available in the market in 6 to 16 sizes. With a soft, durable upper, this shoe's sole is made with a non-marking raised heel which is good for gliding on the bowling lane.
Brunswick Vapor – Honorable Mention
Under $50, Brunswick vapor is the best bowling shoe. It's super comfy for a long time of playing.
I have been using it for about 6 months as a regular bowling shoe, and it's really amazing and super cool looking.
It has microfiber slide pads and a foam collar, which will support beginners in controlling their moves during shots. It also has a removable insole so that you can add your preferred insole for extra comfort.
Likewise, it has 3 color variations and is available in 10-16 sizes.
Dexter Men's Kam Bowling Shoes – Also Consider
Want a slip-on because tieing lace is not your favorite job? Dexter Men's Kam Bowling Shoes is the right choice to go. It also has a changeable footbed to provide comfort and control per your preference.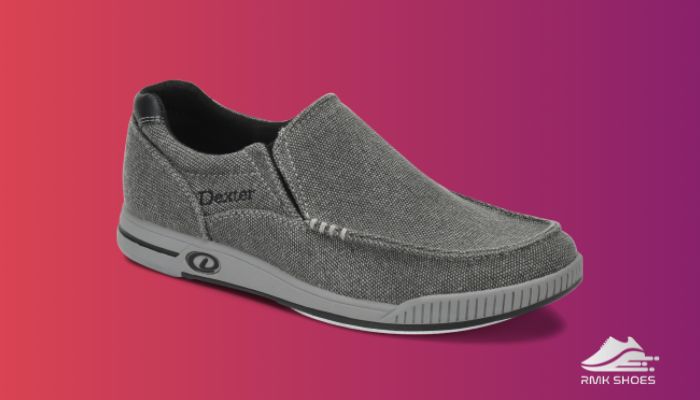 The Outlook of this shoe is too casual and very different from regular bowling shoes. It's really very functional and durable bowling shoe I have ever used.
My brother suggested I buy this, and after over 1 year, I realized it was one of the best purchases of last year. 7-14 size is available in this shoe, but the upsetting thing is this Dexter Men's Kam Bowling Shoes came only in one color: Charcoal Gray.
Also, follow our guide to know do Vans crease.
Why Bowling Alleys Require You to Wear Bowling Shoes
Wearing bowling shoes in the bowling lanes is like wearing sunscreen before going out.
Sunscreen protects you from harmful rays, and sunburn also reduces early aging.
Likewise, bowling shoes protect you from unwanted injuries and help deliver a good shot.
Now you are thinking, why not basketball shoes allowed in bowling; basketball shoes also prevent injuries. Look, buddy, every sport and its movement and situations are also different. That's why you can't wear football boots on the basketball court.
Here, I am pointing out some reasons why bowling alleys require bowling shoes:
The bowling shoe sole is flat; less grip helps you to glide smoothly in a bowling alley. Basketball or other shoes protect you from the correct and smooth slides. But sliding is important in bowling, so you can understand why sole plays a vital role here.
Bowling shoes protect you from unwanted injuries. And provide good control of your movement.
To protect the bowling lanes, grippy or scratchy shoes should be avoided.
As I previously explained, bowling shoes are quite different from others. High-quality bowling shoes have interchanging sole options. If you are left or right hand, change the footbed for a good and correct slide. And that option is only available in bowling shoes.
You may also like to read are Vans waterproof.
How Do You Make Vans into Bowling Shoes?
So, you are obsessed with vans and don't want to spare a moment with them, not even bowling time.
Cool, though vans don't design dedicated bowling shoes, so what! You can customize your Vans and make them perfect as bowling pairs! Now, I will provide some easy processes to turn your favorite vans into bowling shoes.
Ways to convert regular Vans into bowling shoes:
Tools You Need
Scissors.
Velcro or double-sided obsessive tape.
Replacing soles and heels.
Visit Amazon or your nearest super shop to find these tools.
Turn Vans into Bowling Shoe
Clean your Vans shoe sole properly, and ensure no dirt on the sole.
When your Vans sole is cleaned and finely dried out, take Velcro and paste it on your existing Vans sole. If you don't have Velcro, you paste the double-sided tape.
Cut the extra part of Velcro or double-sided tape.
Trim the replacing bowling sole perfectly as the existing Vans sole.
Now pasting the replacing sole and heels, your Vans are ready to rock on the bowling alley.
So this is how you can turn your Vans into a bowling shoe. So, try this out quickly.
Read more to know do Vans stretch,
Conclusion
However, Vans are not bowling shoes. Nowadays, peoples use them for various purposes, even as bowling shoes. Though Vans are not appropriate for bowling, I have provided some easy steps to turn your vans into bowling shoes in this article.
You should get proper information and guidance after reading this article. Suppose there is any other query. Feel free to ask.
Stay healthy!