Although insoles are an essential part of any footwear, sometimes you can avoid them if you feel uncomfortable.
Suppose you bought a pair of running shoes which is comfortable and flexible to use. All of a sudden, you notice that you are not getting the same comforts as before.
What will you do? Well, here is a magic trick for you to try!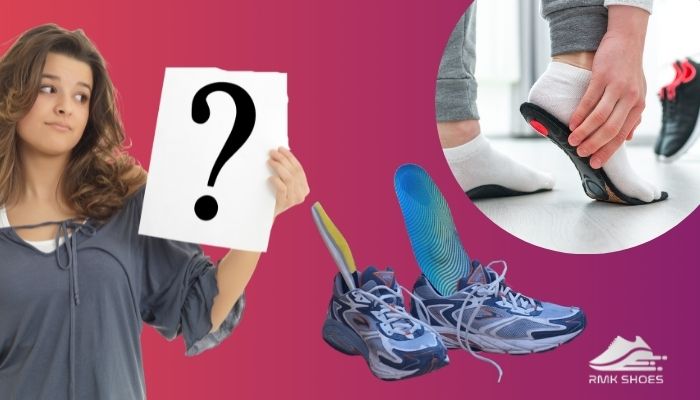 When it comes to removable insoles, you can replace them with better ones instead of buying new shoes. However you can purchase a pair of super comfortable footwear without insoles.
I researched and detected both some pros and cons of wearing shoes with or without insoles and discussed them here in detail.
So, keep reading if you want to get the right answer without wasting time!
What Are The Insoles?
Insoles are the removable part of your shoe that sits on the top of the midsole. It's the thin part of any footwear you can see after buying them.
The pinpoint of adding these apparently flimsy layers is to ensure the fit of your shoe. They add some extra level of comfort, reducing the quantity of space between the upper and the midsole.
Better fitness comes with better performance and support, which means your insole will help you to get you there and provide you with the best snug fittings for your feet.
Most running footwear includes removable insoles. You can buy the insole in compression at any online store or outlet. So, If your current footwear doesn't offer you quality comforts, you may replace them to get your desirable support.
Moreover, you can change your insoles if they lose their current validity. For many people, insoles don't set up for a long time as they depend on their running shoes desperately.
These long-fit insoles are full-length, and you can cut them as they fit your shoe properly. These are also known as trim-to-fit inserts.
In many cases, you can find three-quarter insoles with extra cushion and support to the heel and the midsole inside your shoe.
If your feet are in bad condition, Orthopedics will recommend you change the build insole of your shoe and replace them with a nice pair of comfortable insoles.
Check out my new post on Is Wearing Two Insoles Bad For You.
Can I Wear Shoes Without Insoles?
When you are facing the most irritating problem with your most-liked footwear, the first question that will burn your head is,' can I wear shoes without insoles?'
Well, dear mate, you can wear shoes to avoid the insoles though it is not recommended to prevent many foot-related injuries like plantar fasciitis.
Planter facilities are the most common injury for athletes, especially for runners, and it could be very painful to bear. It happens in most cases when your foot's bottom tissue becomes inflamed.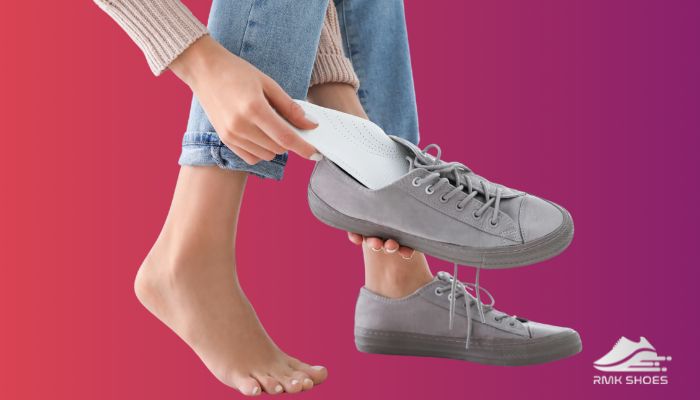 So you can avoid the insoles if you don't have plantar fasciitis issues, and it won't create any problems at all.
And for hiking shoes, as some of them come with insoles, some may not! You can remove their insoles if you want. Because when you start walking, they might be very uncomfortable.
I found many people who may take out their insoles before hiking for their less durability. And their inside seams and stitching can be exposed, which may cause you blisters.
But remember wearing insoles along with your running shoes can bring you unbelievable comforts and fitness.
What Are The Insoles Made From?
As you came to know, the insoles are one of the vital parts of any footwear. Its manufacturing methods and materials assure the proper fits and comforts in your fascinating shoes.
The different insoles are made from different substances and mediums like foam, gel, air cushioning, lather and so on.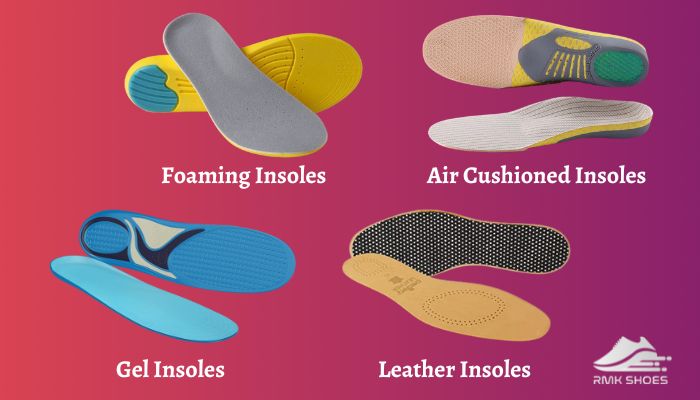 Let me introduce you to the substances made for insoles:
Foaming Insoles
Most of the insoles are made from foam thereby, foams are affordable and available in stock. It represents the best absorb quality and required comfort underneath your feet.
The only matter of concern is durability of these forming insoles, as they are not long-lasting.
So, if you are going to purchase them, keep in mind that you may have to replace them more often than the other insoles.
Gel Insoles
Among all types of insoles, gel insoles are the more expensive and durable ones. They add extra comforts and absorb the sweetness inside your shoe quickly.
Also, they help you to get grip support and pain-relieving fits.
You may get them a chance as they don't pack out shortly like foaming insoles, so spending every penny will give you worthless comfort and feedback in return.
Memory Foaming Insoles
Memory foam insoles are mostly dense, effective and comfortable rather than regular insoles.
They are highly appreciable for their molding methods. They cover the whole surface by molding their shape according to your feet.
The main reason to choose them can be the holding capacity of the comfort and cushioning of your feet where they are most needed.
Air Cushioned Insoles
You will be amazed to know the making process of this particular insole. They were actually made from foam, but the designer specially designed them with pressurized air bubbles in the cushion.
So, they offer you Ultra cushion beds and socks absorbing function inside your insole. For getting the exact comfort you expect, these replaceable insoles are just stunning to pick out.
Leather Insoles :
Leather Insoles don't make great cushioning, but they will give you the best arch support for your heel. As they are made from leather, they don't provide the recommendable durability like the others!
In case you need some rigid performance of arch support and intact durability to keep your arches in place, you can choose them.
Why Do People Wear Shoes Without Insoles?
There are a number of reasons why people wear shoes without insoles. These reasons can be explained from many viewpoints like a hiker, sprinter, tennis player, especially runners and the normal people who wear shoes.
Firstly, everyone knows the utmost impact of insoles because of their cushioning support and the capacity for giving the best protection to your feet.
This explains why runners do not enjoy wearing shoes with insoles. Doing the massive research, I found that the people who want to get their feet a chance to be strengthened.
You can even wear shoes without insoles if you want to be prepared for any hard work or long run. Besides this, there are two more reasons for which you may avoid insoles.
These are the probable two reasons:
For Lighter Walking
You may take out your insoles while a light walks on the road. If you are planning to avoid a lot of walking or running, you can skip the insoles of your footwear.
Again if you have a good pair of shoes that gives you the best comfort or support on your heel or the underneath of your feet on their own, then you can wear that pair of shoes removing insoles.
But first, try to be sure you can wear those shoes daily, which will ensure your best comfort. However, If you face any problems immediately, you may shift to the insoles or wear slippers for a while.
To Prevent Bad Odor
Some people may find skipping the inner soles of their shoes can reduce the bad smell inside the shoe.
Well, the people who don't want to like wearing socks or just don't feel comfortable in socks for being extremely sweaty might avoid the insoles from their regular footwear.
It won't differ if your footwear is so comfy and soft inside.
What Are Insoles Good For?
There is no danger in wearing inner soles as they become a vital part of your shoe in daily life because we wear shoes every day. When you are thinking of getting shoes with insoles, it will provide you with many benefits, including heel support, injuries and better cushioning and many more.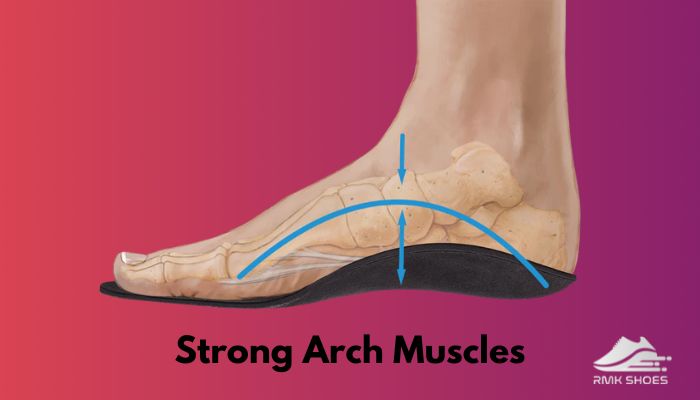 Let me explain those here for you:
Provides Enough Support
As I mentioned before, insoles are one of the primary things that remain in your shoe. The purpose of any insole is to provide you with the proper support for your feet and your body.
They bear your body's whole weight and set up your feet perfectly. Also, they serve their high capability of absorbing sweat like your socks.
Like I have mentioned about the making materials of insoles. Most of them are made from foam, gel or leather. That's why they not only get you the perfect cushioning and comforts but also protect your ankle, spines and from many feet injuries.
The snug insoles will ensure the support of your back, hip and mussels of your lower portion.
Fixes The Fitness
The insoles are thin and soft cushioning, which fix your feet in your running shoes well. You can justify the truthness of my words right now!
Take your most comfortable pair of running shoes and remove the insole. Now wear it without the inner sole. Take a little walk. When you have done it, put it back in your shoe again. This time wear your shoe with insoles. You will feel the difference on your own.
Basically, insoles work as a bridge between the upper and midsole. So it represents the cozy and loose-fitting fitness in your shoe.
Now, if you set your mind to replacing the insole, you can find both low-volume and high-volume insoles outside there. This means you will get extra advantages in finding your choosable and fittable insoles.
Here are some useful tips for you:
If you got much space between the upper and the midsole in your regular running shoes, you might use the high-volume insoles to cover the extra space in it.
On the other hand, you can use thinner insoles if your footwear becomes too tight on the upper and gets pressurized to the point of the heel or toe portion. You can easily exchange them for one of your footwear.
Rescue From Several Injuries
You may already realize the usefulness of getting insoles in your desirable footwear. This concerns you, especially in time of running or for a long walk.
Wearing shoes without insoles for a long time, even over time, can cause repetitive trauma to your feet.
As a result, you may suffer from serious injuries like Achilles tendonitis, stress fracture and shin splints. So you must use insoles to avoid these foot problems.
If your present footwear insoles don't give you heartful support, you may replace them with a new one.
Get Rid Of Blisters
If you are not used to skipping the insole, it will cost you a blister on your feet as the insoles protect your feet from the inner stitching and hardness of the upper.
Usually, the inside of newly bought shoes is not soft and smooth so they will rub your feet from the inside. Also, the lining and the midsole will take time to adjust with your feet.
I will recommend you to wear an insole with your daily wearing shoes to avoid all the regular foot problems and get healthy feet.
Grows Longevity Of Your Shoes
Insoles are that portion of your shoe that prevents direct contact of your feet with the midsole. So it reduces the possibility of smashing out your shoes quickly. So it helps to get long-lasting footwear for your daily wear.
In other words, removable insoles are easily replaceable. Thereby you can change them with a new one when your old one gets unfit.
And insoles are much cheaper than a new pair of footwear. I hope it will save the lifespan of your running shoes and your money as well.
What Are The Disadvantages Of Avoiding Insoles?
Some of the most common problems can happen to all while experiencing shoes without insoles. If you don't have any serious foot problems, you can avoid insoles easily.
But if you need to wear footwear daily, you must go through these main difficulties.
Allow me to introduce the problems here for you:
Foot Problems
Your footwear insole will save you from many more foot problems. They release extra pressure on your weight, preventing crucial issues like corns, calluses, blisters, ingrown toenails, bunions, and many more.
It removes the pain from your foot muscles and tendons.
Lack Of Flat Feet Or Arch Supports
When you walk or run, the whole body pressure comes down through the bones, and you feel pressure on your feet.
But avoiding the insoles may lead you to pain if the pressure is not rightfully distributed on your feet.
Back Support
The ultra cushioning reduces the stress on the heel bone or back part of your feet. It can help people to get out of the backache from walking or sitting a long time in a place.
So if you decide to get rid of insoles, it will cost you back pain in return.
Cost Efficiency
Whether you choose expensive or cheap insoles, they must cost you lower than a pair of new footwear. And you may replace them with a new one as they are available. So it could be the one major disadvantage of wearing shoes without soles.
Delivers Lightweight
For runners, Sometimes it affects their footwear's weight. Though it's not heavy to carry at the time of running, you may feel your shoe a little heavier with insoles.
If you are one of the runners, an insole can disturb you to make you run faster than before and can prevent giving proper strength to your foot.
Durability Facts
Insoles save your shoe lifespan as they are replaceable and keep safe the midsole of your footwear. So if you wear shoes without insoles, you will miss this chance to get the super longevity of your shoe.
Pros And Cons Of Wearing Shoes Without Insole
As you know now, wearing shoes without insoles has both advantages and disadvantages as well. You just need to know the pros and cons of your desirable footwear's insoles.
I'm here to mention to you the pros and cons of wearing shoes without insoles.
Take a look at the pros of wearings shoes without insoles:
Keep the balance right between your footwear and your feet.
Rescue from many foot problems.
Get your shoe durability.
Provides enough back support.
Replaceable many times.
Ensures ultra cushioning.
Save your money from buying new footwear.
Arise the grips of your shoes
There are founding cons of avoiding insoles:
Feels lightweight without having insoles.
Remove arch support in your shoe.
Reduce the durability of your shoe.
Increase the chances of getting a blister.
Drive into the lower gripping
Is It A Bad Idea To Ditch The Insoles?
For you, it's not such a great idea to ditch the insole out of the shoe. It gives the expected comforts and support for the long run and daily walk. The insole provides all the features which a good pair of shoes requires.
Moreover, the insoles are removable and have soft cushioning. Also, they absorb the wetness of your feet rapidly.
So if you aren't uncomfortable with socks as well, you can wear them to get the best performance.
Bottom Line
It's totally up to you to wear insoles with shoes or not. But If you want to know my opinion about avoiding insoles in my regular footwear, I won't.
Since I started wearing an insole with my daily footwear, I noticed the differences, which gave me much pleasure and comfort. Still, I use a memory foam insole with my casual footwear.
Now it's your turn to decide which method you should go for!
So do adventure with your favorite pair of footwear and enjoy the experience with or without insoles in them. Let me know how your experience goes, whether it's good or bad.