While searching for arch-supportive clogs, you must have noticed Calzuro and Dansko in the list.
Both of them are prevalent among doctors, nurses, chefs, and individuals who are always in a rush. Because the clogs are slip resistant and have tons of benefits.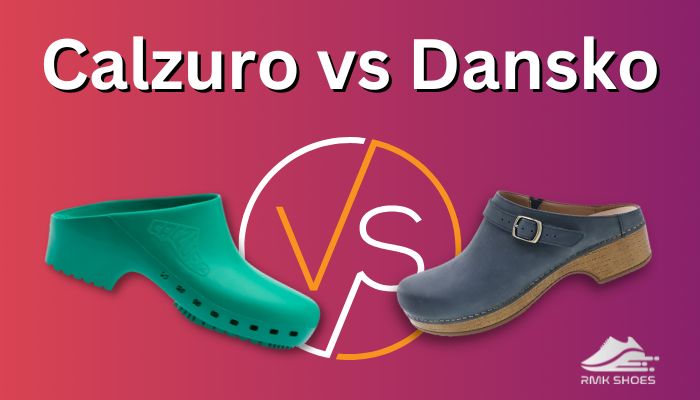 But which one will you choose between Dansko and Calzuro?
Well, I'm gonna mention all the details you need to know before buying Calzuro or Dansko.
So, let's dive in.
A Short Overview of Calzuro & Dansko
The Italian brand Calzuro was founded in 1976 to fulfill the requirements of surgeons, nurses, and people who are associated with the medical sector. The creator Gianfranco Bidoia used co-polymer rubber to make a long-time supportive shoe.
Since the shoe is mainly made for medical environments, the shoemakers ensure that it is comfy and easy to clean and disinfect. Hence, they make it sterilizable, antistatic and autoclavable.
Classic (with or without holes) and Rebel are the best-selling items of Calzuro. These fatigue-reducing shoes are pretty preferable among individuals who work long hours standing.
Dansko started its journey in 1990 from Pennsylvania. Their clogs have so many lines, including Professional, LT Pro, and XP 2.0. Each of them is loaded with specific benefits such as slip-resistant, stain-resistant, long-time arch support, padded footbed, etc.
One unique feature of Dansko is its anti-fatigue rocker which promotes energy return by absorbing high impact. Apart from the most popular clogs design, Dansko also manufactures trendy loafers, flats, and outdoor sneakers for consumers.
Calzuro vs Dansko: What Are the Differences?
1. Materials
Calzuro clogs are totally made of lightweight polymer material. This material is 100% recyclable, water-resistant, and slip resistant. Moreover, it can endure the 273˚ F temperature of the autoclave machine. However, the component's breathability is really poor.
Thus, the designers include holes at the upper and side portion to ensure sufficient air passage to users' feet.
Dansko uses leather, PU, EVA, and rubber elements for specific areas and styles of its clogs.
For example, the midsole of Dansko LT Pro and XP 2.0 consists of lightweight EVA. But its Professional editions' midsole and outsole is made with PU. In some styles, a nubuck-coated 3M Scotchgard™ layer has been used to make them stain resistance.
2. Design
Though Dansko and Calzuro both produce user-friendly clogs, their design is different. And you can instantly distinguish them by seeing the outlook.
There are no perforations on Dansko. But large visible perforations are present on each design of Calzuro, whether it is Calzuro Classic, Rebel, or Aqua.
Dansko clogs look somewhat formal or semi-formal. In general, their XP 2.0 and LT Pro have 1.7 inches of heel height. But Professional styles have 2 inches heel height, thus offering more protection and lateral stability.
However, some Dansko XP 2.0 is designed with 2-inch heel, such as Women's XP 2.0 Brown Floral Tooled Dansko.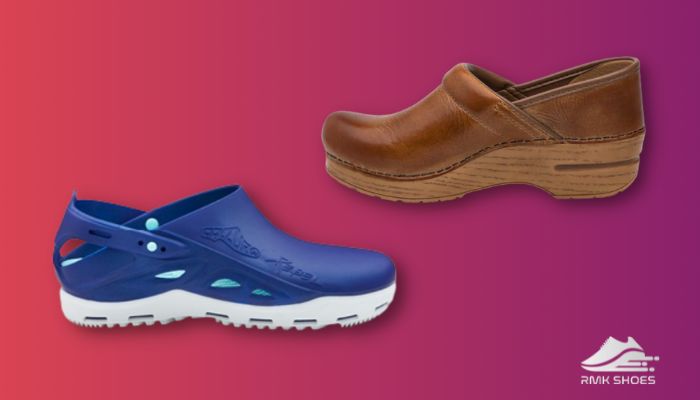 On the other hand, Calzuro's appearance is nearly similar to popular Crocs. Most of them have 1.5'' heels. Adjustable straps and side ventilations are added in almost all pairs. However, you will also get Calzuro clogs without straps, and they are included in the Classic without Holes segment.
3. Comfort Check
Comfort varies according to the wearer's feet structure and requirements. Additionally, it also depends on shoe styles.
While Calzuro proclaims they produce extremely comfortable shoes, Dansko claims they are the world's most comfy shoes. I think both of them are comfortable enough; however, I will persist with Dansko Professional because of its cozy leather line and PU foam sock liner.
The supple interior offers me a relaxed experience even if I skip socks. Furthermore, I can freely wiggle my toes in its roomy toe box.
4. Arch Support
If you regularly wear unsupportive shoes, your ligaments and joints might be damaged. And you may suffer from severe foot issues in the long run.
Therefore, reliable arch-supportive footwear is quite essential for those who work standing for extended hours.
Dansko Professional provides arch support with its contoured PU midsole. The XP 2.0 edition of Dansko has a dual-density PU footbed,  Natural Arch® technology, and memory foam for supreme cushioning and support. Consequently, Dansko is good for flat feet , ideal and high arches.
Calzuro is not backward in providing good arch support. Rather, it keeps pace with Dansko.
That's why my sibling (who works as an intern at the hospital) prefers Calzuro Rebel during her duty. Even her professors wear Calzuro for a long day of OR cases. Its specially designed footbed promotes arch support, blood circulation, and proper foot alignment at the same time.
5. Sizing & Fit
Dansko and Calzuros most shoes are of medium width. The difference is in sizing standard and fit. Calzuro shoes are sized according to UK size standards. Contrarily, Dansko follows the European size standard. But both of them provide size conversion charts on the official website where you can find the US sizing.
Dansko clogs are designed to fit snugly with adequate space in the toe box. Along with medium-width, narrow and wide shoes are available in Dansko. For instance, Narrow Pro Antique Brown Oiled and Wide Pro Black Box.
Calzuro fits a bit loosely. However, Calzuro Rebel includes an adjustable T-Close® patented back closure system which helps to obtain the right fit. Other styles come with straps and buckles to adjust the fit.
6. Price
Calzuro clogs are typically more affordable than Dansko. They range from $60 to $125. The Rebel version is the most expensive Calzuro set, retailing for $125.
Dansko is expensive for its design varieties, wide range of color options, and different kinds of materials, including premium leather.
Here is the price range of some popular Dansko:
Dansko XP 2.0 : $150 – $155
Professional      : $130 – $145
LT Pro                : $125 – $145.
Additionally, you can get to know about the best yet cheap knockoffs of Dansko by browsing Dansko knockoffs at an insanely cheap price.
Pros & Cons of Calzuro and Dansko
Calzuro
Pros
»

Easy to clean: machine washable.

»

Slip-resistant rubber outsole. 

»

Ventilation holes. 

»

Includes bumps to circulate blood flow.

»

Perspiration absorbing insole. 

»

Shock absorbing & antibacterial sole. 

»

Fatigue-reducing anti-static heel for additional support. 

»

Eco friendly. 
Cons
»

Durability is unsatisfactory. 

»

Slightly loose fit. 
Dansko
Pros
»

High-quality breathable leather.

»

Contoured footbed.

»

Padded instep collar. 

»

Slip-resistant outsole. 

»

Removable insole. 

»

Stable and arch supportive. 

»

Long-lasting. 

»

Some pairs are stain resistant. 

»

Waterproof pairs are available. 
Verdict
As all essential points regarding Dansko and Calzuro have been wrapped, now let's make a choice. Before that, let me remind you that both shoes are equipped with plenty of advantages, and comfort and support are the main core features of both.
However, pick Calzuro if you:
– Prioritize perforated clogs for long hours of standing. 
– Often works on flat and slippery surfaces like hospital and restaurant floors. 
– Prefer a closed-toe design with ventilation holes.
Otherwise, go for Dansko if you:
– Demand anti-fatigue rocker bottom for shock absorption and energy return. 
– Prefer leather-covered & supportive footbeds.
– Ready to pay relatively more bucks. 
– Want a blend of casual and formal attitudes at the same time.
FAQs
What Brand is Comparable to Dansko?
The top three competitors of Dansko are Viking Outdoor Footwear, H H Brown Shoe Co, and Spartoo.
Do People Still Wear Dansko?
Young along with adults still wear Dansko with full satisfaction because Dansko clogs have a signature look. Plus, they are filled with excellent arch support.
Do Calzuro Clogs Have Arch Support?
Yes, Calzuro Clogs are structured in such a way so that they can give additional support to high arches, flat feet, and people who are involved in active lifestyles.
Are Calzuro Good for Wide Feet?
Only Calzuro Rebel is good for wide feet because their toe room is spacious. Other styles like Classic and Light aren't suitable for wide feet because they have medium width.
What Does Calzuro Mean?
In Italian, the word Calzaturo denotes a combination of footwear and socks. By shortening this word, the founder Bidoia settled the brand name to Calzuro. That means Calzuro denotes footwear and socks.
Closing Thoughts
Both Dansko and Calzuro are appropriate for healthcare professionals, culinary people, and individuals with busy lifestyles.
However, medical staffs are more oriented to Calzuro because clogs from this brand were primarily made for them. And it has become a tradition among medical personnel to wear Calzuro during their work hours.
But it doesn't mean Dansko is behind in terms of beneficial features. They can easily beat Calzuro with endless advantages.
So which one you're gonna choose? Let me know via a comment.