The Brooks Levitate runners series is on the top with an adaptable roomy fit, quality upper, and many color options. And among them, Levitate 4 and 5 have the most popularity.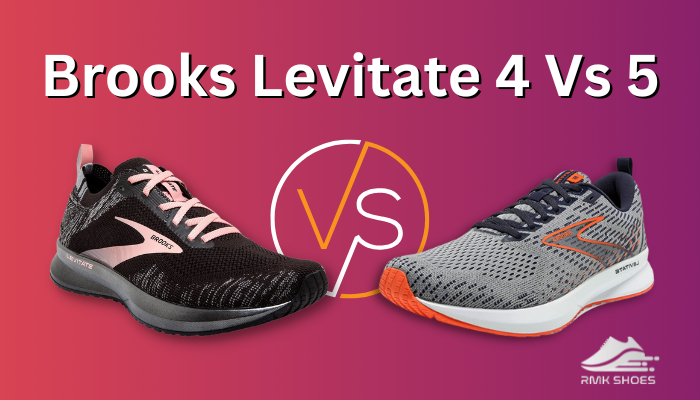 My sister and I own each of the models, and so far, I have discovered many different features these running shoes have, along with a few similarities.
So, read along and prep your step for the next run.
My Personal Rating
Though Brooks Levitate 4 and 5 are from the same line they have almost similar ingredients. But their comfort is a bit different as Levitate 5 has more cushioning and foam.
Below you will find my personal rating on Levitate 5 and 4 shoe's overall features.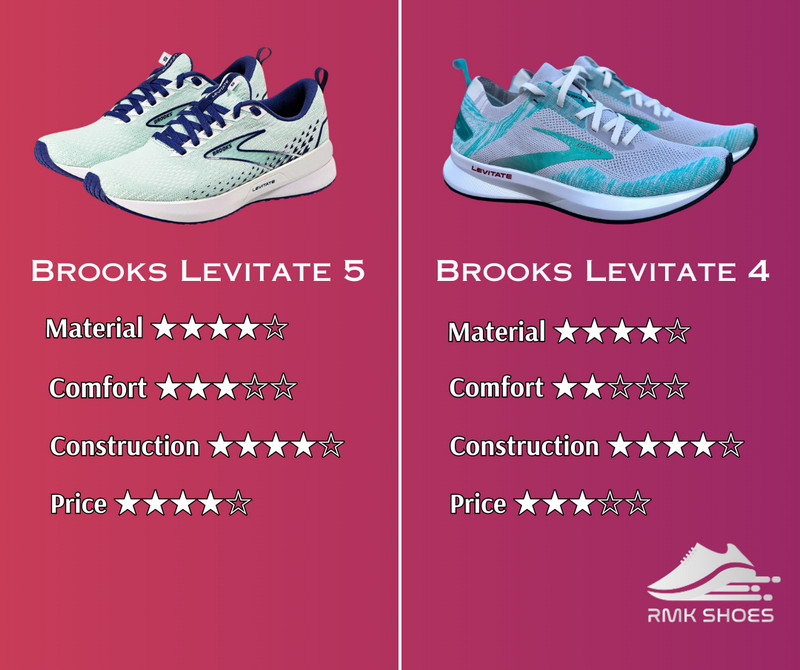 Which Features Differ in Brooks Levitate 5 and 4?
Both Brooks Levitate 5 & 4 feature DNA Amp cushioning technology, providing a smooth and responsive run. Yet there are some significant differences that you must know.
Let's check out where Brooks Levitate 4 & 5 diverge:
Construction Method
Brooks Levitate 4 and 5 shoes are constructed to support the runner to be comfortable and active. Though both these models have narrow-shaped outsoles to reduce transition time, yet there are a few constructional variations.
The upper of Levitate 5 has more breathability because of the designed circular knit material. And I felt my feet sweating less in these shoes. Also, the rubber outsole is made in a certain way to provide extra lift and excellent grip.
The other model, 4, has a soft, breathable, and mesh-like construction, which my sis loves.
Winner according to better construction: Brooks Levitate 5.
Materials
Now it's time to find out the dissimilar materials of Levitate shoes. As these two are from the same lineup, most of their materials are pretty similar. But not every one of them.
Brooks Levitate 4 runners are constructed with: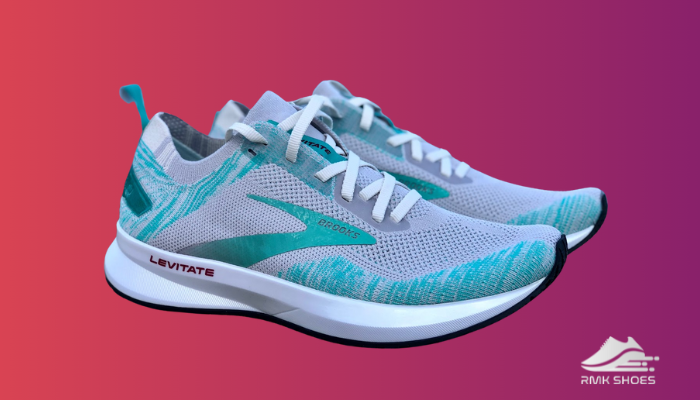 Rubber-made outsole.
DNA AMP insole.
EVA midsole.
Thermoplastic Polyurethane (TPU) foam.
Mesh upper.
Meanwhile, Levitate 5 shoes come with: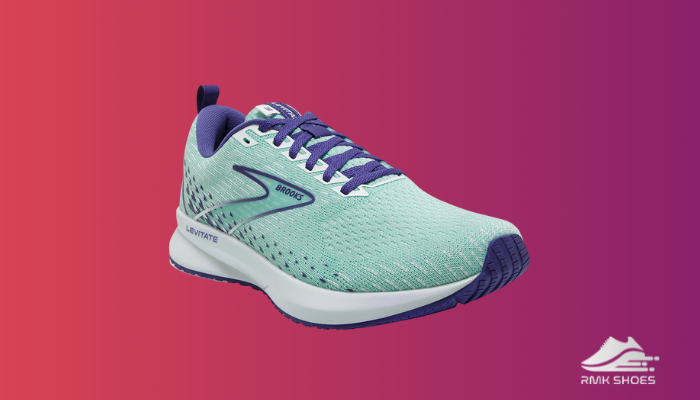 Extra mesh and breathable upper.
DNA AMP innersole.
Ethylene-Vinyl-Acetate midsole.
TPU foam.
Winner of this segment for better quality material: Levitate 5
Comfort Level
Levitate 4 running shoes are comfortable with a mesh upper, proper cushioning under your feet, EVA midsole, and TPU foam. My sister is always busy with her class, gym, and other work; according to her, this is the one for her.
But I need a bit extra, like my Brooks Levitate 5, which has a circular knit upper. This feature is responsible for more frequent airflow throughout my feet.
Thus this version is more comfortable with all the midsole, foam, and cushioning.
Winner in comfort: Brooks Levitate 5.
So, it's evident that Brooks shoes are comfortable no matter which model. If you want to enjoy them for other outdoor activities, find out whether brooks are good for hiking.
Pricing of Levitate 5 and 4
The price range of Brooks Levitate 4 is $76.21–$131.73. This rate changes depending on the color palate and retailers.
On the other hand, Levitate 5 neutral running shoes will cost you from 73.81 dollars to 126.50 dollars. So, it's clear that the latest version is less expensive and thus it is more budget-friendly.
Winner of the Price: Brooks Levitate 5
Sizing & Weight
Levitate 5 runners comes with a large number of size variation for every shape of feet. The sizing range from US 7 to US 15. I am a size 9, and my shoe is a true fit for my size.
However, one thing to remember is that the StealthFit upper is stretchy, yet it can be a bit tighter for wide feet. And medium 1D is available for each size.
On the contrary, Brooks Levitate 4 has US 8 to US 14. Slightly fewer options than the Levitate 5. But you will find normal D width for every size they offer.
Moreover,  Levitate 4 weighs 292g, and  Levitate 5 is slightly heavier, 295g, which is hardly notable. I didn't feel much of a difference.
The winner of sizing & weight:  Levitate 5.
Similarities of Brooks Levitate 5 and 4 Runners
When two shoe models are from the same brand, most of their features and materials are the same, along with their construction process. You see, both Brooks Levitate 4 and 5 are from the same series. So, they will have many alike characteristics.
Here are the similar features Brooks Levitate 5 and 4 have:
Gives high energy return from their DNA Amp midsole.
Both of these Levitate runners have narrow outsole.
Helps to run faster by reducing the transition time.
Provides a similar EVA-made midsole to rest your feet.
Both come with rubber outsole.
However, like these two, you will find similar and different features between Brooks Adrenaline Gts 18 and 19.
Pros and Cons:  Brooks Levitate 4 Vs 5
Even though both Levitate 4 and 5 models have several dissimilarities and similar features, they are not perfect. That means both have certain advantages and cons.
Let's find out the strengths and drawbacks of Brooks Levitate 4 & 5:
Brooks Levitate 4
Pros
»

Lightweight.

»

Great tongue and heel pull feature.

»

Snug fit.

»

Suitable for narrow feet.

»

Smooth transition.

»

Snappy toe-off.

»

Comfortable.

»

Quick heel-to-toe transition.

»

Enough cushioning.
Cons
»

Narrow from the midfoot area.

»

Thick-knit upper.

»

Comparatively heavy than other running pairs.

»

Not enough underfoot for the weight.

»

Thin outsole.

»

Not springy enough.
Brooks Levitate 5
Pros
»

DNA Amp for high energy return.

»

Breathable.

»

Tight and secure lace.

»

Durable and sturdy.

»

Gives a classic racer feel.

»

Has a good lockdown.

»

Provides heel loop.

»

Ideal for short-distance runs.

»

Flexible.

»

Gives a classic racer feel.
Cons
»

Tiring for long distances.

»

Narrow fit.

»

Not enough underfoot for the weight.

»

Few models are less breathable.

»

StealthFit upper is way too soft and gets warm quickly.

»

Heavy upper.
Which is the Better Levitate Shoe?
Overall, Brooks Levitate 5 is the better running pair among the two. This new model has better materials, comforting features, and a price range within your budget.
It weighs slightly more. If that is not an issue for you, go for this amazing kick.
Moreover, Levitate 4 is also an outstanding running shoe with its versatile looks, lightweight feel, and smooth transition. This one is the most costly one among the two.
If the budget doesn't bother you, it will be a suitable fit for you. Either way, you are getting a good quality shoe with a slight change.
Just in case you wanna know more about Brooks shoes, check out the differences between Allbirds and Brooks.
FAQs
When did Brooks Levitate 5 come out?
Brooks Levitate 5 came out in 2017 with better materials, comfort, and size variation for runners.
Is Brooks a cushion shoe?
Yes, with Max cushion, DNA AMP insole, EVA midsole, and TPU foam Brooks is a cushioned shoe.
Is Brooks Levitate 5 true to size?
Like most Brooks shoes, the Levitate 5 is also true to size. But the new StealthFit upper is a bit snug for wide feet.