150 years old brand Blundstone is well-known for providing hard-wearing, durable, and multipurpose work boots for all seasons and all places.
Besides that, this long-time dominating brand, Blundstone also offers super comfortable boots to wear the whole day long. But if you need to take full advantage of these amazing shoes, you have to pick the perfect size.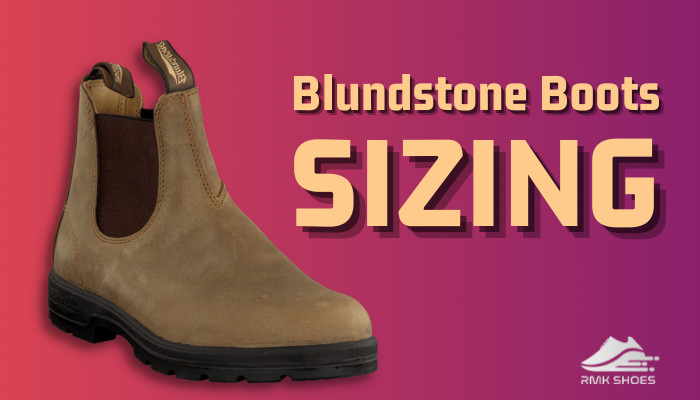 Though the sizing of Blundstone boots is a little confusing, I am here to rescue you from this tangled situation by telling you all about this boot's sizing.
So tag along till the end.
Sizing Chart of Blundstone Boots for Men, Women & Kids
Blundstone is a famous brand that is popular among both men and women. Laceless Blundstone boots are super cool as a work or fashion boot. The company is too old, so they have worldwide consumers. Plus, they have a large variety of sizing and have a kid and unisex options too.
It was really very confusing for someone who attempt to buy shoes online for the first time. Though I regularly buy shoes online, even I have recently bought two Blundstone boots. So I know how to understand the proper size through the size chart. Here I am providing a full-size chart for all which will help you to buy accurate-sized boots.
This is the updated size chart of the Blundstone boot. Just measure your leg size and compare it on the chart to get your perfect fit.
Here is the chart of Blundstone boots sizing for men, women & kids: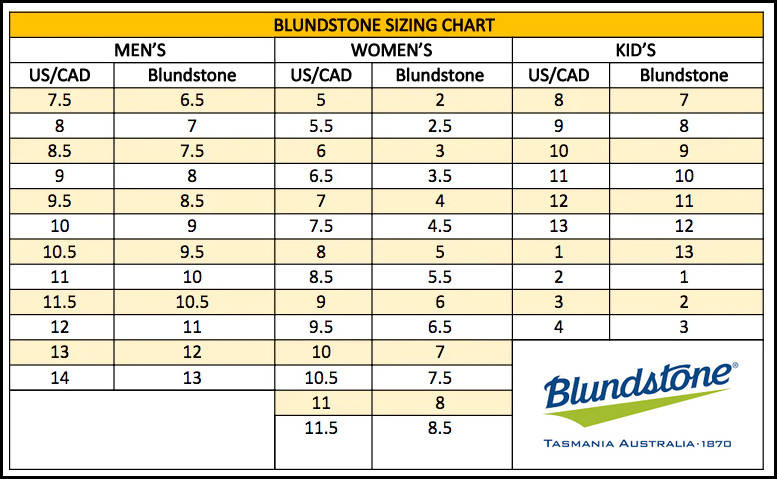 Blundstone shoes are true to size. So measure your feet accurately and match them on the chart to get the perfect one. But if you are a lady and wanna buy a man's shoe.
Yeah, some Blundstone men's shoes can be worn by women. To do that, you have to take 2 sizes small on men's US size. This means if your feet size is 24 cm in women's charts your US size is 8 but for men, it is 6 for 24 cm feet.
Are Blundstone Boots True To Size?
Yes, Blundstone boots are true to size.  But if you have a wider foot, just take one size up.
Blundstone also offers a half-size option for wider feet people.
But don't get a quick decision after the first wear. I have noticed that people frequently ask "Blundstones supposed to be tight at first?'' so the answer is yes, at first wear, you will feel a little stiffy. Because Almost all of these brand's shoes are leather, which is quite stretchable.
You can check by wearing the boot for an hour. Also, try the boots with or without wearing socks. You should be careful about the bottom part and keep them dirt free. So wear it on a carpet or clean surface for protecting clean bottom.
If the boot tends to hurt your feet, then you should go half-size up. For kids, they provide a removable insole, which is good for growing feet adjustment.
Blundstone's breaking period is a very short time, and it's another positive side is they don't give your precious feet any kind of injuries like blisters. Whereas, Maximum high-end boots breaking period is quite long and hurtful.
Are Blundstone's Half-Sizes Just Wider?
Blundstone's half sizes are wider. If you have wide feet, you can pick the half-size up without worrying the shoes might get longer.
In half size, Blundstone doesn't change the shoe length. Even they don't even change the sole width in half size. They just add extra leather which will adjust with your feet after a short breaking period.
Classic series of Blundstone have wider toe boxes than other versions. But Blundstone's dress series is comparatively longer in fit than other versions. You might need to take ½ size small in this dress series.
How To Measure Your Feet for Blundstone Boot
Buying boot online is difficult. I always suggest buying shoes from physical shops. But for lack of preferring model's availability, sometimes we have to order it online.
Rather than, an online platform offering appealing discounts, people now love to shopping via online.
So when you buy boots online you have to have proper knowledge about sizing otherwise you might need to take some hassle of returning. You already know the size chart now let me tell you the easiest ways to purchase Blundstone matching your feet size.
Here is the process to know your feet's size and how to match them in the chart:
Take a measurement tape and place your feet on a plain surface. Ask your siblings or close someone for help if it seems difficult for you to do it yourself.
Extend the tape from the largest toe to the toe end and note down the data.
Now horizontally measure your feet by using tape. Note down the measurement in CM or inches.
The final step is comparing your own feet measurement with the given chart's CM column.
This is how you measure your own feet. To know more about it, read my article about how to Measure Shoe Size.
Now you are thinking about how you be sure if you have wide feet. Okay, it's easier to know, here I am providing a full list of foot width which will help you to understand.
Conclusion
Blundstone is really a good choice for daily rough use. Blundstone boots are very durable and easy to put on boot because of their laceless feature. The sizing issue was restricting you to buy this amazing boot.
In this article, I have covered all the sizing issues of Blundstone boots which will guide you to pick the perfect shoe. So your confusion about sizing should end here, and now you can get your favorite pair.
Stay healthy!!