I'm pretty sure that you won't be able to distinguish Blundstone 510 and 558 at first glance. Because these two black Chelsea boots look alike from the outside, and they seem to be mirror images of each other.
So whenever you go shopping, there's enough chance of being perplexed.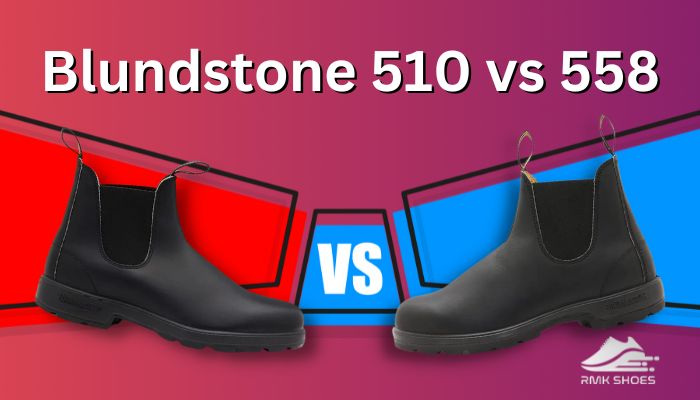 To resolve this issue, I'm gonna highlight the major differences between Blundstone 510 and 558. Going through this write-up will make sure that you purchase a suitable Blundstone Chelsea for yourself.
So, let's jump into the details!
What is the Difference Between 510 and 558 Blundstone?
The main differences between Blundstone 510 and 558 include leather lining, tread pattern, shock absorbing XRD® tech, shaft altitude, & price. Blundstone 558 has a smooth leather lining on the interior, but there's nothing like this in Blundstone 510.
Due to the infused leather string and different tread patterns, these two Blunnies' performance varies.
So, let's break down the factors that differ between Blundstone 510 and 558:
1. Leather lining
Blundstone 558 features tan leather lining throughout the interior, including the vamp and toe box. On the other hand, 510 doesn't have any leather lining.
The leather lining of Blundstone 558 has several advantages. First of all, the supple texture of the leather line enhances comfort. You won't feel much stiffness during the break-in period.
Additionally, its molded nature helps the users to obtain a relaxed fit.
However, the insertion of the leather line makes Blundstone 558 a little less breathable compared to the 550 version. And it often leads to sweat due to overheating. In my opinion, Blundstone 558 is more appropriate for cold weather.
2. XRD Tech for Shock Absorption
Blunnies has done a great job by injecting PORON XRD material in 558's heel strike zone. This lightweight and comfortable element absorbs 90% of the extreme impact.
Thus, a huge amount of pressure and shock get erased from the user's feet. And it's a fantastic advantage for workers who are always in a rush and involved in high-impact activities.
Moreover, PORON XRD is incorporated with antimicrobial properties. It averts the growth of stain and odor-creating bacteria.
This highly beneficial XRD® Extreme Impact Protection technology is missing in Blundstone 510.
3. The Tread Pattern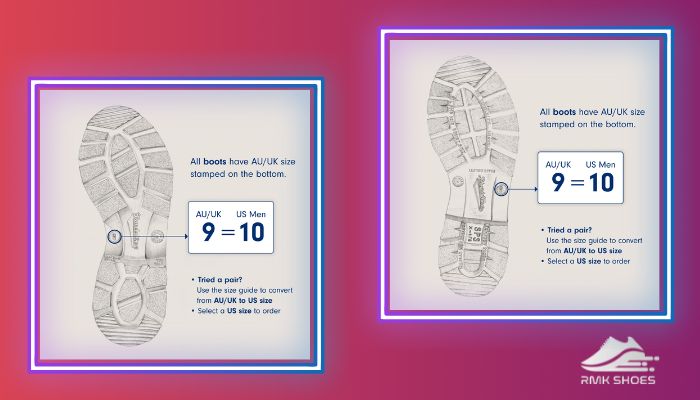 See 510 has large patterns at the outsole, whereas 558's thick outsole contains several large and small patterns. Due to this, Blundstone 558 is slightly advanced in providing a reliable grip on rugged and slippery surfaces.
I found them really proficient while working on sleek factory floors. However, the outsole material (TPU) and its quality are almost similar in both boots.
4. Shaft Height
It is the distance between the arch top and the collar edge. Do you know the purpose of a boots shaft?
It aims to wrap the ankle for stability and protection against injuries. Though Blundstone 510 and 558's shaft height seems identical, actually, they aren't.
558 has a shaft height of 4.5 inches. On the other hand, 510's shaft height is 4.75 inches. However, this small variation doesn't significantly affect the performance.
5. Price Point
When we think of buying boots, price becomes a major concern. Because most of the brands demand hefty price tags for boots. For example, Red Wing, Timberland, and Ariat are all expensive.
Blundstone is no exception to this. I got Blundstone 558 for $220 and 510 for $210.
The extra 10 dollars of Blundstone 558 is for the cozy leather line, grippy tread structure, and impact-absorbing XRD technology which is added to the heel pad.
Similarities of Blundstone 510 & 558
Blundstone 558 and 510 are similar in color and design. The black shade of these Chelsea boots presents a bold vibe to users' appearance. Iconic pull tabs and elastic side is visible in both styles.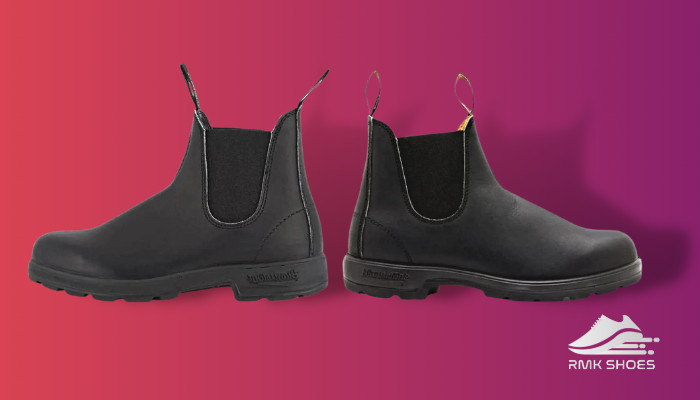 There are more similarities between Blundstone 558 and 510 that you are probably unaware of. Let's know about those:
Leather upper:

Black premium leather is the main component of Blundstone 510 and 558. The leather is synthetic and water-resistant. Hence you can use the boots during the rainy season without any doubt.

TPU outsole for durability:

Thermoplastic polyurethane (TPU) based outsole increases the traction and durability of Blunnies.

SPS Max Comfort system:

This feature boosts the comfort of Blundstones to a new level. Besides, it also participates in absorbing the shock.

Removable Footbed:

The

comfortable footbed of Blundstone

558 and 510 boots is removable. It facilitates easy cleaning of the boots.
Plus, the 558 comes with an extra set of footbeds. So you can personalize the fit by adding an extra footbed layer. The addition of footbeds brings about a more relaxed fit for people with flat feet and bunions.
Arch Support:

Individuals who have to work all day standing on their boots need good arch support. Blundstone 510 and 558 have steel shanks to meet this requirement. So, standing for prolonged hours on these boots doesn't lead to arch pain.

Water resistant:

None of them are waterproof, but the moisture-resistant upper and outsole prevent water penetration.
Pros & Cons of Blundstone 510 and 558
Blundstone 510
Pros
»

Impact absorbing.

»

Pulling tabs for adjusting the fit. 

»

Double stitching for extended durability. 

»

Water-resistant. 

»

Good traction. 

»

Steel shank for reliable support and stability.

»

Short break-in period. 

»

Breathable.
Cons
»

No leather lining. 

»

Shock-consuming XRD tech is absent. 

»

High price. 
Blundstone 558
Pros
»

Comfy leather line.

»

Grippy and heat-resistant TPU outsole.

»

Resistant to water. 

»

Prevents microbial attack.

»

90% shock-absorbing capacity. 

»

Arch supportive shank.

»

Long-lasting. 

»

True to size. 

»

Provides a relaxed fit. 
Cons
»

Less breathability.

»

Overpriced.
Verdict
The important factors regarding Blundstone 510 and 558 have been gathered. And I guess you've already decided which one to add to your shopping cart.
Still, I'll clarify some things that will help you make the right decision.
From my point of view, Blundstone 558 is more efficient. Because paying only ten bucks more, you get excellent traction, the utmost shock-absorbing sole, cushioned footbed, arch-supportive firm shank, and, most importantly, the soft leather-lined interior in this boot.
But if you suffer from excessive sweating i.e. hyperhidrosis, opt for Blundstone 510. This breathable set ensures good ventilation in warm weather conditions instead of overheating.
Blunnies are smart-looking and friendly companions for your active lifestyle. But while looking for progressive functionalities, Blundstone 558 is the one you should go for.
Prior to buying, get to know about Blundstone boots sizing. Also, note that Blunnies stretch a bit over the instep with continuous use. But it never expands lengthwise.
Wrap Up
Searching Black Chelsea boots for everyday use? Then you should explore Blunnies. The impressive attitude of Blundstone 510 and 558 instantly adds a posh tone to your outfit.
I have compared these Blundstone models and put Blundstone 558 forward because of its advanced features.
What're your thoughts regarding these Blunnies, and which one will you choose?
Let me know in the comments!