If you've been looking for new running gear to upgrade your looks, Asics & Hoka are worth the investment.
Before the last marathon, my trainer and I went to a shoe store; the seller suggested buying Hoka, and my trainer selected Asics for their durability. I have already used Asics for several years, so I tried Hoka this time.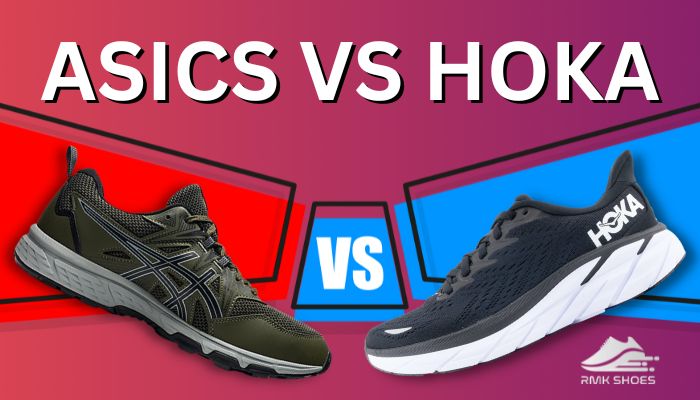 After using both, I'll share their offered benefits and in-detailed feature comparison with you via this article.
Keep on scrolling to solve your puzzled mind!
Dynamic Overview of Asics & Hoka Shoes
Asics led a king's life for over half a century, whereas Hoka recently came into the limelight for their marvelous offerings. Before moving into their detailed feature comparison, know their rich legacy to better understand the brand's intention to make outstanding gear.
Let's know the simple yet dynamic history of Asics & Hoka:
Asics
The journey of Asics started in 1949 as a Japanese shoe company. The brand wanted to manufacture well-balanced athletic shoes by implementing updated technologies. Asics shoes are mainly famous for their moderate cushioning midsole, supportive technology, and grippy outsole.
Compared to other running shoes, Asics offer more durability without compromising quality.
Hoka
Hoka started its journey as an American footwear brand, launched in 2009.
Hoka One One manufactures highly supportive running shoes. The running pairs are renowned for their meta-rocker design, which ensures smooth heel-strike-to-toe-off transitions. Plus, the kicks come with ultimate comfort and lightweight-focused construction.
Feature Comparison Between Hoka and Asics
Well, after perceiving the brand concept, it's time to get into the in-depth feature comparison of Asics & Hoka shoes. In this portion, I'll analyze and verify their offerings.
1. Material
Materials are the first feature that differs most in both Asics and Hoka shoes.
You'll find a lot of variation if you talk about the Asics used material. The brand continuously includes different types of technologies with engineered mesh fabric to make iconic shoes.
Traditionally they use Solyte, SpEVA, and AHAR+; all the materials are used in different parts of shoes based on their stability and durability.
On the contrary, Hoka shoes mainly arrange comfort using many layered footbeds.
Usually, they include cotton, gel, foam, and polyester to make their shoes. Hoka contains a double elevated footbed without increasing the body weight.
2. Comfort
Asics and Hoka shoes provide the perfect cushioning and underfoot support to ensure comfort.
Hoka shoes are specially designed with a dynamic curved sole that improves running capability without hampering ankle movement. The added cushioned footbed of Hoka helps to reduce muscle strain.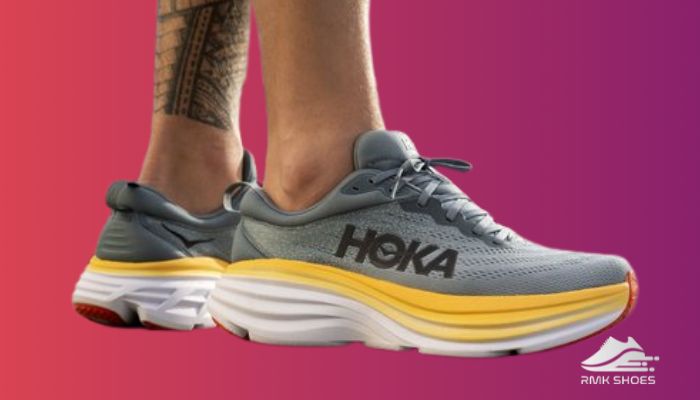 But the most loved portion of my Hoka Arahi is its lightweight feature.
On the other hand, Asics include a less cushioning footbed, but still, you experience the perfect amount of comfort.
I know Asics feel a little stiff, but they offer maximum stability and flexible movement.
3. Durability
Hoka & Asics both offer a noticeable lifetime in terms of durability.
Asics are renowned in the footwear field for their long-lasting attribute.
Other running pairs provide 200 miles of running capability, whereas Asics offers almost 500 miles if you properly maintain them. Durability is the main reason why I constantly use Asics gel cumulus 23 & 24.
Don't be disheartened; my new Hoka also supports me very well by offering noticeable durability. I have already run with them around 200 miles, and the shoe condition says they will also easily survive in the next 200 miles.
In a word, you can consider both Hoka and Asics as durable running pairs, but Asics provide around 100 miles more lifespan compared to Hoka One One.
4. Price
The starting prices of Asics and Hoka shoes are pretty similar; where Asics asks for $110, and Hoka charges $120.
But the most visible price differences come to their expensive pairs because the Hoka's most expensive pair demands $250 while Asics asks $160 for their precious one.
Choosing the perfect shoes within your preferred budget is wise, so think twice before expending over 200 bucks.
5. Sizing
In terms of sizing, length-wise, Hoka & Asics both run true to size.
Selecting a bigger size running shoe is better when you want a flexible & roomy fit.
Hoka brand proposes buying large-size shoes; because of their fluffy interior. So if you have slightly wide feet, go with a large size, and it will fit with your feet perfectly.
Personally, I prefer a snug fit, but the Hoka shoe's wide toe box doesn't create any issues. Moreover, I feel that it also helps to increase breathability.
Contrary, Asics run true to size if you have normal feet. The shoes provide a congested toe box, so if you have wide feet, go their wide line or half size up for perfect fittings.
6. Style Options
Both brands manufacture multiple style options with their sequel and color variety.
Asics offers the best running gears, which have appealing outlooks. On their website, you will find different shades of every men's & women's shoes. The stylish shoes are filled with various types of modern technology. These capsule collections easily blend with your every attire.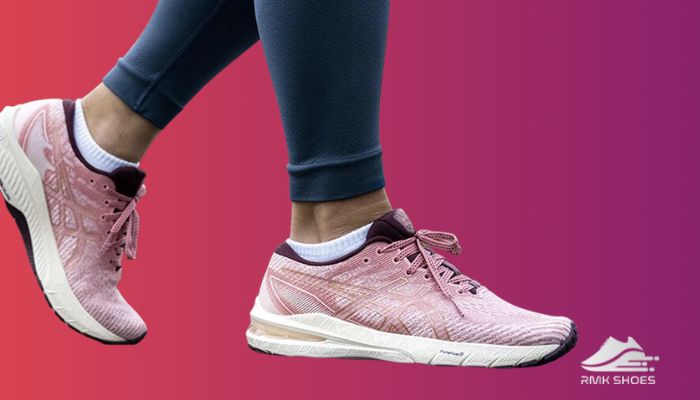 Though Hoka shoes are famous for their amazing comfort, you can't move your eyes off their elusive outlook. The brand presents kids' collections along with men's and women's varieties. It ensures quality without compromising style.
7. Availability
Hoka shoes are widely available on online platforms; you can order them from their official website. You can even purchase your desired pair from legit websites like 6pm, Amazon, etc.
They are also available in the local market. But buying from authentic stores is always safe because there's enough chance of getting knockoffs from outside.
Conversely, genuine Asics are accessible in every footwear market for their popularity, including the official website. For their tricky fittings, I suggest a trial before buying.
Asics Vs Hoka: Pros & Cons
Now, it's high time to know their advantages and drawbacks. This segment is beneficial for you when you want to choose one pair between Hoka & Asics.
Here are the benefits and disadvantages of Asics and Hoka:
Hoka
Pros
»

Comfortable & Lightweight.

»

Dynamic Curved sole increase running capacity.

»

Offered maximum cushioning feel.

»

Spacious space in the toe box for flexible movement.

»

Good for those who have foot issues.
Cons
»

Charge a huge amount.

»

Less durable compared to Asics.
Asics
Pros
»

They offer wide lines for wide-feet people.

»

Amazingly durable.

»

Charge a minimum price.

»

Engineered mesh fabric makes them breathable.
Cons
»

Contain more weight than Hoka.

»

Provide a little stiff footbed.

»

Comes with a narrow toe-box that fits snugly.
Which One is More Preferable?
Hoka & Asics, both trainers' shoes, offer outstanding characteristics with fascinating attitudes.
Asics was the most loved brand for me until I used Hoka.
Hoka is a combined package of comfort and style. The cushioned 5 layered footbeds offer the most bouncy feel with intact stability. Moreover, the toe box secures flexible movement and roomy space to wiggle.
Apart from all these features, their lightweight appearance attracts me the most. So you can choose it with your eyes closed, and surely you will get your desired attributes from it.
But if you want budget-friendly running shoes, Asics is the best choice. The shoe manages durability with moderate flexibility at an affordable price. Though Asics shoes offer a snug fit, they include a different size range for wide-fitted people.
FAQs
Why do podiatrists recommend HOKA?
Podiatrists found HOKA a suitable pair for workouts because it offers support, comfort, and shock absorption, making them perfect for regular wear.
How long do Asics shoes last?
Asics mainly produce trainers shoes that tend to be worn out easily. Still, you can run 300 to 500 miles frequently, but if you use them roughly, they only can survive 3–6 months or 200 miles.
Is Hoka's bad for plantar fasciitis?
Not at all. Contrary, people find Hoka an ideal pair for plantar fasciitis patients. Their manufactured limited stack height and impact-absorbing foam offer enough support and make them suitable.
Takeaway Thoughts
The comfort and durability of Asics & Hoka declare their presence.
I found Hoka as an organized running shoe for its airy and comfy feelings; meanwhile, Asics is an essential pair for their large lifetime at an affordable price.
Now the choice is yours; choose any of them, depending on your requirements.
Share with me your experience with your new pair through the below box.