When it comes to western styled and Cowboy boots, Ariat and Tecovas are the names that come to my mind. For several years, my family members have been slaying these boots look.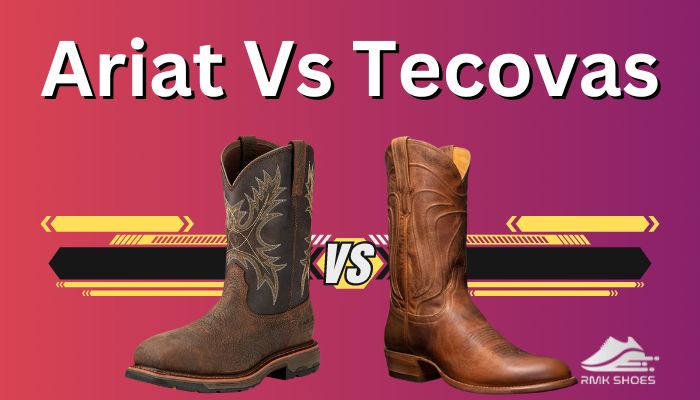 I have gathered enough information from my experience and their reviews to distinguish these two brands and their best features.
Through this write-out, I will share those anonymous information from my perspective.
So, keep reading.
Features Comparison Between Ariat and Tecovas Boots
When it comes to popular boots like Tecovas and Ariat, it becomes a bit difficult to select one if you don't know every detail about their materials and specialty.
Here are head-to-head comparisons of Ariat and Tecovas boots:
Leathers of Shoes
First, you must know where Ariat and Tecovas boots differ in their materials, starting with the leather. 
Tecovas uses a variety of customized leathers to make their masterpieces. Because of the customization process, the leathers of Tecovas are flexible throughout the whole structure.
This makes these boots soft and comfortable right out of the box. Most of the leathers, such as bovine, goat, calf, and bison, are full grain.
Fun fact! Tecovas boots have basically one style, so if you are into that, you can collect other boots with different leather. That's how my uncle built his boot collection, and the various types of leather speak for themselves.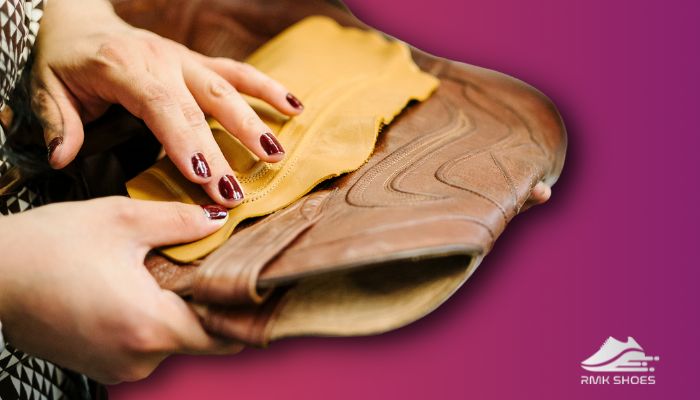 Not only that, Tecovas has other exotic options, including crocodile, lizard, suede, alligator, ostrich, and caiman, which you will not find in Ariat shoes. 
Ariat comes with full grain and some other low-quality leathers, which work just fine. And Ariat boots are good in their own way.
However, my uncle has both brands and prefers Tecovas over Ariat Cowboy boots for their unique leathers.
Construction Process and Sole
Ariat's most popular pairs, like the Men's Groundbreaker Square Toe Boots, are made efficiently. And they have synthetic midsole, insole, outsoles, plastic or carbon fiber shank, and last but not least, cemented construction which elevates the comforting factors in general.
The synthetic materials are less durable than Tecovas, yet are more comfortable.
You can also remove Ariat's insoles and add your preferred one for more cushion and arch support.
On the other hand, Tecovas boots are mainly Goodyear welted. Also, their shaft is steel made and has a 1 cm heel cap. Another different feature of Tecovas is the lemonwood pegs, which is unavailable in Ariat boots.
Sizing and Fit
Both Ariat and Tecovas boots fit true to the size. So, you can order your standard sneakers size, and there won't be many issues.
Still, a few factors, like the materials and construction, differ in fit and sizing. Ariat boots come in various size options for wide-feet customers, including D and EE.
My foot size is regular, so when I got my Ariat Brooker Ultra Western boots, I ordered my size 10, which fit perfectly.
Unlike me, my uncle has wide feet and thus has true-to-size Ariat in his closet.
Meanwhile, Tecovas also offers wide options up to EE. Also, because of the square toe shape, you will get more room in Ariat boots. You should check out Ariat boots sizing for a more precise idea.
Height of Heels
Regarding the height of the heels, both Tecovas and Ariat offer quite a range from 0.25 inches to 3.75 inches. But women's pairs have a 4-inch maximum heel.
Tecovas's women's Cowgirl and Western boots have 1 ¾ inch, and Tall Cowgirl has 2-inch heels. Ariat boots offer up to 2-inch heels and thus elevate your height and outlook.
So you don't have to worry about the height, as you can select according to your comfort.
I got my Ariat Westens boot in a minimum heel height, and they are comfortable to walk to, and I haven't tripped yet. If you are more curious, check out whether Ariat boots are non-slip.
Toe Shape & Shaft
Ariat Cowboyboots comes with Duratread, which is a high-quality EVA sole. Also, these soles are double-coated and slip, abrasion, and oil resistant. This is an advantage you must look for in top-rated boots.
On the contrary, Tecovas shoes have pure leather-made sole, which is Goodyear welted and has lemonwood pegs. Another highlight of these boots that my uncle is so fond of is the extra heel cap.
You will find Vibram and Butyl-treated leather soles for Tecovas's men's ranch boots.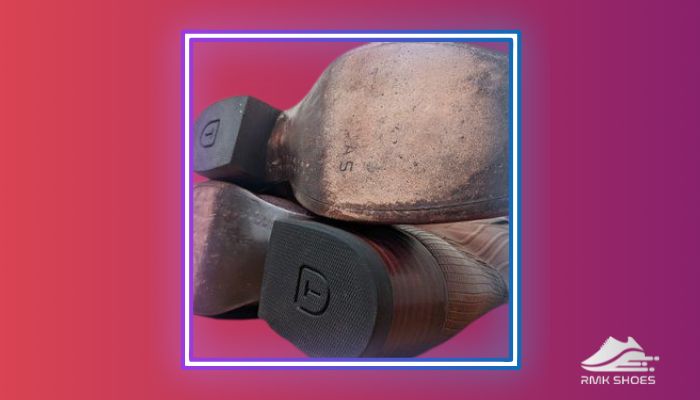 Now about the shaft, most of the Tecovas boot's shaft is below the knee length and is crafted, unlike Ariat boots. The shaft length of Tecovas goes up to 12 inches, which varies from model to model.
Meanwhile, Ariat's shaft length differs. For example, western boots have taller shafts(10-14 inches) compared to Cowboy boots.
Price
Tecovas boots are pretty pricy. These stylish pairs range from $250 to $1995, depending on the variety of leathers and models. But they provide the best in their price range.
On the contrary, the Ariat boot's price starts from 104.95 dollars to 679.95 dollars, which is also not cheap for cowboy boots. But compared to Tecovas, they are budget-friendly.
If still, the pricing of these boots is over your budget; you can wait for the special day offers such as Mother's Day sale or Valentine's Day sale.
Pros and Cons: Ariat Vs Tecovas
If one boot's comfort level is outstanding, the other will have the best quality leather and soles. Every brand comes with its advantages and disadvantages. To make the right choice, you must have the proper knowledge.
Let's check out the strengths and weaknesses of Tecovas and Ariat boots:
Ariat Boots
Pros
»

Comfortable.

»

Resoleable.

»

Leather lining.

»

Cemented construction.

»

High-quality sole.

»

Waterproof.
Cons
»

Expensive.

»

Less Breathable.

»

Heavy.

»

Longer break-in period.

»

Cheap leather compared to Tecovas.
Tecovas Boots
Pros
»

More stylish.

»

High-quality materials.

»

Customized leather.

»

Versatile.

»

Affordable.
Cons
»

Long break-in period.

»

Less available.

»

Limited style options.

»

Difficult to take off.
Which Boot is Best For You?
If you are looking for traditional cowboy boots with good quality material, construction, and ideal styling factors, Tecovas boot is your jam. But be aware of the limited options. And to get extra cushion, breathability, and comfort, Ariat boots are a good catch.
Tecovas fits all the categories, looks, durability, and top-notch ingredients for a lifestyle pick. The price point is something to consider. But it's worth every penny.
Meanwhile, Ariat gives you comfy pair of boots that you can wear for long hours without thinking of arch support and cushioning.
The price is affordable too. So, prioritize your needs and buy your ideal pair.
FAQs
Is Tecovas a good brand?
Yes, Tecovas is a good brand, and they also advertise the boots that got them known all over.
Do Ariats fit similar to Tecovas?
Yes, Ariat boots fit similarly to Tecovas. However, Tecovas offer EE wide size for wide feet customers.
Are Tecovas boots comfortable?
Yes, Tecovas boots are out-of-the-box comfortable due to their soft EVA foam, which works as a cushion layer under your foot.
Does Tecovas run true to size?
Yes, Tecovas boots run true to size, and you won't have any issues If you buy your regular US size. Still, the best way is to try them on physically before purchasing.
Final Words
Tecovas boots are the perfect example of lifestyle boots. These have all the materials to last several years. The construction process also makes them so durable. But they come with a hefty price tag.
Ariat boots are also catching up. You will get the most comfortable boots with good quality ingredients and, the best part, within a budget.
You get everything you need to know about these boots. To learn more, comment below.