Western cowboy boots are no longer limited to cattle ranchers, horseriders, and field workers. In fact, people of all ages are now embracing the stylish boots for everyday outdoor use.
Ariat and Durango are immensely popular for infusing traditional-looking cowboy boots with modern features.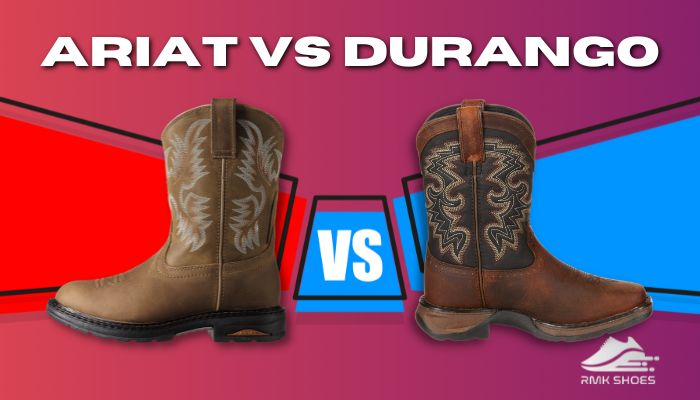 Many buyers can't afford both for somewhat expensive price tags and look for suggestions to choose between Ariat & Durango.
Luckily, I own both hence I decided to review these tall boots in-depth. So, let's do it!
Overview of Ariat & Durango Boots
Ariat was founded three decades ago. In 1993 the new breed of boot emerged. Thinking, why is it called a new breed?
Well, because Ariat first incorporated beneficial technologies like Advanced Torque Stability and shock-absorbing 4LR technology into the boots for equestrians.
They deeply concentrate on its material and craftsmanship just to ensure the ultimate comfort, durability, and world-class performance.
Ariat claims that many of their boots surpass 150 steps during fabrication. And this is done only to achieve the highest quality.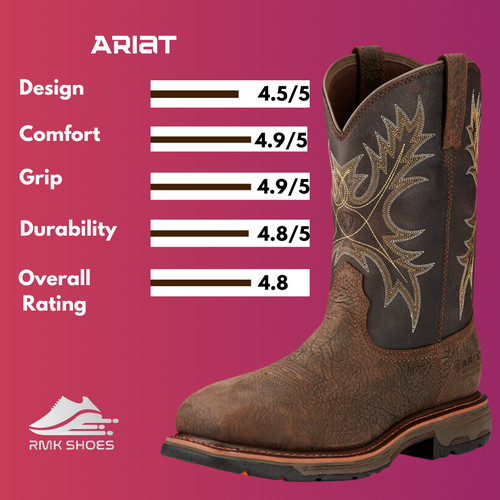 Durango appeared in the boot industry over half a century ago, in 1966. The skilled designers combined Western heritage and up-to-date elegance in the boots.
People's craze for Durango cowboy boots was reinforced near 1970 when the brand introduced genuine and exotic leather-made boots with groundbreaking comfort.
Till now, they have brought numerous hot-selling silhouettes. Rebel, Arena, Patriotic, and Maverick are the most popular among them. In the field of innovative technology, they are also quite ahead.
With technologies like Easy-Fit, Energy Return Capsules, Suspension System, and X-treme Comfort Footbed, they ensure maximum benefits to the users.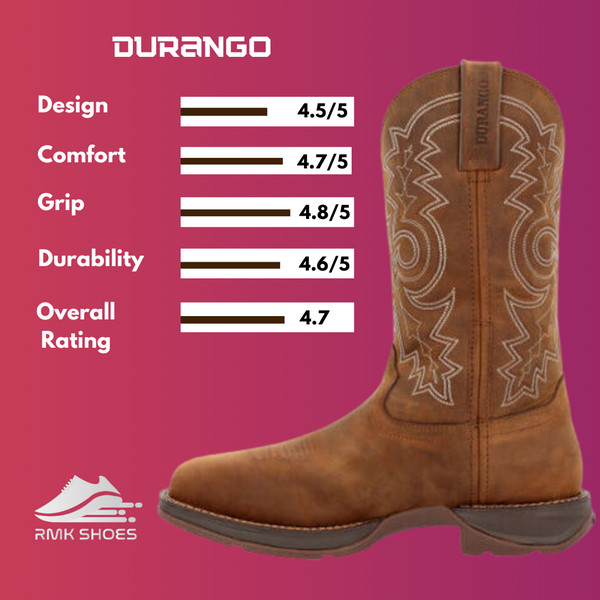 How Do Ariat Boots Differ From Durango?
Meanwhile, you have got to know that Ariat and Durango differ from each other with their respective backstory. But knowing this isn't enough while buying them for your workplace or horseriding.
So, let's give a fleeting glance at the features that distinguish Ariat and Durango: 
Construction Details
Ariat follows full Goodyear welt construction for all of their boots. On the other hand, Durango fabricates its shoes with full and 3/4 Goodyear welt construction.
For instance, the square toe DURANGO® OLE '66 western boot is constructed with 3/4 genuine Goodyear welt construction and double row welt stitch.
In the full welt, the visible stitching runs all around the shoes, whereas the stitching ends before the arch area in ¾ welted design.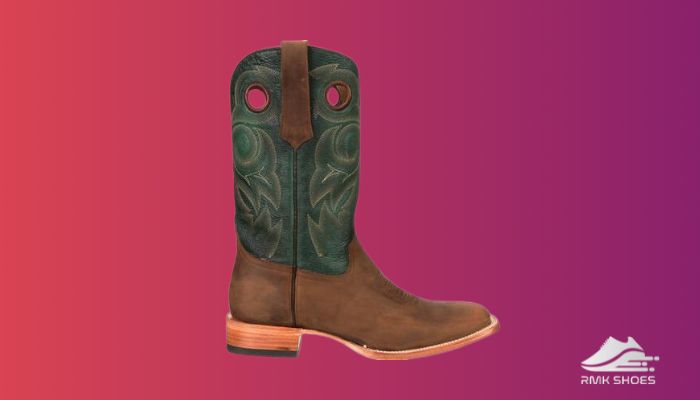 However, Premium full-grain leather is the primary material of both Ariat and Durango. Moreover, leather, mesh lining, and synthetics are also used in the boots to add coziness. 
Grip Comparison
Durango uses a high-abrasion rubber outsole, offering excellent ground traction. Most of them are oil and slip resistant.
Consequently, you can rely on these boots without any fear of slipping. Still, some Durango outsoles are crafted from leather, and their grip is not so satisfactory.
However, I found Ariat one step ahead in providing superior grip on various surfaces. It's due to their Duratread™ sole and Vibram rubber outsole. Though they are also oil and slip resistant, just like Ariat, I prefer them most for supplying reliable traction in slippery terrains. 
Comfort Check
When Durango has a Suspension System for all-day comfort, Ariat has ATS® Max technology for the same purpose.
Durango Rebel Composite toe Workboot gave me sufficient comfort with its cushion flex insole and thick EVA midsole.
The shock-absorbing capacity of the midsole and electrical hazard protective composite toe ensured safety when I used to go PowerPlant to collect project data.
But after I started to wear Ariat's WorkHog Patriot Work Boot, I perceived it was cozier than Durango. However, their prices were quite close (I bought the Ariat Patriot boot for around $220 and Durango for $216).
The lightweight property of the EVA midsole and interior mesh lining wrapped my feet with a soft and breathable shield. It is also electrical hazard-resistant footwear similar to the Durango that I used.
Though this pair of Ariat seemed more comfortable from the inner side, one downside of this piece is its extra weight. And it comes from the sturdy steel toe cap.  
Price Analysis
The price range of Ariat's tall cowboy boots is $100 to $680 dollars. This price is applicable to adult shoes. For kids, the starting price is relatively down.
Along with Vietnam and China, some Ariats are also manufactured in Bangladesh. But Ariat proclaims that all of their product's design and development take place in the United States.
Furthermore, their skillful design reflects Ariat leaves no stone unturned to ensure the best quality of materials and craftsmanship. So I think the expensive price of Ariat is absolutely justified.
Durango's starting bid is identical to Ariat i.e. $100. But its maximum price is relatively lower, $430. Indeed, price depends on many factors.  Quality and durability are the most important among them.
Undoubtedly, Durango boots are of good quality. But consumers' review keeps Ariat ahead of Durango in terms of durability. However, both of them have been serving me well for a couple of years, and I hope to enjoy their service for the upcoming 7-8 years.
Finally, we're done with distinguishing between Ariat and Durango.
For now, let's check their benefits and drawbacks. It will not only inform you of the similarities but also help you to make a choice.
Benefits & Downsides of Ariat and Durango Boots
Ariat
Pros
»

Elegant appearance.

»

Durable leather-made boots. 

»

Shock-absorbing sole. 

»

Oil and slip resistant. 

»

Anti-fatigue insole. 

»

Protective steel, carbon, and composite toe caps. 

»

Multi-surface traction. 

»

Lightweight formation. 

»

DRYShield™ waterproof membrane prevents water. 

»

Long-time arch support with stable shank. 

»

Produces boots for wide feet also. 
Cons
»

Sizing and fit vary according to the style. 

»

Advanced features come with expensive costs. 
Durango
Pros
»

Impressive Designs.

»

Long-lasting and comfy materials.

»

Good grip from the abrasion-resistant exterior sole. 

»

Fiberglass shanks for stability and support.

»

Good for standing for prolonged hours. 

»

Slip protection on greasy and watery surfaces. 

»

Steel and composite toe box for safety. 

»

Shock absorption capability. 

»

Medium and wide widths are available. 
Cons
»

Runs half a size large. 

»

Affordable, but shoes that are rich in features are expensive.
Ariat vs Durango: Which is Better to Buy?
If your first priority includes tall boots with optimal comfort and extended durability, furthermore your budget is unlimited, then Ariat will be the best suit for you. But if you can be satisfied with relatively fewer features within a little less investment, go for Durango boots.
Though I'm more satisfied with Ariat's, I guess both are good value for money, considering their respective features.
Whether you're a horseman, herdsman, or cultivator, Ariat and Durango will support you a lot in your workplace.
As they are not true to size, make sure to know precisely about their sizing.
So it will cause you no harm to know Ariat Boots Sizing before ordering a pair. And I'll be writing soon about Durango's sizing in detail.
FAQs 
What Brands Are Considered As Good As Ariat for Western Boots?
High-end Lucchese, Wolverine, Frye, Tony Lama, Rios of Mercedes, and Justin boots are considered as good as Ariat for Western-style boots. 
Are Durango Cowboy Boots Real Leather?
Yes, the main element of Durango Cowboy boots is full-grain real leather. 
Do Durango Boots Have Good Arch Support?
Yes, the stable midsole, suspension system, and inserted shank have made Durango one of the finest arch-supportive boots. 
Final Words
Wanna hold a blend of urban trends, adventurous looks, and a fashionable vibe through your footwear?
Then Ariat or Durango can be your feet's trustworthy companion. These classy pairs not only bring an iconic outlook but also enfolds feet with support when you're outside.
So, which one are you gonna purchase between these tall boots?
Let me know by leaving your comments below. You can also ask for more queries there. See you at the next write-up!