Supra shoes are primarily made for skating and athletic purposes. As the shoes are comfortable, people often wear them casually and love them.
On the other hand, some individuals underestimate this Supra altogether.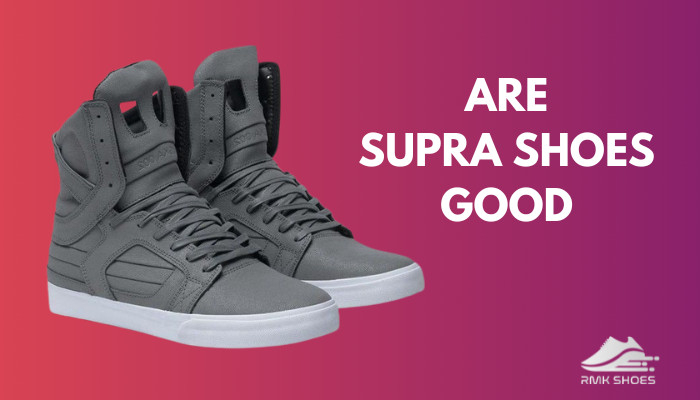 Understanding whether these shoes are good or not is difficult in such a controversial situation, right?
Here comes my content. I gathered the necessary information and put together this resourceful article to reach a solid windup!
So, read till the end to know whether Supra Shoes are good.
Are Supra Shoes Good?
Yes, they're good for feet as casual and some specific athletic wear.
Supra shoes are enriched with good materials, comfort and proper fit.
To check whether a shoe is good, you must look for some features, including comfort level, materials, structure, and fit.
And the status of these features will tell you if your feet are in a good pair or not!
Let's see where the Supra shoes are staying in terms of performance:
Upper:
The upper is prepared with the finest quality leather, suede, fabric and Airmesh. All of these materials ensure certain breathability and water resistance.
Due to this, there's no need to worry about sweat and malodor.
Soles:
It contains a slip-on closure rubber insole, which is removable.
However, it contains full-length EVA midsoles, the layer is thinner. Like high-end shoes, the outsoles are also made of vulcanized rubber. It is slip-resistant and enriched with good grip properties.
The outsole is very well-made and sturdy, so you won't have to face any slipping while skateboarding.
With a combination of good materials in the sole and upper, Supra shoes are capable of providing a comfortable touch to your feet.
Fit:
This shoe is also good in terms of fitting and structure. Most of the shoes are true to size, which enables proper fitting.
Though Supra shoes offer good soles, upper and fit, it's unsuitable to wear everywhere and for a long duration because of the thin midsole. I don't think it's a serious limitation because you certainly don't want to go everywhere in one shoe.
Follow our guide to know are zero drop shoes good for you.
What Makes Supra Shoes Special?
It is the user-friendly features, iconic design and celebrity wear that make Supra shoes so special.
Footwear of this brand was unable to gather specialty at first.
But when they released the Skytop edition, unique tongue configurations, and famous celebrities started using their shoes, the specialty and the demand for Supra shoes started to enhance.
In the early stages of his career, Justin Bieber was spotted wearing Supra sneakers at many events. If you look at the official website, you'll see that there is a separate section called "Justin Bieber Shoes."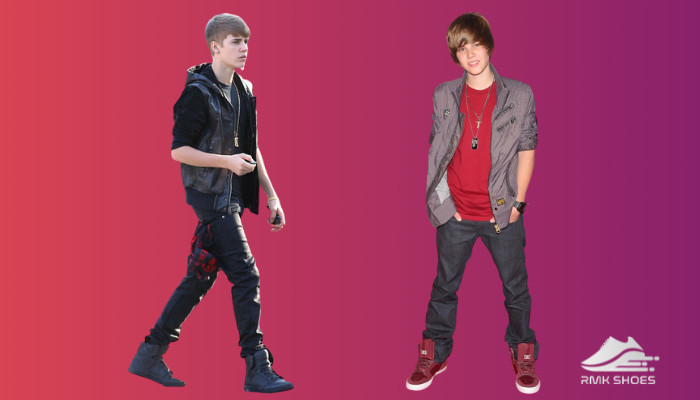 Are Supra Shoes Good For Skateboarding?
Supra shoes are excellent for skateboarding. The anti-slip rubber outsole and moderate cushioning made them useful wear for skateboarders.
At first, Supra entered into the footwear industry with its special skateboarding shoes.
Focusing on the comfort of the wearer, the manufacturers made use of comfy and supportive EVA in the midsole.
The skaters get the advantages of the slip-preventing outsole, padded collar, raised tongue and airflow providing uppers from this branded shoes.
The Skytop III is one of the most popular appreciable models in Supra's line. It's skating performance was much better than the previous editions.
Check out our separate post to know are jordan 1s good for skating.
Do Supra shoes run small?
In general, Supra shoes fit true to size. Some sizes run a little bit small but do not seem tight.
When I was inquiring about the available sizes on their official site, I noticed that only 8,8.5,9,9.5 and 10 to 13 US sizes are available for adults.
If you wear half sizes, you should go for the next upper size. For example, go for 11 if your size is 10.5.
The soft upper and interior will help you put on and off the shoes easily. The material is so smooth that it doesn't matter whether you wear socks or not with this pair.
Since most shoes are true to size and not too small, you don't have to stress about foot pain or blisters.
Are Supra Shoes Discontinued?
The production and marketing of these shoes didn't stop completely. Rather, the manufacturing process was paused in some countries.
The Latin word 'Supra' denotes 'above and beyond.' With this word, the founder might have meant that their shoes are unique and top-rated.
It has been almost 16 years since the invention of this brand.
They have reached this position after going through various ups and downs for such a long time.
Some shoe designs were flopped and unable to earn sufficient profit. That's why the business leaders of the brand banned making those designs.
Moreover, the ownership of this brand changed in June 2015 at first. Then several internal changes came to its partnerships and productions.
Consequently, it had an impact on the distribution of shoes, and there was a little pause.
To overcome this pausing state, the fashion retailer of Korea F&F, obtained the global trademark of Supra in October 2020.
In South Korea, F&F relaunched this branded footwear brand and started manufacturing in 2021.
You may also like to read: are Doc Martens good for your feet?
Are Supra Shoes Worth To Buy?
'Supra' offers comfortable skate shoes. But this brand lags behind in terms of introducing new design variations.
The features of the shoes are not so mass pleasing, but it's quite good.
Skytop is the most renowned addition of Supra. If you ask 10 people about this particular design, you'll find that 8 out of 10 people know about it. This shoe achieved popularity rapidly after releasing.
That's why the manufacturers continued to produce and market it in a massive range.
Gradually, they launched Skytop 1,2,3,4 and 5. Among all of these, Skytop 3 achieved a huge response and also earned the maximum financial gain.
Skytop 3 has a fast and astonishing performance in skateboarding.
If you look at the price tag, it might seem expensive. But as a skating shoe, it was not demanding much.
You'll get a pair of Supra shoes for $50. The rising hype might be responsible for this high-end price.
A few days ago, I decided to buy a set of SUPRA TK SOCIETY BLUE WHITE SNOWFLAKE SHOES. A sale was going on, and it was selling at 45.90 US dollars.
However, it's possible that you don't prefer the configuration and price of Supra shoes.
If you're looking for another skate shoe on a reasonable budget, you can look at Vans non-slip shoes.
To know more, just go through this article, "Are Vans Non Slip Shoes?"
Considering the features, overall performance and pricing, I think investing money in these is not unwise. They're worth buying!
Before You Go
There're mixed reviews about Supra shoes. Some are positive, and some are negative.
While using Supra shoes, I find them good enough in terms of comfort, pricing and size. So my verdict is, Supra Shoes are Good enough to serve your purpose!
What's your opinion regarding this brand?
Do let me know in the comment section. If you have further queries, just leave your questions.
I'll get back to you with reliable answers.