Who says you can't do boating in style?
It's time to say goodbye to your dull and boring-looking shoes and wear a smart and stylish pair of shoes to boating.
And Sperrys are the first ones to hit in mind when talking about boat shoes. Sperrys are the first ones who invented boat shoes. But does Sperrys really give enough protection against water?
To give you a first-hand experience, I, with my few friends, boated wearing the Sperrys on our last vacation to Long Island.
Let's dig into the writing to find out how good Sperrys protect against water and clear all your confusions regarding Sperrys.
Are Sperrys Waterproof?
No, Sperrys are not waterproof; instead, they are water-friendly. However, it's completely okay to wet the Sperrys; they were made as boat shoes, after all.
Sperrys are the first among the footwear and boating markets who invented the boat shoes. The makers of Sperrys wanted to create shoes for sailors and boaters, which will provide good traction and prevent them from slipping on the boat deck.
It didn't take much time for Sperrys to grab the attraction of outside people. Everyone liked Sperry for its non-slip feature, which prevents them from slipping on slippery grounds. Along with being slip-resistant, look-wise, Sperrys are very modish, which easily complements any outfit type.
But if you think Sperrys will keep your feet dry in water, then you are wrong. Sperrys are water-friendly, not waterproof, so Sperrys does not keep feet dry on the water, unlike other waterproof shoes.
As I said earlier, Sperrys were for boaters to prevent slipping, not to protect their feet against water. So don't expect wearing Sperrys for your boating trip will keep your feet dry and crisp.
However, if your Sperrys get wet, don't stress about it; dry them properly, and you will be ready to wear them.
Do Sperrys Get Ruined If They Get Wet?
Do Sperrys doesn't get ruined if they get wet. Sperrys were made with the purpose of wearing on the water. Sperrys can withstand water, and once they are adequately dried, you can again wear them.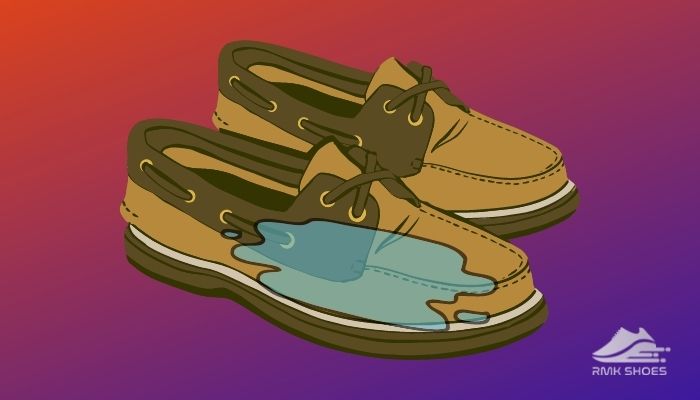 Sperrys can resist the rigors of saltwater, and it is said that Sperrys only gets better when it comes in contact with saltwater. When the Sperrys gets wet, an excellent character and patina are added to the shoes, making them even nicer. Also, the saltwater makes the shoelaces tied for a long time, so the chances of losing up the shoelaces decreases.
However, before getting your Sperrys wet, you should know what type of material is your shoes made of. If your Sperrys are made of leather, then no need to worry; you can stay in the wet Sperrys as long as you want. But the scenario is different for suede Sperrys; sometimes, suede Sperrys can get ruined when they come in contact with water. It is better to avoid suede Sperrys in wet grounds.
Since Sperrys are water-resistant, don't try to dip your foot in a pool of water. Water will easily penetrate through the tongue area, the entrance of the foot, and the holes on the sides. And when you frequently soak the Sperrys in water for a long time, the material will deteriorate faster if they are kept dry.
How To Maintain Sperrys?
When you wear a pair of Sperrys now and then, they deserve to get the proper care. Lack of maintenance will reduce the lifespan of the shoes. So make sure to treat them after every use.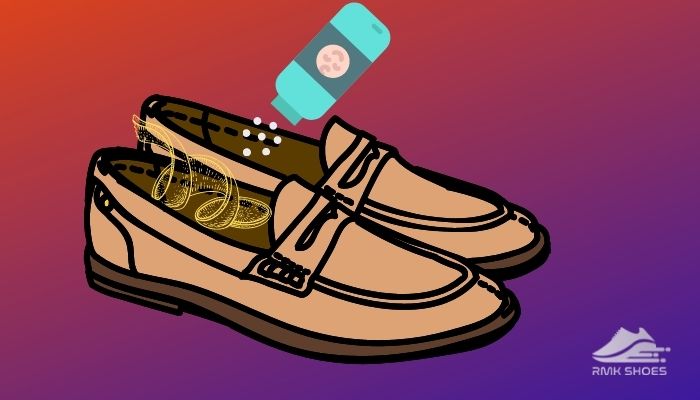 Below are some ways that you should follow to take proper care of Sperry:
After your shoes get wet, make sure to dry them properly before using them again or keeping them in the shoe rack. Earlier I have explained the drying process. You can follow that. If your shoes are not that wet, you can use a dryer sheet or pack the shoes with newspapers overnight.
Wet shoes tend to smell awful when they dry. To remove this odor, you can sprinkle some baby powder, baking soda or place a few lemon or orange peel in the shoes overnight. Next morning your shoes will smell as if you have newly bought them.
If your Sperrys gets a stain on them, you can take it off just by using a dry brush. Gently brush on the stain in a small circular motion. To avoid scratching, brush the shoes in one direction.
Do not let the shoes drench in water for a long time; it can discolor the leather and change its texture.
What To Do If You Mistakenly Get Your Sperrys Wet?
When you go on a boat trip, your Spreyys ultimately get wet. As Sperrys are not waterproof, and if they take in a little more water than you wanted, there is no need to worry. Sperrys can withstand water but make sure you dry them.
Here are some ways to dry Sperrys faster:
Leather shoes absorb water pretty deep and quickly. Start the drying process by taking a towel and dab on the wet shoes. The towel will soak all the excess water.
Remove the insoles and leave them for air-drying. Insole soaks most of the water, so you are a step ahead in the drying process when you take them out.
Keep your shoes in a well-ventilated place for drying. Do not blow any hot air on the shoes or keep them in direct heat because leather dries out too fast. When you dry the shoes with a heating source, they can crack due to extreme dryness.
After the shoe is completely dry, you can use a leather conditioner to restore the moisture of the shoes. You can also treat your shoes with a leather conditioner even if they are not wet. The conditioner makes sure all the goodness of the leather remains intact.
Note that leather conditioner is only used to condition leather shoes. Do not use it on suede or nubuck shoes; it might not work or even ruin the shoe material.
Conclusion
It's time to do boating in style with Sperrys, and why only boating or sailing? You can pair the Sperrys with colorful chinos and go for a casual outing.
If you bought your Sperrys thinking they would keep your feet dry in water, then you are wrong. Instead, Sperrys are perfect boat shoes that give ample traction on slippery ground and make your boating trip more stylish and comfortable.
I hope this article answered all your questions. Still, if you have any confusion or want to give us feedback, go ahead and comment below.