Just like we all have at least one ripped jeans in our cabinet, we have a pair of Hey Dude.
It's a suitable companion when you take part in daily evening walks or roam around the busy street of Atlanta. But when it comes to regular running, we wonder if the shoes are appropriate for this heavy physical activity or not.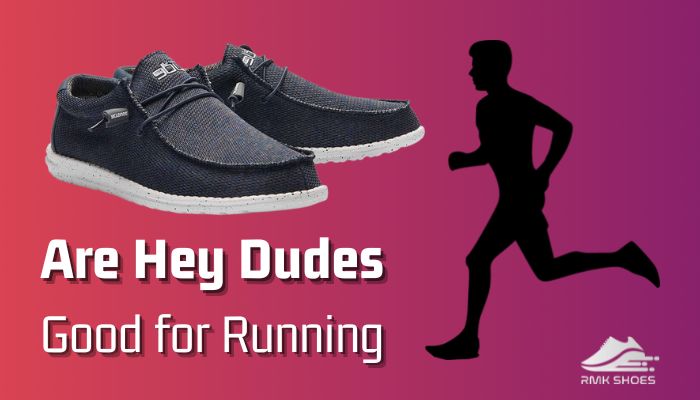 So tag along and figure out the facts about running with Hey Dudes!
Can You Run in Hey Dude Shoes?
No, Hey Dude is a wrong choice for running. Its interior cushioning, support, and stability are inadequate to spice up the running experience. Plus, the heel drop and overall design make them unworthy of a race shoe. However, this comfy boat shoe serves well as an everyday go-to attire.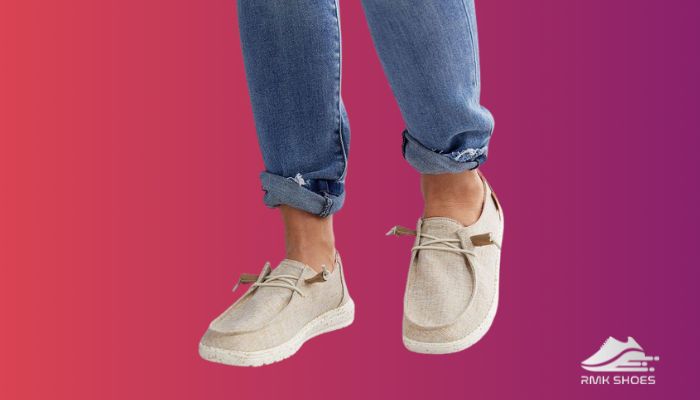 Recently I found a catchy statement on Hey Dudes' official website regarding their shoes. It says, "Shoes so light, a butterfly could steal them. So soft, kittens seethe with jealousy."
Fortunately, this expression suits the footwear. They are lightweight and cozy enough that you won't get any scope to complain.
That means the popular brand is more focused on comfort and weight. It brings a relaxed feeling when you put on the shoes and gently keep pacing forward.
But don't stay with Hey Dude pairs at your running time because several factors are worth mentioning that make them improper for this workout.
So, let's see what exactly disqualifies Hey Dude as good running gear:
Lack of Midsole
Usually, running shoes offer a thick midsole to reduce foot pressure. Most often these soles are made with PU or EVA. But this facility is absent in your casual Hey Dudes. Instead, they are mostly built with a memory foam insole.
As a result, when you fly forward entire stress goes through the ligament joints rather than the shoes. This leads to injuries and severe foot issues in the long run.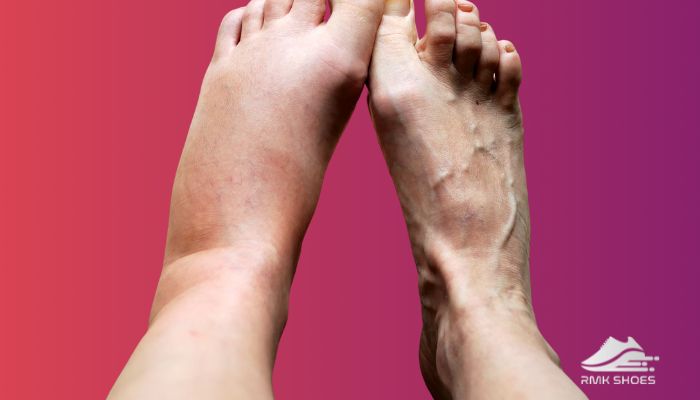 Support
According to Podiatrists, " Arch support counters overpronation, or the tendency for your foot to roll inward too much during your stride." So, you can realize the importance of this feature.
Hey Dudes are good at arch support, but not the best. But you need top-notch supportive footwear for racing up to miles.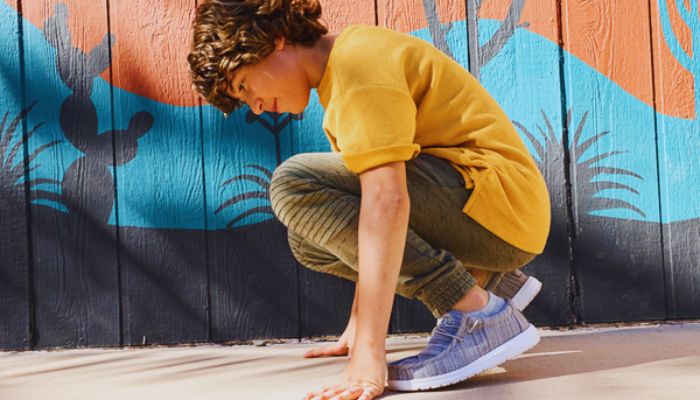 For your long hours of shopping or casual meetups, it will nicely support you. Even people with minor or moderate plantar fasciitis can rely on this pair without any doubt.
But when it comes to professional running, it fails in providing your necessary support.
Heel to Toe Drop
Can you guess which heel-to-toe drop is best for running?
Actually, there's no specific answer to this question. However, 10 mm of the drop is expected in standard running shoes.
Analyzing the heel drops of popular marathon winners, we have found that a 4 mm to 12 mm drop is the ideal range. And this limit varies as per users' foot structure and their requirements.
The lower drop allows more potential to boost cadence. A higher drop is advantageous in more knee and hip flexion.
In a nutshell, the manufacturers should provide a wide range of heel-to-toe drops in running shoes. Because heel drop matters a lot for individuals. Some prefer zero drops while others look for a higher drop.
But Hey Dude shoes offer only a limited drop variation (on average 12 mm).
Due to this shortage of heel drop diversity, Hey Dudes aren't compatible with running.
Technology
Upgraded technologies are inserted in premium running shoes. Consider Nike Alphafly or Vaporfly. They are built with Air Zoom Technology –which makes them lightweight and cushioned. The carbon plate layer withstands shock and participates in energy return.
Also, look at running friendly Adidas Ultraboost. The boost tech of this edition prolongs runners' energy.
These kinds of technologies aren't adopted by Hey Dude. They have incorporated Flex & Fold tech only – which helps to quickly bend the shoes for easier movement. So, you can't stick with these shoes for running purposes.
Design
Have you ever noticed the outlook of any running shoes?
Just imagine how it looks. A little bit chunkier and more robust than any other casual wear. Because they are enriched with so many advantageous features and modern technologies.
People also say that running shoes look ugly due to their bright colorways. They're also heavier than traditional slip-on.
On the other hand, Hey Dude shoes have a sleeker design. It's thin upper cannot protect a runner from upper-foot injuries caused by falls while running.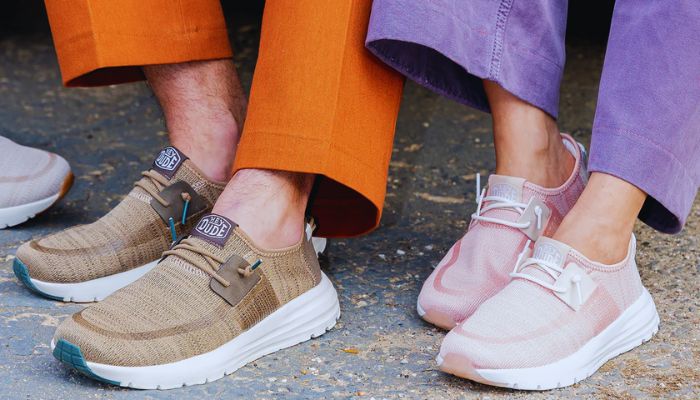 In lieu of dazzling colorways, most of them have a classic and vintage appearance. Furthermore, they're not bulky like the typical racing shoes.
In a word, individuals somewhat familiar with running shoes will instantly realize that Hey Dudes aren't suitable for running.
What Kind of Shoes are Hey Dudes Considered?
Trendy Hey Dudes are suited for casual outdoor activities. It is a nice choice for walking, short trekking, boating, or roaming around the streets of your city. But keep in mind that for heavy workouts like running, training, and weightlifting this footwear is totally ineligible.
Let me share my footwear-wearing experience with you. Thus you will realize why I'm giving positive feedback about this casual wear.
Most of the time, I like to pair it with Blue Night shaded Wally Braided style for attending my college lectures. This stunning pair features a breathable textile upper.
Consequently, I don't face any stink or perspiration issues even if I skip socks with this Hey Dude pair. The pair is so lightweight that I feel like walking on clouds.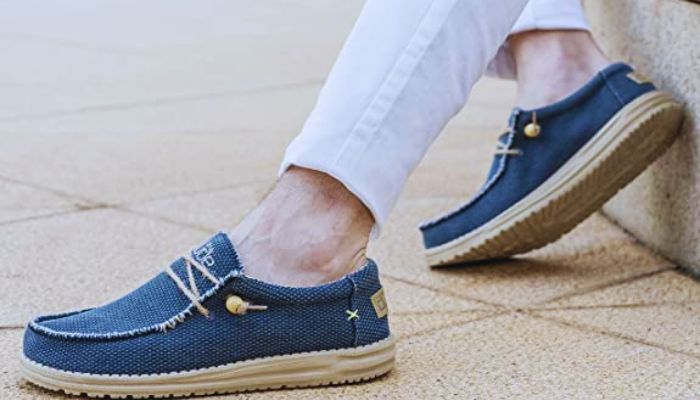 By tightening Hey Dude's easy-on cotton laces, I get the ideal fitting. Due to the Fold-flex technology and sufficient toe box, I can wiggle my toes inside the shoes and move forward confidently with a secure feel.
In short, Hey Dudes are full of comfort and style. You can lean on them for any casual work situation.
Bottom Line
Hey Dude shoes do not meet the characteristics of typical running shoes. They lack ample support, heel-to-toe drop variation, and innovative features. So, if you have running intent, skip these shoes.
Although this easy-to-wear shoe is not qualified as good running gear, you can keep up with this affordable brand for walking and regular wear.
So, pair up with the shoes, march forward, and explore the city!