Dawgs are a rapidly growing footwear brand that manufactures sandals for everyday wear.
But the main question is, are they good for your feet?
I have received this question from so many people over the year, so I have decided to dig up all the information and try on these Dawgs myself to get you the authentic answer right here, in this article.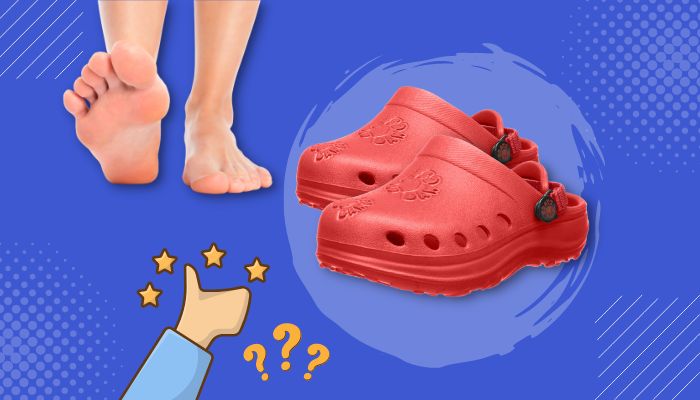 Yes, dawgs are good for your feet. They are made of ultra-soft EVA material and provide maximum comfort and support to the wearer. Their thick soles provide excellent shock absorption, and they can be worn for long hours while reducing stress on your feet.
Dawgs are great for a number of different foot conditions such as Plantar Fasciitis, Flat Foot, etc.
So, what are dawgs made of? What makes them great for your feet and different foot conditions?
Before you purchase Dawgs sandals, read this article till the end to know all about Dawgs footwear and make an informed buying decision.
What Makes Dawgs Good For Your Feet?
Dawgs are different from your regular sandals, they are designed especially to provide support in the simplest way.
Their goal is to develop footwear that is the "foot's best friend" and to assist users in having happy feet at all times. This footwear is available in a variety of designs and brands, such as sandals, flip flops, slides, boots, clogs, and so on and so forth.
But what makes them special?
Well, there are a few ways that Dawgs provide support and stand out from their competitors, and I have mentioned them below for you.
Check out our separate post to know about Joybees Vs Dawgs.
Dawgs Are Lightweight
Let's start off simple.
Dawgs are very lightweight. This is very important when choosing footwear for regular use.
If you work somewhere where you have to walk around a lot and spend extended periods on your feet, you wouldn't want to walk in heavy shoes or sandals that you will have to "drag" around because of their weight.
The special features of dawgs make them useful in reducing foot pain, which is something many people suffer with.
As dawgs are so lightweight, they do not add extra weight to the feet and provide ease with which you can walk around and function.
Dawgs Have A Massaging Footbed
People often overlook the footbed and it's functionality as they focus more on other parts of shoes.
Well, that's not the case for dawgs.
Dawgs have a special massaging food bed that provides optimum comfort and support. The massaging footbed has multiple tiny raised patterns all over the footbed that provides a massaging and stress-relieving effect.
You can do your daily work routine in them, and the massaging footbed will ease every step of yours as you will experience comfort and relief.
Follow our other guide to know Do Crocs Make Your Feet Stink.
Dawgs Have Ultra Thick Soles
One thing about dawgs is that they have ultra-thick soles. Being made of Ethyl Vinyl Acetate (EVA), they are comfortable as it is – but, with the added thick soles, their comfort is next level.
The thick soles provide maximum comfort and make them wearable outdoors.
Even if the surface that you are walking on is really rough or gritty, you will be unbothered by that because of the thick soles providing protection to your feet.
The thick soles also help stabilize the foot and add extra cushioning.
One function of our heels is to absorb shock and stabilize the body. Well, the thick soles of dawgs do just that for you.
The soles aid in shock absorption, greatly decreasing the blow and making the footwear experience much better.
Especially if you have certain foot conditions such as flat-foot, plantar fasciitis, pain in the knees, foot, or lower back, dawgs are a great option for you.
Dawgs Provide Excellent Arch Support
Many shoes and sandals get uncomfortable over time, you have to replace them because they do not provide enough arch support which results in and worsens many foot conditions.
Well, one of the best things about dawgs is that they provide great arch support.
If you have foot conditions such as pronation, Achilles tendonitis, flat-foot, plantar fasciitis, collapsed arches, etc, then dawgs are the best option for you to wear on the go.
Hence it is safe to say that Dawgs are great for your feet, you can wear them even if you have certain foot conditions, and they will help improve those conditions.
Go through our epic guide on Does Converse Make Your Feet Look Huge.
What Makes Dawgs A Convenient Footwear Option?
With so many different footwear brands fighting to be on top of the list for providing comfort and convenience, I believe, Dawgs are one of the top brands in this sector.
Besides being great for different footwear conditions, they are also very practical and easy to wear and look after.
What makes dawgs a great footwear option?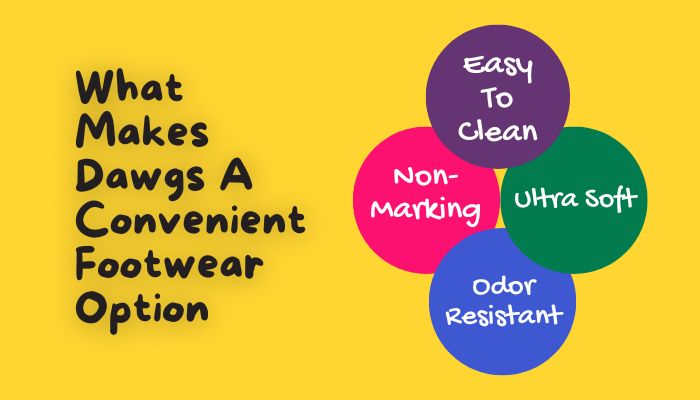 Dawgs Are Easy To Clean
One thing about footwear is that they have to be taken care of.
No one likes their footwear dirty, and it is also very unhygienic and can lead to fungal growth on the toenails and skin.
Well, that won't be a problem with Dawgs because they are super easy to clean.
You don't need any special kinds of cleaner or polisher with them.
Just get some soap and water, give them a good scrub and wash – and you are good to go!
Go through our epic guide on Does Converse Make Your Feet Look Huge.
Dawgs Are Ultra Soft
Being made of EVA, dawgs are very soft and comfortable. The EVA material, along with the added thickness to the soles makes them a great option for being worn regularly.
Especially if your work requires you to stand or walk on your feet for long hours, dawgs are great because they help reduce foot muscle fatigue and don't irritate your feet during your regular activities.
Dawgs Are Odor Resistant
One common problem with footwear such as sandals made from foam-like material is that they tend to produce a foul smell as your sweat and bacteria reside on the surface.
But with dawgs, they are odor resistant and breathable.
Since they are breathable with holes and gaps on the upper, there is enough airflow, they remain dry and your feet sweat less.
As a result, the odor does not develop and the sandals do not start to smell bad.
They Are Non-Marking
People often complain about having to switch footwear when indoors and outdoors.
Well, dawgs can be worn both indoors and outdoors, so there is no need for you to change your footwear repetitively.
As they are nonmarking, you can wear them indoors without worrying about markings on the carpets and other surfaces. So, there's no need to worry when you have to run inside to get something that you forgot on your way out.
What Kinds Of Footwear Do Dawgs Make?
Dawgs manufacture high-quality footwear that is breathable, durable, protective, supportive, comfortable, and fashionable, all at once.
They cover footwear for everyone – and by that I mean literally everyone, people of all ages and gender can wear their footwear.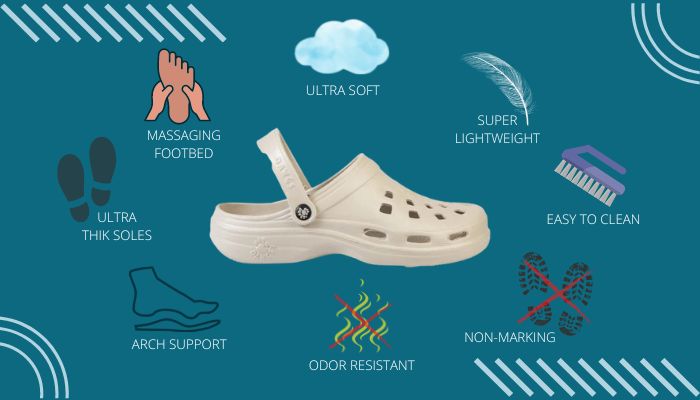 Dawgs produce sandals for men, women, kids, and babies. So, whichever group you need sandals for, they have got it covered for you.
The footwear sold by Dawgs is available in a wide variety of brands and designs, including sandals, flip flops, slides, boots, clogs, and so on.
And they can be worn during an occasion and season of the year as per your need.
So, I would highly recommend getting yourself and/or your family members a pair of Dawgs.
You may also like to read: Are Dansko Good For Flat Feet.
FAQs
Where Are Dawgs Manufactured?
While Dawgs are sold in the USA, they are a company that originates in Canada. However, all kinds of shoes produced by the Dawgs company are manufactured in China.
Do Dawgs Run Big?
Dawgs footwear does not run big, they are true to size. So, if you are a size 8, you do not have to size up or down, instead, you can get yourself size 8 dawgs, and they will fit you perfectly.
Conclusion
To sum it all up, Dawgs are not only good for your feet, but they are great!
In fact, I have noticed from my research that the majority of the people who recommended Dawgs are those who value comfort in their footwear and are concerned about the state of their feet.
So, it is safe to say that they are good for different foot conditions. If you have any chronic foot conditions, give Dawgs a try and let me know your experience in the comments below!