Wanna pick a budget-friendly, attractive sneaker? With a new hype on the air, Champions got you covered.
But while pondering to get a pair of Champions, it's a matter of concern whether they'll blend as an athletic pair or just a style statement.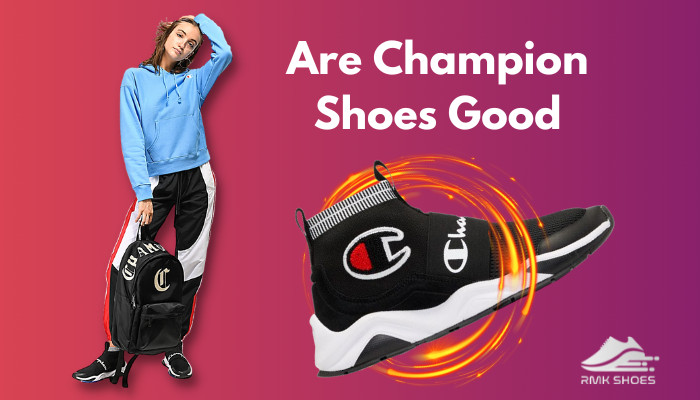 Keep reading this write-up to know everything about Champion shoes, their features, and the sectors they fit perfectly.
Are Champion Shoes good?
Yes, Champion shoes are pretty good. The key selling point of these shoes is the enhanced cushioning, arch support, and breathability of the mesh upper. You can even change the insoles as per your preferences. These super comfortable shoes give quite a mileage within the budget.
But, if you aim for a high-performance sneaker, it's not your cup of tea.
The Champion brand has been on the market for quite a long time, and recently, its shoes got the spotlight.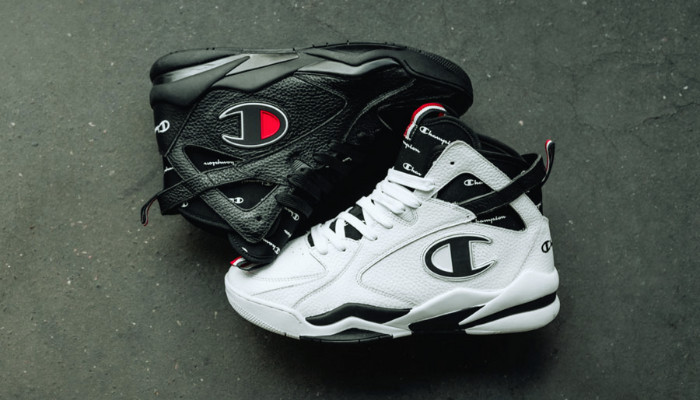 As far as I can remember, my father bought me several pairs of Champion shoes during elementary school. As they were also affordable back then, Every kid had at least one pair.
With a decent amount of features, they will serve you well as a daily wear shoe, but not as good as Nike or Adidas, of course.
You will know how beneficial Champion shoes and sneakers actually are in the upcoming sections.
What Makes Champion Shoes Good?
The overall benefit you get from these colorful shoes makes Champion good. If you tend to buy these cool-looking shoes, you should know about them properly inch by inch.
Let's see The 7 facts that make Champion sneakers good:
Comfort
Comfort is one of the major facilities that makes Champion footwear good. You can wear them and don't have to worry about any discomfort.
Throughout elementary school, I survived my play and school time just fine wearing them. Champion shoes bring the best outcome for sure.
The mesh upper is there to maintain the airflow and the midsole has thick memory foam and a padded tongue. The adjustable lacing allows you to adjust the fit of your Champion sneakers and works as a foot locker.
No matter what, you will get the maximum comfort. If your shoes are loose-fitted, they can cause blisters, though.
Breathability
Champion shoes are, without any doubt, very breathable. The soft and mesh upper materials are the main reason behind it.
As most people use them for athletic purposes, it's important to have the proper airflow. Otherwise, your feet will sweat, and eventually, you won't be comfortable with the bad smell your sneakers produce.
My feet sweat, especially in the winter, so I often grab mine in wintertime.
Removable Insole
These sneakers have a removable insole that you can add or remove according to your wish.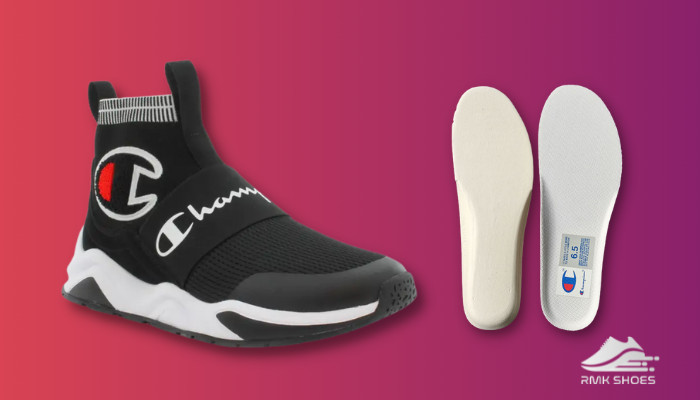 My aunt recently bought Champion shoes. She always wears therapeutic pairs that's why I got her a medicated insole that worked like magic with this footwear.
These basic inners dry very quickly and also have shock-absorbing capability. And this makes them real champions.
Durability
Instead of being low-priced sneakers, Champions are pretty durable, which is why my parents were so much into this brand.
Well, I can't blame them for that. They had a family of 5 to feed. And with the affordable footwear, they were tension free for a couple of years.
Now, let's move on to the manufactured quality.
The upper mesh fabric holds up for a decent amount of time. You can change the removable insole to your updated ones, and the rubber outsole is stable yet comfortable.
Quick Note: These sneakers have great traction ability. With such a good grip, you can walk on tricky surfaces without any tension.
You won't have to think of buying a new pair soon.
Affordability
One of the reasons to buy Champions, these are budget-friendly. For a sneaker under 100$, they are an ideal choice.
You will get a durable pair with a good mesh upper at such a price, and you can change the insole whenever you want.
However, you can't expect a high-end shoe factor like Adidas at such a price. This makes Champions a perfect shoe.
Mileage
Imagine you are running a marathon, and in the middle, your shoe's sole falls apart. Embarrassing!
With Champions, you can run up to 500 miles. Quite a number, isn't it?
For an athletic pair, these sneakers are quite hard to beat. With these athletic shoes, you can enjoy your morning runs like a rabbit before running for the office bus.
Multifunctionality
Nowadays, most of us want to buy a shoe that can work as a multifunctional pair for many occasions.
And Champions are just the shoe for that with the super arch support.
I wanted to look casual yet cool for Thanksgiving dinner with my boyfriend's family. So, my Women's Drome LO CB did the job perfectly. This is one good pair of shoes for sure.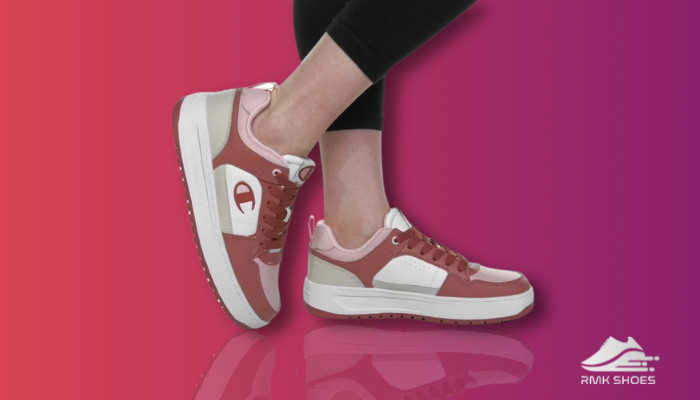 I have worn this model for classes, concerts, hangouts with friends, and whatnot!
Give them a try and see for yourself.
Are Champion Shoes Comfortable?
Yes, Champion shoes are comfortable with those soft mesh uppers, cushions insoles, those rubber-made durable outsoles. You can go for a marathon wearing these bad boys.
Let's dive deeper.
In these multicolored beauties, you will get a good amount of arch support with a wide range of sizes. And as you can change and even add a new console to your sneakers, you can control how much comfort you want.
It's evident that these shoes are not going to be out of the box comfortable as Nike or Adidas. Hard competitors, these two are!
But generous enough to go through a few fall seasons. Fair enough.
If you're rather a  boot lover and wanna rock in trendy boots, then check either Cowboy boots are comfy or not.
Can You Run In Champion Shoes?
If you wanna run in your Champions, go for it. Even for marathons, these shoes look promising. They are designed in various types, including running shoes. But for intense running, I'm afraid they will not help.
So, before purchasing new ones, decide what purpose you are thinking of.
These shoes are comfy, and the insole is cushioned. However, they are not so shocked absorbing for fast running.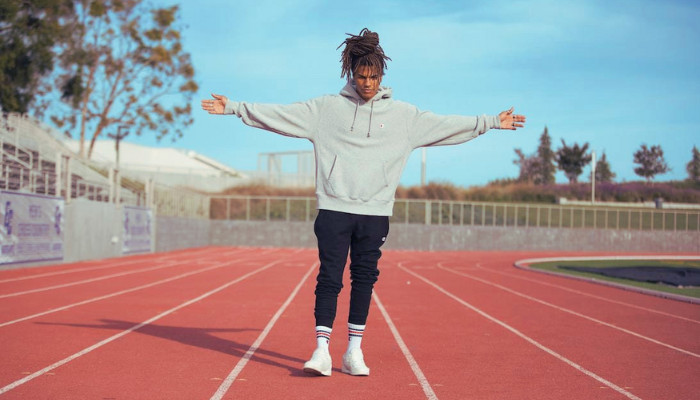 For your morning running cycles, you can wear them daily like me. Champions are long-lasting and perfect for running errands too.
And if you are also into CrossFit training then you should know whether you can run in your Crossfit shoes.
Are Champion Shoes Good For Walking?
No, Champion shoes are not ideal for walking. Most of their shoes' uppers are made of mesh fabric that lacks the sturdiness needed for walking. And the inside padding is not so standard for long walks. Yet, for short walks, you can rely on Champions.
So, if you are planning to buy them for casual use, go for them.
Another fact to remember is that Champion shoes are heavy, so you will feel like you are wearing a bit of weight while walking.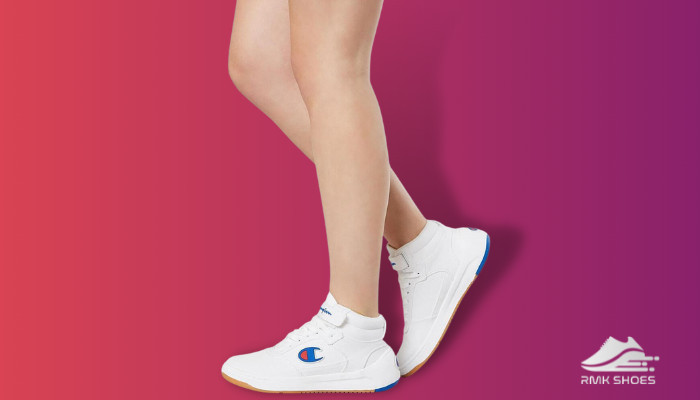 Champion Men's 93 Eighteen, C9 Champion Drive4 Sneaker and C9 Champion Storm Sneaker are good walking options and make great athletic sneakers within your budget.
These modern-looking casual shoes offer excellent breathability. So if you look at it that way, your feet will not be sweaty after a round as these sneakers are designed to keep it easy and light.
But, if you are suffering from pronation issues, Champions is not the pair for you.
Another good pair you can try for your regular walks is the Nike Air Force 1.
FAQs
Do Champion Shoes Run Small?
Yes, Champion shoes run small though they have a wide range of sizes. If you wanna buy them, size up half a size to get your perfect fit.
Can you play basketball wearing Champion Shoes?
Yes, you can play basketball wearing Champion shoes. Champion Men's Inferno Best Cheap Basketball Shoe is quite popular nowadays on the basketball court.
Final Words
Without any question, Champion shoes are a perfect pair for a daily basis. The great features they provide with that price are outstanding.
From the mesh, high-quality upper, grippy yet soft rubber sole, and colorful appearance, these shoes cover your runway to your basketball court just fine.
If Champion shoes are a good pair depends on your preference and needs.
This is all the information you need to know to buy your new shoes to keep up with the Champion trend.