For a few days, I noticed that a large number of people got relief from foot soreness with the help of Vionic shoes.
On the other hand, some people are complaining that these shoes cause pain in their feet. The two views are contradictory to each other.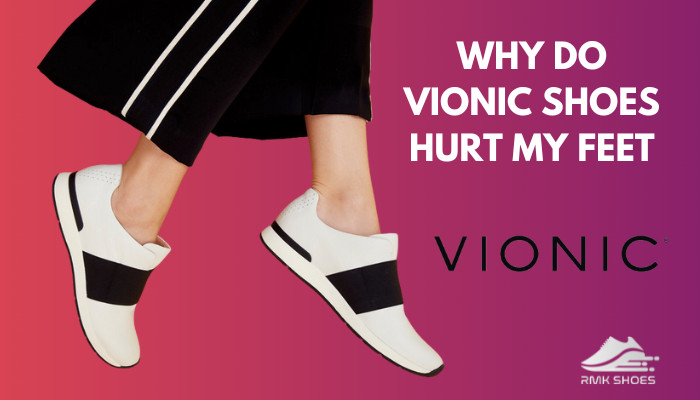 So I thought to uncover the real mystery behind this matter.
I decided to conduct a survey to find out if Vionic shoes actually hurt the feet and what is the reason behind it. I asked certain team members of RMKShoes to let me know their opinions after using Vionic shoes for several months.
If you want to know what results I got from my survey, you should read this article till the end.
So let's get started.
Why Do Vionic Shoes Hurt My Feet?
Though Vionic shoes are recognized as recovery shoes, and they're really comfortable, the inappropriate use of these shoes can hurt your feet. I identified several reasons behind these shoes causing pain.
Here are the causes that result in hurting your foot:
Using the shoes before ending the break-in period.
Choosing the wrong size.
Wearing the improper style.
Prolonged walk with new shoes.
Let's discuss the points one by one.
Generally, Vionic shoes take 3 to 4 weeks to break. You need to wear these shoes daily for a certain time for proper adjustment.
Your feet will obviously hurt if you don't give them enough time to break in and go for adventures or heavy physical tasks with new shoes.
Moreover, if you stand on these shoes for a long time soon after buying them, you might have to face aches. Thus, it's a good idea to walk with Vionics shoes initially for 40 to 50 minutes on a regular basis.
If you do so, your shoes will break properly and provide you with a customized fit.
Do you have any experience trying someone else's wrong-size shoe?
If so, you will understand how uncomfortable it is to wear improper size shoes. It's really annoying, right?
It's inevitable that your feet will hurt if you wear the wrong size shoes for a long time. Your toes and entire foot will be squeezed inside a narrow shoe. You might get blisters and damage to the foot ligaments. A pair of oversized shoes will hinder your ability to walk properly.
So choosing the right size of shoes is definitely an important task.
You'll get specially featured footwear for plantar fasciitis in the collection of Vionic. They also make recovery shoes keeping foot injuries in mind.
If you go for running, hiking or heavy physical exercises wearing a flip-flop or sandal, it will cause pain in your foot because you will need protection and premium support in these activities. And a pair of simple sandals aren't appropriate in this case at all.
The term prolonged walk with new shoes is quite related to the break-in time.
Just like a new pet takes time to get used to your attachment, a new pair of shoes takes some time to adjust to your feet. It's unwise to rely on a new pair of shoes for long hours. Gradually it should be made suitable for long periods of use.
So, I'll suggest avoiding the wrongdoings that I have highlighted above to avoid foot pain with Vionics and any kind of recovery shoes.
Follow our guide to know Are Oofos Good For Your Feet.
Do Podiatrists Recommend Vionics Shoes?
Yes. Podiatrists often recommend Vionics footwear to people who suffer from foot diseases like plantar fasciitis, Achilles Tendonitis, bunions etc.
They also advise wearing recovery shoes to alleviate foot soreness.
You might be wondering about the features that make Vionics so renowned in the foot treatment sector.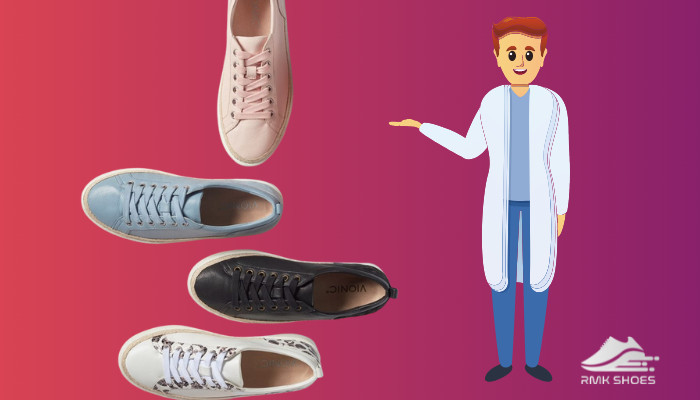 Here is a glimpse of the features of Vionics:
Deep heel cup for utmost stability.
Active recovery support with dual density cushioning.
Padded and supportive footbed.
Orthotics insole.
Vionic patented biomechanical contours.
Grippy outsole.
According to Tom McPoil,  the Professor of Physical Therapy at Denver's Regis University, "These findings are significant because healthcare professionals can have confidence in supporting a patient's decision to wear contoured sandals or orthotic insoles as one of the first and simple strategies to manage their heel pain."
Moreover, you'll get these awesome shoes at a quite reasonable price. They will demand a maximum of $150 from your wallet.
Considering all the characteristics and price, these shoes are worth adding to your wardrobe.
You may also like to read: Are Volleyball Shoes Good For Flat Feet.
Are Vionic shoes good for Morton neuroma?
Yes. Vionic shoes are beneficial for patients with Morton's neuroma.
This disease is caused by the inflammation of nerves around the toe area. If you search for the list of best shoes for Morton's Neuroma, you'll definitely find the name of Vionics footwear in that list.
The firm EVA midsole, orthotics insole, shock-absorbing footbed and wide space at the toe side are enough to heal the Neuroma.
As a precaution, always try to avoid high heels and poor arch-supportive shoes with Neuroma, heel pain, tendonitis and hammertoes.
Are Vionics Good For Walking?
Yes, they are good for walking. Vionics shoes are made in such a way that they can hug your feet with comfort.
You'll get the Orthaheel technology in the shoes, which will ensure the natural alignment of your feet. The deep heel cup and flexible midsole will provide you with a smooth and sound walking experience.
You'll receive essential arch support with the foamy midsole. The slip-resistant rubber outsole will protect you from sudden slipping and injuries.
The team members of RMKShoes really appreciated the good grip nature and arch support of Vionics shoes.
You can put on Vionics footwear for walking on the busy streets, near the seashore or on your regular walk before sleeping. If you're looking for a pair of arch aiding slip-on for use in the interior of your house, then you can buy from Vionics without any doubt.
A few people complained about the adjustment issue of the Vionic slip-ons. They said that the shoe often comes off the foot while walking. This happened just because of the improper adjustment.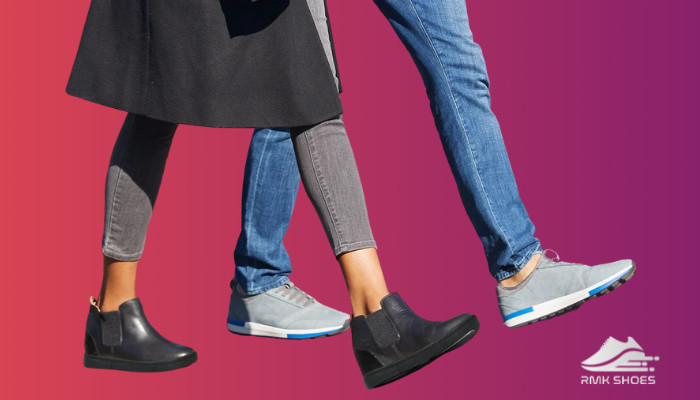 So make sure to choose the right fit.
Trendy sneakers, dress shoes, and summer-friendly sandals are available in Vionics. You'll get stylish casual designs that will add a final touch to your outfit.
Vionics launched some specific comfortable footwear for all day wear.
Considering all issues described above, I'll say that Vionics are good enough for walking. They're able to hook you with their overall features.
Check out our separate post: Do Rothy's Make Your Feet Sweat.
How Long Does It Take To Break In Vionics Shoes?
It's just a matter of 3 to 4 weeks. It's a little bit more compared to other shoe break-in periods.  This is because of the materials and signature craftsmanship.
Try to walk with Vionic shoes regularly for a maximum of 40 minutes on the first few attempts.
You can wear thick socks if you feel uncomfortable and in pain during this time. Doing this will protect your feet from blisters and decrease the adjustment time.
You can take the help of the shoe stretcher if you want to fit the shoes quickly.
How To Avoid The Pain Caused By Vionics Shoes?
It's too simple to eliminate the pain caused by Vionic shoes. Do you remember the points that I have mentioned as the reasons behind hurting feet?
If you don't, take another look at those data. All you have to do is just do the opposite of those things.
Here are the most effective ways to avoid pain caused by vionics:
Wear the shoes after a complete and well break-in.
Avoid long time walk with new pairs
Be careful while selecting the right size
Pick the favorable style.
If you follow the steps noted above, you can turn aside the pain caused by Vionic shoes.
Furthermore, wearing spoiled insoles will cause pain. You should purchase new insoles in this case and resole them.
Related content you should read: Do Crocs Make Your Feet Stink.
Bottom Line
In the end, I will conclude that Vionic shoes will hurt your feet if you don't maintain some rules, such as: selecting the right pair with the correct size, giving some time to break in and avoiding prolonged walks with brand-new shoes.
Even if any pain occurs, you can get rid of them by following the methods that I've mentioned in the article.
Feel free to let me know if Vionics cause pain in your feet or not.