Sometimes, weird things/questions roam around our curious minds and we search here and there to find out answers.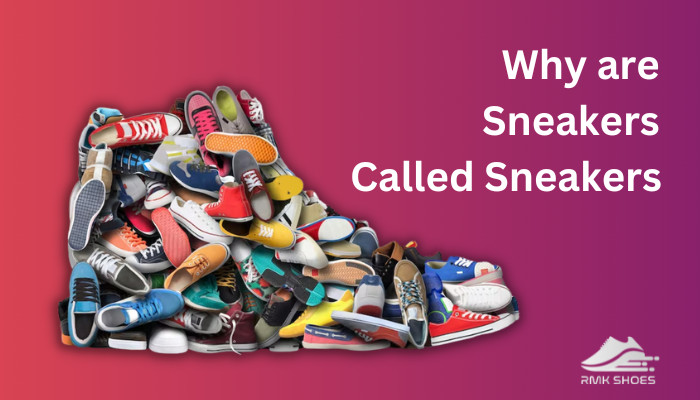 Likewise, an interesting question is sneaking into your mind why are Sneakers called Sneakers? Before writing this article, the same thing happened to me and I dug up to pull out the reasons behind this naming.
So, let's jump to the article and disclose it.
The surprising history of Sneakers
In 1870 Sneakers were known as plimsoll. The journey from being plimsoll to becoming today's sneakers is quite interesting.
The purpose of the plimsoll and present sneakers was the same. Plimsolls' sole was made with a well-gripped rubber, so it was mainly a shoe for vacationers and athletes.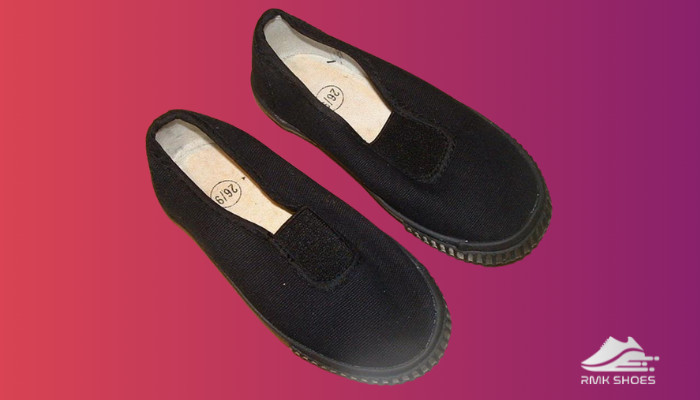 Because plimsoll hadn't any specific right foot and left foot variations, people were starting to face trouble with fitting.
To ride out of that trouble, another modified version called Keds came in 1891 with more comfortable rubber soles and canvas upper portion. These shoes were so soundless that people started to call them sneakers!
That's how the word "Sneaker" emerged!
However, following the basketball craze in 1923, Converse released its first sneakers for basketball players. It was known as the All-star Converse which is considered the world's most iconic sneaker of all time.
But the Sneakers' journey didn't end there.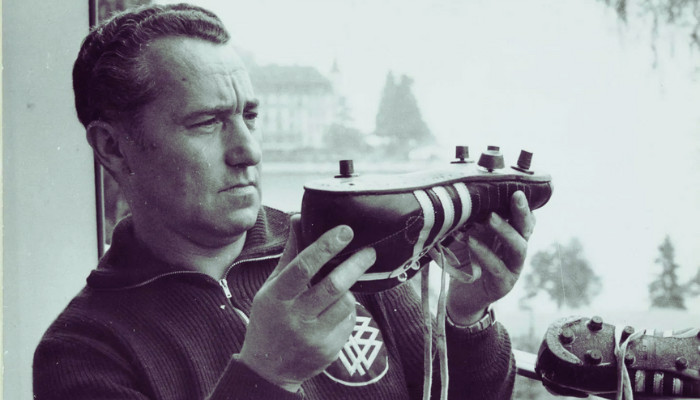 After world war I, a German shoemaker Adi Dassler created a company named after himself. Adidas – the very company we now know as the leading brand for making sneakers.
Anyways, sneaker shoes were regarded as regular wear until it was seen on the feet of famous athlete. In 1936, at the Berlin Olympics, Jessie Owens, the first black American won 4 gold medals wearing Adidas sneakers. That's how athletes' shoes fall into the sneakers category as well.
After 1950, celebrities like Elvis Presley and James dean were spotted wearing sneakers which influenced young as well as teens. Now, the sneaker is not just a shoe, it's a fashion staple among all.
What Makes A Shoe Sneaker?
The sneaker is a special type of shoe that was invented focusing athletes.
Soft rubber base, flat soles, flexible upper, supportive structure and not to mention versatile designs – altogether made this kind of shoe a sneaker. Moreover, such sole materials turn sneakers almost soundless, so you could sneak up on others easily by wearing them!
This characteristic made people call it a sneaker.
Not only for that reason, but Sneakers are also quite different from other footwear. They have some special characteristic that makes them unique and popular among all shoes.
Here are the characteristics that make a shoe 'sneaker':
Materials of Sole
The sneakers' sole is made of soft rubber. The outer sole has a grip that provides traction, and the inner sole makes shoes comfortable and flexible during running and playing.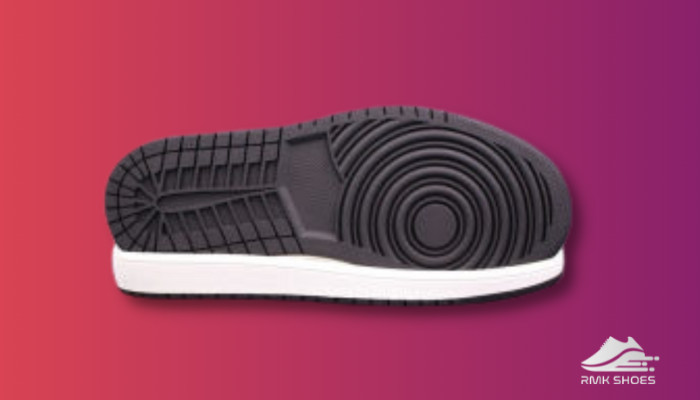 Adjustable Laces or Straps
Sneakers come with adjustable laces. This is an identical feature of sneakers.  What laces help is to adjust fitting depending on your needs.
Upper Shoe Material
In previous times, canvas or synthetic textile was used to build the upper of sneaker shoes. But these days, mesh, leather, and suede or sustainable fabrics are used to make the upper portion.
Stability
Sneakers are very stable shoes because their main target consumer is athletes. Their gripped rubber soles and laces system provides maximum stability throughout walking/running.
Are All Shoes Sneakers?
No, obviously, not all shoe is sneakers. These are a kind of athlete shoes. And even not all athletes' shoes are sneakers.
Let me clear things up for you.
For example, there is a vast difference between Tennis shoes and sneakers. Tennis footwear is specifically made for the tennis court.
However, the sneakers have a broad consumer list. It comes with a lightweight feature compared to tennis, which helps you run and walk. Tennis shoes are way stiffer than sneakers.
Simply we can say sneaker is a casual and cooler versatile shoe. You can't pair formal shoes with a casual or traditional outfit. But sneakers can easily blend with any type of outfit.
8 Types of Trendy Sneakers
For sneakers' worldwide popularity, brands are specifically making this kind for a different purpose to provide customers with individual needs. So in the former time, which shoe was known as athlete's shoe, are now made for a different purpose. By purpose and design, sneakers have 8 types. Let's know about them.
Here are the list of the sneakers you can look for:
High Top: high top sneakers not only cover your ankle but are extended above the ankle to provide maximum support. After thinking of high-tops, the first name that comes to my mind is converse all star. This basketball shoe is the most trendy casual footwear till now.
Plimsoll: Low-top shoes are known as plimsoll. This type of kick is basically for something other than performances. Soles are minimal and classy, so it looks perfect with a school uniform and a casual outfit. Vans Old Skool is one of the famous plimsoll/low top sneakers.
Retro Runner: You can call it sports sneakers as they are designed for sports people. These line has so many varieties. Brands make retro sneakers for focusing on individual sports. But you can wear retro/sports shoes all day long even though you are not a sportsman.
Slip-on: Sneakers without lace-up vamp is called slip-on. It's a very modern version of sneakers. Very easy to wear and perfect with a casual outfit. Vans slip-on sneakers are very popular nowadays
Suede: Suede is a premium fabric widely used in shoes for giving a premium outlook. But wearing suede sneakers has little risk of getting stains on shoes as suede is not a durable material for casual wear.
Dad Shoe: dad shoe line is not for all types of people. Sneakers are known for their versatile look. But dad's sneaker is exceptional since it looks a little bulky compared to other types.
Dress/Smart: Wearing a suit for a formal occasion but also wanting to wear sneakers? Dress sneakers are your solution. This type of footgear comes with polished leather or another premium feature that completely goes on the formal outfit.
Sock Sneakers: Sock sneakers are made of mesh or knit fabric that makes this type of shoes soo streachable. Adidas Yeezy boosts sock sneaker is now on trend for its UV-sensitive color-changing technology.
Most Hyped Sneakers
Sneakers came to the limelight by converse all star. This timeless shoe is the best-selling basketball shoe of all time. If you are a school drama lover, you may notice they are wearing either all-stars or Vans.
Yes, another famous sneaker is Vans Old Skool. Not only in school, but the sneaker is also noticeable on adults' feet.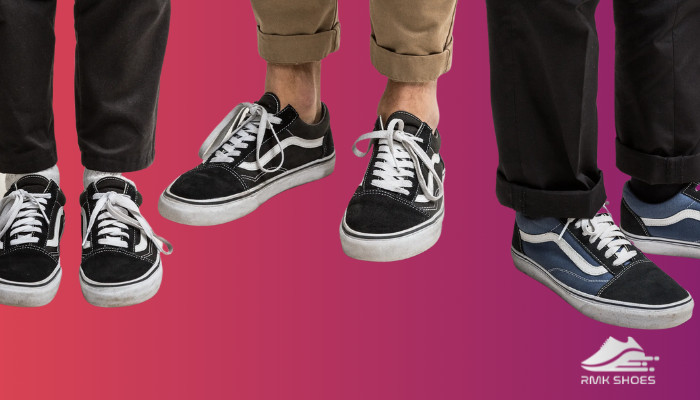 If you are interested in the sports world, you might be familiar with Michele Jordan, the famous basketball player. In 1984 legendary shoe brand Nike collaborated with this legendary player and made Nike air Jordan.
After that, Nike makes many famous sneakers like air max 1, air force 1, etc., but the craze for Nike Jordan is still unimaginable.
When talking about sneakers, skipping Adidas is an injustice as they give us our all-time favorite Adidas Samba. This masterpiece is 70 years old but still noticeable on young feet.
Are Sneakers Comfortable?
Sneakers are the most comfortable shoes in the footwear world. They are famous for their versatility. The sole of these shoes is specially designed to provide maximum comfort.
Nike air max technology takes this comfortability to another level. Its air-cushioned shoes are so comfy that you can use sneakers as the synonym for comfort.
Here are the benefits of wearing Sneakers:
Versatility: you can wear sneakers from the office to the playground, a morning walk to an evening hangout, and this shoe amazingly completes your look with a touch of coolness.
Comfortable and Breathable: Present days, these footwear are comfier than before. Brands provide maximum cushioning and use lightweight material that makes sneakers more comfortable. Most of the sneakers are made with canvas or synthetic fabric material, making the upper portion more breathable.
Provide Good Support: A support system is a must-have for any athlete's shoes. Though sneakers are considered athlete shoes, they provide good support to your foot. Their outsole offers traction on rough surfaces too.
Protect from Injuries: Because sneakers' ultimate goal is always to provide comfort to your precious foot, how can they hurt your foot?
Sneakers' materials and comfiness never give you blister, and the ultimate support system protects you from injuries.
Are Sneakers perfect for all ages people?
There is no age limit to wear converse or Vans AKA sneakers! Before 1950, the sneaker was used as a sports shoe. But all-time legend Elvis Presley introduced these as people's shoes.
The craze of sneakers among young teens started in mid 20th century. The designs are so timeless that nothing can bind you to wear this, where age is just a number.
Even these shoes are a good option for older people, as they provide stability, comfort, and protection from injuries. So don't worry about your age or anything; just buy a pair of Vans and make them your everyday companion.
Are Sneakers Still Fashionable?
Yes, sneakers are very much fashionable these days. Since the 1950s, sneakers have had an unbeatable fandom. That's why brands are very focused on providing more features in these kinds of shoes to make them more appealing.
A pair of sneakers can complete your look with an exotic finishing touch. Even now, brides are wearing sneakers on their special day.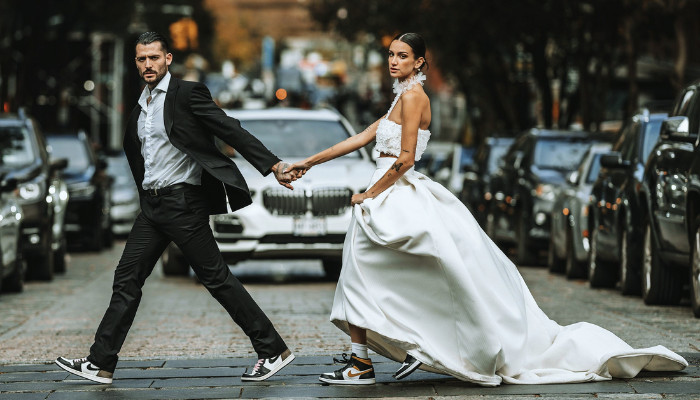 A sneaker is not just a shoe, it's a holy grail for fashion lovers. You don't have to worry about putting on a sneaker, it's fashionable as well as comfortable. So, office or club, summer or winter, complete your look with a pair of sneakers.