Bearpaw boots emerged as an alternative to Uggs.
They are almost similar in look. Bearpaw uses leather and fur line, which makes it an ideal shoe for winter.
If you've bought a new pair, you might wonder, should you wear socks with Bearpaw boots?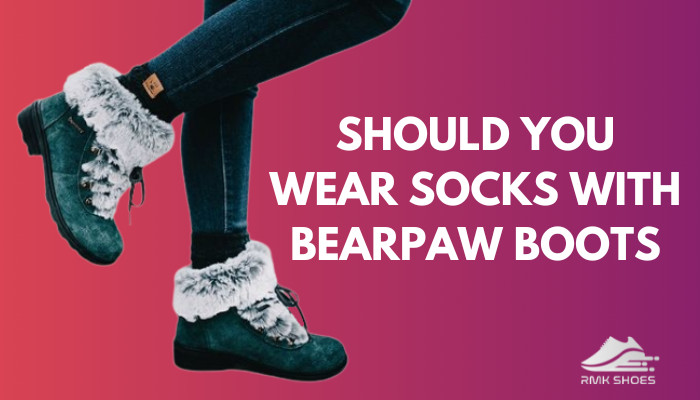 I was in the same situation recently, and although I don't wear socks with Uggs, I wanted to know if I should wear them with Bearpaw or not.
I researched for a couple of hours to know the answer. Now I will tell you the truth and styling facts of Bearpaw in this article.
So, keep reading till the end to clear your confusion.
Should I Wear Socks With My Bearpaw Boots?
There is no rule about wearing socks with Bearpaw. People have become more liberal in their styling sense, So it depends on your preferences. You can enjoy your Bearpaw pair with socks and without socks as well.
Wearing socks with Uggs is uncertain, and the decision depends on your preferences and tradition. Bearpaw is similar to Uggs, but it faced the same debate about wearing socks.
Uggs became a style name along with a company, and Bearpaw is a company known for making Uggs.
Some people think wearing socks with Bearpaw gives a better fit and other advantages too. And some people feel that it is meant to be worn without socks. There are some benefits of wearing socks with it and some drawbacks.
From my personal experience, I will suggest some advantages and disadvantages of wearing socks with your Bearpaw.
Here are the pros of wearing socks with Bearpaw:
The most compelling reason for wearing socks with Bearpaw is soaking sweat. As it is far-lined, you can get sweaty after some time. Socks will absorb the sweat and allow you to feel dry and comfy.
Socks will ensure the comfort and slip resistance of Bearpaw. It will secure your feet from the inside.
Socks prevent your shoes from being stinky. The boot starts smelling bad after several uses with sweaty feet. Socks can be a solution to this problem.
To keep the upright shape intact, socks can help you effectively. Socks will stop the pair from being slouchy in shape.
You will feel warmer with socks in colder situations.
According to the die-hards, wearing Bearpaw with socks is a fashion disaster. Weather As they are against wearing socks, there will be some disadvantages.
Here are the disadvantages of wearing socks with Bearpaw:
Bearpaw is so cozy and snug because of its sheepskin lining and suede. So you don't need to wear socks with it.
These shoes are specially for winter, so they keep your feet warm. The layering will ensure the temperature is pleasant enough in the cold.
These are true to size and fit well with all kinds of feet. So you better not invest in socks for proper fitting.
The brand suggests not to use socks with their pair, but if you feel so, you can use socks.
Check out our separate post to know Are Merino Wool Socks Good For Your Feet
Should You Wear Socks With knee High Bearpaw Boots?
You can find different shoes in the Bearpaw rack, including ankle-length to knee-high boots.
Knee-high boots seem stylish in today's fashion. They will protect your feet from the cold, and they look pretty with short dresses.
But wearing socks is not necessary with knee-high pairs. Bearpaw's sheepskin lining and cow leather outer will give you extra warmth. Besides, the lacing system is for a perfect fit, reducing the need for socks.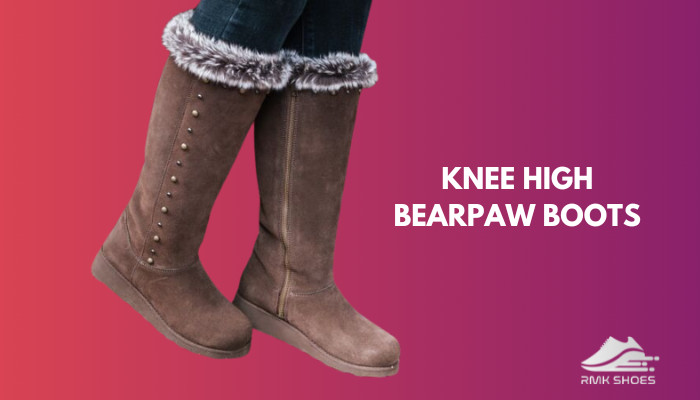 Any pair from this brand is comfortable enough without socks.
If you have painful calluses like my mother, you better use socks with every pair of Bearpaw. This is mandatory for you even if you wear shoes from other brands.
Follow our epic guide to know Do You Wear Socks with Rain Boots
Which Socks Are Best To Wear With Bearpaw Boots?
Though Bearpaw is quite comfortable without socks, the lining of this boot will provide enough comfort in cold weather, and you might love them with socks.
You better choose thinner socks because socks are generally wool. If you select fuzzy socks, they might make your feet sweaty.
Here are the three socks which I found best fit for Bearpaw:
People sock: People Sock is a woolen sock. It is perfect for Bearpaw. Though simple, they are highly functional. You can wear them all day long.
Tipi toe: These socks are knee-high socks. You can pair them with ankle-length boots. People love Tipi toes for their length, and the elastic band holds them in the right place, which is comfortable with Bearpaw boots.
Wigwam: Wingham is a purpose-building sock for winter. It is made of thicker fabric, giving you a better fit with Bearpaw boots.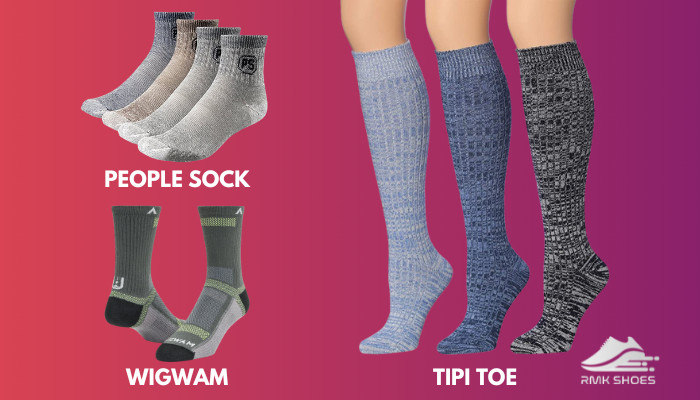 These will be the perfect pair of socks if you decide to wear socks with your Bearpaw.
You may also like to read: Do You Wear Socks with Vans Slip Ons
Exclusive Features of Bearpaw Boots
Bearpaw is a footwear brand launched in 2001. This brand is known for making uggs shoes, slippers, and casual footwear for men, women, and kids.
You can consider them as ugg under budget. The material is sheepskin and cow leather. The leather liner makes them perfect for winter. The visible stitching and upright shape make them more eye-catching.
The soft rubber sole is the critical component of the comfort of Bearpaw.
To solve the problem you will face with uggs, Bearpaw includes new technology. At zero temperature, it performed well as they used HiberTech and NeverWet to make the boots weather conditioned.
Another technology called Superhydrophobic technology makes the shoe strain repel and secure from the liquid.
Though these boots are heavier than uggs, they are more durable and sturdy.
Moreover, the vibrant color option of Bearpaw will entertain you with a classy look. These shoes include tan, white, blue, green, brown and many more color options in their desk of shoes.
Related content you should read: Do You Wear Socks With Hey Dudes
Are Bearpaw Supposed To Be Tight?
Bearpaw is a lined shoe that is supposed to be small in size because the thick liner consumes some extra space in the inner of the shoe.
That's why these boots will give you a tight fit.
The brand suggests you purchase one size up if you buy ½ size, which means if you wear 7 and ½ size, then buy 8. But if you wear 7, you better buy 7, to be exact.
Bearpaw offers you a vast size option so that you can rest assured choosing your perfect pairs will not be a challenging job from Bearpaw.
Generally, it gives a snug fit as they are fuzzy in the inner. The sheepskin and fur liner are stretchy, so they will become easy to wear after some time. But I will alert you that it will stretch slightly.
The liner will mold your feet and give you a perfect fit over time.
Also, check out our separate post: Can You Wear Socks With Skechers GO-Walk
Verdict
To sum up, I can tell that wearing socks with Bearpaw is definitely up to you. These boots are for comfort and warmth. And these properties are already injected into Bearpaw's technology and making method.
I like wearing socks with my Bearpaw to eliminate the foul smell of sweat.
Above all, one thing you better remember is that if you want to wear socks with your Bearpaw, choose premium-quality socks. Otherwise, you cannot enjoy the comfort while wearing Bearpaw.
Comment below and let me know if you have further queries about Bearpaw and socks.