Work boots need to be durable, comfortable, and long-lasting to take the pressure. In that contrast, J.B. Dillon and Ariat boots are the names that come to my mind at first.
For years I have seen my father and then my brother wearing them to work. And as they are good at their job, these boots can take up some credit for that with their distinctive features.
So, read along to know all that crucial information and ease up your work boot-hunting journey.
What are the Key Feature Differences Between J. B. Dillon Boots and Ariat?
Work boots have to have certain features to withstand all the pressure our feet go through during work. Ariat and J.B. Dillon boots have every positive aspect yet they differ in many.
Let's look at the differences J.B.Dillon and Ariat work boots have:
Comfort
Comfort is the first thing that a wearer looks for when buying a work boot. Because during work you will wear your shoes for a long period of time.
So, if it's not comfortable, many foot issues will arise.
Ariat boots are comfy due to their cushioned inside. You will feel like your feet are well rested though you are walking and moving all day. That's why my father's first priority in a work boot is its comforting factors.
Now, about J.B. Dillon boots, they are also very comfortable and easy to wear. As they mold according to the wearer's foot's shape, their consolation power increases.
Sizing and Fit
When it comes to sizing, Ariat boots run bigger. So, if your foot is petite, you have to go half or a full size down to get your perfect fit. My brother did the same. His US size is 9 but the Groundbreaker Work Boot 9 was loose fitted so he exchanged them and US 8.5 fit him properly.
On the contrary, Dillon's boots run true to size. And the plus point, these boots will mold to your foot's shape making them more comfy as days go by.
However, if you have wide feet, get a half-size bigger J.B. Dillon boot and you're good to go.
Asking Price
Ariat Boot's highest price is $519.95 and the lowest Ariat costs around $129.95. My brother loves to wear what's trendy and so he got the Groundbreaker Work Boot at 154.95 dollars. Overall, Ariat is an expensive brand. Depending on the boot's model, the price range varies.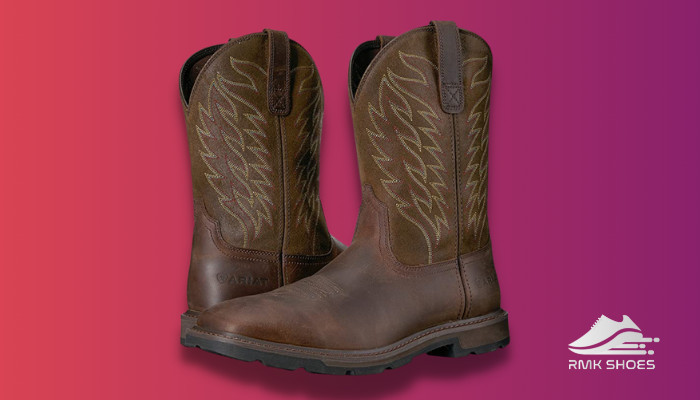 On the contrary, J.B. Dillon's men's boots range from $395.99 to $209.99. And the female boots start from 199.99 dollars and go up to 279.99 dollars.
So, it's clear so far that some specific models of Ariat boots are way more expensive than J.B. Dillon work boots.
Materials of Boots
The ingredients are crucial for boots like any other footwear. The materials indicate how long a pair will last and how you have to take care of them.
Ariat boots come with an excellent pack of good-quality materials. Let's take a look at what is used to make your favorite Ariat work boot:
Synthetic air mesh.
High rebound and Removal Energy Max Anti-fatigue innersole.
Full-grain, cowhide, and buffalo leather.
Durathread sole.
Removal Energy Max Anti-fatigue innersole.
On the contrary, J.B. Dillon boots are also made with high-quality ingredients that talk for themselves and make these western boots long-lasting and durable. These materials include:
Cowhide, Python, lizard, ostrich, and caiman leather.
Thich heavy-duty leather-made sole.
PVC outsole.
Synthetic and fabric-coated upper.
Durability and Variety
Ariat Boots have over 827 models for you to choose from. Via their website, you can select your desired models for both men and women. But, J.B. Dillon doesn't have that many variations. They only come in 36 models.
Moreover, both have a few popular pairs that are all over and you can get them easily from your close stores and online.
The most popular J B Dillon boots are:
Vintage J B Dillon Snakeskin Boots.
Men's JBA 1115 Dillon Boots.
Black Ostrich Vamp Brown Boots.
Ariat boots people are drooling over:
Ariat Men's Ground Breaker Square Toe Work Boot.
Ariat Intrepid VentTEK Composite Work Boot.
Ariat Sierra Wide Square Toe Steel Work Boot.
Now, let's move to the durability of these work boots. Dillon boots don't compromise on durability. The leather they use to manufacture the boots like ostrich quill leather is comfortable yet durable. These shoes last and serve well during that time.
Meanwhile, Ariat has over 100 steps to ensure its boots are durable enough to satisfy the needs of its customers. So, you don't have to worry about their durability.
If you wanna know more about other Ariat boots, check out the differences between Ariat Groundbreaker and Workhog boots for a clear concept.
Pros and Cons: J. B. Dillon Boots Vs Ariat
So far, you have known the factors where Ariat and J. B. Dillon Boots vary. Along with that information, you also must know the benefits and obstacles they come along with.
Let's see the advantages and disadvantages of J. B. Dillon and Ariat Boots:
J.B. Dillon Boots
Pros
»

Comfortable to wear.

»

Top quality leather.

»

Durable construction.

»

True to size.

»

Easy to put on.

»

Less expensive than Ariat.
Cons
»

Not animal cruelty-free.

»

Fewer varieties than Ariat.
Ariat Boots
Pros
»

Comfortable upper.

»

More breathable.

»

Various style options.

»

Flexible outsole.

»

Excellent grip and attraction.

»

Waterproof exterior.
Cons
»

Leather creases quickly.

»

Less durable.

»

Not ideal for wide feet.

»

Takes time to break in.

»

Heavy.

»

Runs big.

»

Expensive.
Which Boot is Better Ariat or J. B. Dillon?
The durability and comfort of Ariat and J.B. Dillon boots are quite similar but they also differ in terms of building material, price, and variations.
After describing everything, for me, Ariat is the one. Because it has a comfortable innersole, top-quality leather, and 800+ models to choose from which is everything that I want in a boot despite the high price.
However, if you are looking for a western work boot with unique leathers like lizard, and ostrich. Also which will mold to your foot shape and within a budget, J.B. Dillon boots are ideal for you.
So, go with your instinct and select your preferable work boot.
That's all for now. Hope to see you on the next one.