You're not the only one who is perplexed between Hoka Bondi 7 and Gaviota.
Indeed, many people ask for suggestions on Reddit and different forums about choosing one between Gaviota & Bondi 7. Because Hoka recommends both of these styles for walking & running.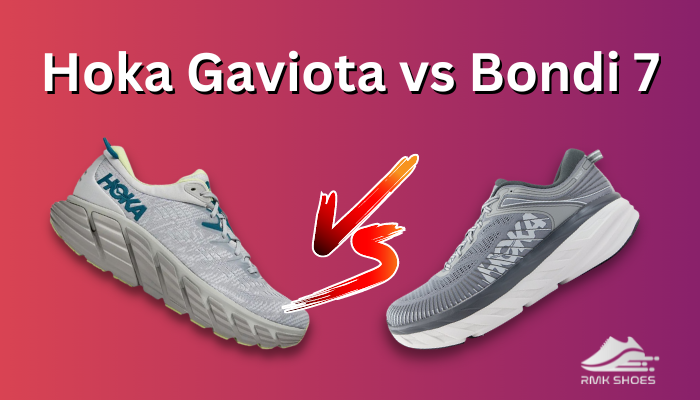 So, I decided to review these two masterpieces of HOKA. Going through this article will assist you in selecting Bondi 7 or Gaviota.
Barring any delay, let's dive in!
Key Comparison between Hoka Gaviota & Bondi 7
Before going to the detailed differences, see the following table to get an overview and direct comparisons of Bondi 7 and Gaviota. However, let me inform you that Gaviota 4 is the latest version of this line and is easily available. Hence I picked this design to proceed with the review.
| Gaviota | Bondi 7 |
| --- | --- |
| Highly stable | Neutral stability |
| Heavier compared to Bondi 7 | Lightweight |
| Late stage Meta-Rocker | Early Stage Meta-Rocker |
| Gaviota 3's cushioning is balanced, and 4's are plush. | Bondi 7 has plush cushioning. |
| Gaviota 4 is 10 dollars more than Bondi 7 | Expensive but less pricey than Gaviota 4. |
| The recent model is easy to get. | Currently unavailable on the official website, but you will find them in the local store. |
1. Stability & Support
Any sort of advanced technology is missing in Bondi 7's symmetrical footbed. All you can find there is a lot of cushions, no systems for additional support and stability.
That's why Bondi 7 gives neutral or minimal balance while walking with natural gaits or running.
On the other hand, Gaviota 4 includes J-Frame technology for heel support and Late stage meta-rocker for forefoot support.
Moreover, the J-Frame acts as a prevention against knee, back, and hip pain by averting overpronation and excessive inward roll.
So who is the winner in this segment?
Well, it is Gaviota 4 which stands in front of Bondi 7 in terms of providing legendary support and stability. This Hoka shoe is also a great choice for flat feet.
2. Comfort
Although both the Bondi 7 and Gaviota 4 are plushly cushioned, the Bondi 7's memory foam collar puts it ahead with a comfortable and secure fit.
Therefore, I found the Bondi 7 more secure during brisk walks and runs. Another reason why it feels more comfortable is it's lightweight. A women's Bondi 7 weighs around 8.90 oz, whereas Gaviota 4 weighs 9.30 oz. In the case of men's pairs, the weight of Gaviota 4 is 11.4 oz.
That is, Gaviota is quite heavy and less comfy compared to Bondi 7. This weight comes from Gaviota's extra 1 mm cushion thickness (underneath the feet) and support system.
So the wearer, who mostly values comfort, regardless of stability, will find the Bondi 7 to be a better fit.
3. Heel-to-Toe Drop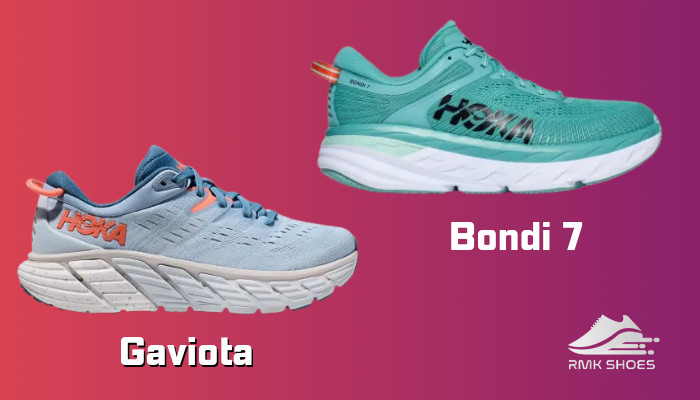 You can consider Gaviota as a mid-drop pair because of its 5.00 mm heel-to-toe drop. On the other hand, Bondi 7 is a low drop set with its 4 mm heel-to-toe drop.
Evidence-based studies have shown that the lower heel-to-toe drop allows more ankle flexion. This motion strongly encourages you to strike the ground with the middle or front of your foot while landing. Gaviota and Bondi also include such performances.
Because even if they have different drops, the difference in their drop is very small i.e. only 1mm.
4. Availability
One common thing about Hoka is as soon as they release the latest version of footwear, they limit the stock of its predecessors.
Consequently, Bondi 7 is unavailable on Hoka's official site. You will only find Bondi 8 there, however, you can get access to some Bondi 7 pairs in the local stores.
The scenario is similar in case of Gaviota. Gaviota 4 is being sold everywhere, but Gaviota 2 and 3 are hard to get.
5. Price
Right now, Gaviota 4's retail price is $170, and Bondi 7 is $160.
I guess both are pretty expensive compared to the overall functionalities.
Their price doesn't change depending on the color palette and widths. Each of them comes in 6 different colors and two widths: regular and wide.
6. Sizing & Fit
Gaviota 4 and Bondi 7 offer 5-12 sizes for women and 7 to 14 sizes for male customers, including half sizes. The shoes are sized according to US size standards.
Now, let's break down the fit.
Gaviota is a snug-fitting shoe. The midfoot H frame under its mesh upper allows adjustment of the fit.
However, some team members of RMKShoes felt an ache in the metatarsal area due to the H frame. Moreover, they complained that their feet often hit the edge of Hoka Gaviota.
But I faced none of these issues because I went for a half size up for this snug-fitted shoe.
Bondi 7 fits nicely even if you get the exact size according to your feet. Their toe box is not as compact as Gaviota's. Hence, you don't need to go up or down in this perfectly fitted set.
Advantages & Disadvantages of Gaviota and Bondi 7
Gaviota
Pros
»

Breathable engineered mesh upper.

»

Well-cushioned midsole.

»

Satisfactory support and balance.

»

Durabrasion rubber outsole enhances traction.

»

Slip resistant.

»

Walking & running friendly.

»

Easy to clean and wear.
Cons
»

No water-resistant membrane.

»

Less durable.

»

Fits smaller than Bondi.

»

Costly.
Bondi 7
Pros
»

Breathable mesh-based construction with TPU overlay.

»

Full-length EVA midsole.

»

Durable and grippy rubber outsole.

»

Memory foam collar for ankle & heel protection.

»

Prevents slip on a flat and watery surface.

»

Relatively lightweight.

»

Fits true to size.
Cons
»

Not waterproof.

»

Expensive price.

»

Performance is lower compared to Gaviota 4.
Verdict
The features have already been compared, and the pros & cons are highlighted. Thus, you've got to know enough information regarding Bondi 7 and Gaviota.
So, which one will you buy? If you still can't decide, go through the following points.
Gaviota would be a better choice if you:
– mostly prioritize arch support and stability.
– have overpronation issues.
– can go without a memory foam collar.
– don't have any issues in the metatarsal area.
Select Bondi 7 if you:
– prefer additional protection and padding at the heel area.
– can deal with limited heel & forefoot support.
– can take the hassle of finding this limited-stock shoe.
Though Gaviota and Bondi 7 are especially for road running, wearing them for everyday walking is not unusual.
Looking for more options for high-mileage running? Then you can check Hoka Clifton or Arahi's features.
FAQs
Who should wear a Hoka Bondi 7?
Individuals who value plush cushioning, neutral support, and supreme comfort from a pair of Hoka should wear Bondi 7.
Does Hoka Bondi 7 have arch support?
No, Hoka Bondi 7 doesn't have premium arch support. They are ordinary in this feature. This highly cushioned, impact-absorbing set is good for plantar plate injury and alleviates knee pain.
Is the Gaviota a stability shoe?
Yes, Gaviota is a stable shoe that maintains proper foot alignment for longer periods without hurting the feet.