While attending friends meetups or any casual gatherings you might wanna pair with Hey Dude just like me. Because the shoes are so flexible, cushiony, and lightweight that they are easy to carry.
Wally Sox and Wally Stretch are two remarkable models of Hey Dude's Wally line.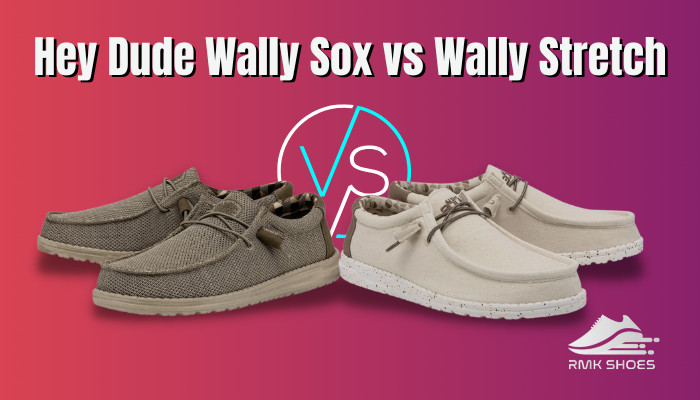 The duos are almost close in terms of features and performance, however, some subtle things make them separate.
Let's get into this write-up and find out those differences so that you can choose the best one!
Difference between Hey Dude Wally Sox and Wally Stretch
| Wally Sox | Wally Stretch |
| --- | --- |
| Less stretchy cotton materials | Eco-friendly stretchy materials. |
| Elastic laces | Hemp or elastic laces |
| Reasonable Price | It is also affordable but somewhat pricier than wally sox. |
| 12 plus colorways | More than 15 colors |
Material & Comfort
Between the two Wally styles, I found Wally Stretch more comfortable because of its flexible textile upper and outsole.
Due to having lightweight and supple material, it doesn't bother even if you go without socks. No fear of getting blisters as the shoe includes cushioned ankle collar. Meanwhile, the stretchy upper makes it very easy to put on & off the shoes and provides a relaxed walking experience.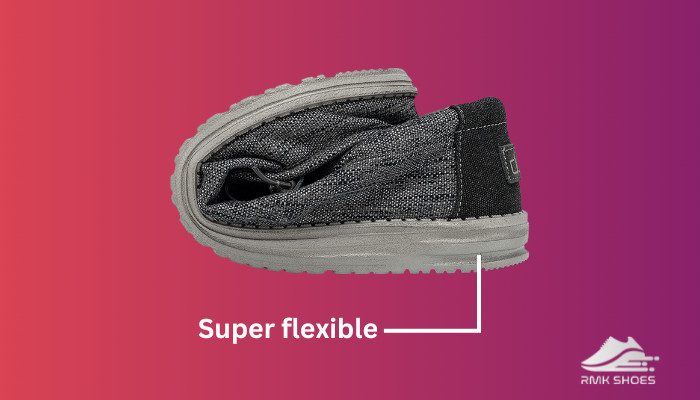 On the other hand, Wally Sox comes with a comfy yet sturdy textile upper. It feels kinda stiff and doesn't bend much.
Consequently, the Wally Sox doesn't lose its shape even after machine washing. Instead, it always maintains a straight appearance.
Note that, some models of Wally Sox and Wally Stretch come with textile-lined interiors and memory foam insole. Thus, they are equally comfortable from the inner side.
Price
Wally Sox and Wally Stretch have only 5 dollars difference in their price. Most Wally Sox are easy to get for $60. Whereas, the retail price of Wally Stretch is $65.
Albeit, some limited edition Wally Sox and specially designed set claim a bit more bucks. For instance, Wally Sox Triple Needle sells for $65 due to its durable triple-reinforced stitches and feet contouring flex & fold technology.
Looking for cheaper alternatives to Hey Dudes? In that case, browse low-priced shoes similar to Hey Dudes.
Durability
Actually, the durability of these Hey Dude shoes largely depends on your way of usage and cleaning procedure. If you gently use them and maintain the proper washing approach, Wally Stretch and Wally Sox will simply last for 2-3 years.
Since Wally Stretch is made of pliable materials they easily flex and can't endure much wear and tear. Hence, you should decently treat them and wash them with cold water in the delicate mode.
On the contrary, Wally Sox's construction is somewhat stiff. They withstand stubborn wear and tear. Even after frequent wear and wash, they last pretty nicely.
If you're unaware of Hey Dude's cleaning, browse how to clean Hey Dude shoes in a proper way.
Color Options
Wally Stretch has more color varieties with lots of impressive shades. Orion Blue, Limestone, Walnut, Beige, and Ivory are some of those shades.
Wally Sox's color palette is closer to Wally Stretch, but they have slightly fewer variations. However, the color patterns of both models are vintage and you hardly get bright-colored Hey Dude Wally.
Pros & Cons of Hey Dude Wally Sox and Wally Stretch
Since Wally Sox and Wally Stretch belong to the same lineage, their advantages are almost alike. However, both have some downsides which can alter your choice. So, let's go through the benefits and drawbacks of the shoes.
Wally Sox
Pros
»

Ultralightweight & flexible outsole.

»

Padded ankle collar.

»

Thin-lightweight upper.

»

Removable insoles ease the cleaning & drying process.

»

Some pairs have leather & cotton-blend lining for improved comfort.

»

Easy to tighten with elastic laces.

»

Wide styles are available in limited colors.

»

Good for regular walks.
Cons
»

Inadequate arch support and stability.

»

No anti-slip technology.

»

The waterproof coating is missing.
Wally Stretch
Pros
»

Stretchy & breathable fabric.

»

Cushioned & removable insole.

»

Soft interior wraps feet with unparalleled comfort.

»

Fluffy collar for ankle protection.

»

Lightest pairs (around 5-6 ounces).

»

Sleek inner lines make the shoes super comfy.
Cons
»

No wide styles.

»

Lack of slip-resistant outsole and arch support.

»

Waterproof/water-resistant options are unavailable.
Hey Dude Wally Sox vs Wally Stretch: Which is Better?
Wally Sox and Wally Stretch both are quite affordable, stylish, and come in a wide range of colors. So you can choose any one between them.
However, individuals who prefer soft and stretchy fabric around the feet should opt for Wally Stretch. Its springy upper and laces help to easily customize the fit.
On the other hand, if you prefer stable fabrics on your shoes, go with Wally Sox. It maintains a firm appearance with durable soles. There's not much to worry about losing its shape after everyday wear and machine washing.
Remember that, the duos are produced only in full sizes and they're true to the size. If you're half size wearer, choose the next bigger size for a relaxed fit or a smaller one for a snug fit.
No matter which one you choose, you're not gonna regret it at all. Because the shoes are worth the bucks. Their appealing outlook will perfectly slot on your first date or hangouts with buddies! But if you're a runner, don't opt for any of those because Hey Dude isn't a suitable pair for running.