Hey Dude and Allbirds are two of my regular go-to shoes. The simple and stylish silhouettes amazed me so much that I couldn't keep any of them out of my collection.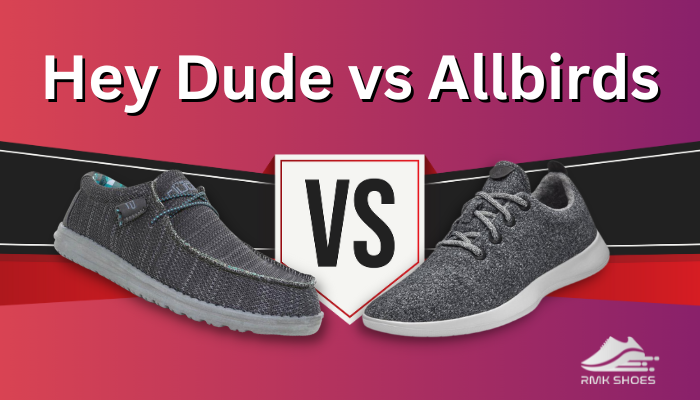 But if you ever have to choose any of them, which one would you go for? I know you're puzzled now!
Well, I'm gonna share honest perspectives regarding these casual shoes. This will definitely assist you in selecting one between Allbirds & Hey Dude.
So stay tuned!
Overview of Hey Dude & Allbirds
Hey Dude started in 2008 from Italy. Its core purpose was making durable and good-looking shoes easily accessible among consumers.
So, the craftsmen began to use recycled materials, such as cork insole, in the shoes. They're also focused on the design so that not only teenagers and young fashionistas buy them but also adults lean towards these shoes.
Hey Dude makes enormous profits from the American market through their hot-selling products like Wendy Sox and Wally.
However, Crocs bought this high-growth brand in 2021. But this change of ownership didn't bring any dissatisfactory change in the design and production of Hey Dudes. Rather, Hey Dudes are still on the trend and pleasing its loyal customers.
Albirds is all about sustainability and comfort. They debuted in 2016 with merino woolen casual wear. Though many of the shoe reviewers tagged Allbirds as a suitable option for long hours of speedy running, I disagree with that.
Allbirds are okay for short running, but the entire performance and construction details of most Allbirds represent them as a regular slip-on.
Wool Runners and Mizzles are Allbirds' most popular items. The shoes are long-lasting, lightweight, easy to wear, and look decent on foot.
Hey Dude Shoes vs Allbirds: Key Features Compared
Before you dive into the differences, let me inform you that the comparison has proceeded by testing three pairs of Hey Dudes and Allbirds.
They are Hey Dude's Wendy Stretch Fleece, Wally Chambray and Cody Desert Sneaker.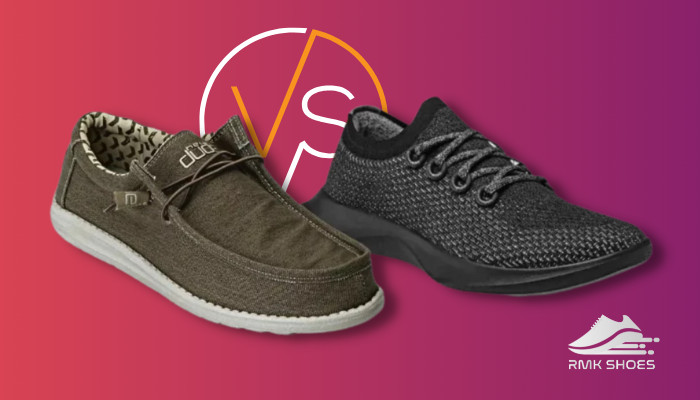 And the Allbirds Wool Runner Mizzles, Tree Runner, and Lounger. Now, let's see these shoes' materials, sizing, performance, and price.
Materials
The upper of Hey Dude shoes is made of canvas, fleece, mesh, suede, and textiles. All of the materials are lightweight, breathable, and stretchy. As a result, Hey Dudes stretch a bit after one to two weeks of wear.
In general, Hey Dude's outsole is crafted from flexible EVA. It is an ultralightweight material, and you have certainly heard about EVA's impressive durability.
Allbirds use ZQ Merino wool, eucalyptus tree fiber, and canvas to fabricate the upper. The midsole consists of sugarcane-based green EVA. And you will get castor bean oil-based foam at the inner sole. That is, all of the materials are eco-friendly.
Price
Allbirds is expensive compared to Hey Dudes. You will have to pay $60- $154 to get a pair from Allbirds.
I guess the expensive price is due to Allbirds' exclusive materials, which are sourced from trees and seeds and then processed to fabricate the shoes. For instance, the SweetFoam® midsole is formed with sugarcane-based EVA.
Contrarily, you will get Hey Dude with minimal bucks. If you have around 65 US dollars, you can easily add them to the cart.
Here is the cost range of Hey Dude shoes:
Wendy: $35-$70
Slip-on: $40-$65
Sneakers: $65-$75 
Platform Shoes: $50-$70
Comfort & Support
Allbirds and Hey Dudes are commonly regarded as casual wear. Hence, support and comfort is the main thing to concern about.
I perceived that Hey Dudes are more comfortable than Allbirds due to their memory foam insole. Some pairs feature leather or textile lining on the interior, which adds extraordinary comfort to the feet.
However, the inner wool lining is also present in most Allbirds. But Hey Dude seemed comfier because it is relatively lightweight (5oz), even after having inner linings and a thick layer of cushions.
Now, let's analyze the support system. Hey Dudes include flex and fold technology for delivering proper arch support. It really favors individuals with flat feet and who stand for prolonged hours on their feet.
Contrarily, Allbirds' support comes from its contoured footbed. Note that no upgraded technology works here.
As a result, Allbirds lags behind in providing supreme arch support. If you're into Allbirds, you will have to be satisfied with its average arch support.
Size & Fit
In case of available size options, Albirds and Hey Dude are similar. Both of them offer only full sizes.
So what to do if you're a half-size wearer?
Well, size up for all Allbirds styles except the Plant Pacer. It will prevent the wearers' toes from touching the end of shoes.
In case of Hey Dude, size down to enjoy a snug fit and size up for a roomy fit.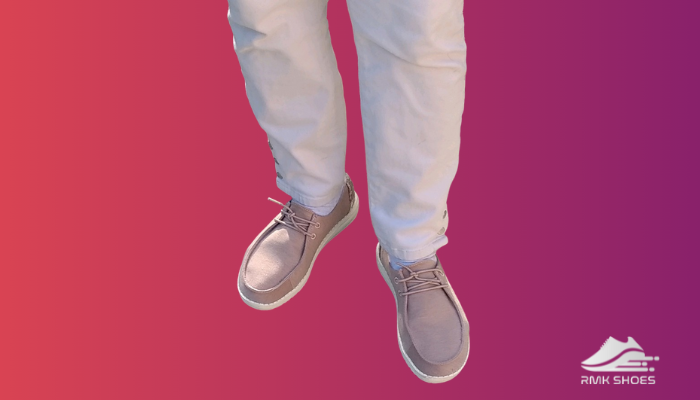 Hey Dude's toe box is somewhat spacious. Thus, wearers can freely wiggle their toes inside the shoes. The wide models of Hey Dude shoes greatly benefit people with wide feet, bunions, or hammertoes.
To know more about its sizing, browse do Hey Dude shoes run big or small?
Variations
Allbirds provides several color options i.e. each of the models is available in 5 to 6 shades. Hey Dudes have limited color options per shoe. Even some shoes are colored in only one shade. But in terms of prints, embroideries, and eye-catchy designs, Hey Dudes have more variations.
In short, Hey Dude stays forward when it comes to impressive patterns and elegant prints on the upper. But Allbirds remains first when it comes to providing fascinating color options.
Pros & Cons of Hey Dude and Allbirds
Hey Dude
Pros
»

Comfortable memory foam insole.

»

Biodegradable materials.

»

Lightweight and easy to wear. 

»

Breathable upper. 

»

Variety of designs, colors, and prints. 

»

A budget-friendly classy attire. 

»

Good for daily outdoor purposes such as shopping, school going. 
Cons
»

Different fitting according to models.

»

Do not make half sizes shoes.

»

The shoes aren't waterproof.
Allbirds
Pros
»

Medium contoured arch support.

»

Moderate cushion.

»

Made of comfy ZQ merino wool.

»

Environment friendly.

»

The removable insole helps in easier adjustment of custom orthotics.

»

Wide range of color palettes.

»

Water-repellent.
Cons
»

Absorbent soles sometimes smell so bad.

»

Less durability i.e. around 2-3 years.

»

Not recommended to wear it during heavy downpours.
Which is Suitable for You: Allbirds or Hey Dude?
Taking all features into consideration, Hey Dude shoes are more worthy compared to Allbirds. And I will suggest you to invest in a pair of Hey Dude if your top priority is comfort and full-on support during your day-to-day movement.
The pairs have colorful designs, and they are pretty affordable. Moreover, they last up to 3 to 4 years if proper maintenance is followed.
You can pair up with Hey Dudes everywhere, from school to friends meetups, shopping malls to the beach, and even in the muddy backyard of your house.
However, if you're passionate about sustainable materials, then Allbirds is a great choice. But remember that they ask for more penny even after having fewer benefits than Hey Dudes.
That's all from my side. Now, it's your turn to pick the right pair!
FAQs
Are Hey Dude Shoes waterproof?
No, HeyDude shoes are not waterproof or water-resistant. They aren't covered with waterproof Gore-Tex (GTX) membrane but are built with canvas, textiles, or suede.
Do Allbirds run true to size?
Yes, most Allbirds run true to size. But the problem is they don't avail half sizes. Consequently, going to the next upper size is suggested to all half-size wearers who prefer roomy toe boxes.
Do Allbirds have good arch support?
Allbirds are not that good but moderate in arch support. Its Lounger, Piper, Breezers, Skipper, and Topper have minimal arch support. But the Dashers, Flyers, and Trail Runners are medium in giving arch support.