A few years ago, I became puzzled while looking for diabetic-friendly shoes for my dad.
Because the podiatrist recommended Hoka shoes, but my footwear-related knowledge pushed me toward Gravity Defyer.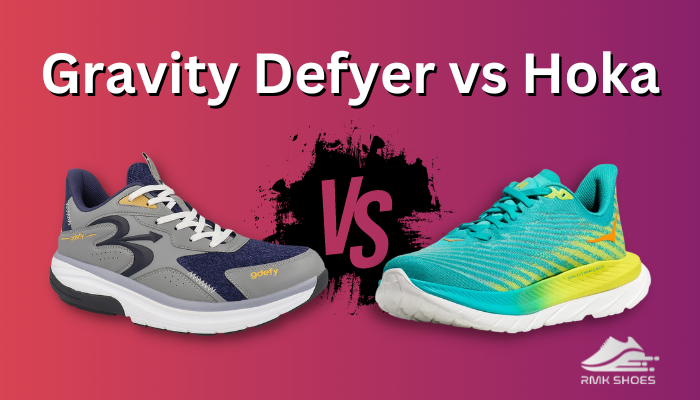 You might be interested to know at last which pair gave the best outcomes. Well, let's know about this.
Thus, you don't have to be confused like me between Gravity Defyer & Hoka.
Tag along!
Overview of Hoka & Gravity Defyer
Hoka
While searching for performance shoes for running, hiking, walking, training & gym, you have definitely noticed Hoka shoes. The legendary brand started in 2009 but became popular when it launched upgraded technology by the end of 2010.
The Meta-Rocker and Active Foot Frame technology of Hoka has made them a coveted piece among elite athletes and runners.
Besides, Hoka designs orthopedic, recovery, and stability shoes for individuals with different kinds of foot conditions and who are in the recovery phase after any foot surgery.
Nowadays, it's hard to find a single people who didn't hear about Hoka Clifton, Arahi, or Bondi.
Gravity Defyer (GDefy)
Under the guidance of Alexander Elnekaveh, the first Gravity Defyer shoe was made in 2004 by Impact Research Technology Group. Four years later, the company independently began its production.
The shock-absorbing VersoShock technology, special memory springs, pressure-relieving forefoot structure, and stabilizing midfoot are Gravity Defyer's strong points.
However, Gravity Defyer still could not achieve the same popularity as Hoka among common people. Only those strictly concerned about sound foot health and explore varieties of footwear precisely know about Gravity Defyer.
What Are the Major Differences Between Gravity Defyer & Hoka?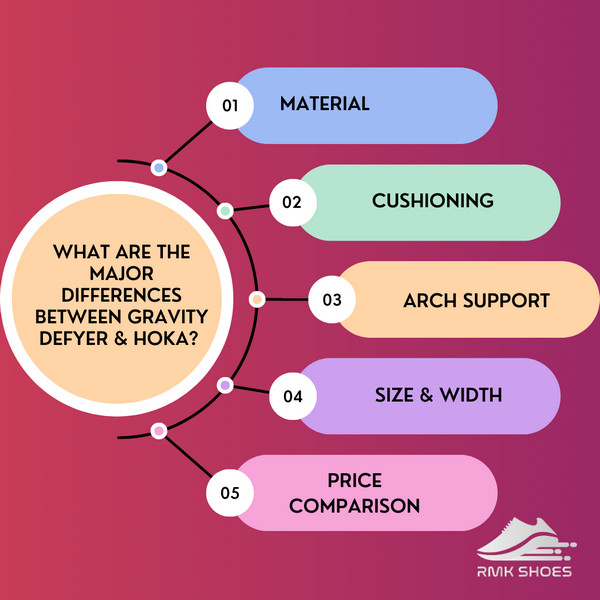 Material
Since Hoka and Gravity Defyer have a wide range of footwear, including casual shoes, athletic wear, and sandals, their used materials also have a vast range.
In general, Hoka uses grained leather, engineered mesh, and recycled ingredients in its upper. The midsole carries compression-molded EVA midsole, and the outsole is built with rubber.
A lot of vegan options are available in its collections, such as Arahi 6, Clifton 9, etc. These shoes include non-vegan and recycled materials in all parts, including laces, outsole, insole, and upper.
Gravity Defyer brings microfiber leather upper to you. It is lightweight, breathable, and most importantly, anti-bacterial.
Moreover, canvas, nubuck, and synthetics are found in some styles. Some models have wool-blend knit upper and mesh inner lining for additional softness.
The outsole and midsole are crafted from flexible rubber, and it offers great performance in case of impact absorption.
Cushioning
After wearing Hoka One One and GDefy Energiya in the outlet, my father said the Gravity Defyer is more cushioned than casual Hokas. The diabetic-friendly G-Comfort® orthotics and foamy inner delivered ultimate comfort during his regular movement.
Insole's 5.5 mm foam thickness and flexible texture will always make you feel that you are walking on an arch-supportive pillow.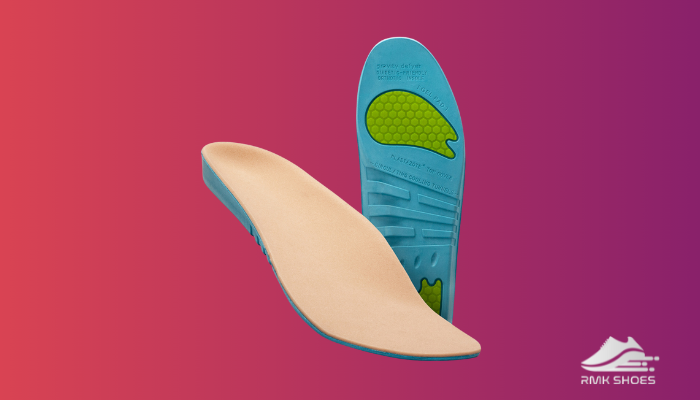 But while comparing the cushioning of running and training shoes, Hoka seems more advanced than Gravity Defyer.
Hoka features balanced, plush, and responsive cushioning in its footgear. Balanced and plush cushioning creates a supportive base underneath the foot.
Whereas responsive cushioning is flexible and takes part in energy return. Consequently, Hoka is considered for physical exercises and hostile activities.
Arch Support
Gravity Defyer has a full-perimeter TPU shank for lateral support. This adds extra support to individuals with plantar fasciitis and flat feet. Along with this, it reduces foot stress and hyperflexion injuries while you're in motion.
This shank is missing in some pairs. And I really wonder why Gravity Defyer neglected this super feature in some editions.
Contrarily, Hoka has J-Frame™ technology for forefoot support and Meta-Rocker technology for stability. This combination is just a thrive for extreme runners and ultra-marathoners.
So, who is the winner here? I would recommend Hoka shoes for professional racers and stick with Gravity Defyer for long hours of standing or walking.
Size & Width
Gravity Defyer offers 5-15 US sizes for men and 6-11 sizes for women. Half sizes are easy to get. Additionally, they design medium, wide, and extra-wide shoes to meet customers' demands.
Hoka manufactures 5-15 US sizes (including 0.5 sizes) both for men and women. However, it's hard to get all sizes available.
On top of that, Hoka doesn't avail varieties of extra-wide shoes as Gravity Defyer does. Only the Bondi 8 comes in 3 widths i.e. regular (D), wide (2E), and extra wide (4E).
Price Comparison
Hoka
Orthopedic Footwear $60-$185
Gym & Training Shoes $112- $200
Walking & Road Running Shoes $112-$250
Trail Running & Hiking $130- $275
Gravity Defyer
Walking & Fitness Shoes: $100-$195
Running Shoes: $130-$195
Everyday Comfort: $70-$195
See, the maximum price is identical for all types of GDefy shoes, and the price remains within $200. Whereas Hoka is costlier than Gravity Defyer, most of its shoe ranges between $150 to 220 US dollars.
Pros & Cons of Gravity Defyer & Hoka
For now, let's pay attention to the benefits and drawbacks of GDefy and Hoka. It will help you in selecting the right pair for yourself or your relatives.
Gravity Defyer
Pros
»

Lightweight and flexible cushioning.

»

Perforations for breathbility.

»

Antimicrobial lining.

»

Shock-absorbing & supportive shanks are included in some pairs.

»

Diabetic friendly.

»

Slip-resistant outsole.

»

Relieve foot pain & knee pain.

»

Numerous designs and colorways.

»

Removable sole is easy to clean.

»

Suitable for regular, wide, and XW feet.

»

Most sets don't need to break in.
Cons
»

Runs small.

»

Dissatisfying Durability.
Hoka
Pros
»

Comfortable and supportive.

»

Responsive cushioning.

»

Have vegan options.

»

Outsole provides a decent grip on road-trail running and hiking.

»

The stability is superb.

»

Excellent performance in athletic and outdoor activities.

»

Color tones are eye-catchy.

»

Long-lasting and simple cleaning procedure.

»

Good for Arthritic Feet.
Cons
»

Not recommended for extra wide feet.

»

Relatively expensive.
However, if you wanna know Hoka's cleaning method, browse how to clean Hoka shoes in a simple way.
Gravity Defyer vs Hoka: Which is Better for You?
Still finding it troublesome to choose between Hoka and GDefy. In that case, go through the following lines, which mention the direct verdict.
Gravity Defyer is good for
– Long hours of reliable support.
– Flexible cushions & secure fit.
– Any foot conditions like Plantar Fasciitis, Diabetic issues, Heel Spurs, High Arch, Low Arch, Morton's Neuroma, Shin Splints, etc.
Seeing all the foot problems, don't think that GDefy comes with a giant budget. In fact, they are so affordable. However, you will have to replace the shoes within 3-4 years because of Defyer's limited durability.
On the other hand, Hoka is a better choice for:
– Frequent walkers, novice and professional racers.
– Heavy workouts like training & hiking.
– High energy return.
– Moderate cushion with an enhanced lifespan.
Considering all of these matters, I advised my father (who has diabetic issues) to stick with Gravity Defyer. Also, he was more comfortable in that pair rather than Hoka.
So, between Hoka & GDefyer, which one will you take into the shopping cart?
FAQs
Are Hoka Shoes As Good As They Say?
Yes, Hoka shoes are as good as they say. The comfy interior, lightweight foam, and impact-absorbing sole have made Hoka one of the best casual and running shoes in the footwear industry. Even Podiatrists do not deny recommending Hoka for its contoured footbed and user-friendly features.
Are Gravity Defyer Shoes Good for Your Feet?
Absolutely, Gravity Defyer is an amazing shoe for its shock-absorbing and pain-reducing technology. Though it is good for normal feet, also an outstanding option for foot problems.
Do Gravity Defyers Run Small?
Yes, Gravity Defyers run somewhat smaller lengthwise, however, the toe box is roomy. Hence, buying half a size bigger than your usual shoe size is suggested.
Are Gravity Defyer Shoes Waterproof?
All Gravity Defyer shoes aren't waterproof. Generally, the manufacturers incorporate waterproof membrane lining in the hiking shoes.