When we are gossiping about footwear niche, maybe Keds is the first name that comes to mind, which reigns over as a king.
But before wearing keds one confusion always punches most, and that is keds with socks or keds without socks. Right?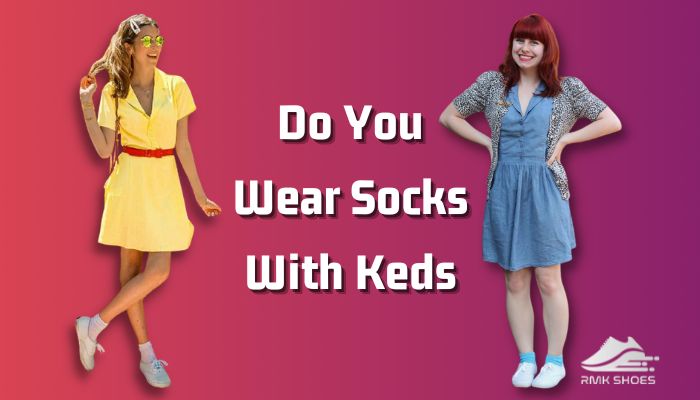 In that case, you arrived at the right place. In this article, I'll share with you the pros and cons of wearing socks with keds, along with some splendid fashion styles.
Without further ado, let's dive!
Can You Wear Keds With Socks?
Yes, it's absolutely fine to wear keds with socks. According to fashion sense, the keds look better without socks, but the canvas insoles could start to smell for your day-long sweating propensity. To reduce the chances of unwanted odor, you should use them wisely.
The process of wearing keds sockless is wearing them for a short walk. Try to avoid day-long keds activities without socks because without socks your shoe might hurt you. Usually, Socks provide us the happy & dry feet.
So try to wear socks when you're heading out for a long-term walk with your keds.
Wearing shoes with or without socks totally depends on personal preferences. Luckily, keds are a soft canvas fabric compared to other shoes that have fewer injury tendencies.
The constructed rubber-soled shoe is famous for its basic casual outlook which blends with every outfit and offers a presentable appearance.
Also, it comes in low and high tops with a vast variety of hues.
Furthermore, you can select the socks after determining your attire and keds type. The brand also produces kids' shoes, which are specially featured with cute designs and vibrant colors.
How to Style Socks with Keds?
There are no specifications for wearing socks with your keds. But if you want to wear them, the most asked question is how can you style them.
And In this segment, I'll provide some tried styles which I usually prefer for my fashionable outings with my keds.
Here are the styles to wear keds with socks:
You must pair your keds with short jeans and skinny t-shirts. To emphasize the funky attire, you can wear your knee-high socks with them.
The baggy top may be one of the most used items for a modern outlook. And you can simply put on your knee-length socks with your keds to create an eye catchy look.
Use no-show socks with your keds when you're gonna build a formal look with your fabric pants.
Try to wear ankle socks with your floral-printed frocks and keds, that outfit provides a cute yet noticeable look.
For creating a stylish look, select the stripe socks with your iconic white or red keds.
Canvas keds offer a vast color variation, so you can match them with your outfit to create a monochrome look. Just put on the right color socks with your keds.
If you check online for styling your keds with socks, you will find a hundred ideas. But I'm sharing the effective ideas that I already crack with my keds.
Socks to Wear with Keds
I usually love to wear socks with my shoe due to my excessive sweating tendencies. After trying several types of socks with my keds, I found three socks that offer great comfort without compromising fashion.
Let's check out the three best socks item for your keds:
No-Show Socks
No-show socks are my favorite socks, which I mostly used with my kids.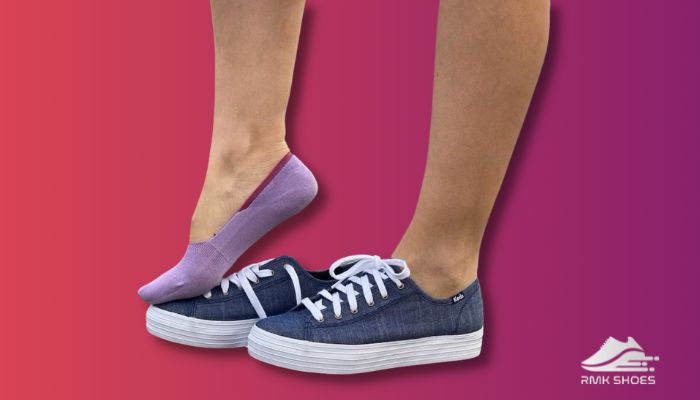 These are the type of socks that provide all the advantages but didn't show their presence. Naturally, these socks are a staple item for those who always lead a stylish lifestyle.
Being a fashionista, I can't imagine my keds without no-show socks.
Ankle Socks
In order to fashion sense, the next type must be ankle socks, which help to create bold and semiformal looks after pairing up with keds.
But wearing ankle socks is a little tricky because the color should be exactly matched with your keds. It provides safety with an elegant look.
Moreover, ankle socks are famous for creating monochromatic looks with keds.
Sneaker Socks
Sneaker socks are specially designed for all types of sneakers.
According to their length, you can say they are medium-length socks, which we used to wear with keds in our school days. The sneaker socks incorporated all the important factors that make them an ideal pair.
Consequently, you can wear them with your every outfit.
You can find all the above-mentioned socks on keds website. You will also achieve design and color variation at affordable prices.
Additionally, socks are most influential when you suffer from any foot condition. For instance, if you have diabetic neuropathy damages, compression socks are helpful. Because they are extremely effective for regular blood circulation.
Is It Okay to Go Sockless with Keds?
As I have already indicated before, keds are perfect for both with or without socks. It only depends on personal preference.
In fact, keds actual beauty arrive when you show your ankle without hiding. For the same reason, I used to wear no-show socks with my keds. If your feet don't get wet easily, then it's absolutely fine to go sockless with your beloved keds.
My brother has dry feet, and he never wears socks with his keds usually. And he shares with me, his maintenance technique for keeping the foot odor away from his keds.
Most importantly, he never wears any canvas shoes for a long time. At maximum, he wears keds for one hour and after that, he put off the shoes and dries them out before another use.
So, you can apply this technique with your keds too.
Parting Thoughts
Keds are the most versatile shoes for all ages, and wearing socks with keds is only a personal choice, there are no certified rules for that. So you can wear keds with or without socks, conforming to the style you want to achieve.
If you have still any questions about keds with socks, shoot a comment in the below box, and I'll be there for you.
Till then, goodbye!