From comfort to quality, you need to look for a lot of factors while buying a pair of Western boots, either for work or fashion.
Luckily, you can get all of that in a pair of Ariat or Dan Post boots.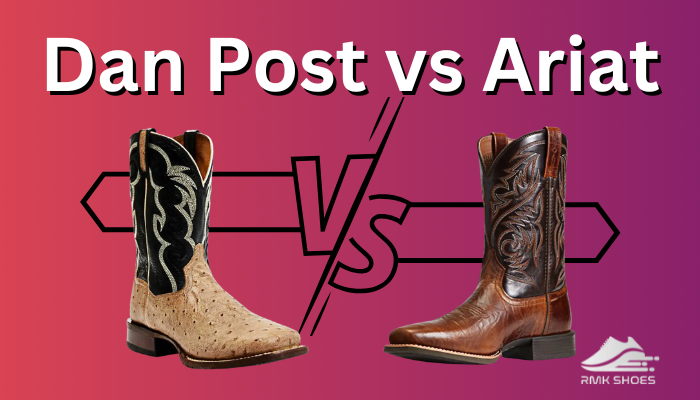 However, unlike their similar look, the boots actually perform quite the opposite, which I found after using them in several conditions.
So, which one between Ariat and Dan Post will be more suitable for you?
Just stay with this write-up to find it out!
Key Differences Between Dan Post and Ariat Boots
Ariat and Dan Post boots carry differences right from their beginning. Where Dan Post started its journey in the mid-60s, Ariat was introduced in the early 90s. 
Other than the history, Material, sizing, comfort, and style variety are the aspects differing from the Dan Post and Ariat boots.
So, let's find out what different features Dan Post and Ariat Boots have:
1. Material and Construction
When looking for cowboy boots, the material quality comes first to consider. Because these boots should be constructed with high-quality material to tolerate the rigorous environment of the ranch or farm.
And you don't have to worry about the material quality with Dan Post or Ariat, as both offer boots with full-grain leather uppers.
The construction and material differences between Ariat and Dan Post are:
| Feature | Ariat | Dan Post | Result |
| --- | --- | --- | --- |
| Stitching | Four-row stitch pattern | Double stitch welt construction  | Ariat has a more durable construction |
| Lining | Synthetic mesh lining on the shaft | Fully leather shaft interior | Ariats offer more breathability |
2. Outsole Material
Apart from the construction and lining, these two popular boot brands use different materials to make their outsole.
The Dan Post mainly uses leather and TPU in its outsole. While Ariat features an innovative Duratread rubber outsole offering more flexibility and less wear.
3. Traction
I mostly use cowboy boots for yard work or gardening chores. So undoubtedly, I need boots with good traction and protection for that.
When I compared the traction and grip of Dan Post and Ariat boots, I found the Dan Posts is the superior one.
The outsole of this pair is very durable as the brand uses a perfect blend of leather and TPU material for that. But the best thing is that, apart from being that much durable, the soles are also very grippy.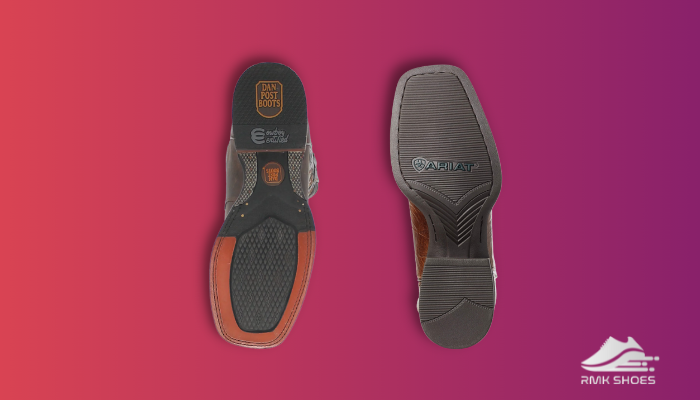 I worked for a whole day on the grippy grass ground of my yard, and guess what, I didn't even slip for once.
Ariats are also non-slip and did a great job at holding my feet in the right place. But it's just Dan Posts were better. 
4. Variety of Styles to Offer
Currently, cowboy boots are used more for fashion than work. So, styles and design variety is a factor to consider when buying western boots for fashion.
When it comes to design variety, Ariat offers more styles compared to  Dan Post boots. Ariat is mainly known for its modernized touch in its traditional cowboy boots. And offers more than 200 varieties of western boots to choose from.
Meanwhile, Dan Post offers about 70 to 80 different styles of western boots.
5. Fitting
The boots also differ in their size and fit. Most Dan Post boots run true to size. So you can go with your regular size for them. On the other side, the sizing of Ariat boots is a bit tricky as most of them run bigger than usual.
So while buying Ariats, you should go half size down to get a proper fit. However, it's best if you buy cowboy boots after trying them out properly to find your exact size. 
That's because the fit may vary according to the style of boot you are opting for. 
6. Budget You Need
Both Ariat and Dan Post offer affordable as well as expensive boots. But relatively, Ariat Boots are more expensive.
You can get a pair of Ariat boots within a price range of $145 to $800. Meanwhile, a pair of Dan Post may cost you around $100 to more than $500.
7. Comfort
Dan Post uses removable and anti-microbial ortholite insoles to provide a soft stride right from the start. However, for me, with innovative cushioning and breathable mesh lining, Ariats provide better comfort.
Another thing is that the leather outsole of most Dan Post boots feels stiffer for quite a time. 
While the flexible rubber outsole of Ariats allows you to get a comfy outdoor working experience each time.
In conclusion, Ariats offer better overall comfort, making them suitable for all-day outdoor work.
Benefits and Drawbacks You'll Find in Dan Post and Ariat Boots
If you are still confused about choosing between these two Western boot brands, just look at the benefits and drawbacks they offer. And with this, you'll be able to find the suitable one for your needs.
So, let's take a look at the pros and cons of Ariat and Dan Post Boots:
Ariat
Pros
»

Breathable shaft lining.

»

Flexible rubber outsole.

»

Provides all-day comfort.

»

Offers more styles and variety.

»

Inclusion of modern techniques.
Cons
»

Less durable.

»

Shows signs of discoloration after a few wears.

»

Less grippy outsole.

»

More expensive.
Dan Post
Pros
»

Durable.

»

Excellent traction.

»

Removable insoles.

»

Runs true to size.

»

More traditional design.

»

More affordable.
Cons
»

Less breathable.

»

Limited styles to offer.

»

Stiffer outsole.
Verdict
Both Ariat and Dan Post boots offer different benefits. So, It's kinda hard to declare a winner between the two.
However, I like the Ariats better for doing outdoor chores or casual outings. The boots are so comfy and lightweight that you can carry them even for the whole day without any discomfort.
And if you are a first-time buyer, Ariat is a perfect choice for comfortably stepping into the world of cowboy boots.
Also, the use of sustainable and eco-friendly materials in some of their styles makes them even more attractive to environment lovers. 
Meanwhile, if you wanna go for a more durable yet affordable option, you can choose a pair of Dan Post. I can assure you won't get disappointed with the comfort and protection these boots will give you.
FAQs
Are Dan Post Cowboy Boots Any Good?
Dan Post's cowboy boots are good in quality and construction. Besides, the boots are extremely comfortable, and the upper leather ages elegantly.
Is Ariat Made in China?
Yes, a lot of Ariat boots are made in China, along with other countries like Mexico, Italy, and Vietnam.
Are Ariat Boots Real Leather?
Yes, Ariat boots are made of real full-grain leather such as cowhide or Bison leather.