A few days ago, I made up my mind to wear my cork shoes, which were not in use for a couple of months. But I found a bunch of dirt and stains on my shoe!
I started thinking about what to do with these filthy corks, and then the idea of cleaning those pairs arose in my creative mind.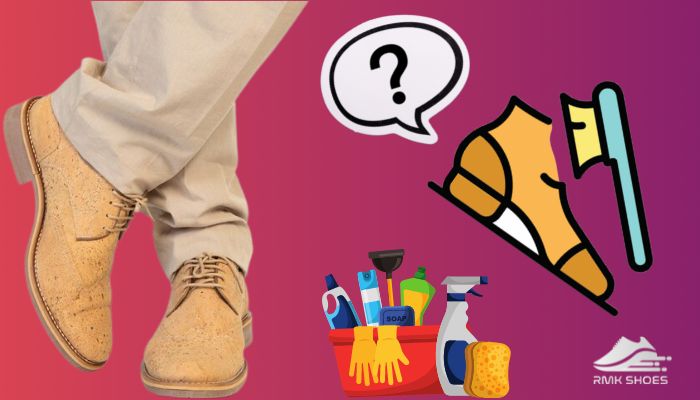 I found effective ways to freshen up my cork shoes and some tricks which I followed while cleaning.
And the result was outstanding! My shoes looked like a brand new pair.
If you want to know about the tricks and steps I followed in cleaning my cork shoes, then continue reading the article till the end.
How To Clean Your Cork Shoes Properly?
Orthopedists often suggest wearing shoes with a cork footbed as it is comfortable with moderate arch support.
From the bark coating of cork oak, cork is collected. Cork is a kind of material where dirt easily gets stuck.
Bacteria, fungus and germs can also ambush corks if it's not used for a couple of months.
So, it's a must to clean your cork shoes before wearing them. Because wearing any dirty outfit can damage your  reputation in society and make you a laughing stock.
Moreover, no one wants to deal with people wearing messy outfits.
There are two effective ways of cleaning cork shoes. I will describe both of them in detail here because I followed two different methods for each shoe.
The First Method which I followed includes using a mixture of baking soda and water.
The necessary stuff to proceed with this method is two tablespoons of baking soda, clean water, a piece of washed cotton cloth and a toothbrush.
After gathering all these items, start following the guidelines one by one:
Step 1
Shake off the isolated dust from the shoes. Sweep the cork footbed and soles with a cloth. Doing this will help to remove the stack of dry dirt from the entire shoe.
Step 2
Prepare a silky paste with baking soda and water. You should add one tablespoon of water with two tablespoons of baking soda.
Step 3
Apply the paste all over the footbed with the toothbrush. You can use a suede brush for better results. Make sure that the brush is easy to hold onto your hand.
Step 4
Gently rub the paste on the footbed for about five to ten minutes in a circular motion. Then wipe them with a clean, wet cloth. Make sure to mop all the paste from the shoe.
Step 5
Keep the cork pairs in a shady space with proper air circulation for drying up. Never put your cork shoes in direct intense sunlight. Doing this will damage your footwear for sure.
After following steps 1 to step 5, you will get a clean cork shoe.
Let's move on to another method of cleaning cork shoes.
In this method, I used a solution of vinegar, mild washing powder and water. You will need three tablespoons of vinegar, 250 ml of water, half a tablespoon of washing powder, a clean damp cloth and a toothbrush.
You can move on to the procedure of cleaning after collecting all the necessary things.
Let's begin the step-by-step procedure:
Step 1
Add 250 ml of water into the mixture of three tablespoons of vinegar and half a tablespoon of mild detergent for preparing the solution.
Step 2
Try to whip the ingredients well so that no particles of the detergent remain unmixed.
Step 3
Spread the mixture on your cork footbed and scrub it circularly. Give more attention to the filthiest area.
Step 4
Stop rubbing when the solution becomes foamy. And wipe the wet footbed with a cloth leaving no solutions on the shoe.
Step 5
Dry out the footwear in a similar way as mentioned in the first method.
Once you're done with cleaning, wash or sanitize your hands properly so that any kind of germs and bacteria from your shoes can't affect you.
You should follow some additional steps if you want to make the cleaning procedure more easier and meaningful.
to make a perfect cleaning:
Try to do the shoe cleaning in the yard, rooftop or in the washroom of your sweet home. If you start your shoe cleaning inside your room, it will become nasty because of dust, water and germs. And you've to do additional cleaning of your home.
Collect all the things that are necessary for the cleaning purpose at first and begin the procedure after that.
Otherwise, it may happen that you won't find essential things while cleaning, which will result in a disturbing and messy environment.
Make sure that your cork footbed doesn't get too wet and scrub. Else, there's a chance of damage to the cork material.
Don't hassle at the time of cleaning your shoe. Do it gently to receive the best outcome.
You must be wondering which method gives the utmost result as I already told you that I followed two different methods for each shoe.
Well, let me clear your doubts.
Personally, the second technique, which includes the use of vinegar, detergent and water, was more satisfying to me.
That doesn't mean the first method with baking soda and water paste is worthless. It also became successful in cleaning the cork footbed nicely.
But if I compare the first and second methods, the first one is good and the second one is amazing to me.
How To Remove Smells From Cork Shoes?
Having stinky shoes is one of the worst experiences!
The bad smell from shoes will affect not only you but also the people in your surrounding.
So, you should know the effective procedure for removing bad odor from your favorite cork shoes.
If you clean your cork shoes according to the methods I've described in this article, then the bad odor from the cork footbed will be gone.
Because, chemicals like vinegar, baking soda and detergent not only make your shoes tidy. It also removes fungus and germs that cause bad smells.
Moreover, the detergent always contains fragrant flavors, which will make your cork shoes release an aroma.
If your shoes are so stinky that the smell doesn't end up even after cleaning, or if you want a more aromatic cork footbed, then you can go along with any of the following methods:
Gently apply Rubbing alcohol on the cork footbed with the help of cotton cloth. Then, dry them in a well-ventilated place.
Scatter baking soda on cork shoes and leave it for 12 hours. After that, wipe off the soda from the surface of your shoes.
Store your cork pair in a plastic zipper bag, then keep it in the freezer for about 48 hours to remove stinkiness.
So, which one will you follow? Don't forget to let me know.
How To Protect Your Favorite Cork Shoes?
Sandals with cork footbeds always remain on the top of my preference list because of their comfort and additional arch support.
So, I always try to protect my shoes so that I can wear them for a long time.
Moreover, buying new shoes frequently seems to me a waste of money.
That's why I use cork sealer for my cork shoes. You should use that too.
Do apply a thin layer of cork sealant on the clean and dry pairs. Doing this will add more protection and a polishing look to your cork shoes.
I'll recommend using the Cork Sealer of Birkenstock. It retails for 9.95 dollars on their official website.
This particular cork sealer will add charm to your favorite cork shoe.
Can You Use Washing Machine for Cleaning Cork Shoes?
To make our daily washing tasks easier, the washing machine is a blessing.
So, you might be thinking about washing your cork in the washing machine with mild detergent and baking soda.
Stop your craziest thought right now!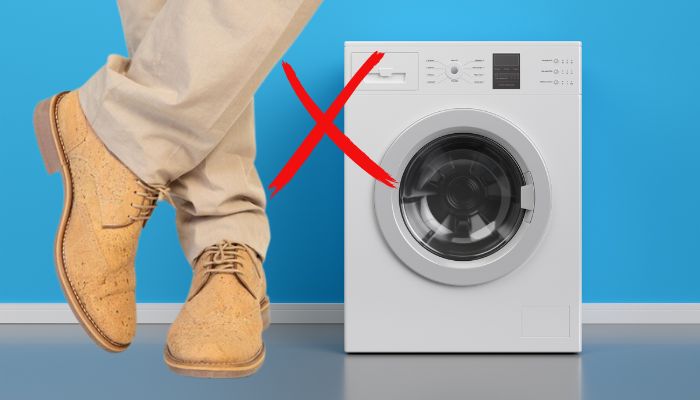 Cork is a material that will be damaged when it comes in contact with excessive water.
Moreover, rubbing the cork footbed rapidly will make it worthless.
So, never think of putting your shoes in the washing machine. If you do that, your cork shoes will be damaged forever.
Last Words!
The cleanliness of an outfit always adds extra value to your appearance. So it's a must to cleanse your shoes.
There're some specific rules for cleaning cork-based footwear.
That's why I informed you of all the pieces of valid information you need to know about its cleaning.
Keep walking with your cork pairs after making them fresh and tidy.
Feel free to share your experience of cleaning cork shoes in the comment section.