When I first learned about Veja sneakers, the simple and sleek design got my attention. Soon I came to know about another comfy and sustainable pair, Cariuma.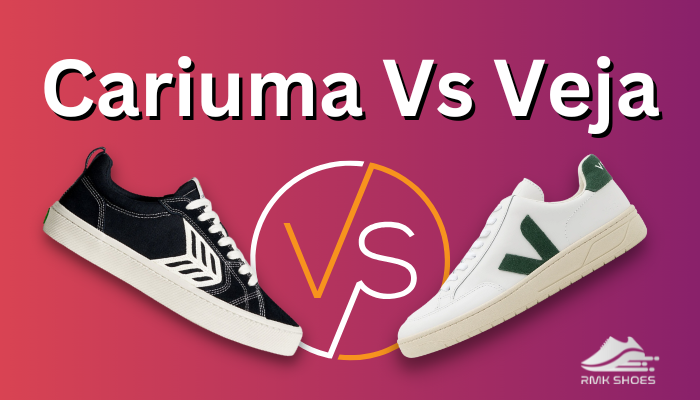 As I continued to wear them frequently, their differences and pros and cons were more visible.
In this context, I will enlighten you with all those facts about Cariuma and Veja shoes. So, keep reading.
My Personal Valuation of Veja and Cariuma Shoes
Everyone's personal take on casual shoes is different. Because of the Cariuma shoe's premium leather and mesh lining, I prefer it more than Veja shoes. Also, Cariuma shoe is more breathable than Veja. But in terms of popularity Veja beats Cariuma.
So let's check out my personal thoughts on Veja and Cariuma shoes with a comparative picture for a clear concept.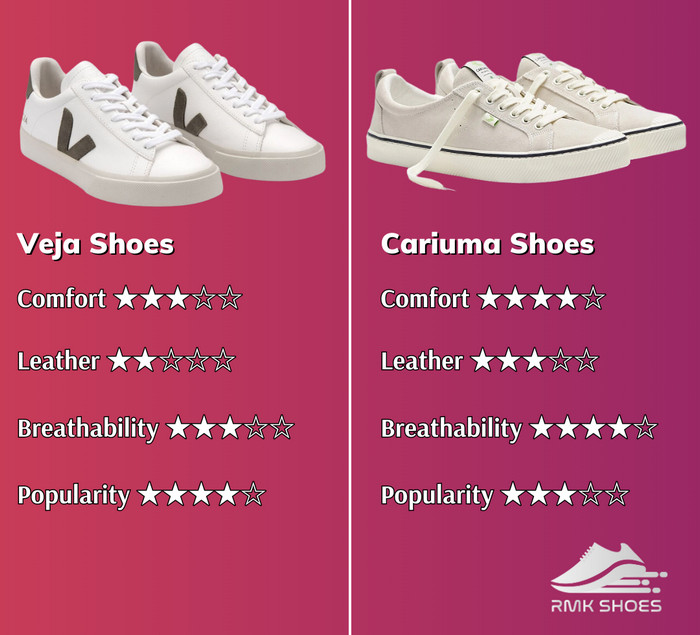 Differences You Need to Know: Cariuma Vs Veja
Both Veja and Cariuma shoes are comfortable with sustainable materials, yet they vary in many aspects, which you should know.
Let's find out the dissimilarities between Cariuma and Veja shoes:
Comfort Level
Cariuma shoes have a high level of comfort. The main reasons are:
Recycled mesh lining.
Soft and robust distinctive insole for arch support.
Premium quality leather.
Flexible feel.
Vulcanized structure.
All these together make Cariuma sneakers very comfortable and slip-resistant altogether.
On the other hand, Veja shoes are comfortable, and as you can wear them for many activities, they are versatile as well. The reason Veja shoes are comfy is because:
The insole for better support and cushioning.
Chemical-free supple leather.
Well-balanced temperature while wearing the shoe.
These are why Veja shoes are pretty good for long-time wear. Also, you will be able to maintain your balance in these sneakers.
Design of Sneakers
Veja shoe's design represents 90's sneaker structure by using cutting-edge technology and sustainable materials.
Another sophisticated fact about Veja's design is their aesthetic "V" logo on each sneaker's side. Also, the variation of colors is something I love about this brand.
Conversely, Cariuma shoes are meant to last and have a low impact. The company is constantly changing Its products and methods to make them more environmental-friendly than ever.
Cariuma mainly focuses on streetwear designs for its sneakers, making them suitable for regular use and running.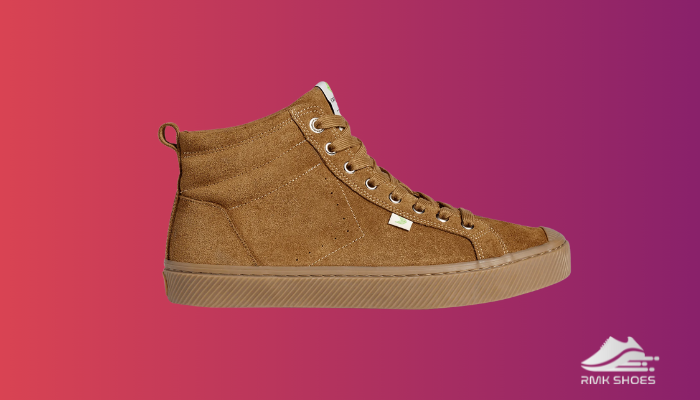 I got the high-top Camel Suede version. It's chic and versatile at the same time. If you got them for the first time, find out how to wear high-top sneakers.
Size
The design of shoes affects the sizing. Honesty, Cariuma shoes are true to size with a roomy fit.
So, if you are a US 10, Cariuma 10 will fit you perfectly. However, these don't come in half sizes, so buy a size larger pair for wide feet.
Meanwhile, Veja also runs true to size, and the best part, they offer half sizes.  But, a few models like V12 run big, so to achieve your correct size, go half a size down when you opt for this model.
Furthermore, if you plan to get a running shoe, you must check running shoe size comparison among brands to get a crystal clear idea.
Price Range
Now it's time to discover the cost of Cariuma and Veja running kicks. Women who love Veja shoes, like Meghan Markle, can buy these from $105 to $245.
These are not too expensive. So, you can get your pair within your budget in any color and model.
Meanwhile, the sustainable Cariuma shoes range from $79 to $160, depending on the design and model. I got my Pantone Snow White Canvas shoes at 89 dollars.
So, according to the price, Cariuma shoes are less expensive than Veja.
Popularity Check
Cariuma shoes are popular because of their sustainable and ethical production process. Nowadays, a lot of people are conscious about the betterment of the environment.
Thus Cariuma has done a great job and got Company B Corporation status in 2021.
Another reason for the hype is this brand is quite well-known among celebrities. People who also love to travel prefer Cariuma for their comfy feel.
Popular Cariuma models are,
Cariuma COA Low Panton Sneaker.
Cariuma COA High Sneaker.
Cariuma IBI Sneaker.
Cariuma CATIBA Pro Sneaker.
Cariuma Slip-on Skate Pro Sneaker.
Veja shoes are more popular than Cariuma shoes. This brand focuses on sustainable materials and the making process from an early age. No wonder they earned the BCorp certificate in 2018.
Though Veja never promoted its brand by any celebrity, yet still on top among the A-listed community. Moreover, Veja has been featured in Glamour, Hellow magazine, and InStyleMedia.
Popular Veja models are,
Veja V-10 Sneaker.
Veja Campo Sneaker.
Veja Esplar Sneaker.
Veja Nova Sneaker.
Veja Dekkan Sneaker.
Advantages and Disadvantages of Cariuma Shoes and Veja
So far, you have discovered the dissimilarities between Cariuma and Veja shoes. But to get the best out of any of these kicks, you must know their advantages and weaknesses.
Here are the pros and cons of Cariuma Shoes and Veja:
Cariuma Shoes
Pros
»

Versatile style.

»

Breathable upper.

»

Cork insole for more cushion.

»

Provides springy support.

»

Eco-friendly product.

»

Elegant and minimal design.

»

Budget-friendly.

»

Comes in wide sizing.
Cons
»

Heavy shoes.

»

The toe is made of suede which gets stained.

»

Less variety.

»

Only available online.
Veja Shoes
Pros
»

Comfortable.

»

Versatile.

»

Goes with most casual outfits.

»

Supportive sole.

»

Trendy pairs.

»

True to size.
Cons
»

Takes time to break in.

»

Restricted movements.

»

Moderate-quality leather.

»

Lacks flexibility.

»

Less breathable.
Which is the Better Pick?
Considering every little detail and feature, Cariuma shoes are better than Veja in my eyes.
I am leaning more toward Cariuma because of its comfort, budget-friendly price range, and premium leather.
But it doesn't mean Veja shoes are any less. These are also comfy and come with soft leather. You need to check the price of your preferred model, as they are more expensive than Caruima.
Still, either way, you are getting a sustainable and versatile kick for your daily casual use.
FAQs
Are Veja sneakers worth it?
Yes, veja sneakers are worth your money as they are excellent in quality and serve their purpose well.
Is Veja a Korean brand?
No, Veja is a French footwear and accessory brand with massive popularity among celebrities and shoe lovers.
Are Veja sneakers comfortable?
Veja shoes are very comfortable with their supportive and cushiony sole. You can walk in them all day long, and your feet won't get hurt.