Red Wing & Carhartt is the best fit when you want to buy a pair that ensures quality and reliability.
But it's tough to select a work boot between these two giants, where they offer exceptional features. Right?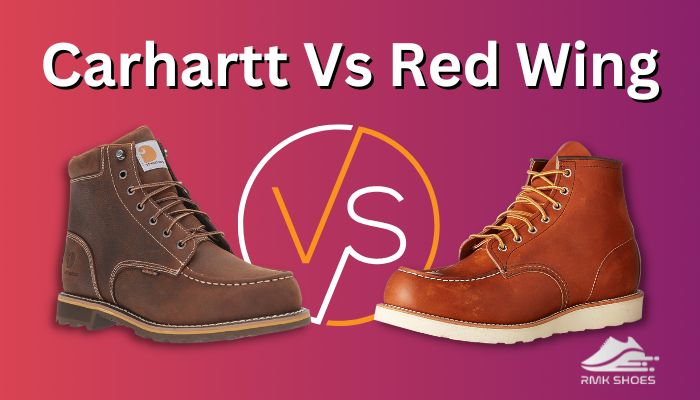 Being a die-hard fan of leather boots, I have used red wing since my college days and Carhartt for two years. In this writing piece, I'll share all the findings about their attributes, including the benefits that I experience in my gems.
Let's dive straight into it!
Feature Variations Between Red Wing and Carhartt
Though Red Wing and Carhartt have a similar appearances, you'll notice distinctive feature variations in them. Both shoes belong to different families, and it clearly shows in their attributes.
Now, I'll describe their head-to-head comparison that will help you in your selection process.
Let's go through the detailed comparison between Carhartt & Red Wing:
Production Material
Carhartt and Red Wing boots mainly use leather material to make their upper.
Red Wing uppers are manufactured with 100% genuine oil-tanned leather, which is the most durable. Due to its stiff and rugged nature, it provides the most water and heat resistance functions.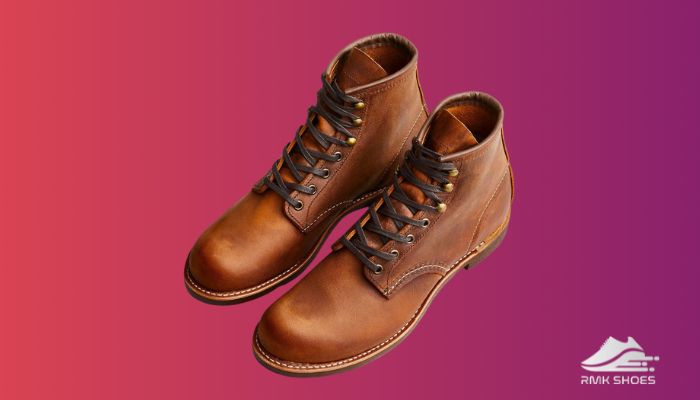 I frequently use Red Wing's Blacksmith and Blackman; both boots provide notable security in every context. They use Vibram Lugs to make their bottom grippy and flexible. The cork midsole and sock lines give support and stability.
Contrary, Carhartt uses oil-tanned leather and polyurethane to make the boot upper. They stuffed an extra layer in their leather upper to ensure waterproofing and breathability. Carhartt includes a PU leather cushioned footbed that mainly works as a shock absorbent and increases comfortability.
Moreover, the shoes include a cement-constructed aggressive rubber outsole, which offers traction with lightweight features.
Mainly, I love my Carhartt Ruggedflex for its comfort and airy feelings.
Construction Technology
Red wing boots are mainly famous for their longevity, and their durability comes from the construction technique. The brand uses the Goodyear Welting method to attach each part.
On top of that, Every portion of Red Wing boots is individually welded before making them one piece. They still use the traditional sewing machine Puritan for making these well-balanced boots.
However, Carhartt boots also use Goodyear welting technique to manufacture their exceptional models.
Though they use the same welting system to make their composite toe boots, Carhartt doesn't offer as much durability as the Redwing does.
Price Variation
In terms of price, Red Wing and Carhartt carry the most visible differences.
Carhartt charges a few dollars less compared to Red Wing. Their starting price is 100 bucks, and the maximum cost is $200, whereas the Red Wing's lowest charge pair comes at 200 dollars.  And the maximum price of red wing boots is double of Carhartt's expensive ones, which cost $400.
So, Carhartt is the best option if you are searching for quality composite boots within an affordable budget. Because both brands have pretty similar features, but the Red Wing charges a lot.
Size & Fittings
Carhartt and Red Wing both run true to size. When you want to buy boots online, measure your shoe size properly and order them in your actual size.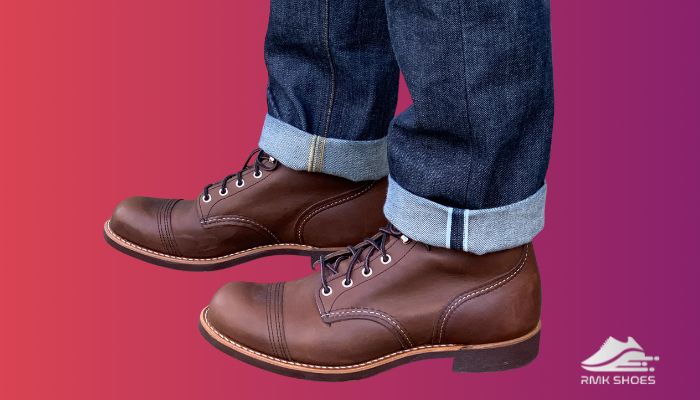 Even though both boots come in perfect sizes, Red Wings fit broader than Carhartt.
I find a comparable roomy toe box in my blacksmith, so if you have wide feet, it's better to buy a Red Wing for their spacious space.
Offered Durability
Regarding durability, there is no compatibility with Redwings. They are the most long-lasting pair that I ever use. People say they last 20 years, but my father wears my grandfathers' Red Wing; he used to say that pair last almost 35 years.
Carhartt also claims they last longer, but there is no specific declaration about their offered lifetime. After two years of use, my Ruggedflex still looks like a new pair. I really desire them to support me in my next 15 summers.
Carhartt Vs Red Wing: Pros & Cons
Due to premium quality features, Carhartt and Red Wing have gained a lot of popularity over the years. Redwing is considered a true American icon, whereas Carhartt is famous for its breathability and feathery weight.
In this segment, I'll simply share their offered benefits and disadvantages:
Red Wing
Pros
»

Durability. 

»

Vibram lugs ensure traction. 

»

The mixed Cork footbed is good as a shock absorbent.

»

Goodyear welting technique offers security with comfortability.  

»

Suitable for wide-footed people. 
Cons
»

Charge massive amounts comparatively. 

»

Little heavy. 
Carhartt
Pros
»

Budget-friendly feature. 

»

Lightweight. 

»

Breathable compared to other leather boots. 

»

Provide good traction.
Cons
»

They are less durable than Red Wings. 

»

Not suitable for wide feet. 
Verdict: Red Wing or Carhartt
As I mentioned, Red Wing and Carhartt are the flagships of leather boots for their quality features. And it's hard to choose one, but if your requirement is clear, the decisions become easier.
If you consider your boot as an asset that supports you in your whole lifetime, Red Wing is the one. Because in one pair, you will find all the preferable criteria, such as traction, security, and shock absorption.
Furthermore, their water and heat protection features make them exceptional among other work boots.
Carhartt is the superior choice when you want similar attributes within an affordable budget. I found Carhartt more suitable for regular use because of its lightweight, breathability, and value.
FAQs
Does Carhartt make good boots?
Yes, Carhartt makes splendid work boots. Their boots are famous for their robust nature. During heavy work, people need sturdy boots that provide quality and protection; luckily, Carhartt offers the same.
What's so special about Red Wing boots?
The Goodyear welting stitching technique is special about Red Wing. That construction technique has made Red wing boots iconic since 1869. This stitching method offers noticeable durability with security.
Why is Carhartt so famous?
Carhartt is famous for its flexible movement. The using materials are tough, but you can't find the rigid nature in their boots.
How long do Red Wings last?
Red Wings lasted over 20 years. If you regularly use your Red Wing pair without maintenance, it will last at least 2 years smoothly.
Final Statement
Red Wing and Carhartt are reliable in their fashion and function. After reading this content, I hope you have enough knowledge of what they offer and how they benefit you. So, choose any of them that fulfills your desired needs.
For extended information about leather boots, knock me in the comment box; I'll be there for you.
Up to then, happy shopping!