A few days ago, I received a prize as a winner of the inter-university sports competition.
Can you guess what was inside the prize box?
I got a pair of training shoes, and it was "Nike Legend Essential 2 ".
Though I take part in several sports activities, I'm not a regular trainee or gym-going person. So, I thought of wearing those sneakers casually.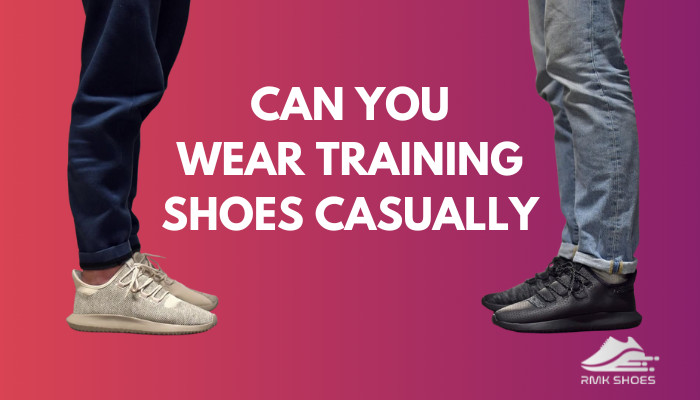 Then, I researched for several hours whether it's suitable or not to wear training shoes for casual events. I compiled all the information regarding this matter in this article.
So, let's find out to know the answer to the question – can you wear training shoes casually?
Can You Wear Training Shoes Casually?
Yes, sure. Wearing training shoes for casual activities is OK if it matches your outfit.
You can simply put on a set of cross-training shoes for attending lectures, roaming in the city or for a casual meetup with friends and family.
But one thing you must watch for is your outfit style.
Training shoes are well if you style them with skinny jeans, shorts, trousers and casual t-shirts.
But they will look gaudy if you wear them with skirts and a bikini!
These shoes were primarily introduced for physical movement activities such as gym workouts, jumping, recreational running, jogging, squats, jump rope etc. Many people also wear them while performing fat-burning moves.
The taste buds of people change with time. Now, a huge number of people are inspired to style in their training shoes for casual deeds.
If you also belong to that community, there's no need to hesitate.
Just go for it because it's not weird to put on training shoes for easygoing purposes.
Check out our separate post: training shoes vs. running shoes.
What are the Common Features Of Training Shoes?
You will find some ordinary characteristics in almost all training shoes. I've noted them below so that you can easily understand the benefits that lie behind the features.
Here're the features you should look for in training shoes:
Thicker Upper
If you compare the upper thickness of training shoes with casual sneakers or running shoes, you'll realize that the upper of training shoes are chunkier than the others.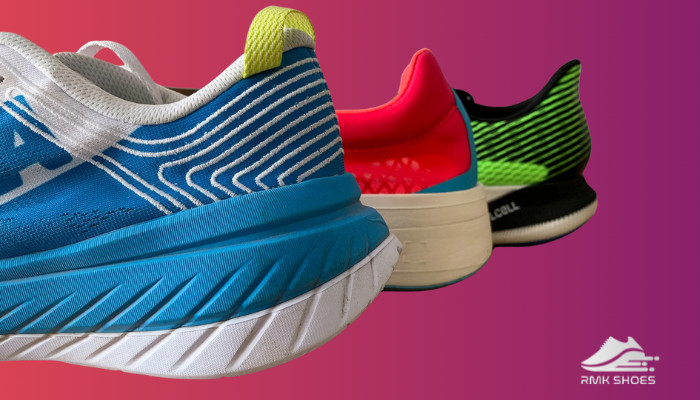 This extra thickness ensures more safety for your feet, but you might also feel it heavy.
Good quality training shoes consist of premium and breathable materials such as leather, non-woven fabric, TPU laminate, PU laminate, mesh, knit etc.
As a result, there will be no lack of airflow around your feet.
Flat Midsole
The midsoles of most training shoes are generally flat and made with EVA materials. Its midsole isn't loaded with ultra cushion and padding like running shoes. Rather, it has a limited amount of cushioning.
So, you won't get the level of comfort that you used to feel in the typical running shoes.
You'll have to be satisfied with the moderate arch support and coziness in training shoes.
Stable Outsole
Stability is one of the main criteria when performing athletic functions. The outsole preparing process, materials, and structure determine the stability level.
The outsole of training shoes is constructed with thermoplastic rubber or vulcanized rubber.
It contains grooves for good grip. The number and shape of grooves vary according to the brand of training shoes. The combination of the patterned outsole and flat midsole ensures superior traction on different types of training surfaces.
Moreover, they help to maintain your stable position and prevent you from unexpected slipping with the slip-resistant outsole.
Low Drop
Training shoes have a relatively lower drop than running shoes. The average drop of these shoes is limited between 2 mm to a maximum of 8 mm.
You'll most often see the heel to toe drop is 6mm.
Low drop shoes have some notable advantages, including proper alignment, strengthening the muscles and natural functioning of the feet.
Durable
You don't have to compromise even a little bit with the durability of training shoes. They are made with sturdy uppers, firm soles and other high-quality materials.
If you properly follow the maintenance process, the shoes will serve you for a long period of time.
You may also like to read: can cowboy boots be business casual?
Is It OK To Wear Training Shoes For Walking?
Yes, you can wear training shoes for short periods of comfortable walking because of low drop, coziness and friendly features.
You might have seen people wearing training shoes for jogging. But it's unwise to purchase these shoes for hiking, climbing and long-term regular walking.
Using training shoes on a regular basis can decrease the durability of the shoes.
The flat and comparatively thin soles of the training shoes will shorten the barrier between your feet and the surface, which might result in soreness.
The surface of training and athletic activities is generally smooth and solid.
Therefore, the outsole of the shoes is made in such a way that it can survive on this type of slippery surface. Walking and hiking in uneven areas need a thick midsole and different patterned outsole.
So, you won't be able to relax in that condition with the training shoes.
There're varieties of sneakers that are good for walking and possess almost similar outlooks to training shoes.
Instead of choosing typical training shoes, you can also opt for that type of pair for walking.
Follow our guide to know are work boots business casual.
Are Training Shoes Good For All-Day Wear?
Yes, they're good for day-long wear because of the combination of traction-worthy outsole and comfy footbeds.
If you work in restaurants or clubs, you must require a shoe that will be able to provide you stability, comfort, and, most importantly slip-prevention. You will get all of these facilities in training shoes.
The grooved rubber outsole of training shoes is extremely slip-resistant.
For long-duration wear, you must need well-ventilated shoes.
Otherwise, your feet will feel stuck. You don't have to experience something like this with training shoes because they are really breathable.
Moreover, the wide toe box will allow you to move and twist your toes freely, which is a plus point for training shoes.
So, style with your training shoes all day long without any hesitation.
Can You Wear Training Shoes For Running?
No, wearing training shoes for professional and daily running is unsuitable because they don't hold the special features required for running.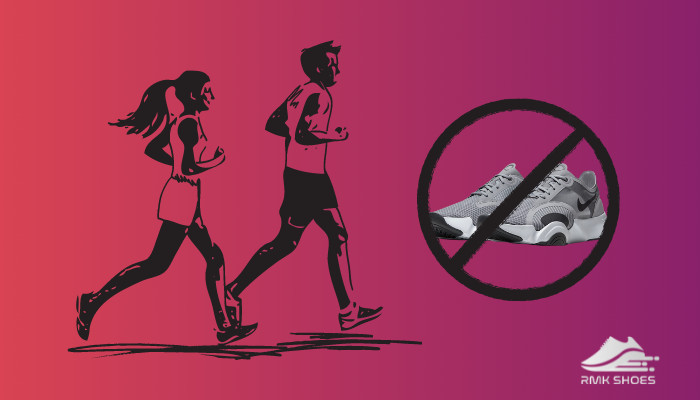 Running shoes have some unique characteristics to ensure a great experience for the runner.
Let's focus on the common features of running shoes:
Thick midsole
Heel counter
Wide Toe drop ( 0-13mm)
Lightweight and breathable upper
Padded collar and highly cushioned
Carbon plate layer for energy return.
You already know that training shoes have a relatively thinner midsole than running wear. It's also weightier than running shoes, so you won't be able to run with a relaxed vibe in these shoes.
One more thing is that training shoes contain a moderate level of cushion and padding for comfort. On the other hand, running shoes offer users ultra cushioning and arch support.
So, it won't be good if you wear training shoes for running.
Bottom Line
Wearing training shoes for any casual workouts like walking, jogging and get together with friends is well if it matches your outfit.
You should avoid using these specific shoes for running and hiking. You can share your training shoes wearing experience with me.
Don't forget to leave feedback and queries in the comment section.
Thanks for reading!