Brooks Revel and Lunch go hand in hand whether you are into jogging, tracking, or running on a treadmill. The combination of versatility with comfort and sleek design is outstanding in these running shoes.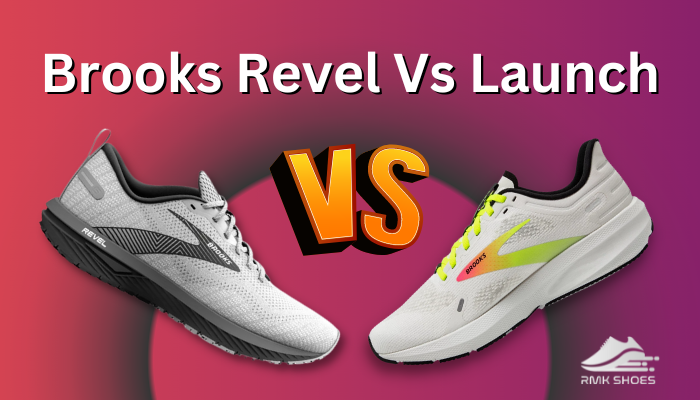 Although Lunch and Revel are running kicks, they differ in many categories, like comfort, pricing, weight, etc.
In this write-out, I will elaborate on those differences and the pros and cons of these Brooks shoes so that you can decide more easily.
Pros and Cons: Brooks Revel Vs Launch
Brooks Launch and Revel come with notable dissimilarities and similarities. But they still have their individual cons and pros.
Let's find out the advantages and drawbacks of Brooks Revel and Launch running shoes:
Brooks Revel
Pros
»

Versatile.

»

Well cushioned and smooth.

»

Great price range.

»

Ideal for quick moves.

»

Simple yet attractive design.

»

Good for wearing all day long.

»

Comfortable.

»

Durable and thick lace.
Cons
»

Loose fitted.

»

Moderate midsole.

»

Lacks reflective elements.

»

Less flexible.
Brooks Launch
Pros
»

Comfortable fit.

»

Breathable upper.

»

Easy to use.

»

Provides a good grip.

»

Versatile.

»

Speed-friendly.

»

Optional width is available.
Cons
»

Limited tongue movement.

»

Expensive than Revel.

»

Less breathable.

»

Narrow fitting.
What are the Differences Between Brooks Launch and Revel?
Brooks shoes are, without any doubt, comfy with premium quality. But every model is different; the same happens with Brooks Launch and Revel. The main notable difference between these two is their weight.
Brooks Launch is comparatively lighter with eco-friendly materials. Besides, they have other dissimilar features.
Let's check out where Brooks Revel and Launch vary:
Material of the Kicks
Brooks shoes are known for their excellent and high-quality ingredients. Each of the models is unique on its own, and the materials make them last longer. Brooks Launch shoes come with the following:
Green rubber-made outsole.
BioMoGo DNA midsole.
Air mesh upper.
Creel wrap.
Meanwhile, Brooks Revel shoes have materials that are pretty common with the Launch. These are:
Rubber-made outsole.
BioMoGo DNA midsole.
Knit upper.
Upper & Sole
Another crucial factor of any running shoe is it's sole and upper. These ensure the comfort and flexibility of the wearer.
The upper of Brooks Launch shoes is made of lightweight Air Mesh. This fabric provides an excellent snug fit, and your feet can breathe properly and be dry. Also, the qualityful laces help to obtain the level of security you want.
On the other hand, Brooks Revel shoes have a Fit knit upper. These upper usually have different patterns on them. So it looks different and gives an aesthetic look while improving breathability.
It also has the Brooks logo in a contrasting color, which you will not find in Launch shoes.
Weight of the Kicks
The weight of Brooks Revel and Launch also diverge from each other.
Revel running shoes weigh more than Launch shoes. These women's kicks weigh 226.8g, and the male's version is about 249g. Revel even feels heavy by wearing it.
But even though its weight is more, it doesn't feel uncomfortable.
On the other hand, Launch men's shoes are 232.5g, and women's are 201.3g. This lightweight sneaker feels comfortable and helps to achieve great speed.
I often go jogging wearing my brother's Brooks Launch, as we both share the same shoe size. But if you are into flat shoes, you should know if you can wear flat shoes for running.
Comfort
Regarding comfort, Brooks running shoes ensure you are at ease wearing their sneakers. Both Revel and Launch have BioMoGo-made midsole for a comfy ride.
However, Revel is more comfortable than Brooks Launch. The reasons are:
Revels upper are more breathable than Launch shoes, and during hot summer days, it provides more comfort.
Launch runners are narrow. Thus, you will be comfier wearing Revel as they give a roomy fit.
On the other side, Launch models come with medium 1B, wide 1D for female customers, and for males, they have medium 1D and wide 2E. But Brooks Revel is only available in medium 1D and wide 1B for both men and women.
Knowing the comfort level of your running shoe is necessary. You must also know the running shoe size comparison between brands to get a more precise idea.
Price
Now let's talk about the pricing of Brooks runners. The price of Revel shoes is based on size and color.
It explains why women's Revel 5 Neutral Running shoes cost 69 dollars whereas Men's Revel 5 Neutral Running shoes are 79 dollars.
The average price point of these runners is from $66 to $187.
On the contrary, Brooks Launch shoes start from 62 dollars and go up to 199 dollars. This version is more expensive, but still, comparing the comfort, upper and other features, it's not worth the price.
So, Revel is a far better pick. Check out Brooks Revel 4 vs 5 differences to learn more about this model.
My Personal Take on Brooks Revel and  Launch
So far, you have learned all the advantages, cons, and differences between Brooks Launch and Revel shoes. Revel shoes are more expensive and comfy whereas Launch is budget-friendly yet comes with similar materials.
All of my personal thoughts are given below for you. So, take a quick look and see what I think about these shoes.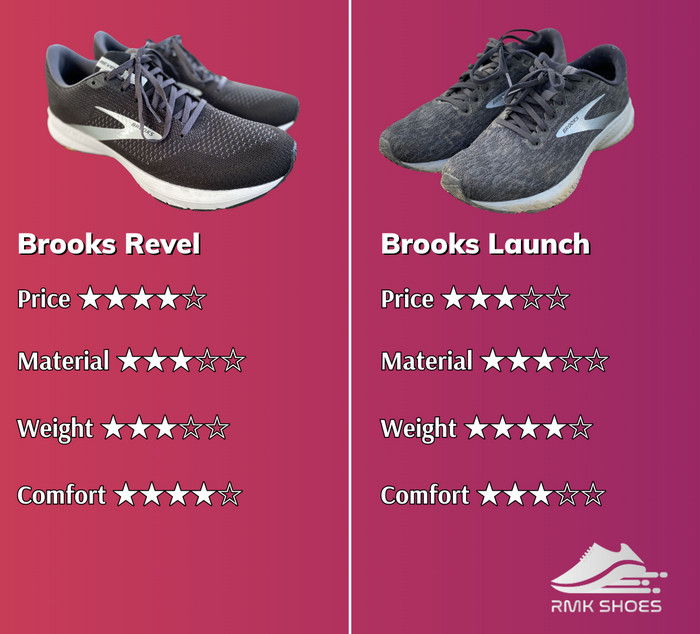 Verdict
Brooks running shoes have various advantages that keep your feet healthy and stress-free for long and short runs.
Launch sneakers are a way to go if you want a good quality, lightweight, comfy shoe with good speed. Also, breathability is another amazing feature of this model.
On the other hand, Revel is the better pick for a comfortable, heavyweight, but budget-friendly pair. Either way, you will get a top-quality shoe that will serve you for a long time.
So, choose the pair according to your need and enjoy daily running and jogging.