Every morning while running, the one brand that I see most of runners wearing is the Brooks Ghost. Ghost 14 is my go-to, but recently my brother got the 12 one, and it's been his only pair ever since.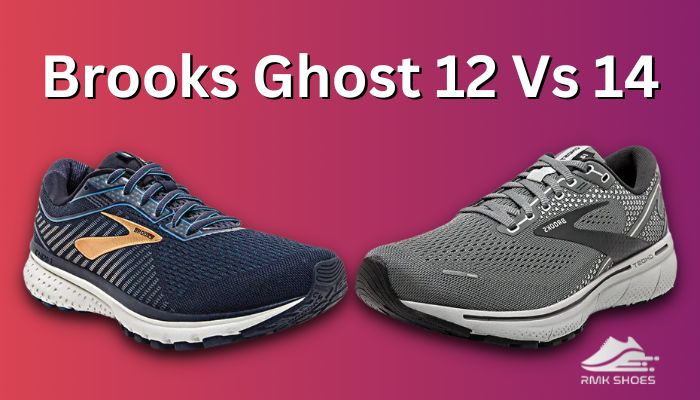 So, I got curious and wore his shoe for a week. Indeed, they have quite a few differences.
I will compare those features that I have noticed through this article.
So, keep at it.
Overview of Brook Ghost 12 and 14 Running Shoes
Brooks Ghost was launched in 2008 to present a go-to comfortable shoe for runners. This line is for those for whom running is a passion but a hobby. The name "Ghost" has an exciting story.
The product management director at that time used to go for a run at night, and from there, he came up with this name.
Since its launch, Brooks Ghost has become a reliable and comfortable daily trainer. Among the two, Ghost 12 came first. Soon it got runners' attention for its neutral nature, stiff midsole, minimal sculpting, and stability. This shoe is the ideal heel striker.
Then came the Ghost 14, the first carbon-neutral running shoe with a softer DNA midsole for a smooth transition. The midsole of 12 models was rigid, but not in 14. This new model comes with the softest midsole in the series.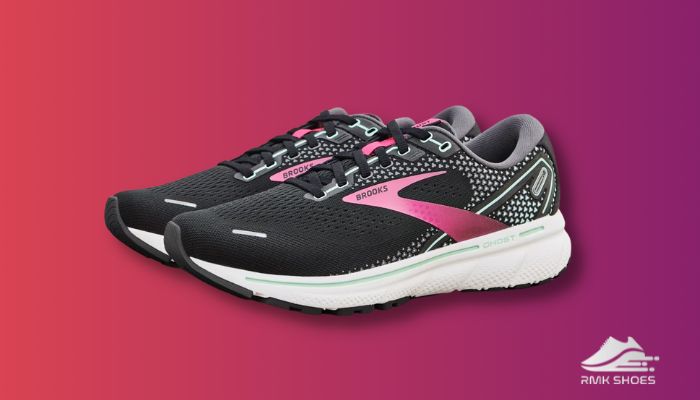 Moreover, Brooks Ghost 14 fits like they are made only for your feet from the first day.
So, t's clear that the manufacturers were very considerate and thoughtful when they designed the Ghost running series.
What Are the Differences between Brooks Ghost 12 & 14:
Brooks Ghost series running shoes are quite well-known among runners for their outstanding performance and versatility. But as these are two different models, they will have several distinguishable features.
Let's check out where Brook Ghose 14 and 12 differ:
The Comfort Level
From the outside, you won't be able to tell the difference between Ghost 12 and 14. After trying them on separately, you will feel it because the answer lies in the sole. Brooks Ghost 12 has BioMoGo loft in its midsole, which makes it a bit stiff.
On the other hand, Ghost 14 comes with a softer DNA loft midsole and thus is more flexible and less firm.
Moreover, Ghost 14 running shoes feature flat shoelaces instead of the round ones in Ghost 12 models. The new shoelaces help distribute the pressure evenly and provide a cool look.
Also, the thinner mesh of the Brooks Ghost 14 workhorse makes space for the forefoot and is super comfortable for running. But if you want to wear them for other outdoor activities, check out Brooks shoes are good for hiking.
However, their upper sole is made with 3D print and mesh fabric. It indicates the premium quality of both pairs.
Difference in Sizing
Another important issue regarding running pairs is the sizing. Generally, the Ghost running series has proper-sized shoes. But a few models tend to feel tighter than the others.
There is confusion about whether running shoes should be a size bigger.
So, does Brooks Ghost 14 run small or big? The answer is that they are true to size and have proper width and length.
Let me elaborate a bit more.
My brother and I have the same shoe size, and I wore his 12 shoes for a week for running. I felt they were tight for me. But My Ghost 14 GTX has more space than my brother's 12.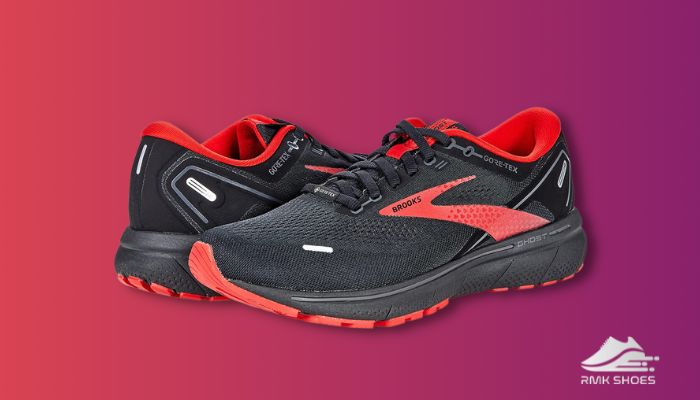 Brooks Ghost 14 has a variety of widths. So, from regular to wide feet, users can wear them without any hassle.
Price Range
The price range is another major factor in buying a good running workhorse. It varies depending on the materials, comfort level, and the technology used to manufacture them.
Brooks shoes are neither cheap nor super expensive. Ghost 12 runners cost $109.95-$239.99. On the other hand, the 14 models start at $99.95, and the GTX ones are 160 dollars.
Either way, Brooks Ghost 12 is more pricy than the new 14 versions.
Longevity
Another crucial factor of running kicks is their longevity. You must know how long they will serve you before your purchase. A good pair of running shoes lasts 3 to 4 months, which means around 300- 500 miles if you go running regularly.
This is not different for Ghost running gears. My brother runs regularly. So, his pair will wear out sooner than mine, as I run only 4 days a week.
I have been using my Brooks Ghost 14 GTX for 6 months already, and I know they will last even longer as I take good care of them. But my friend's case is different. In just a few months, his sneaker is looking shabby.
If you are worried about the durability of your sneakers, find out you can wear running shoes every day.
Weight of the Brooks Runner
Brooks maintains an average weight as their shoes are meant for outdoor activities like racing, walking, hiking, etc. With a heavy sneakers, running is difficult.
However, Ghosts 14 and 12 still have variations in their weights. The latest model is lighter than the previous model.
I also felt my Brooks 14 is less heavy. Brooks Ghost 14 weighs 10 ounces for men's shoes; in women's, it's 8.8. On the other hand, Ghost 12 male runners are 10.4 ounces, and the ladies' versions weigh 9.3 ounces.
Pros & Cons: Brooks Ghost 14 and 12 Runners
Running shoes and their features are very important as you wear them for fast-moving outdoor activities. You need proper balance, cushioning arch support, and so on for running.
So, you must know which pair comes with what type of offers and disadvantages.
Here are the advantages and drawbacks of Ghost 12 & 14 shoes:
Brooks Ghost 14
Pros
»

Sustainable material.

»

Soft and comfortable.

»

Versatile shoe.

»

Improved fit.

»

Smooth transitions.

»

Supportive design.

»

True to size.

»

Waterproof. 
Cons
»

Stiff tongue.

»

The outer sole wears down quickly.

»

Slightly heavier.

»

Lacks breathability during summer.
Brooks Ghost 12
Pros
»

Comfortable and soft.

»

Improved cushioning.

»

Durable.

»

Perfect heel drop functionality.

»

Good grip and traction.

»

Long-lasting

»

Flexible upper.
Cons
»

Expensive.

»

High stack height.

»

Unstable on a rough surface.

»

Stiff midsole.
Verdict
Brooks Ghost 14 is a perfect pair if you are looking for a super comfortable and versatile running shoe with a smooth transition and supportive design on a budget. Meanwhile, Ghost 12 is ideal for small feet runners, and the flexible upper gives enough support.
The grip and heel drop functionality is outstanding in Ghost 12 runners. But you have to keep in mind the high price range.
But, after comparing every feature along with the pricing, I prefer Brooks Ghost 14 over 12. The comfort these new models provide is incomparable.
Wrap Up
Brooks Ghost series is the ultimate ideal pair for short or long runs. The Ghost 14 is on the favorite list of runners for their versatile use and comfortable sole.
And the previous 12 model is also a good one to serve you for an extended time with its improved cushioning and grip while running.
You got all the necessary information about the Ghost 12 and 14 to choose the best pair. Thanks for engaging.