Leading an athlete's life for the last 7 years, I figured out Hoka Arahi and Brooks Adrenaline are the most reliable pair for intense running.
Want to choose a pair to accompany you throughout running sessions, but these two titans' similar pricing is making it difficult? You've come to the right place.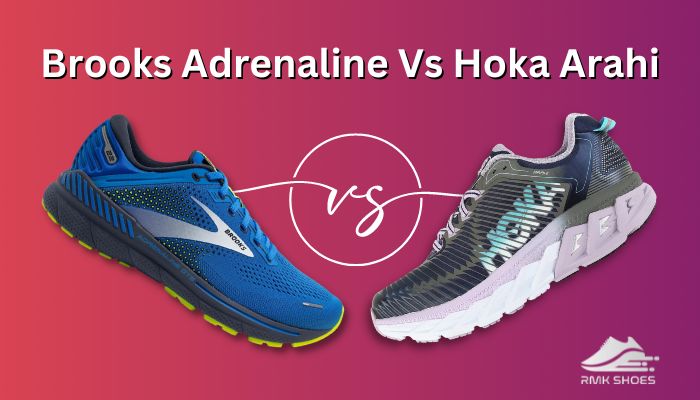 In this article, I'll share all the distinctive features and their upper hands that I perceive in my athletic field.
So, Read along!
Feature Comparison Table of Hoka Arahi and Brooks Adrenaline
Before diving into the detailed feature analysis, It is better to be aware of the differences and complements that Hoka Arahi & Brooks Adrenaline carry. Here, I'll create a comparison table where you will find every significant attribute of both running gears.
Let's see the comparison table of Hoka Arahi & Brooks Adrenaline:
| Feature  | Brooks Adrenaline | Hoka Arahi |
| --- | --- | --- |
| Midsole | DNA Loft foam. | EVA foam & RMAT. |
| Upper Material | Mesh & Synthetic.  | Engineered Mesh fabric. |
| Weight | 11.7 oz. | 10.1 oz.  |
| Heel-to-toe drop | 12 mm. | 5 mm. |
| Arch Support | Available. | Missing. |
| Cushioning  | Limited cushioning.  | High cushioning. |
| Sizing | Runs smaller.  | Runs true to size.  |
| Pricing | $130. | $130. |
| Stack Height | 29 mm. | 31.5 mm. |
| Durability  | More durable.  | Moderate.  |
6 Major Variations Between Brooks Adrenaline and Hoka Arahi
Arahi & Adrenaline both show their major variations in their offered feature. Where Hoka focused on support, Brooks provided the comfy aspects.
So it's tough to choose one between these bouncy pairs. I'll elaborate on each aspect thoroughly to clarify your conception of their characteristics.
Let's check out the significant feature variations of Adrenaline and Arahi:
1. Manufacturing Materials
Hoka Arahi uses engineered mesh fabric to make the best breathable upper. They also include a unique lacing system that helps to minimize pressure points along with their secure fittings.
Nonetheless, Hoka Arahi shoes are manufactured with the EVA midsole, that foam ensures the best cushioned and shock absorption ability. They also incorporated aggressive traction lugs to make their outsole, which offers the best grip with noticeable adhesion.
On the other hand, the Brooks Adrenaline shoe upper is mainly produced with mesh and fused synthetic urethane. The brand employs the traditional lining technique to ensure ultimate stability.
Moreover, they are featured with DNA loft foam and raised EVA sidewalls to make their midsole comfy. The BioMoGo innersole provides the best arch support without compromising the shock absorption ability.
In Brooks pair, you will find the aggressive multi-directional outsole to enhance the traction ability that makes Brooks good for hiking.
2. Offered Comfort
Comfort is the primary function that I search for my every running pair. If you consider a pair comfortable depending on their squishy feel, Hoka Arahi is the best one. This Hoka pair presents the Profly cushioning in the innersole.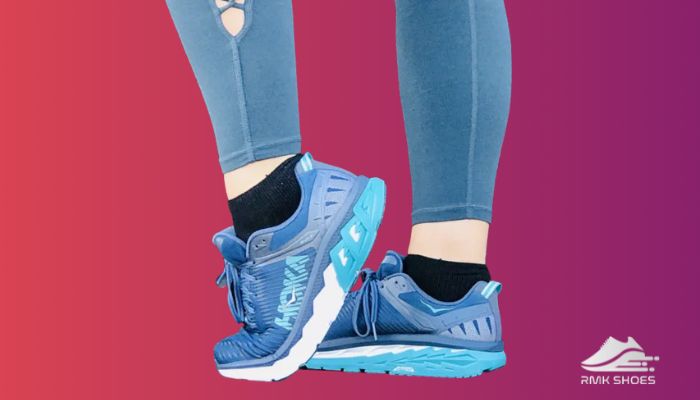 But for me, comfort is where I find secure and flexible movement. For that kind of comfort, I found Brooks Adrenaline the most preferable. The heel lockdown provides the ultimate arch support with a bouncy feel.
Brooks embodied an excellent mixture of crashed DNA loft and EVA foam, providing an ultra-comfy appearance for every runner.
3. Size & Fittings
Size & fittings may be the most crucial conflict in both running pairs.
I found Hoka Arahi runs true to size and fits snugly with regular feet. So, if you have wide feet, choose the large size for perfect fittings. The embodied toe box is a little narrower than Adrenaline, but Hoka stays true to size in terms of length.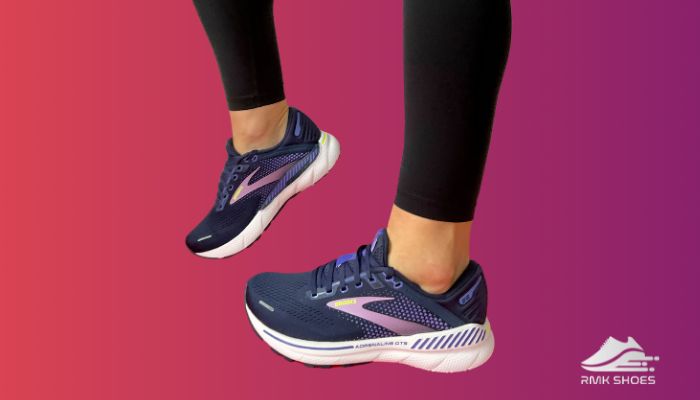 On the contrary, the Brooks Adrenaline has a narrower length and a wider toe box. Consequently, if you pick any Brooks pair, go with a half size up than your actual size, which will fit your feet accurately. For their spacious toe box, you will find enough space to wiggle your forefoot.
4. Durability
In terms of durability, Adrenaline wins the race. Brooks pair have less deformed tendencies compared to Hoka Arahi. The comparatively stiff midsole and aggressive dimensional lugs make them more durable than Hoka shoes.
Even though both Hoka Arahi & Brooks Adrenaline affirmed 400 miles of lifespan, I found Brooks more durable.
5. Stability
Stability is the most crucial component that reduces injury chances and offers barrierless movement.
Due to shoe alignment, Hoka Arahi is the most stable pair compared to Adrenaline. The firmed foam insole and heel lockdown ensure stability against running impact.
Hoka shoes' structured footbeds provide the most secure step in rough terrain. Also, the flexible sole is easily bendable with your foot shape, making Hoka good for flat feet.
Although Brooks Adrenaline offers less stability, the molded shoe shape confirms the high arch support. The included GuideRails techniques work to reduce injury propensity in pressure points.
6. Weight & Height
Arahi appeared in the most lightweight attributes, where they contain maximum height. Such as:
The stack height of Hoka Arahi is 31.5 mm.

And it only carries 10.1 oz per shoe.
While the Brooks Adrenaline has a 29 mm stack height and 11.7 ounces per gear.
So, if you want to jump like a kangaroo with your running jewels, then Hoka Arahi is the one, as it's height and lightweight propose more dynamic qualities.
Pros & Cons of Hoka Arahi and Brooks Adrenaline
In the previous portion, I've already elaborated on the function comparison of Hoka Arahi and Brooks Adrenaline. It's time to know their advantages and drawbacks along with their splendid features.
Let's check out the pros & cons of Adrenaline & Arahi: 
Hoka Arahi
Pros
»

Lightweight.

»

Offer good traction. 

»

Squishy feel. 

»

Maximum stack height. 

»

Ensure noticeable stability. 

»

Runs true to size. 
Cons
»

Less durable. 

»

Minimum heel-to-toe drop compared to Adrenaline. 
Brooks Adrenaline
Pros
»

Remarkable durability.

»

Maximum heel-to-toe drop. 

»

Provide better grip and traction. 

»

Reduce injury tendencies. 

»

Good for wide-fitted people. 

»

Offer good arch support. 
Cons
»

Little heavier. 

»

Minimum cushioned midsole. 
As I have already said, Arahi and Adrenaline both shoes provide the maximum offerings with some defaults. 
Verdict: Brooks Adrenaline Vs Hoka Arahi

 
A decent trainers pair is crucial to speed up your running session. The Arahi and Adrenaline are the finest running beast for their supreme qualities. Due to their brand variety, they carry maximum differences, but their offerings are appealing.
In terms of comfort, Hoka Arahi is the supreme one because you will find the whole comfortable elements in one pair, like, breathability, perfect fittings, minimum weight, etc.
However, if you are looking for a reliable pair for injury prevention, it might be the Brooks Adrenaline. The arch support and breathability are the most alluring feature that attracts me most.
I wanna say, after choose any of them, you won't feel regret.
FAQs
Is Brooks Adrenaline a stability shoe?
Yes, Brooks Adrenaline is known as good stability running pair. The incorporated GTS of Adrenaline offers the most support without hampering the cozy feel.
How does Hokas fit compared to Brooks?
Hoka fits with true size. When you compare Hoka shoes with your Brooks pair, you will find your Hoka pair run a size bigger.
Which Brooks is most similar to adrenaline?
Brooks Ghost 15 is like the twin brother of Adrenaline GTS 22. Both brooks share similar attributes, and initially, people called Ghost 15 "a neutral Adrenaline 22".
Is Hoka Arahi good for Plantar Fasciitis?
Yes, the podiatrist concluded that Hoka Arahi 6's padded J-frame midsole and constructive arch support made them effective for treating plantar fasciitis. Moreover, the expert says they are the best choice for every wide-fitted people.
Summary
Hoka Arahi is the most appreciated running shoe for its comfort, whereas Adrenaline offers exceptional support for its technical structured materials. In certain scenarios, I preferred one pair of shoes over the other.
Pick any of them that confirms your seeking requirements. Share with me the recent images and benefits of your chosen pair.
Till then, happy running!