Brooks Addiction Walker is popular for everyday walking and short hiking. This footwear line includes only two editions: Addiction Walker aka Addiction Walker 1, and Addiction Walker 2.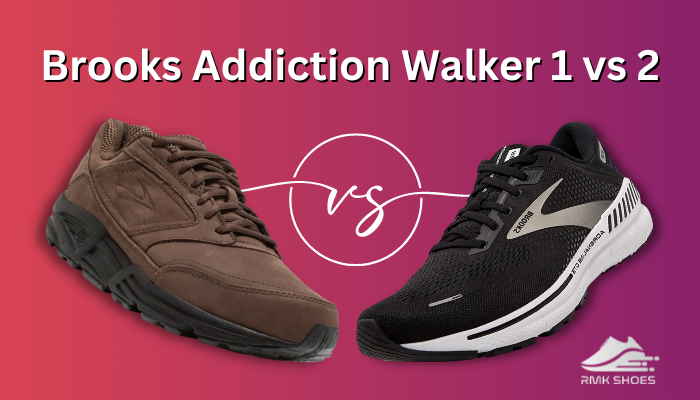 Naturally, people expect advanced features from the latest pair i.e. Walker 2.
But is Addiction Walker 2 perform better than 1, and how do they differ?
To identify these queries, some members of our team, including me, have tested the Walkers' performance.
So, stay tuned to know about the findings.
What's the Difference Between Brooks Addiction Walker 1 & 2?
The major differences between Addiction Walker 1 and Walker 2 are comfort, price range, availability, and tread pattern. Walker 1 is officially unavailable at this moment, however, they bring about relatively more comfort.
For now, let's check the comfort and discuss the other differentiating factors between Addiction Walker 1 and 2.
Comfort Test
At initial wear, I felt that Addiction Walker 2's interior was kinda stiff. And it leaves blisters above the feet when I skip socks. Other members also faced the same issue even after the break-in period.
I discovered that Brooks Addiction Walker 2's upper is sturdy compared to Walker 1's because it doesn't have an additional textile lining. And that's the cause of creating nasty blisters.
In short, both shoes consist of leather. But Walker 1's full-grain leather upper has a supple texture.
Moreover, it holds comfortable textile linings. Hence it doesn't hurt the upper portion of the feet as the Walker 2 does.
However, the underneath comfort is similar in both Brooks. They include a responsive biodegradable midsole that can easily accommodate custom orthotics.
Tread Pattern
Though both Addiction Walker's outsole is slip resistant, their tread pattern is different. And you can perceive it from the pictures here.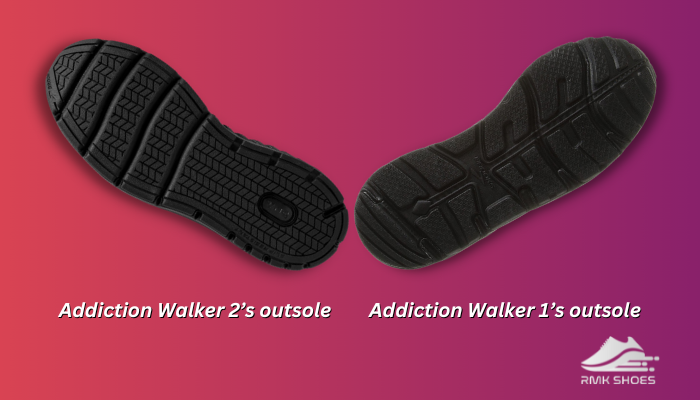 Furthermore, the rubber outsole of Walker 1 is ASTM F 489-96 standards certified. This certification indicates that the skid-resistant sole delivers sufficient traction on dry and wet surfaces.
On the contrary, Walker 2's sole is SATRA TM144:2011 certified for delivering the outstanding slip-resistant feature.
However, the outsole's performance of Addiction Walker 1 and 2 is identical. Both of them have provided me with a decent grip during morning walks, no matter whether the terrain is dry or damp.
Availability
Unfortunately, Brooks Addiction Walker Original or 1 is hard to find nowadays. Even the shoes are unavailable at the official website and authentic outlets. I can't guess why Brooks has discontinued the supply of such a nice pair.
Contrarily, Brooks Addiction Walker 2 is easy to find everywhere, including outlets, official site, local markets, and legit shoe reselling sites like GOAT and 6 PM. You will get all widths, such as narrow, medium, wide, and extra wide available for the Walker 2.
Price
I purchased my Brooks Addiction Walker 1 around 3 years ago. At that time, I had to pay $120 dollars for that breathable solid brown pair. Since the pair is rare right now, many shoe reselling platforms have been selling Walker 1 at whatever price they want.
The leather-made Addiction Walker 2 retails for $130. But its suede version takes extra 10 dollars i.e. $140.
Similar Features of Brooks Addiction Walker 1 and 2
Addiction Walker 1 and 2 belong to the same footwear lines of Brooks, holding several identical features. These features benefit the users from various perspectives.
So, let's see the similarities between Brooks Addiction Walker 1 and 2:
Material: Leather is the main ingredient of both styles. Besides, some pairs are made of soft suede, which costs a bit more. Outsole is made of slip-resistant rubber so that it can release good traction.
Arch Support: Both Walker are supportive with their Extended Progressive Diagonal Rollbar (PDRB®) technology at the medial arch. It is quite beneficial for controlling the overpronation issue.
Plus, it helps to maintain the natural stride. Due to providing reliable support, Addiction Walker is a great choice for people who spend a lot of time on their feet.
Responsive cushion: Brooks Addiction Walkers' midsole is well cushioned and responsive. The full-length MoGo DNA midsole has been designed in such a way so that it can strongly decrease the impact and returns the energy. It also offers fine comfort while you're in motion.
Sizing: Half sizes are available in the Addiction Walker series. Both of them are true to size and classic fit.
The manufacturers produce 7 to 15 US sizes for men and 5 to 12 sizes for women. You will get four width options including: narrow, medium, wide, and extra wide.
Pros & Cons of Brooks Addiction Walker 1 and 2
Addiction Walker 1
Pros
»

Out of the box comfortable.

»

Arch supportive for long hours.

»

Energy returning footbed.

»

Shock absorbing Hydroflow technology.

»

Good for walking and light hikes.

»

Prevents slip.

»

Affordable price range.

»

4 width options.
Cons
»

Slightly heavier.

»

Less breathable.

»

Not waterproof or water-resistant.
Addiction Walker 2
Pros
»

Sole gives moderate arch support.

»

Responsive cushioning.

»

Impact absorbing.

»

Suitable for regular walks.

»

Strap-based pair for easy on-off.

»

Slip-resistant.

»

Budget-friendly.

»

Several widths.
Cons
»

Improper for running.

»

Water-resistant feature is absent.

»

Feels rigid.

»

Relatively less comfy.
Verdict
Since Walker 1 is inaccessible, it makes no sense to inspire you for purchasing this shoe. But if you get authentic sets on any shoe retailing website, you can opt for this. They are undoubtedly comfier than Walker 2.
However, Suede Walker 2 is more comfortable than the leather ones. So you can also select this. But remember that they come with only a few width variations.
Additionally, choose Addiction Walker 2 only if you:
– Desire to use them for walking, not running.
– Can invest $130-$140.
– Are always willing to wear socks (Because its upper is stiff and causes blisters).
– Can deal with non water-resistant shoes.
At first, decide for which purposes you're gonna buy Brooks Addiction Walker. If you wanna take part in racing or challenging hikes, Addiction Walker won't be appropriate at all. Rather, you better choose between Brooks Revel 4 or Revel 5.
FAQs
How Long Should A Pair of Brooks Addiction Last?
A pair of Brooks Addiction should last up to 4-5 years, even after regular use while walking and long periods of standing. However, longevity is a matter of maintenance and care.
Is the Brooks Addiction Slip-resistant?
Yes, Brooks Addiction is slip resistant and able to hold the grip on dry and wet floors. Their grippy outsole nicely prevents accidental falls and helps to sustain stability.
Are Brooks Addiction Walker Good for Plantar Fasciitis?
Yes, Brooks Addiction Walker series is an amazing pick for plantar fasciitis. Because its innovative footbed alleviates the impact on ligaments and tendons. Additionally, it is equipped with great stability and arch support.
Wrap Up
If you're passionate about Brooks Addiction Walker's design and outlook, I won't discourage you from buying any of them.
But in my opinion, investing $130-$140 for such a shoe is unfair. Because you can't use them for running. Considering the price, they are less comfy and not even water resistant. Their benefits are limited to long-lasting arch support and slip-resistant features.
So what are your thoughts regarding Brooks Addiction Walker? Let me know in the comments.
Adios!