For the last 5 years, I've used several pairs of Blundstones for field photographing and hiking with great experiences. 
Months ago, as per my colleague's suggestion, I tried the slip-on Red Wings to see if they were better than Blandstones, as many users claim.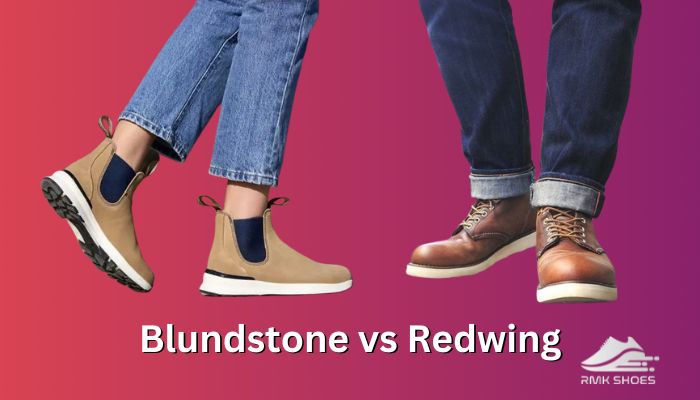 And here, I'm gonna elaborate on all the benefits and differences I found so that you don't hesitate to make a choice while purchasing.
So, stay put!
Overview of Redwing and Blundstone
Although Redwing and Blundstone are two of the most popular heritage brands, they carry distinctive origins and history. 
So, let's get to know how Redwing and Blundstone started their journey:
Blundstone
Founded in 1870 in Tasmania, Blundstone is a brand that is always evolving with time. Throughout its long journey, the brand has made shoes perfect for rough farm grounds, city pavements, factories, and even dance floors.
Right now, Blundstone is focusing more on being a lifestyle brand with its fashionable outdoor boots.
Redwing
Meanwhile, Redwing is also making stylish boots for people of all spheres– from fashion enthusiasts to mine workers. 
Initially, this American brand made boots only for workers and war soldiers. But in the early 1970s, Redwing became hugely popular as lifestyle footwear when the brand's owners started to wear their work boots casually.
Nowadays, customers love Redwings as they offer high-quality handmade boots with great durability.
Blundstone vs Redwing: How Do They Compare?
As century-old brands, both Redwing and Blundstone know how to cope with the quickly changing fashion needs of the users. That's why they are now more focused on making user-friendly and fashionable outdoor boots. 
Yet, being two different brands of distinctive origins, they do have variations in their features. 
So, let's find out how Blundstone and Redwing boots compare in their features:
1. Variation in Material
Both Redwing and Blundstone use premium leather and rubber materials in their shoes. But they do have differences in the type of leather and how the shoes are constructed.
And the material and construction variations are:
Redwing uses oil-tanned full-grain leather to make the upper of its boots. Conversely, Blundstone uses smooth leather for the upper with various finishes, from suede to canvas.

Blundstone comes with a flexible TPU outsole, while Redwing features a direct molded urethane sole.

Redwing uses Goodyear welt construction to attach the sole to the upper. But in Blundstone boots, the outsole is attached to the leather through cemented construction.
Due to these material and construction differences, the comfort and durability you'll get from these two boots vary as well. 
2. Sole Design
Blundstone features a Poron footbed with XRD® technology for better cushioning. This cork-based footbed is very comfortable to wear as it slowly molds to your feet, providing good shock absorption.
However, in my experience, the midsole of Blundstones wears out quickly, but you can easily replace them.
Meanwhile, Redwing is quite techy while making the insoles of their boots. They feature a 3 layered insole, using suede, cork, and Poron lining.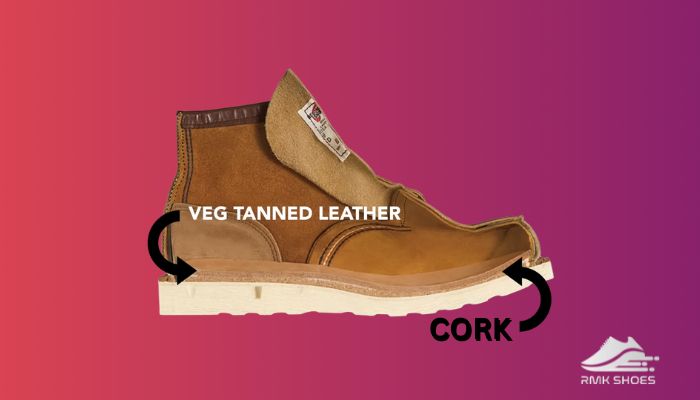 Hence, when I first put on my RW pair, the midsole felt a bit sturdy. But as time went by, the cork footbed molded to my feet, getting more and more comfortable.
This feature also makes the RW a bit more breathable than the Blunnies. Because the suede lining under the Cork bed of the RW boots allows room for air circulation.
3. Longevity
Blundstone offers good durability with high-quality material and good construction. I've worn every pair of Blunnies for over two years, and they are still wearable. However, I had to replace the insoles several times.
Redwings, on the other hand, are more durable than the Blundstones as they use full-grain leather with better construction. Also, the outsole is firmer and sturdier, which doesn't wear out as fast as the Blunnies.
Another best thing about the Redwings is that the outsole is welted with Goodyear technology; hence they are resoleable. But you won't find this benefit from the glued outsole of Blundstones.
4. Which one Fits Better
For my pair of Blundstone, I went with my regular size, which is a US 11. With the soft and comfy leather, the boots fit me perfectly right out of the box. 
However, the mid-part of this boot is quite narrow. So, buy half-size larger ones if your feet are bigger than average.
On the other hand, the sizing of Redwing boots can be a bit tricky as they run bigger. And I had to go half a size down with them for the right fit. 
After picking the right size, my RW pair fit snugly but not too tightly to my average feet. But the sturdy outsole felt stiffer when I first tried them. This stiff feeling, however, was completely gone after a while.
On another note, if you wanna skip this break-in period of your Redwings, you can try some quick methods to break in your leather boots.
5. Cost Difference
I think the big difference between the RW and Blunnies is in the price they offer. That's because Redwing Boots are way more expensive than the Blundstones.
For a pair of Blundstone, you may need to cost around $161.21 to $279. But a pair of Redwings comes at a hefty price range of $250 to over $399.
Yet considering the superior quality and durability, I think the Redwing's price is well worth it.
6. Traction and Grip
In my experience, the grip of Redwings Crepe Wedge outsole was better than the Blundstones on muddy surfaces.
RW boots are specifically designed for farmers, even though they are now widely used for casual purposes. Hence, by design, the outsole treads provide a good grip, even on muddy or wet grounds.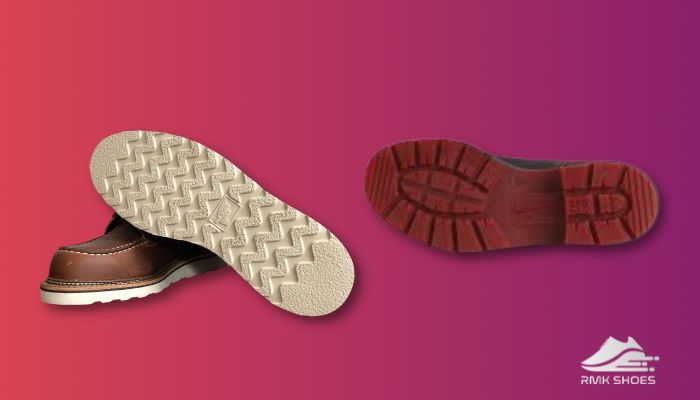 Although Blundstones provide support decently on moderately wet surfaces, I still won't pick them for going out on the snow.
Overall, RW and Blundstone have a few notable similarities and variations in their features. While both shoes use waterproof leather, they differ in construction and price. 
So, before investing in expensive boots like these two, you should consider all these facts to find the better one.
Pros and Cons of Redwing and Blundstone Boots
Before choosing your next pair of boots between these two high-end brands, you must know what benefits and drawbacks they have to offer.
To ease up your work, here is the list of pros and cons of Redwing and Blundstone Boots:
Redwing
Pros
»

Best quality Materials.

»

More refined finishing.

»

Lasts longer.

»

Excellent outsole grip.

»

Comfortable fit.

»

Wide range of sizes and widths available.
Cons
»

More expensive.

»

Requires a break-in period.

»

Runs half a size bigger.
Blundstone
Pros
»

Comfortable upper.

»

Easy slip-on and off design.

»

Comfortable footbed.

»

Suitable for daily use.

»

Great arch support.

»

True to size.
Cons
»

Less durable.

»

Midsole wears out quickly.

»

Less grippy outsole.
Which One Should You Buy Between Redwing and Blundstone?
Though Redwings are pricier than Blundstones, they offer better quality and durability. Hence, Redwings will be the better option when you wanna make a long-term investment in boots. But if you want a decent pair of boots within the budget, go for the Blundstones.
Redwings are more suitable as workboots because the firm and durable construction give the protection and comfort you need in high-duty work. 
Yet the best thing about these boots is their stylish and refined look. Despite the sturdy design, RWs are comfy enough to wear casually.  Also, the boots are so fashionable and versatile that I've worn them with jeans while on long trips.
And the Blunnies got everything you need in a lifestyle boot. Blundstones are very comfortable with the cushioned footbed with extra heel padding. Also, the lower price is a plus point.
Nonetheless, you don't buy boots every day. So, when investing in such a high-end pair, I suggest you go with the one that offers more quality and lasts much longer, just like the Red Wings. 
Final Thoughts
Blundstone and Redwings are always revamping their products to catch up with this fast-changing fashion world. Meanwhile, they offer footwear in different price ranges as they vary in their quality and construction technique.
Now you know everything about these two popular heritage boot brands. So, pick the one that suits you the most.
For further queries, drop a comment down below!