Blundstone 550 and 558 boots are known as versatile Chelsea that serve the most appealing timeless outlook.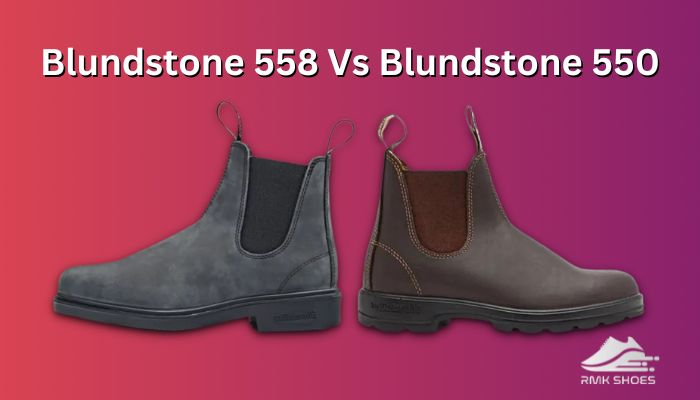 And before heading out to buy one pair between these duos, you are searching for the in-detailed feature variation that makes them distinguishable.
Leading a trendy life, I vigorously used Blundstone pairs in my lifestyle blog. In this article, I'll share their differences with offered advantages that aid you in making an easy decision.
Let's dive into your desired answer!
Similarities of Blundstone 558 & 550
From top to bottom of both Blundstone 550 and 558, you will find a lot of identical attributes along with their differences. In this writing segment, I'll describe the matches I found in my pairs.
Here is the table that shows function similarities between Blundstone 550 and 558:
Functions
Blundstone 550
Blundstone 558
Comfortability

Moderate.

High. 

Water Resistance

Accessible.  

Accessible. 

Traction

Available. 

Available.

Shock Absorption

XRD technology for shock absorption. 

XRD incorporated midsole. 

Fittings

Roomy fit.

Roomy fit. 

Cushioning

Semi-cushioned. 

Fully cushioned. 

Technology

SPS max and XRD technology. 

SPS max and XRD 




technology. 
7 Major Feature Variations Between Blundstone 550 and Blundstone 558
Both Blunnies are the top two beasts from Blundstone for their distinctive features. Though 558 & 550 share similar appearances, their attributes tell something different. The boot's major variance shows in there: Leather,  sole, breathability, shaft, etc.
Let's know in-depth feature variations of Blundstone 550 & 558:
1. Upper Material
Blundstone 550 & 558 boots mainly use leather material and black elastic to make their upper. But both shoes incorporated different types of leather that make them distinguishable.
In Blundstone 558, the uppers are manufactured with 100% top-grain leather, which makes them durable and sturdy.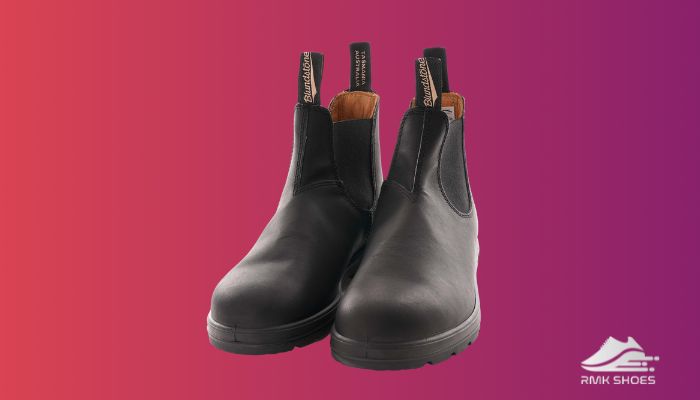 Meanwhile, Blundstone 550 used Chrome-tanned, fully dyed Aniline leather to make their upper. Aniline leather is less durable than full-grain leather but reduces ageless creasing tendencies.
2. Sole (Midsole & Outsole)
Sole is the main feature of 558 which makes them my loved pair.
Blundstone 558 is manufactured with a cushioned midsole to ensure ultimate comfort. Whereas 550 uses Low-density PU foam that only provides semi cushion feature.
In a word, 550 only offers half cushioned midsole compared to 558.
Fortunately, you will find XRD technology in the heel portion in both models that added shock absorption criteria in their removable footbed.
Moreover, both Blunnies include a TPU outsole, which is exceptionally rigid and stiff but good at preventing scratch and slip. Due to its sturdy nature, it offers noticeable durability without compromising flexibility and makes Blundstone comfortable.
In the 550 Blundstone pair, you will find the exact 10 mm TPU outsole. And the 558 boots have a heat-resistant TPU bottom, but there is no explicit declaration about TPU sole measurement.
3. Offered Breathability
When it comes to breathability, Blunstone 550 is the preferable one. The aniline leather offers a smooth and breathable appearance, which makes them suitable for every season.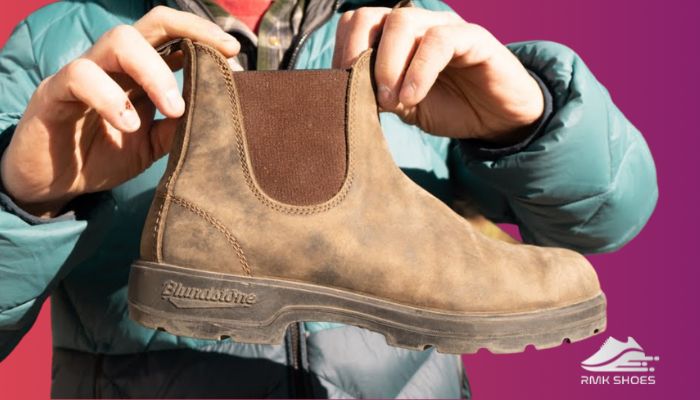 Nonetheless, this Vietnam-based manufactured leather provides water resistance and lightweight attributes.
However, 558 is also good for regular wear because of its water resistance and versatile bouncy aspects. But you may feel a little sweaty in that genuine leather pair. 
4. Size Measurement
According to size and measurement, Blundstone carries a different size chart than the other shoe brands. You will find only UK/AU sizes in this brand, but they do not serve the US size scheme.
We know that UK sizes are a little bigger than the US standard, so buying an accurate US-size Blunny is tricky.
If you take my example, I used to wear the US 7 size, but in Blundstone, I prefer UK 6, which fits perfectly. They don't run bigger; they only provide a different-size standard.
I figured out a simple yet effective method to find their sizing accuracy:
First,

measure your shoe size

by following the given guideline. 

And convert them into the UK size, and you will get the perfect shoe size for your feet.
There is good news for wide-feet people, Blundstone comes with a broader toe box, so there is no need to size up; go with your actual size.
5. Shaft Nature
Both Blundstone shafts bear different heights and circumferences. Where 550 offers 5.6 inches (14.22 cm) height, 558 features 4.5 inches (11.43 cm). But when it comes to shaft edge measurement, the Blundstone 558 provides 10" and 550 presents 9''.
So, you can find a large-height but congested shaft in the Blundstone 550 and a comparatively small-height yet spacious space shaft in the 558.
6. Durability
If you are concerned about durability, we all know whole-grain leather offer a most distinct lifetime than others. It's a clear answer; the Blunstone 558 offers more durability than the 550.
Don't lose hope; both Chelsea comes with a TPU cement constructed sole that ensures traction with their offered longevity.
Apart from that, 550 has breathability that makes them perfect for everyday use and presents a timeless look. 
7. Asking Price
Blundstone 550 & 558 charge similar prices on their official website. Both boots ask for $219.95 per shoe. But you will find price differences when you wanna buy them from any retail shop or website.
For instance:
Blundstone 550 charges from $162.32 to $251.15 for each pair.  

Blundstone 558 asks from $172.80 to a maximum of $219.95 for every boot.
So, avoid reseller websites till your desired pair is stocked out on their original website.
Blundstone 558 Vs Blundstone 550: Pros & Cons
After descriptive analysis of Blunnies' features, you better know what they provide. But when you have to pick one pair, it's obvious to see every nook & cranny of their offerings.
Now I'll describe their benefits and drawbacks that will help you to make your decision smooth:
Blundstone 550
Pros
»

Ultra breathable. 

»

Good for wide-fitted people. 

»

Produce youth line. 

»

Prevent early creasing. 

»

The long shaft is suitable for winter. 
Cons
»

Limited lifetime. 

»

Low-density PU foam only provides semi cushioned footbed. 
Blundstone 558
Pros
»

Offer noticeable durability. 

»

Presents a wide-toe box. 

»

Wide shafts ensure easy movement. 

»

Maximum cushioned footbed. 

»

100% genuine leather upper.
Which One Is Most Preferable for You?
Blundstone 550 and Blundstone 558 are the most versatile gems for their top-notch attributes. Whenever you opt for one pair between these duos, try to figure out your requirement first.
Personally, I found Blundstone 558 to be the best in terms of its comfort and durability. I always love to wear this leather pair for their versatile aspects.
Moreover, the asking price of 558 is minimal compared to the other branded leather boots.
But if you want to choose a pair ideal for your regular use, grab the 550 Blundstone. The aniline leather offers good breathability with a lightweight feature. Furthermore, it helps to prevent unwanted creasing and offers a bold outlook.
Both Chelsea boots are manufactured with TPU cement-constructed outsole, offering impressive traction yet a flexible movement.
Parting Thoughts
You already know about the tinny details of Blundstone 558 and 550 through this article. Now, choosing one between these duos is easy for you.
For me, apart from the breathability, Blundstone 558 is the preferable one. Select your desired boots that fulfill your requirements. For further queries, shoot a comment in the below segment.
Adios!